After an unusually quiet start to severe storm season here in PA, Wednesday looks to bring the potential for two lines of thunderstorms ahead of a cold front. Typically when looking at a linear threat, damaging winds are the main risk, and that will apply on Wednesday as well. We also cannot rule out isolated hail in the strongest storms, which would be most likely to happen in the late afternoon, as well as a very isolated tornado. Now let's talk timing for each line.
PRE-FRONTAL BROKEN LINE (CENTRAL AND EASTERN PA):
By early Wednesday afternoon, a broken line of storms is expected to develop in the center of the state. Broken meaning we may see some discrete cells, but they will mostly be aligned southwest to northeast. This line is expected to be near I-81 around 3-4 PM Wednesday afternoon. Damaging winds are the main risk, but If there is to be an isolated tornado anywhere, it would probably take place somewhere in northeast PA in the late afternoon within a discrete cell.
The broken line of storms is then anticipated to move through the eastern Poconos, Lehigh Valley, and the Philadelphia area by 5-6 PM Wednesday. Now keep in mind once again the term broken. Not everyone will see a thunderstorm, and for some it may simply be a hot afternoon with dark clouds in the distance.
FRONTAL LINE (MAINLY WESTERN AND CENTRAL PA):
Now onto the second line of storms along the cold front. This line will form near Erie around 2 PM, and travel southeast from there. By 4-5 PM, the line is modeled to move through the Bradford-Coudersport area, and all the way down through the Pittsburgh area. As we head into the evening with this second line, damaging winds will be the primary risk. By 6-7 PM, we expect the line to be near the Williamsport-State College-Altoona-Johnstown area. That means it will be positioned northeast to southwest. As this line pushes southeast into the Poconos, Coal Region, and Lower Susquehanna Valley, it won't have as much instability to work with around sunset. As a result, the line will weaken and the damaging wind risk will subside as it moves through those areas.
We have consolidated our future radar into a slideshow below. If you're on mobile and would like to enlarge the images, first rotate your phone sideways and then hit the blue fullscreen button.
[URIS id=94339]
WEDNESDAY SEVERE THUNDERSTORM RISK MAP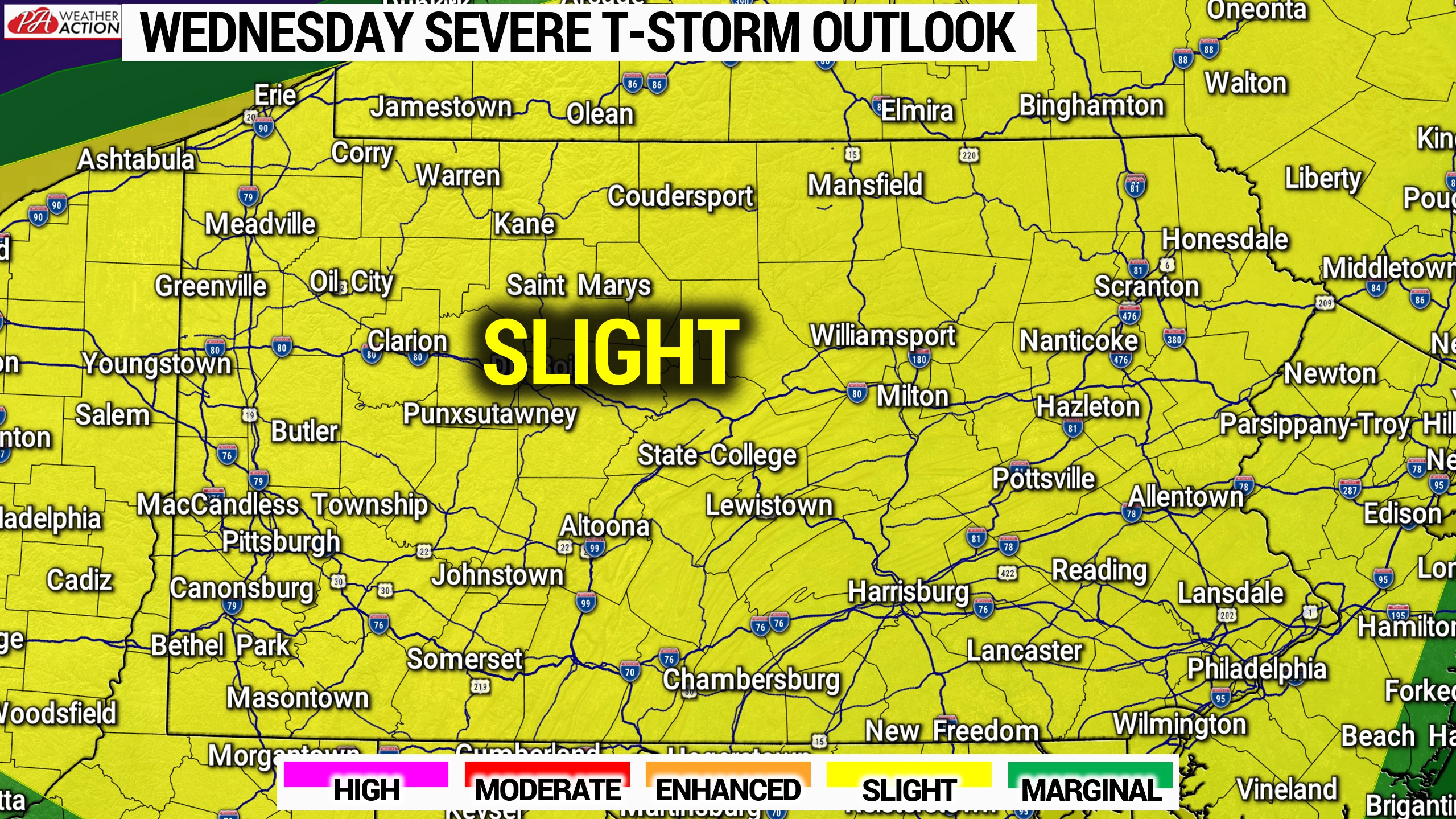 Slight Risk Area (Yellow): Scattered severe thunderstorms are possible in the two separate lines discussed above. The main risks are damaging winds and hail, with an isolated tornado possible.
Stay tuned for live radar on our facebook page Wednesday, and the many more severe weather updates we will have this season! Be sure to have our page liked below.
You can also track the storms with our mobile app. Get it on Apple here: Weather Action App