Last December was a December to remember in terms of how warm it was, this December will be the complete opposite, as we had expected since the release of our Winter Outlook back on November 1st. And now over the last few days, model guidance is beginning to catch on, and beginning to catch on in a big way.
This post will just be focused on the first 10 days of December. If you haven't already, click here to check out our December forecast>>>December 2016 Forecast
After some much needed rainfall the last couple days, our weather is back to normal and even blustery. Northwest winds will pick up Friday Night into Saturday, enough so that Lake Effect Rain and Snow showers are possible for the North and West half of the state during this time-frame.
Below is the latest NAM model valid 11 PM Friday Night indicating this well: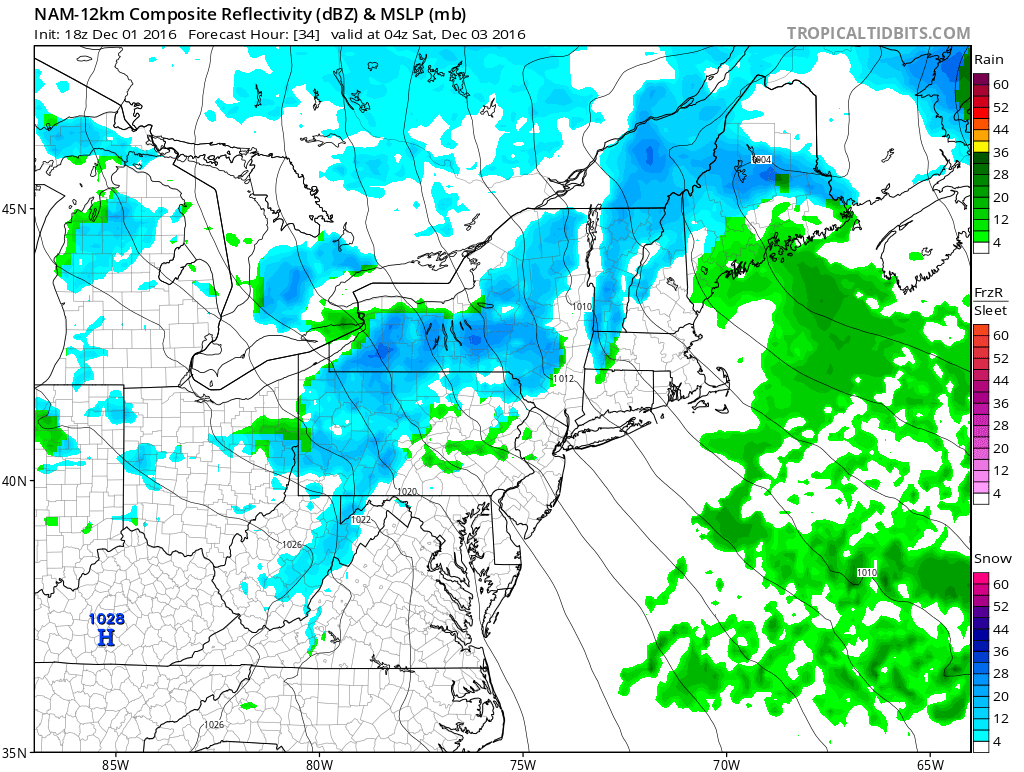 Accumulations should be rather limited, but a coating to an inch is not out of the question for the Laurel Highlands and also for far Northern PA. 
The next opportunity for some snow will come from a weak wave that will likely shear apart as it reaches the state on Monday. IF it holds together, this will bring light snows to just about all of PA. But right now, it looks like this system will shear apart before it reaches the state. We will keep an eye on it, but it does not look like it will be a big deal.
What does have the potential of being a bigger deal, is a storm system that will be developing from the South and tracking West of the Appalachians before transferring its energy to the Coast during the Tuesday-Wednesday time period. We will use the GFS to breakdown this potential storm below: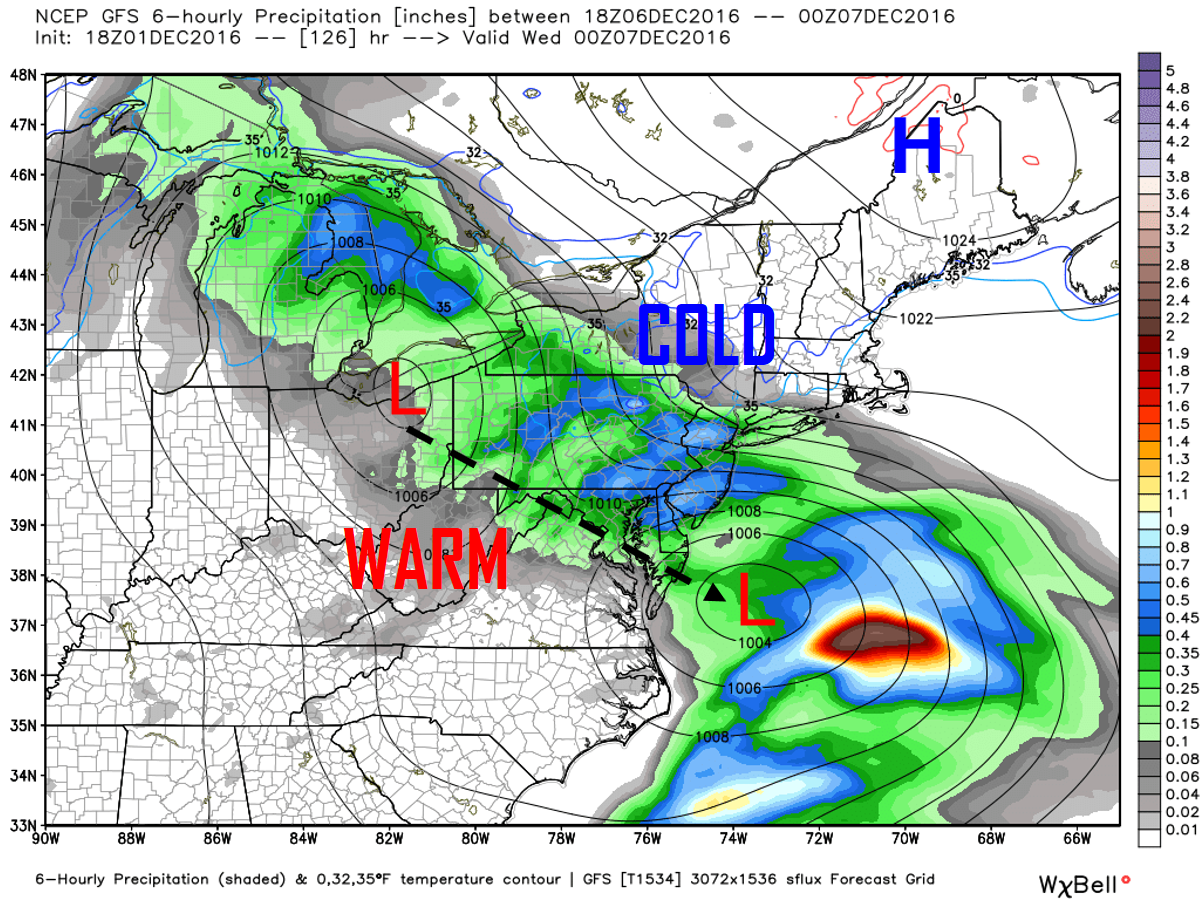 There are numerous factors involved with this system…1. How far North does the primary low travel? 2. When does it transfer its energy to the coast? 3. Where will the high pressure be placed? 4. How strong will the high pressure be?
Many questions to be answered over the next coming days. For now, the GFS takes the primary low and cuts it will into Northern Ohio and eventually into Southern Canada before completely losing its energy to the coastal that forms. Because this system is to our West, with a counter-clockwise flow, this will allow for warmer air to invade from the south allowing for much of this precipitation to be in the form of rain for many of us. The transfer to the coast does not happen until it is off of the Virginia Coastline on the GFS. This is a good 100 miles North of where the European has it. Although we are unable to show you, the Euro is very similar to the GFS, but colder, allowing for more wintry precipitation to fall.
If you are rooting for a more Wintry solution, the primary low needs to die further South, Kentucky would be ideal, but if it transferred its energy before it reaches the Northern half of Ohio, then that is fine as well. The coastal low that forms, must not form any further than what the GFS shows here. The further South it forms, the better. Lastly, if the High Pressure is placed a little more to the West across Southern Canada, rather than Maine and is a little stronger than what is currently modeled, this will help prevent our primary low from cutting far North which will allow for increased odds in a Wintry solution.
Even with the GFS's solution here, because of the High Pressure placed up near Maine, this allows for at least some frozen precipitation to start before switching over to plain rain. As of now, areas North of I-80 and the Laurel Highlands will be favored for a more wintry event during the Tuesday-Wednesday time period before ending as rain. This does have time to trend colder..or warmer. We will see how it plays out. The potential does exist for someone to see a significant winter event if everything aligns correctly. 
What is almost a certainty is that it is going to get very cold. 10 to 20 degrees colder than normal will be a common theme for at least several days after the 8th. Take a look at projected high temperatures for December 9th: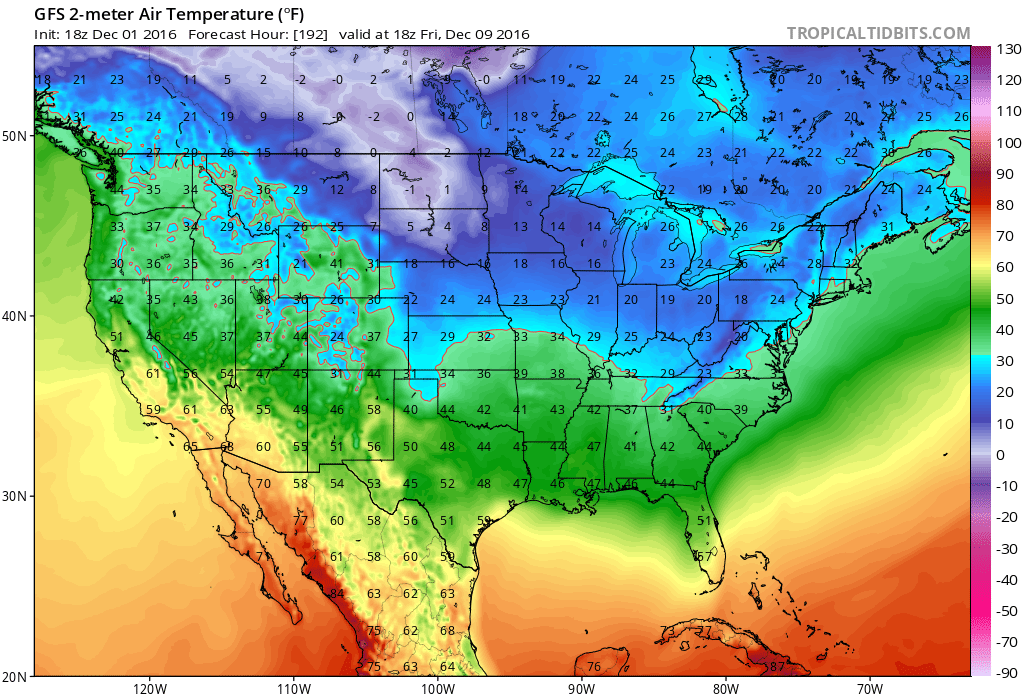 GFS does overdo the cold in the long range at times, however there is an overwhelming consensus among guidance. Verbatim, this is showing next Friday's high temperatures to be in the teens and 20s across PA, with the 32 degree line well to our South and East. Extremely impressive for this time of year and a good 10-20+ degrees colder than normal. Teens and 20s might be a bit too aggressive in our opinion, but 20s and 30s for high temperatures is looking likely for at least the December 8th-10th time period.
We will have many more updates as we track three upcoming snow chances (Friday Night into Saturday, low impact), (Monday, low to no impact), (Tuesday into Wednesday, potentially a bigger impact) so make sure you click here to follow our Facebook page to receive these updates>>>PA Weather Action on Facebook!
Don't forget to share the news with your family and friends below!