As Hurricane Laura continues to move inland, we will be monitoring that and also the threat for severe thunderstorms here in Pennsylvania Thursday (not associated with Laura). Scattered supercells possibly containing damaging winds, large hail, and isolated tornadoes will develop in New York State and move southeast. The bigger tornado threat looks to be north of the PA/NY border, but much of northern PA will still face the damaging wind threat.
THUNDERSTORM TIMING
Clusters of supercells will begin to develop near I-90 from Syracuse to Albany, NY by mid-afternoon Thursday. Down our way, we expect isolated thunderstorms, some of which may be strong to severe, to pop-up in western and northern Pennsylvania. Below is future radar for 3:00 PM Thursday.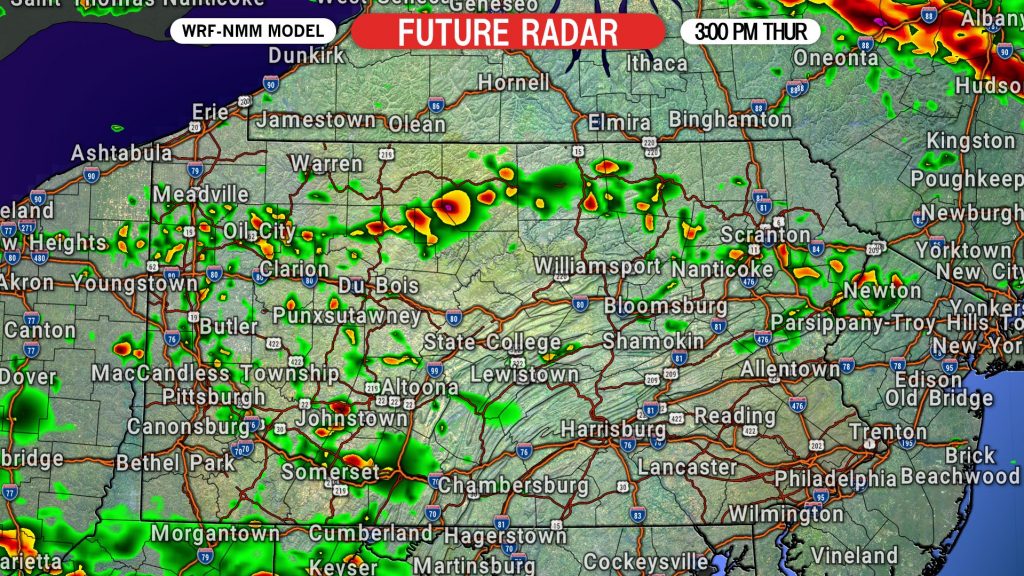 By 5:00 PM we expect to see scattered thunderstorms continue in much of western and northern PA, but little activity in eastern PA. Here is future radar for 5:00 PM Thursday.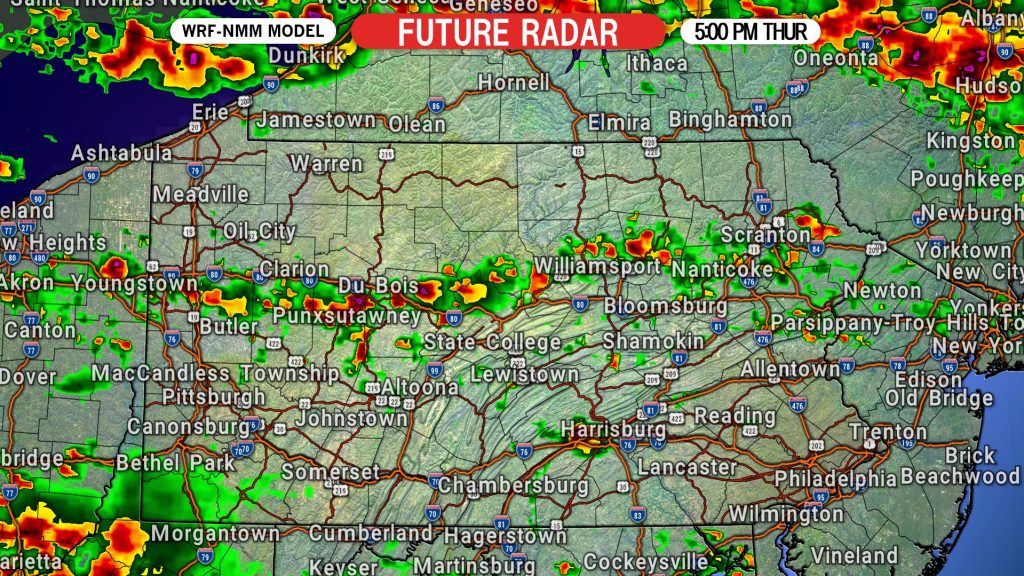 The storm clusters in New York State will likely turn into more of a line by the evening, which is when we predict the damaging wind threat to highlight itself. By 7:00 PM, that line of severe thunderstorms is anticipated to be moving through Erie and Binghamton, as shown below on future radar.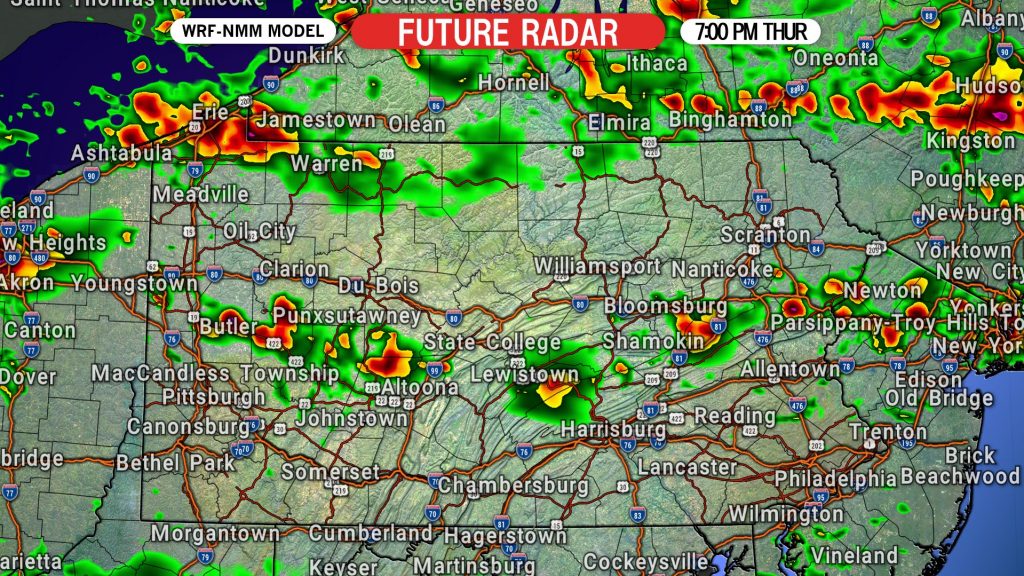 Finally, by late Thursday evening we expect the storms in northern PA to slowly weaken as they move southeast. Below is future radar for 9:00 PM Thursday.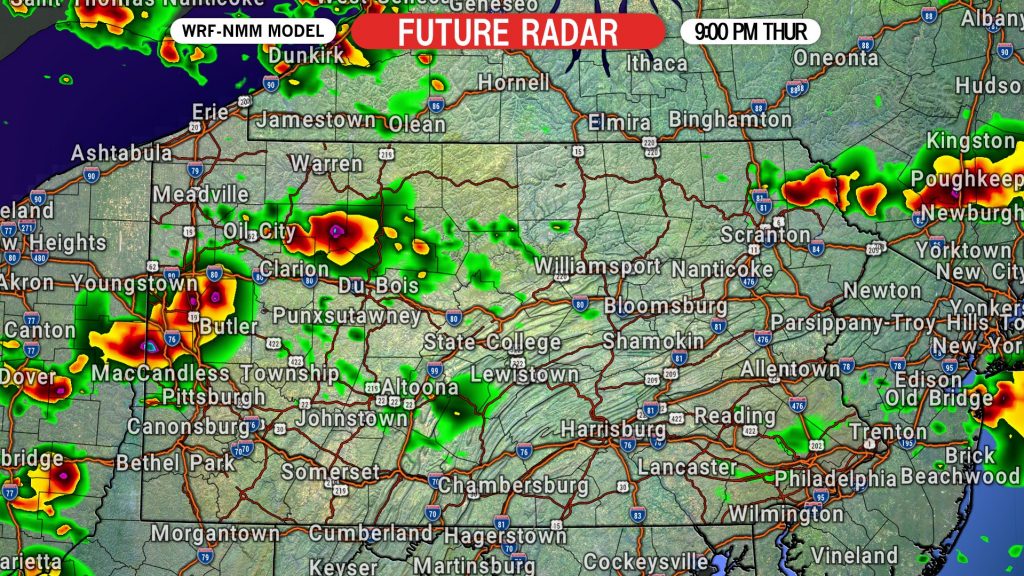 THURSDAY'S SEVERE THUNDERSTORM OUTLOOK MAP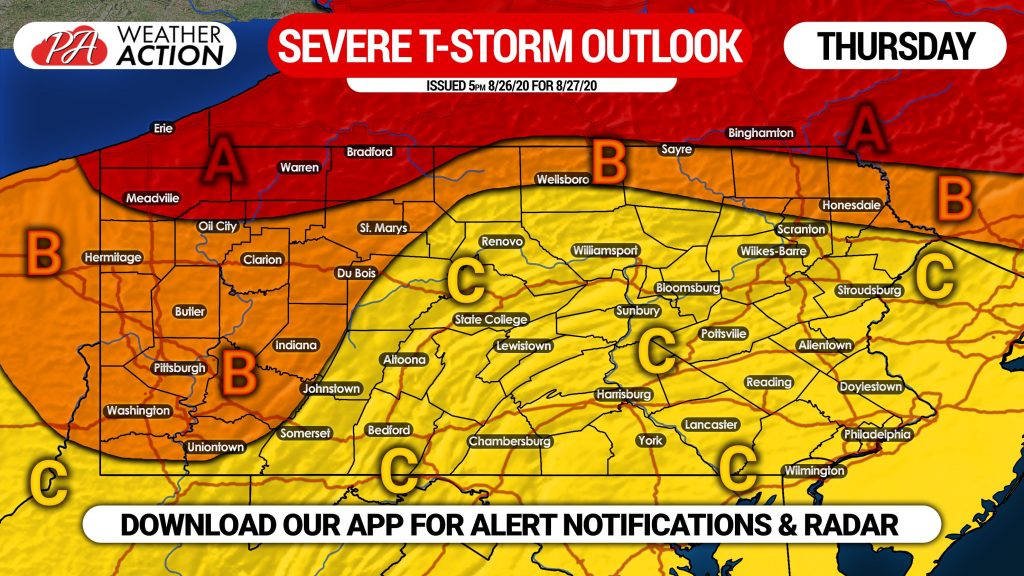 Area A: Severe thunderstorms are expected in this area anytime from late Thursday afternoon to early Thursday evening. Damaging winds, large hail, and isolated tornadoes possible.
Area B: Scattered strong to severe thunderstorms possible Thursday afternoon or evening. Damaging winds and large hail will be possible with the strongest storms.
Area C: Isolated strong to severe thunderstorms possible Thursday afternoon or evening. Isolated damaging winds and hail possible.
Hurricane Laura came ashore early Thursday morning in southwest Louisiana as a strong category four hurricane. Unfortunately, catastrophic impacts likely occured in that area, which will take months, or even years to recover from. Consider helping those people out any way you can in the coming months.
Don't forget to share this article with friends and family using the share button below. Stay safe!
Stay ahead of the storms with interactive radar and instant alert notifications on the Weather Action App! Get it on iOS & Android here >>> Weather Action App Link