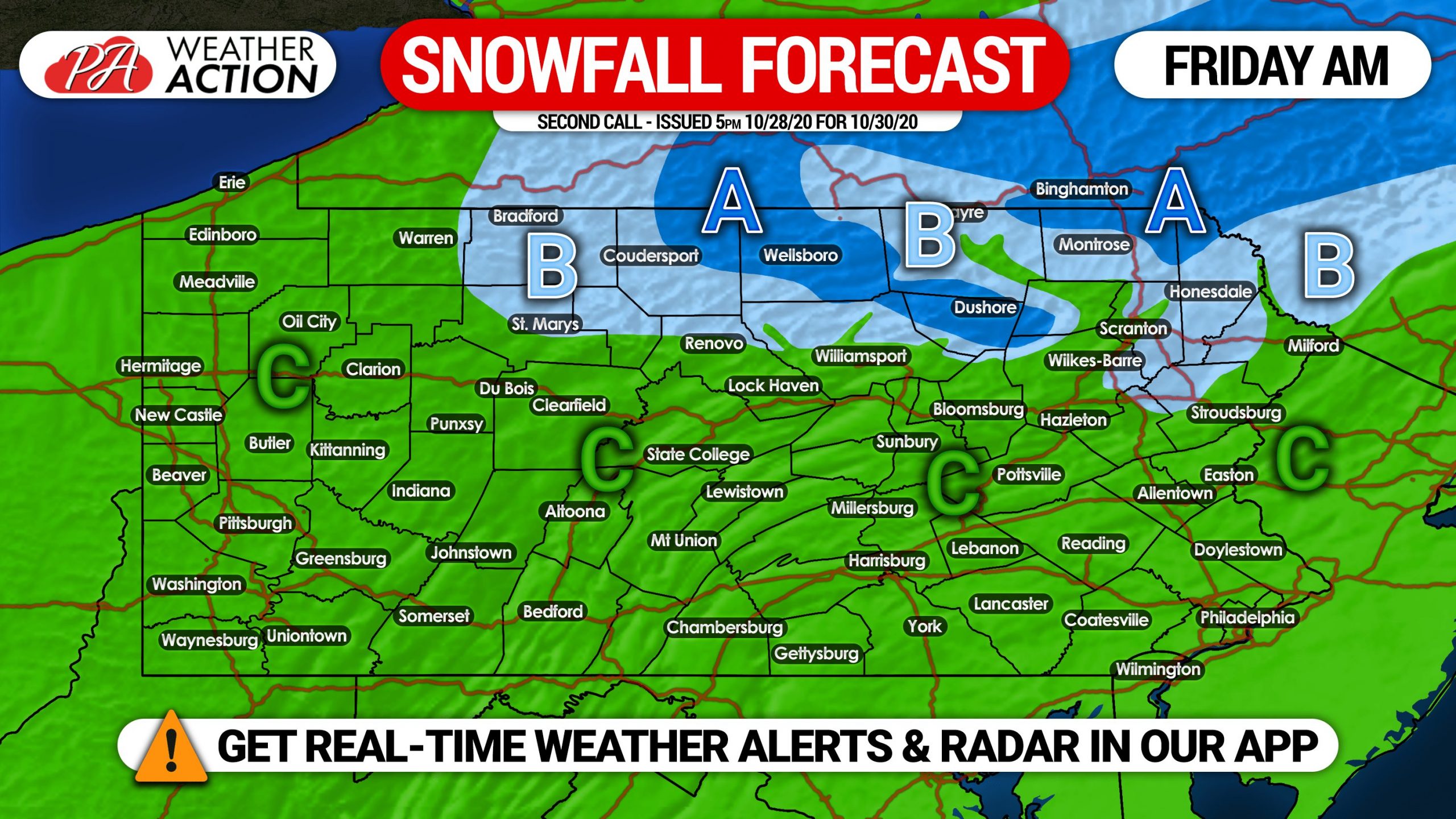 Hurricane Zeta is making landfall right now in southeast Louisiana as a very strong category two hurricane with winds of 110 MPH. The storm will rapidly push inland and by Thursday afternoon, Zeta is expected to be a tropical storm centered just to our south.
While we will avoid the gusty winds from Zeta that areas to our south with receive, heavy rain is still expected especially across southern PA. The snow threat has decreased, as Zeta will be moving too fast for most of the cold air to catch up with it. Still, first flakes remain likely in the northern tier mountains. We may not have to wait long before another chance for first snow, as a decent lake effect snow event is currently being modeled for Sunday night into Monday.
FUTURE RADAR TIMING
Light to moderate rain will overspread the state from south to north in the predawn hours of Thursday. Below is future radar for 8:00 AM Thursday from the Hi-Res NAM model.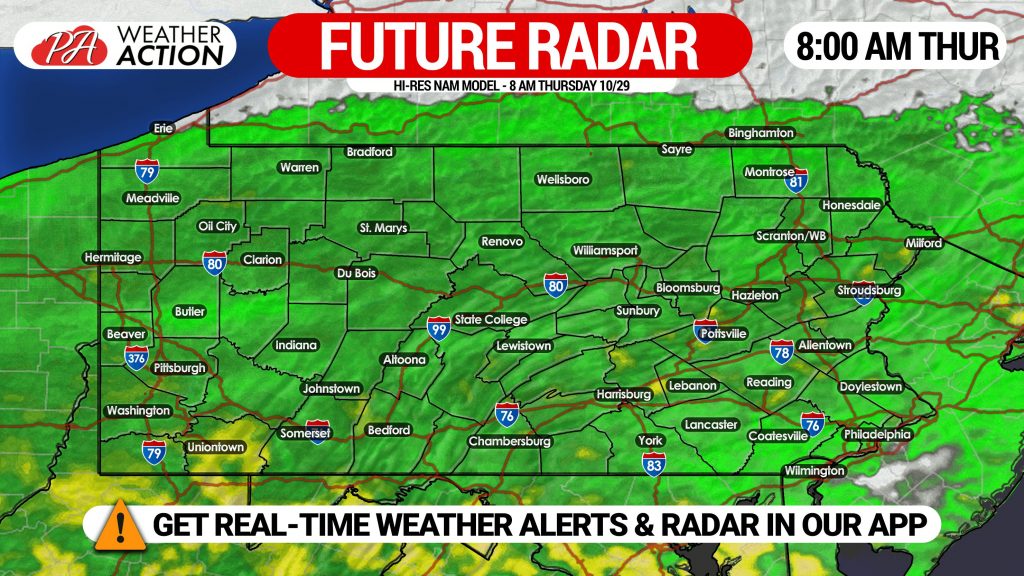 Moderate to locally heavy rainfall will push into southern Pennsylvania between 8-11 AM Thursday. The rain will continue to move east-northeast, with heaviest rain around the afternoon rush expected to be in southeast PA. Here is future radar for 4:00 PM Thursday.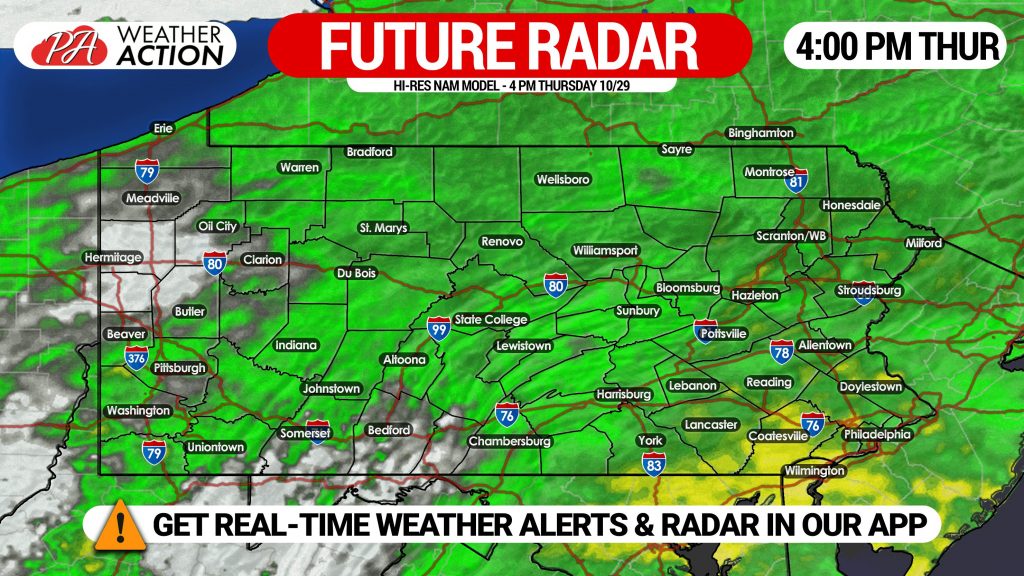 By sunset Thursday, heaviest rainfall bands will be to our east, leaving behind scattered showers. Around 12 AM Friday is when light rain may change to snow in the northern Pennsylvania mountains. Highest elevations, mainly above 1500′, have the best chance for very light snow accumulation. Below is future radar for 4:00 AM Friday.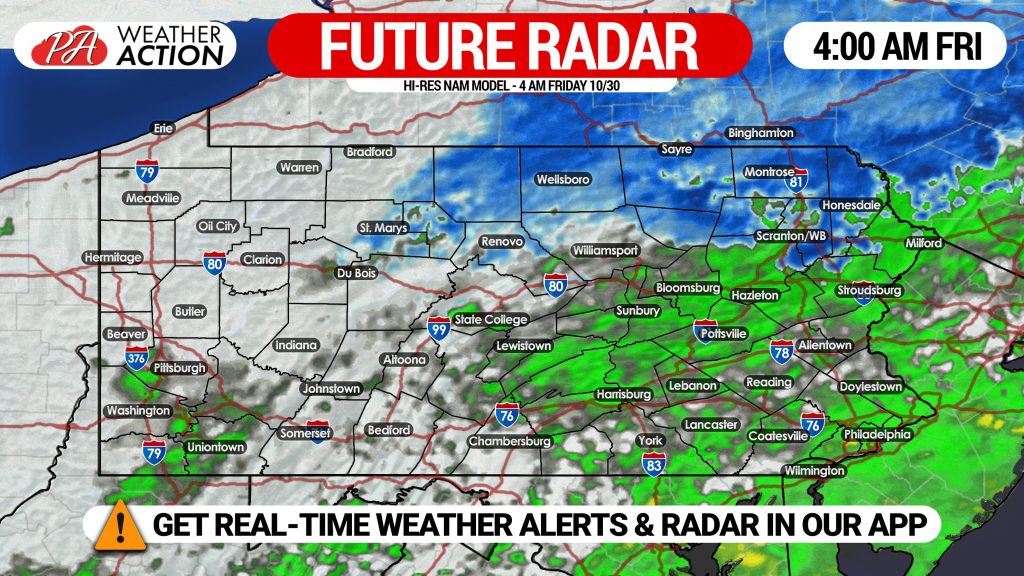 FINAL CALL ZETA RAINFALL FORECAST FOR THURSDAY – FRIDAY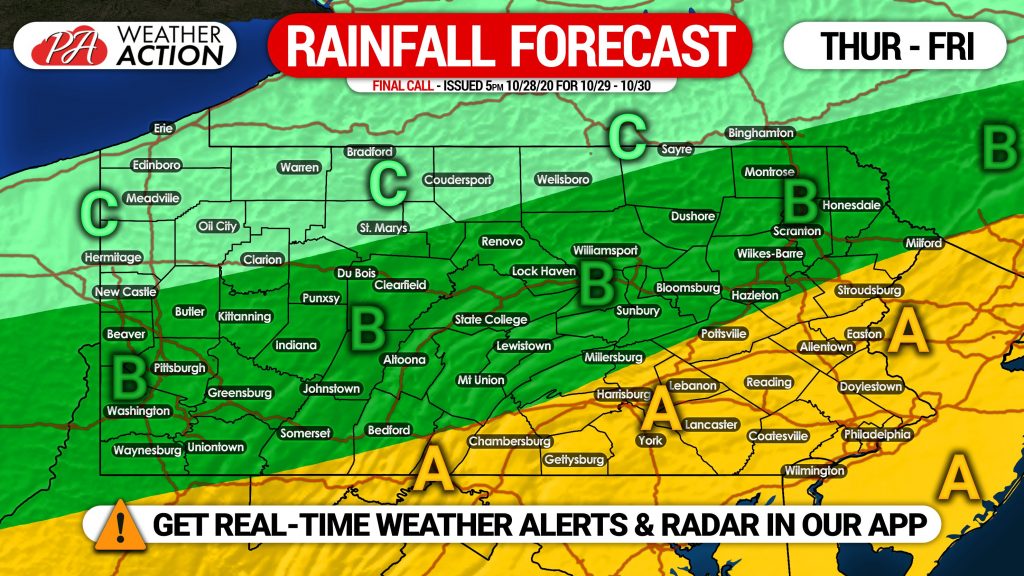 Area A: Rainfall amounts of 1.5 – 2.0″ expected. A slight risk of flash flooding will exist, mainly in flood-prone locations.
Area B: Rainfall amounts of 1.0 – 1.5″ anticipated. A marginal risk of flash flooding will exist in flood-prone locations.
Area C: Rainfall amounts of 0.5 – 1.0″ expected.
---
SECOND CALL SNOWFALL FORECAST MAP FOR FRIDAY AM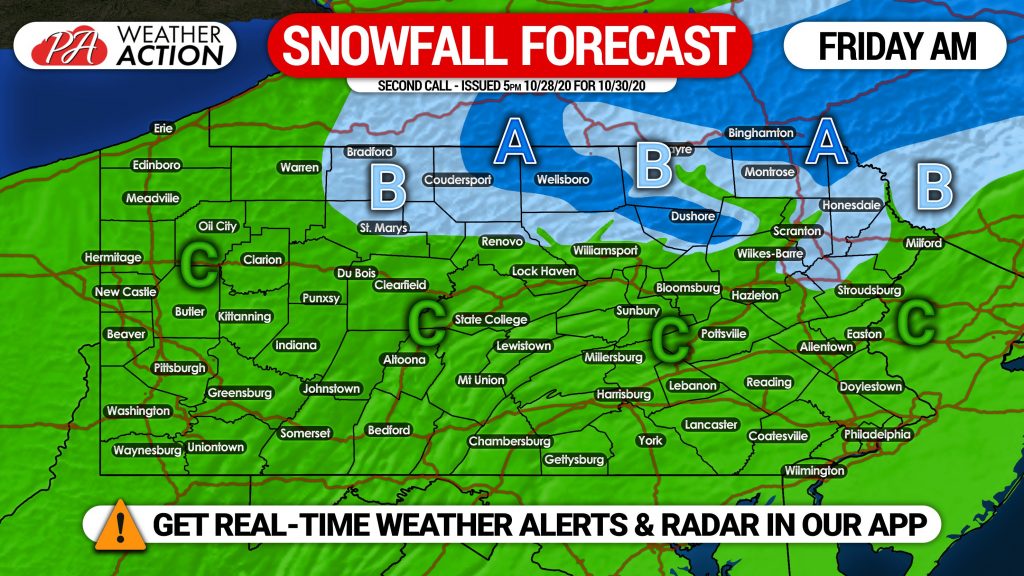 Area A: Snowfall accumulation of 1″ expected. Valleys may see less.
Area B: Snowfall accumulation of a coating expected.
Area C: Plain rain is expected.
We may have another opportunity for first snow of the season Monday morning, check back this weekend for details.
Share this forecast with family and friends using the blue button below!
Get the Weather Action App free on Apple & Android for all of our latest articles! Get it here >>> Weather Action App
---
---