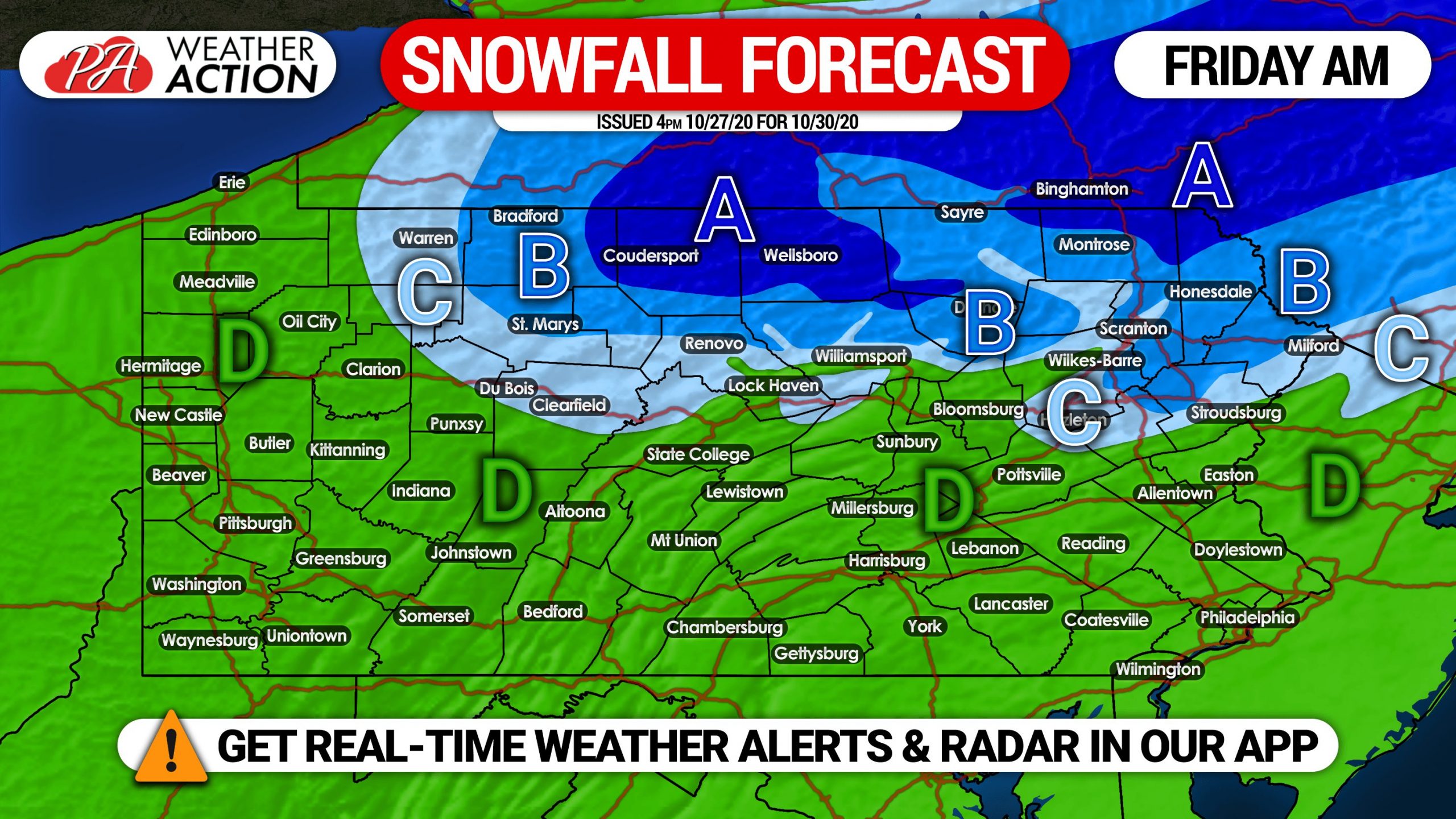 Not often do we see a wintry side to a tropical cyclone, but Zeta will run into just enough cold air that parts of northern PA may see just that. For most of us though, a chilly, soaking rain is expected Thursday into Friday. Just like any snowfall forecast, this one will be prone to changes as we near the event.
Moderate rain will move into the southern half of Pennsylvania Thursday morning, and progress north as the day goes on. By Thursday evening, we expect the entire state to be seeing light to moderate rainfall. The rain will continue into Thursday night as Zeta moves just to our south.
Then things get interesting as cold air flows into the region early Friday morning. The model consensus right now is that the northern PA mountains will change to moderate snow early Friday morning. This still hinges on how fast Zeta moves along. If Zeta moves faster than currently expected, there will be no precipitation left by the time the cold air rushes in, resulting in little to no snow. We will keep you updated daily on the latest, here is our current forecast.
We expect rain to change to snow in northern tier mountains by 2-3 AM Friday. This will be very elevation-dependent, and highest areas will changeover first, resulting in more accumulation. Below is future radar for 2:00 AM Friday.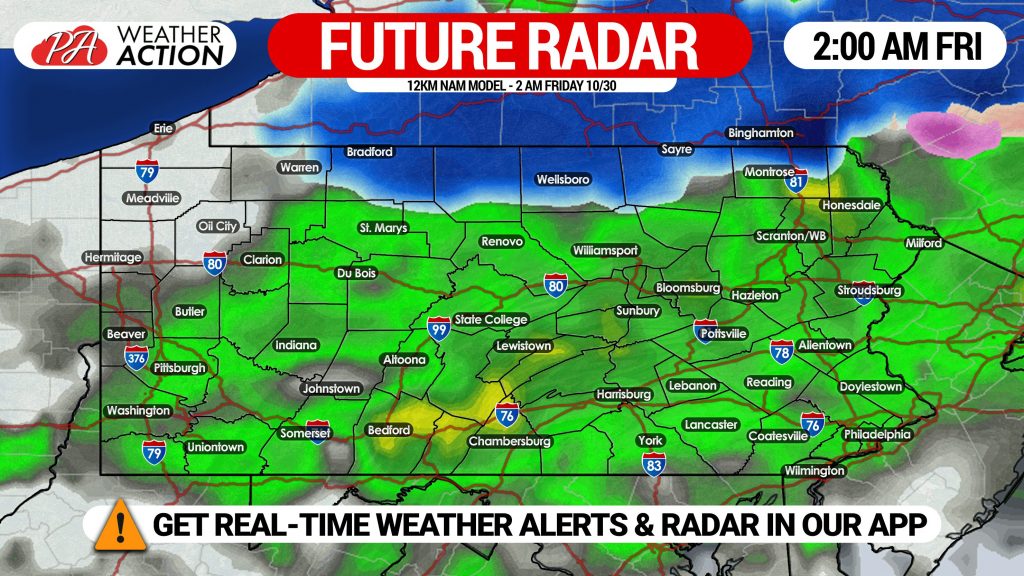 In the following hours, the rain/snow line is forecast to dip south. By 5:00 AM, snow may be falling in many areas above 1200′ elevation north of I-80. We expect Scranton/W-B and Willamsport to stay mostly rain due to low elevation, however if precipitation is heavy enough, they may change to snow. Here is future radar for 5:00 AM Friday.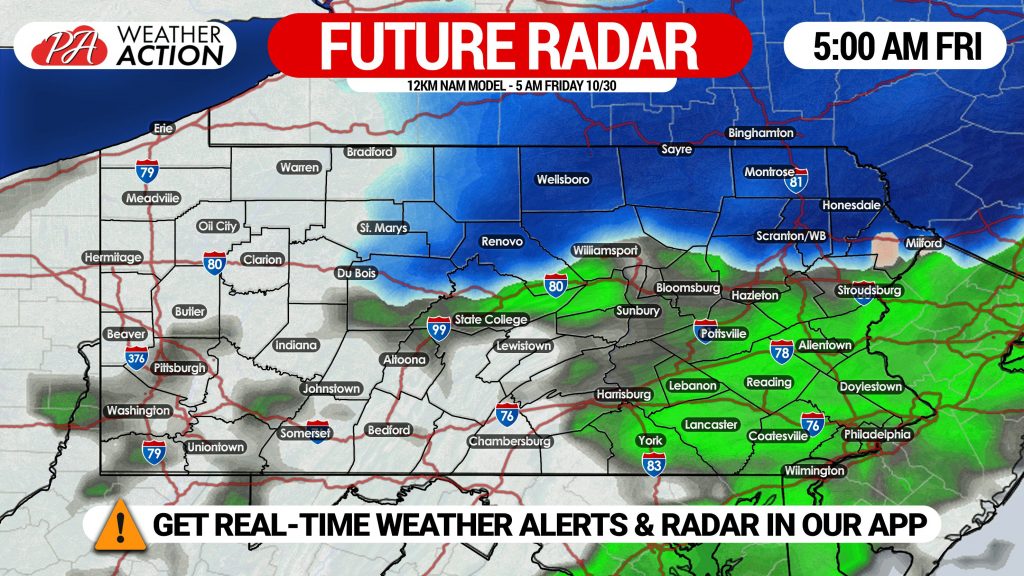 This article has been updated with our most recent forecast maps as of 5:00 PM Wednesday.
FINAL CALL ZETA RAINFALL FORECAST FOR THURSDAY – FRIDAY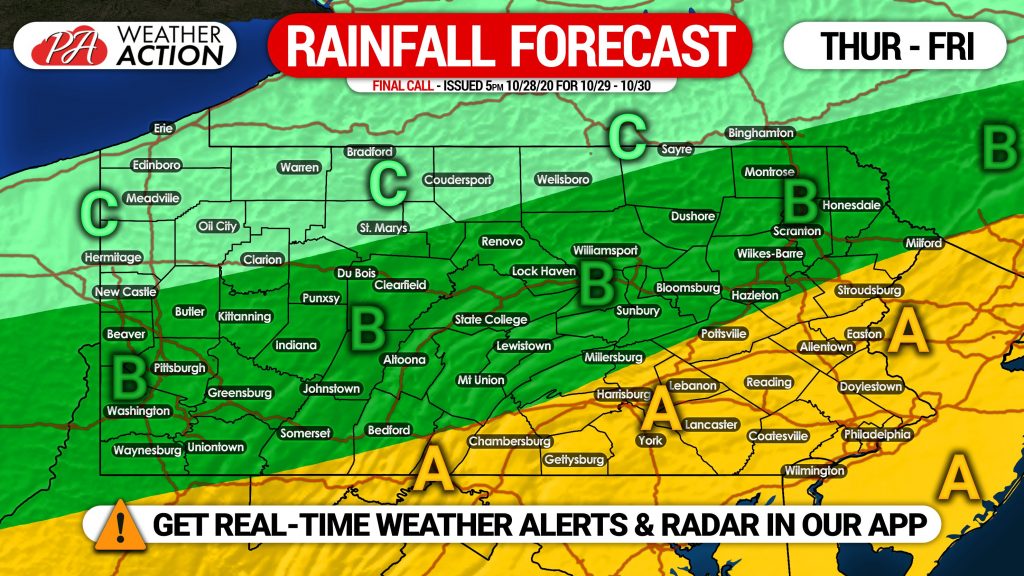 Area A: Rainfall amounts of 1.5 – 2.0″ expected. A slight risk of flash flooding will exist, mainly in flood-prone locations.
Area B: Rainfall amounts of 1.0 – 1.5″ anticipated. A marginal risk of flash flooding will exist in flood-prone locations.
Area C: Rainfall amounts of 0.5 – 1.0″ expected.
---
SECOND CALL SNOWFALL FORECAST MAP FOR FRIDAY AM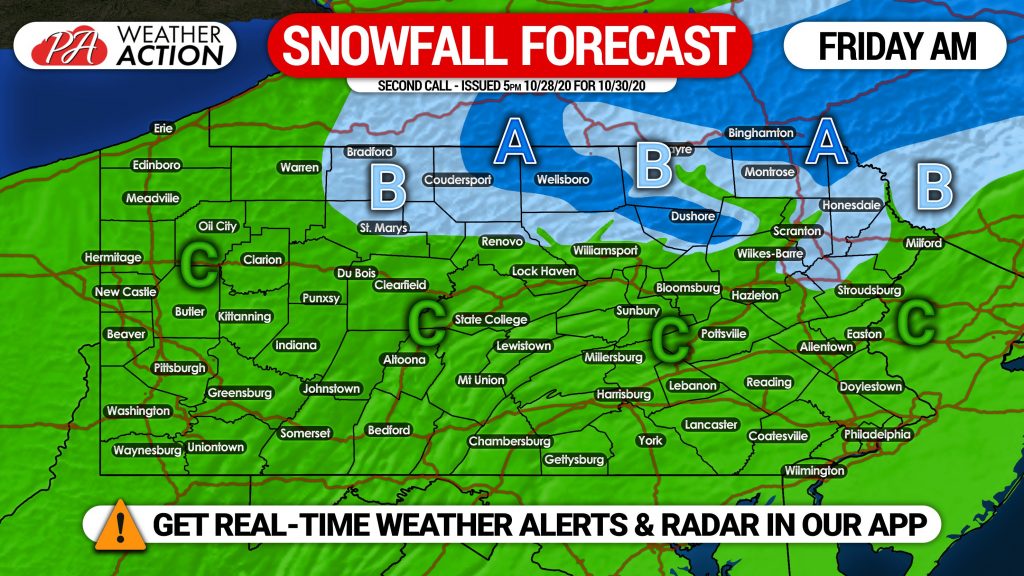 Area A: Snowfall accumulation of 1″ expected. Valleys may see less.
Area B: Snowfall accumulation of a coating expected.
Area C: Plain rain is expected.
We may have another opportunity for first snow of the season Monday morning, check back this weekend for details.
Share this forecast with family and friends using the blue button below!
Get the Weather Action App free on Apple & Android for all of our latest articles! Get it here >>> Weather Action App
---
---