Overall no major changes in our forecast, only minor tweaks. A complex storm system is still expected to bring a wintry mix to the state tomorrow. All areas will start off as a period of snow at the onset before transitioning to a period of sleet and then some freezing rain. There is potential for some areas to change back to snow towards the end of storm.
The model data that we like to use for our future radar is in a disagreement with other model data currently. However, we will still use it for the timing which has been rather consistent over the past few days.
Snow will begin to fall across western Pennsylvania after 5:00 AM Saturday. The snow will quickly expand eastward, below is a look at 7:00 AM Saturday: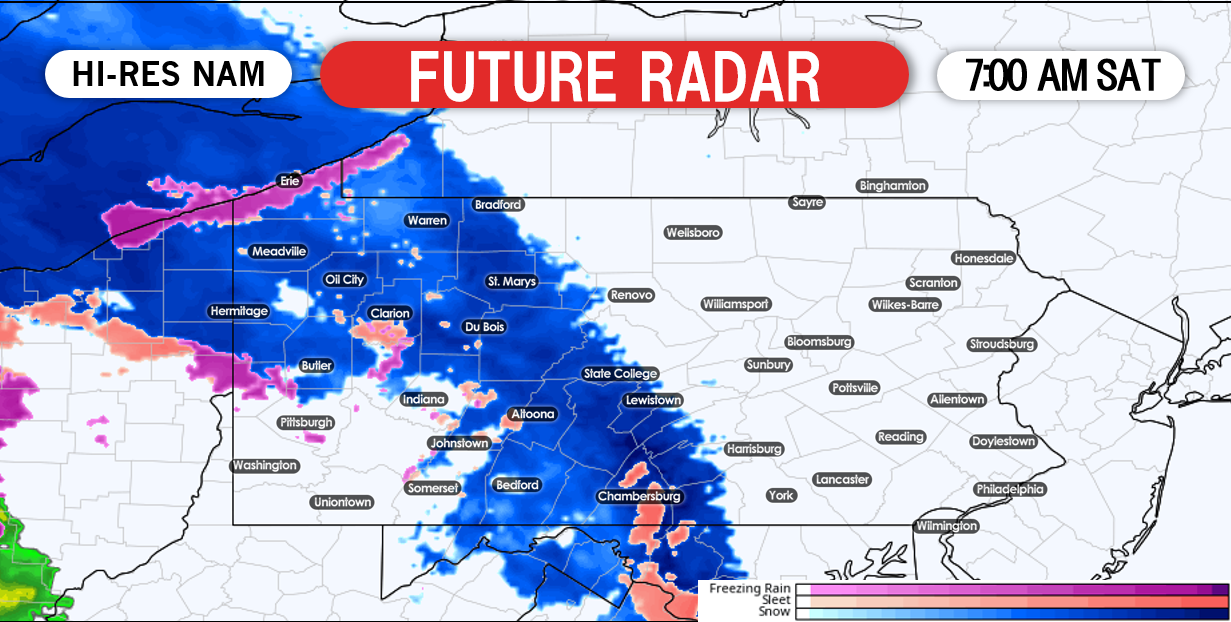 One of the disagreements with the Hi-Res NAM model (our future radar) and other model data is the dry-slot that appears in southwest Pennsylvania and into eastern Ohio. Other data does suggest there will be a burst of initial snow before the bulk of the precipitation arrives, but the dry-slot or lull is not nearly as long lasting as our future radar shows. Below is a look at 10:00 AM Saturday: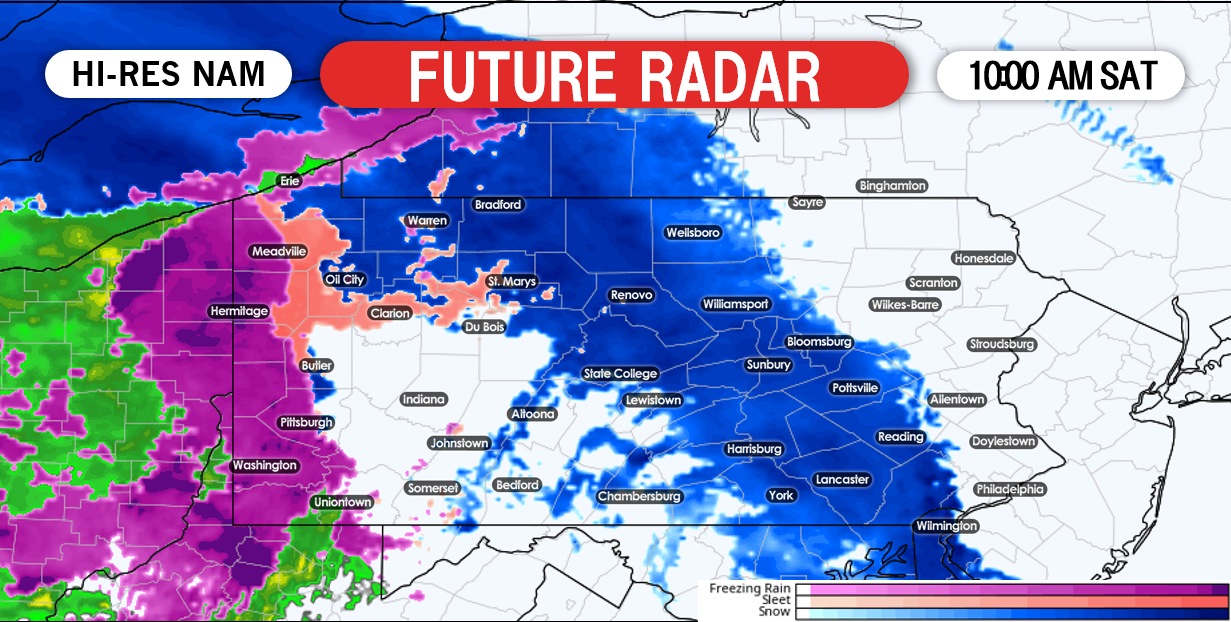 Again, we anticipate that the lull shown here in western and parts of central Pennsylvania will be more filled in reality. This will allow for areas to reach our projected snow totals shown at the end of this article. The snow, sleet and freezing rain will be widespread across the state by the afternoon hours. Below is a look at 1:00 PM Saturday: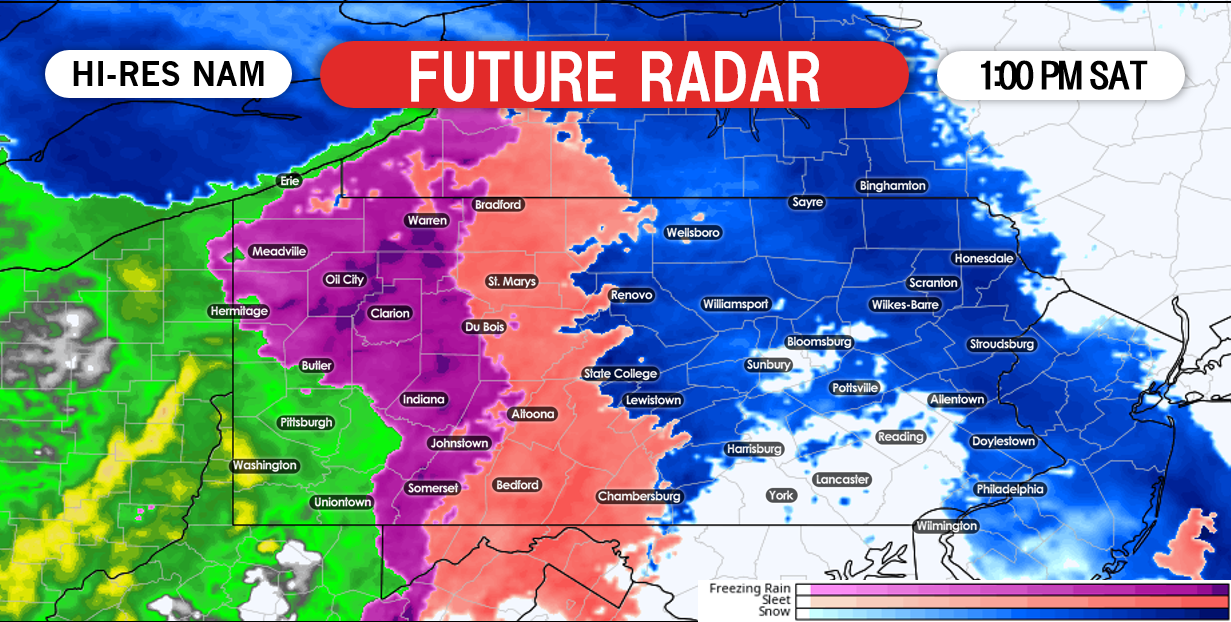 This model does try to correct itself with the lull as it advances east, as the precipitation begins to fill in. Another disagreement is how quickly the sleet advances into the state tomorrow. All other model data suggest the sleet line has a tougher time advancing northeastward compared to what is shown in the next image below valid for 4:00 PM Saturday afternoon: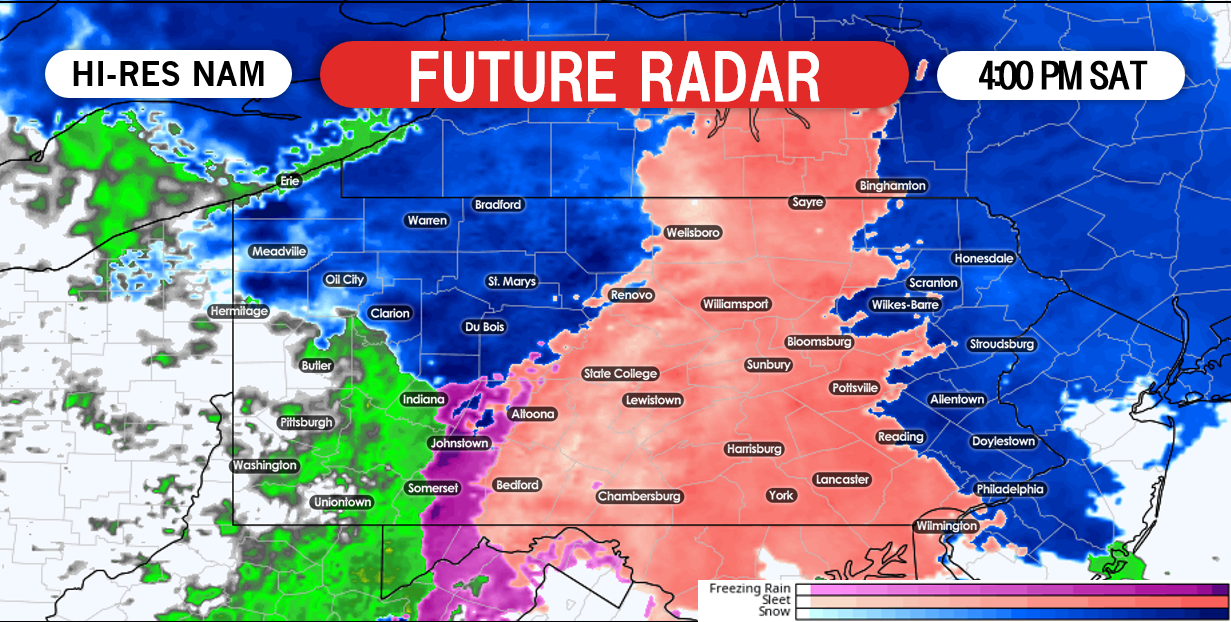 Other model data as well ourselves disagree with our future radar model. Most locations north of interstate 80 in central and eastern Pennsylvania will remain all snow tomorrow. Even in this scenario, a transition back to snow would be likely as the system begins to pull away by Saturday evening. Below is a look at 6:00 PM Saturday: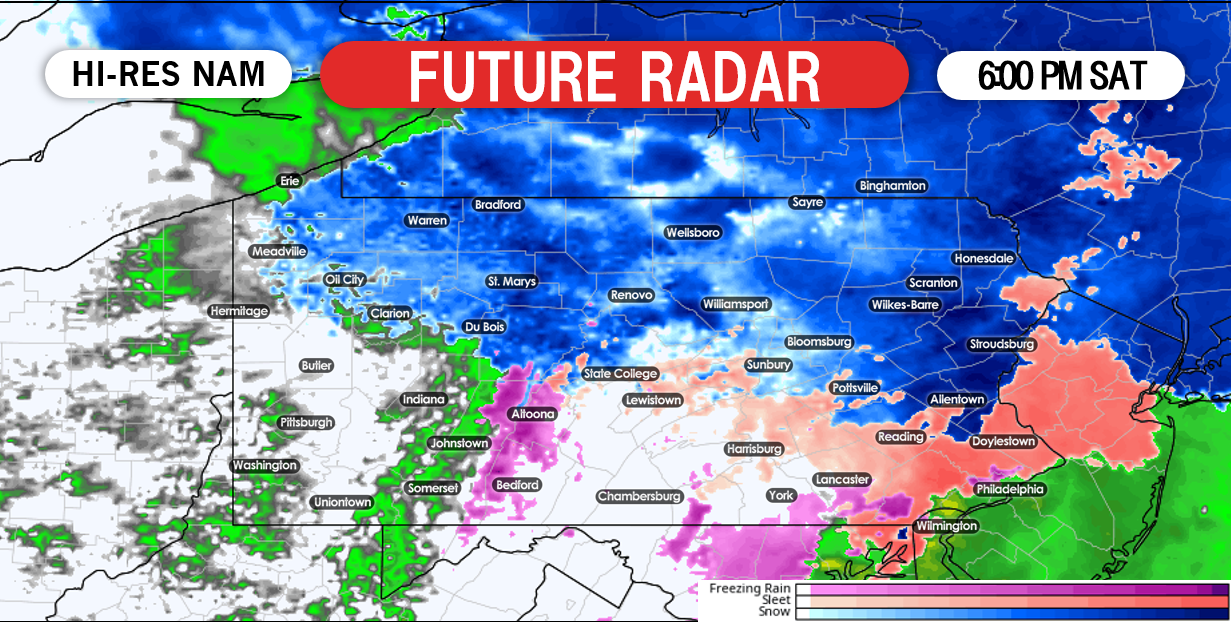 We highly suggest to avoid traveling tomorrow as much as possible. We expect significant traffic delays and treacherous road conditions across the state tomorrow.
FINAL CALL ICE FORECAST FOR SATURDAY
Area A: Ice accrual of .05 to .15″ expected, causing isolated power outages due to windy conditions.
Area B: Ice accrual of a thin glaze to .05″ expected.
FINAL CALL SNOWFALL FORECAST FOR SATURDAY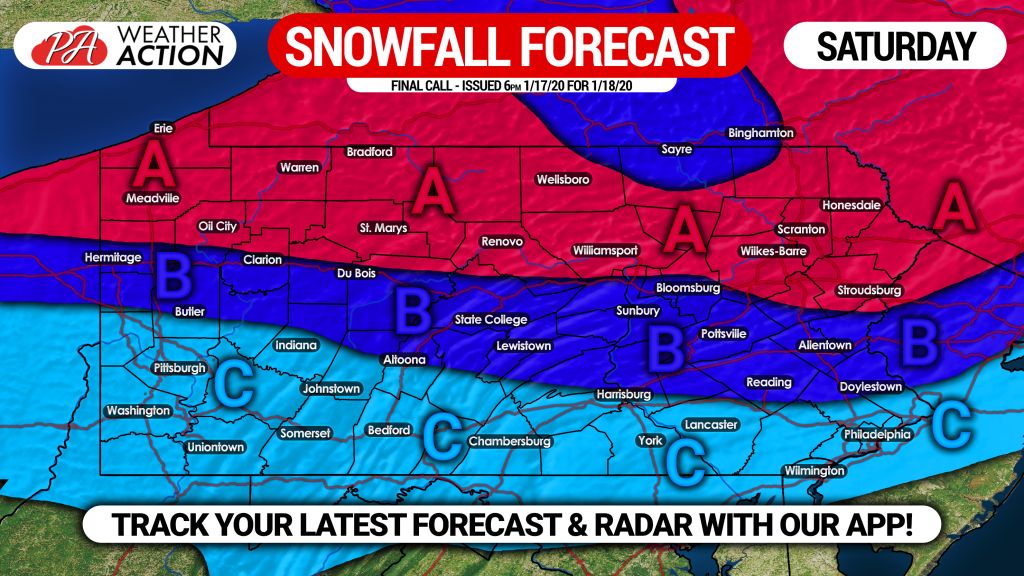 Area A: Snow/sleet accumulation of 4 – 7″ expected. Snowpacked roads will make for hazardous and difficult travel.
Area B: Snow/sleet accumulation of 2 – 4″ expected. Roads will become treacherous, especially during the heavy snow burst Saturday morning.
Area C: Snow/sleet accumulation of a coating – 2″ expected. Travel will be difficult during the burst of snow Saturday morning.
Be sure to share this final forecast with your family and friends.
For more precise timing and amounts for your location, interactive radar and more, download our free app! >>> Weather Action App Link