The northwest shift strikes again, and this time it's during the final 24 hours before the storm hits. Models overnight trended about 50 miles west, which will make a big difference in Southeast PA. We are issuing our final call at 4:00 AM this morning, and will be sure to let you know if any further changes take places today.
STORM TIMING
Snow showers will be around the state today, which won't amount to much. An inch or less in most areas except the west-facing slopes of the Laurel Highlands, where a few inches of snow are likely.
The coastal storm will really take over late this evening, and will begin to throw moderate snow back into Southeast PA very early Saturday morning. That snow will be primarily east of Coatesville, Allentown, and Mount Pocono. By the late morning and early afternoon, that snow will already begin to exit the state. This remains very much a coastal special. Even the NJ Coast may now get in totals above 18″. For us, there's a tight gradient. Snow will be out of the state by Saturday evening. Below is future radar. Note the greens on the radar are not rain, there will be no rain. It's just light snow.
---
FINAL CALL SNOWFALL FORECAST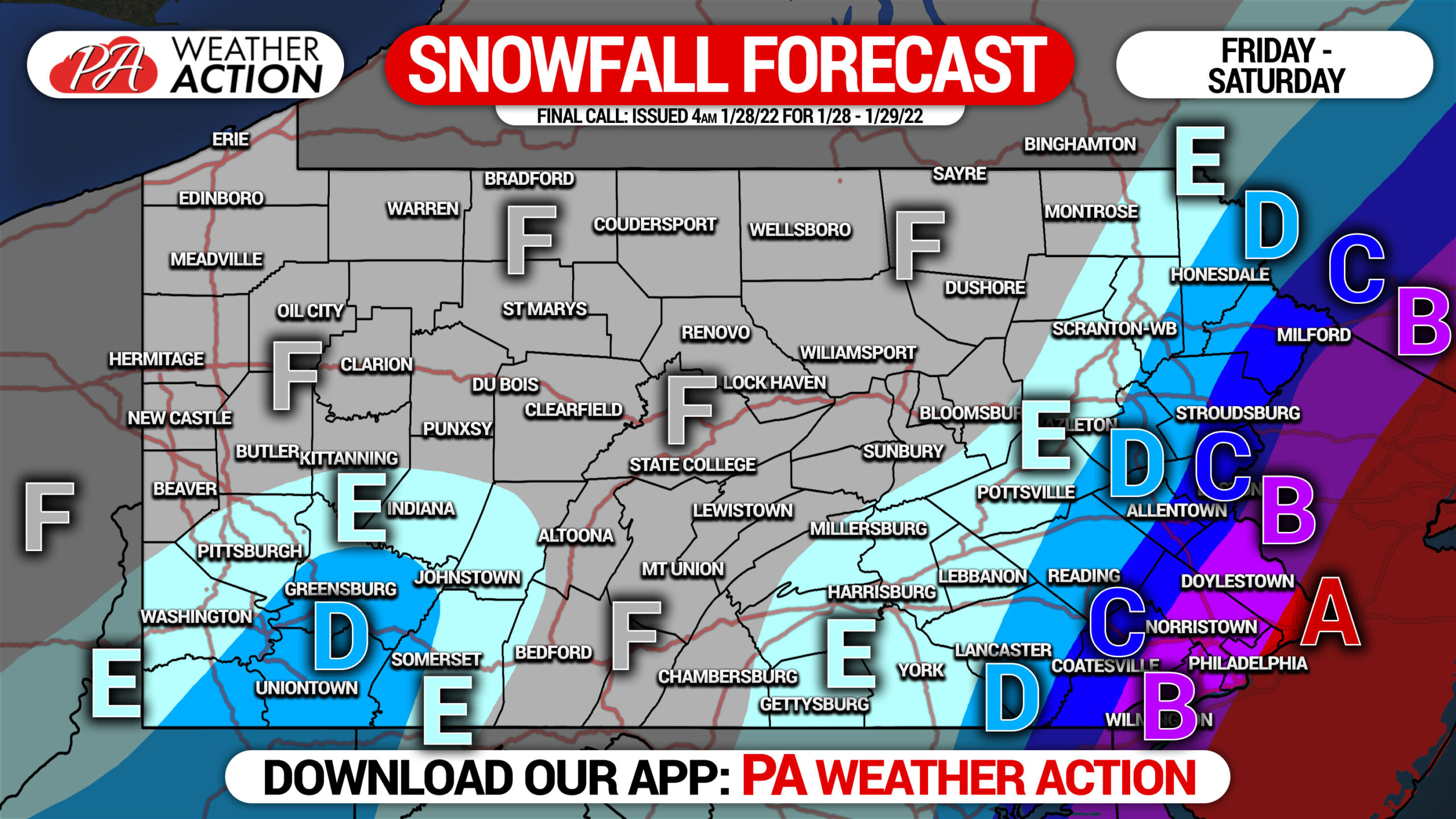 Area A: Snowfall accumulation of 8 – 10″ expected.
Area B: Snowfall accumulation of 6 – 8″ expected.
Area C: Snowfall accumulation of 4 – 6″ expected.
Area D: Snowfall accumulation of 2 – 4″ expected.
Area E: Snowfall accumulation of 1 – 2″ expected.
Area F: Snowfall accumulation of less than 1″ expected.
Amounts of two to three feet of snow will be found up in New England, and perhaps even Long Island and the New Jersey Shore.
Be sure to share this forecast update with family and friends in the areas affected. Stay safe!
Track the storm as it happens with our rapid-update hourly forecast and map layers. Also, we send out notifications for latest forecasts here! Get our app on iOS or Android! Tap the banner below to get it!