Since our last update on this storm about 24 hours ago, model guidance has quickly come into agreement regarding where the axis of heaviest snow will be. Also, we are now confident parts of western PA will see several additional inches of lake effect snowfall Tuesday into Wednesday.
STORM TIMING
Starting late Monday afternoon, a mix of rain and freezing rain will change to snow in northwest PA from north to south. By around dinnertime, Erie and Meadville will be seeing moderate snow. Below is the Hi-Res NAM future radar for 8:00 PM Monday.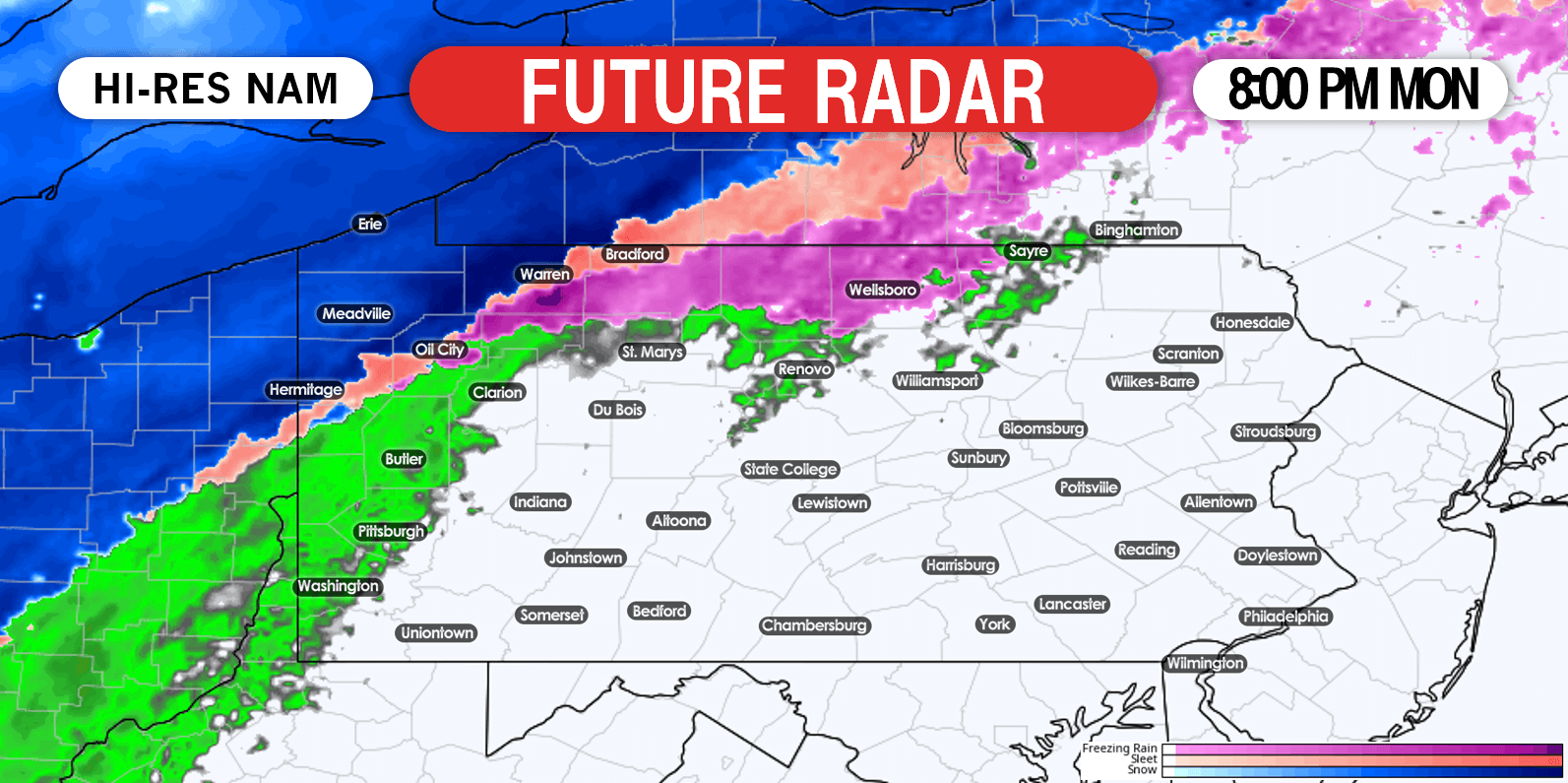 That rain/snow line will quickly drop south and east in western PA late Monday evening, causing everywhere north and west of the Laurel Highlands to change over to snow. Here is future radar for 12:00 AM Tuesday.
Moving into early Tuesday morning, snow will wind down across western PA. Meanwhile, a wintry mix of precipitation will begin to change to all snow in northeast PA from northwest to southeast. Future radar for 4:00 AM Tuesday is below.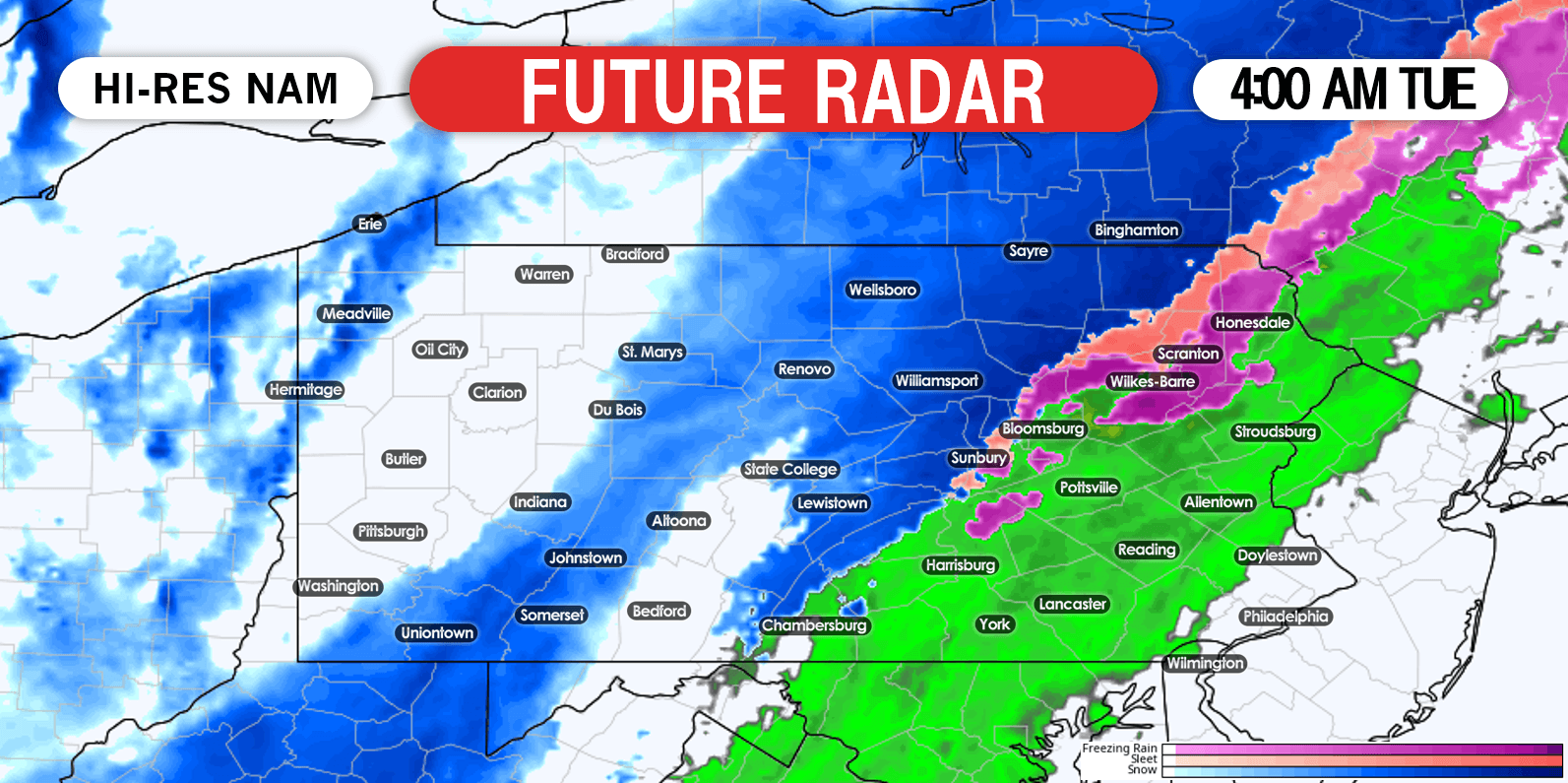 By mid-morning Tuesday, we expect rain to switch to snow in eastern PA from northwest to southeast. A two to three hour period of moderate snow is expected before wrapping up in eastern PA from northwest to southeast. At the same time, the lake effect snow machine will get going across western PA, with some heavy bands possible. Here is future radar for 8:00 AM Tuesday.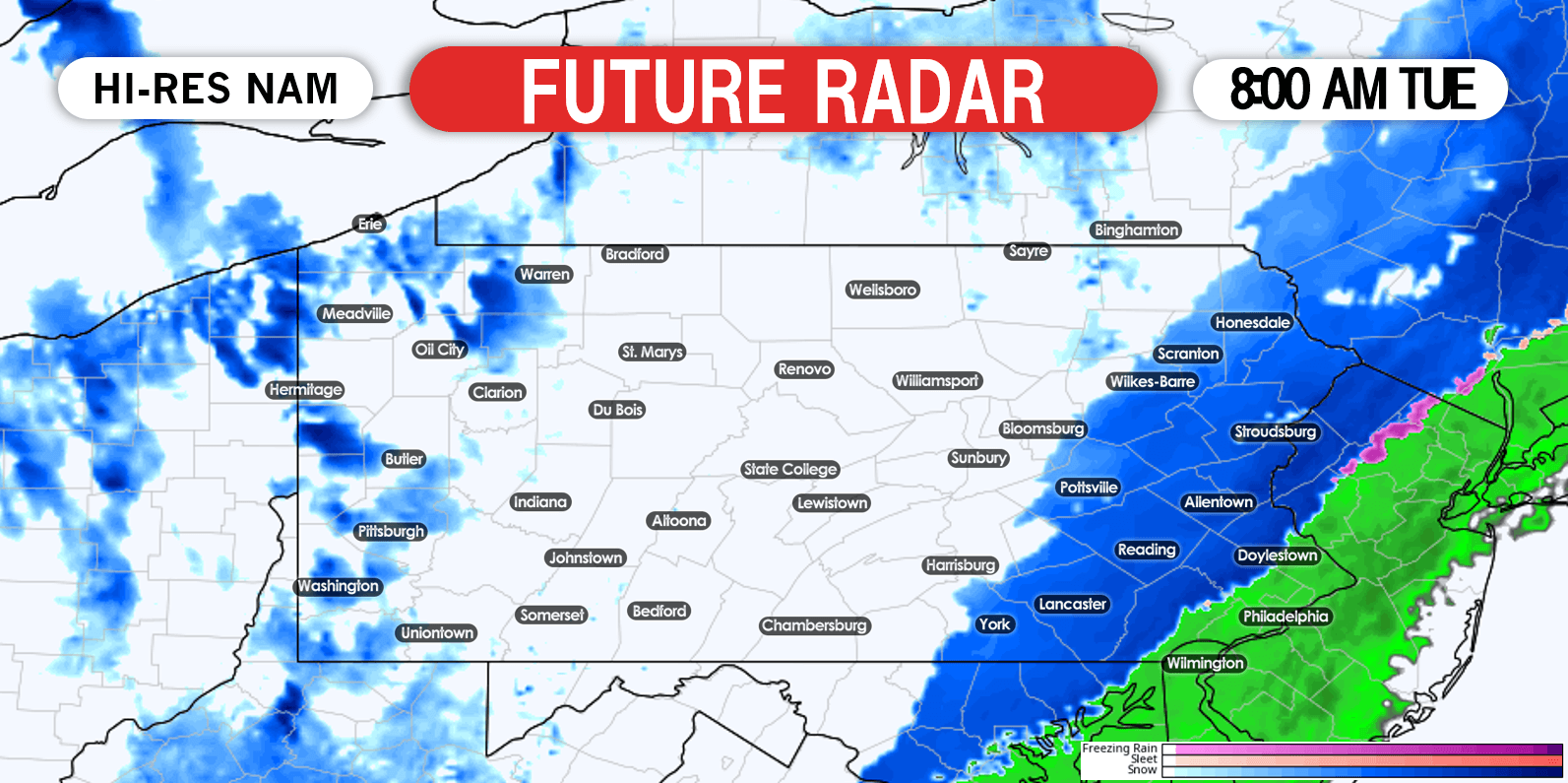 Precipitation will exit eastern PA by noon Tuesday. Heavy lake effect snow bands will continue to stream off Lake Erie into western PA through the afternoon, evening, and into Tuesday night. Below is future radar for 6:00 PM Tuesday showing those heavy snow bands.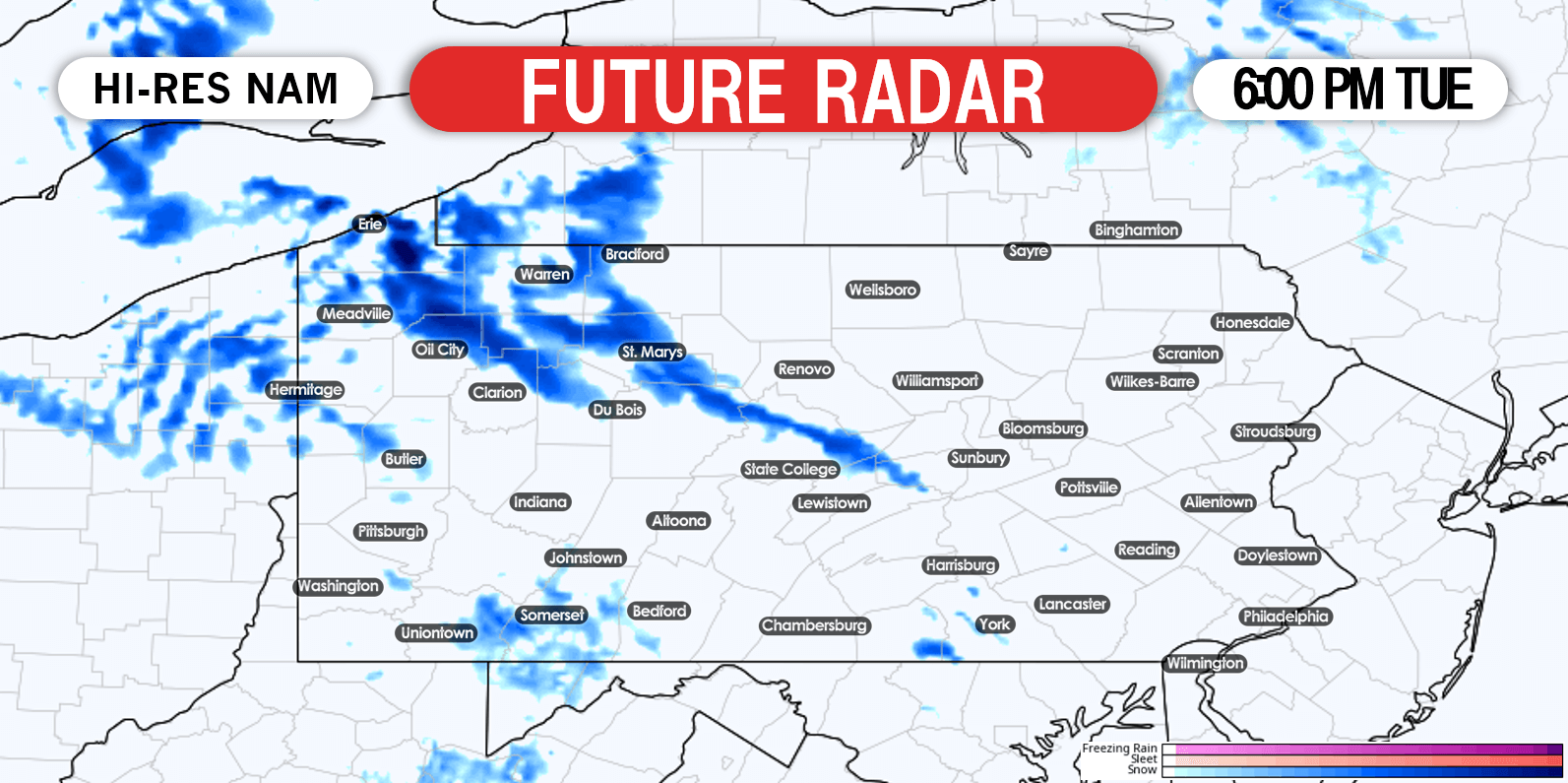 ---
FINAL CALL SNOWFALL FORECAST MAP FOR MONDAY – WEDNESDAY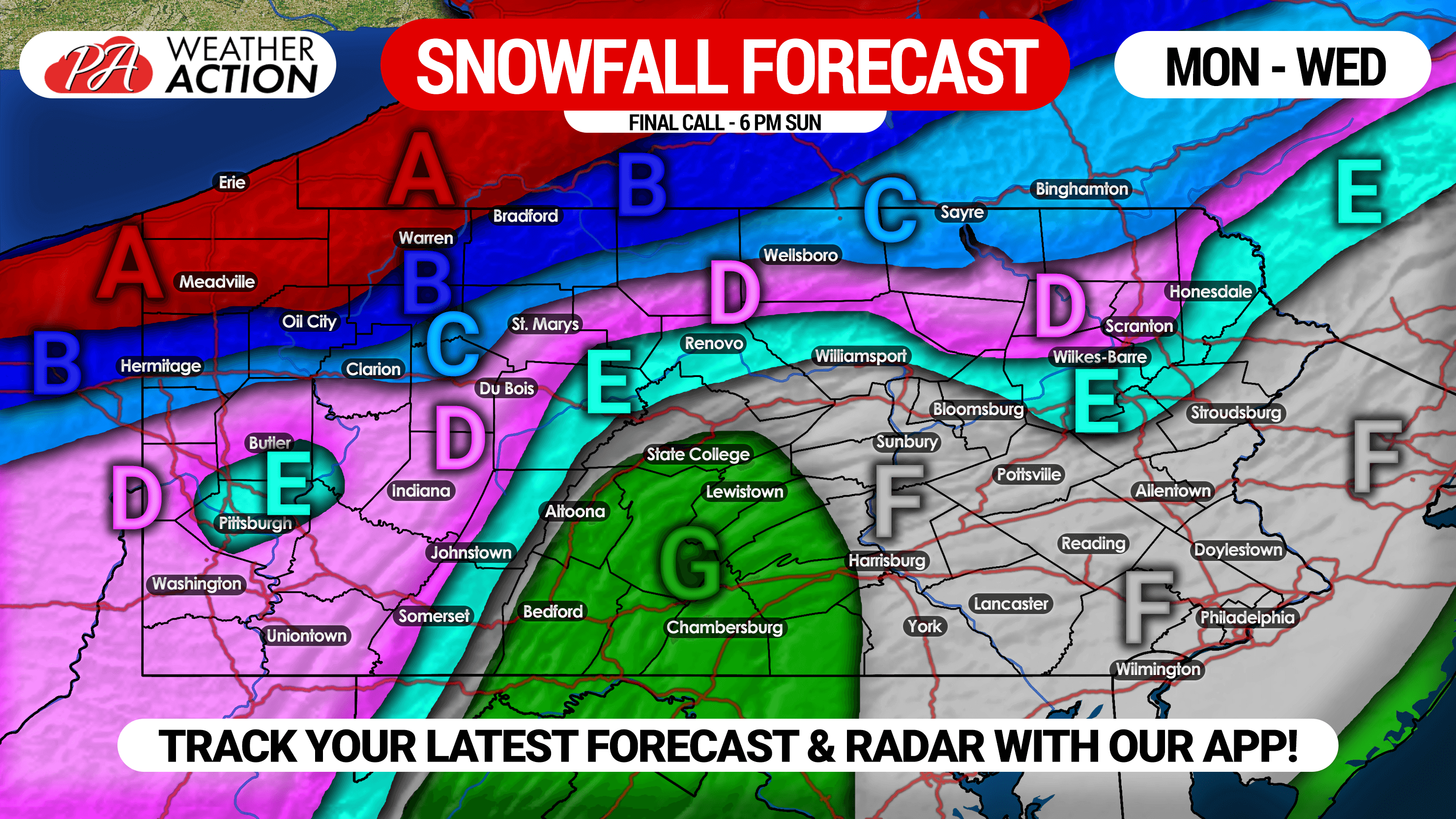 Area A: This area should see all snow after a brief wintry mix during the onset, followed by lake effect snow into Wednesday morning. Snowfall accumulation of 6 – 10″ expected, with a foot possible in favored lake effect zones.
Area B: A few hours of rain, followed by a wintry mix, and then snow. Scattered heavy lake effect snow showers then possible into Tuesday night. Snowfall accumulation of 4 – 6″ likely.
Area C: After several hours of rain, this area will switch to snow for the remainder of the storm. Snowfall accumulation of 2 – 4″ anticipated.
Area D: Rain will switch to snow, which will continue for a few hours before precipitation ends. Snowfall accumulation of 1 – 2″ expected.
Area E: A period of rain will change to snow, which will continue for a few hours before precipitation exits. Snowfall accumulation of up to 1″ expected.
Area F: Rain will change to snow from northwest to southeast as temperatures rapidly drop. Due to temperatures around 32F, snowfall accumulation of a coating to a half inch anticipated, mainly on grassy surfaces.
Area G: Mainly rain, possibly ending as an hour of snow. No snowfall accumulation expected.
Don't forget to share this snowfall forecast with yours friends and family using the button below!
Receive more updates like this during the winter season by downloading our free app >>> Weather Action App
For morning video forecasts about the latest on this storm and the winter storms to come, subscribe to us on YouTube >>> YouTube Channel