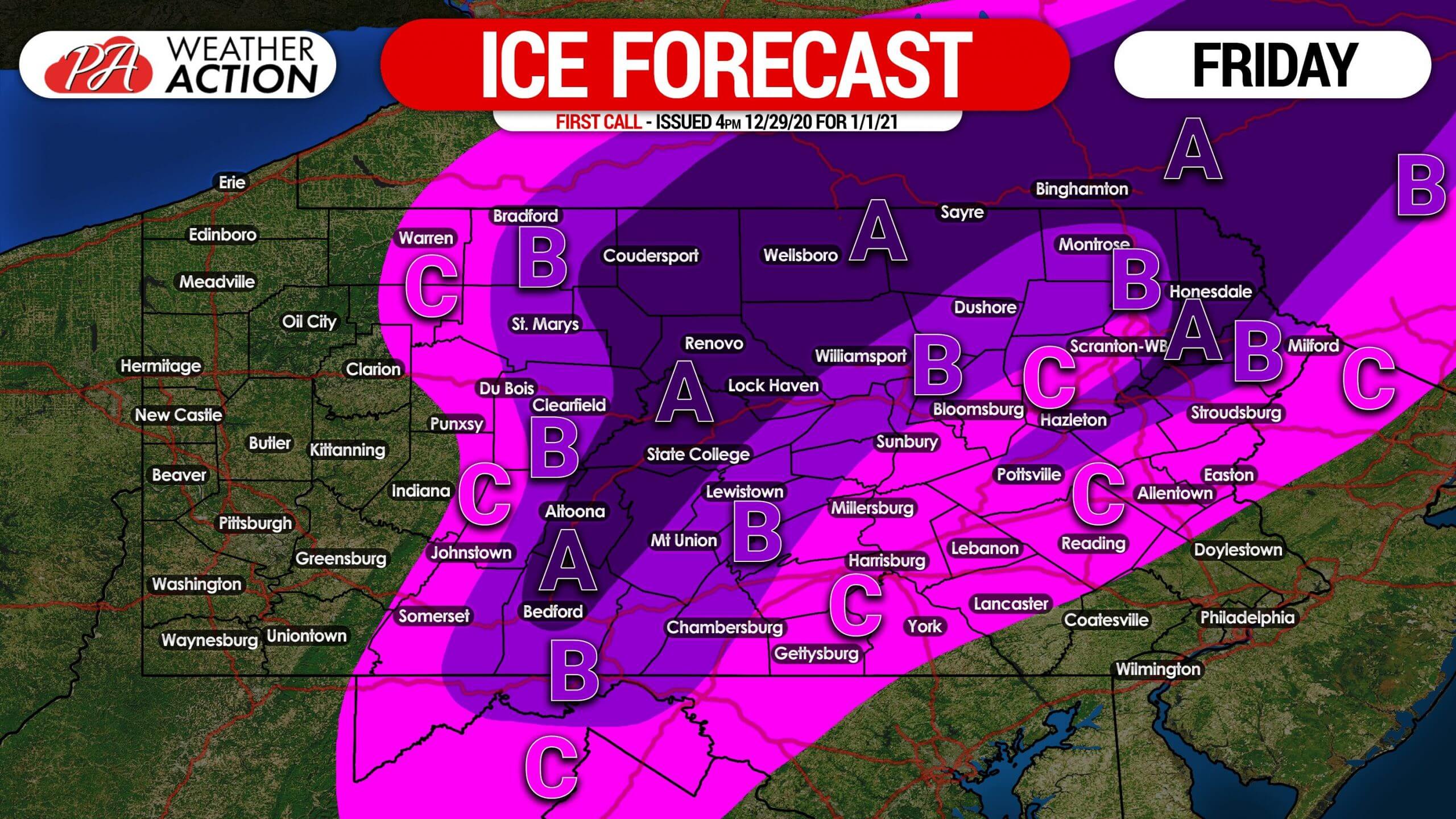 Although we are entering a mild and wet pattern for this time of year, 2021 will begin with some freezing rain in much of Pennsylvania New Year's Day. Precipitation from a low pressure all the way out in the upper Midwest will come our way, while cold air damming remains in place. This will result in a several hour period of freezing rain, with the most significant ice accumulation likely to be in the ridges and valleys of the Appalachians.
Travel is not recommended on New Year's Day in most of central and northern Pennsylvania. By late Friday evening, all of the state should be above 32 degrees, and ice will begin to melt.
FUTURE RADAR TIMING
Freezing rain is expected to start in and just east of the Appalachians by early Friday afternoon. The I-79 corridor will see plain rain, as temperatures will be above freezing in western PA. Below is the NAM model future radar for 12:00 PM Friday.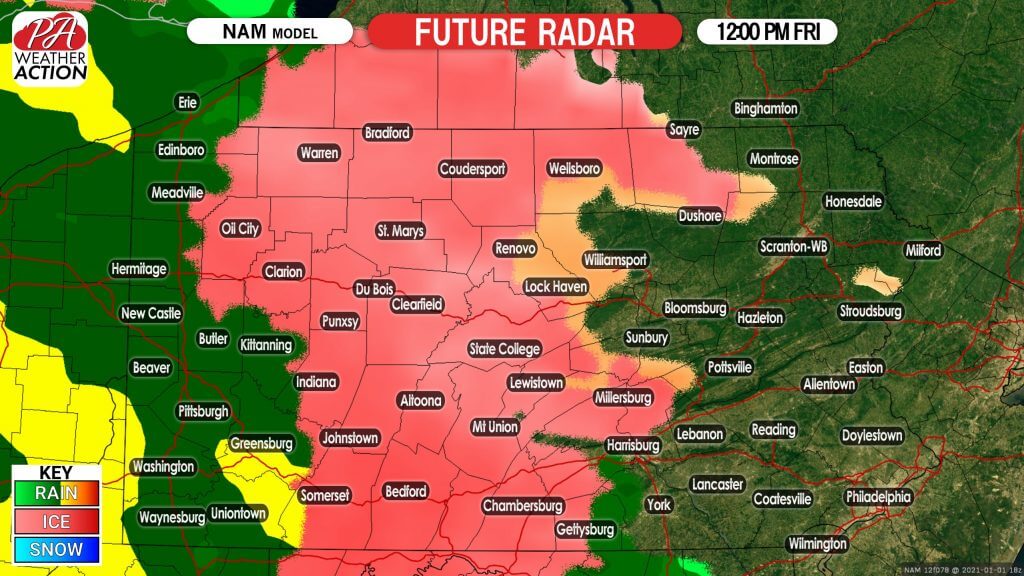 By late Friday afternoon, freezing rain is anticipated to overspread much of eastern PA as well. Southeast PA may be above freezing, meaning plain rain. However from the Lehigh Valley on north, temperatures should support icy conditions. in the meantime, temperatures will hold steady in the ridges and valleys of central PA as freezing rain continues. Here is future radar for 3:00 PM Friday.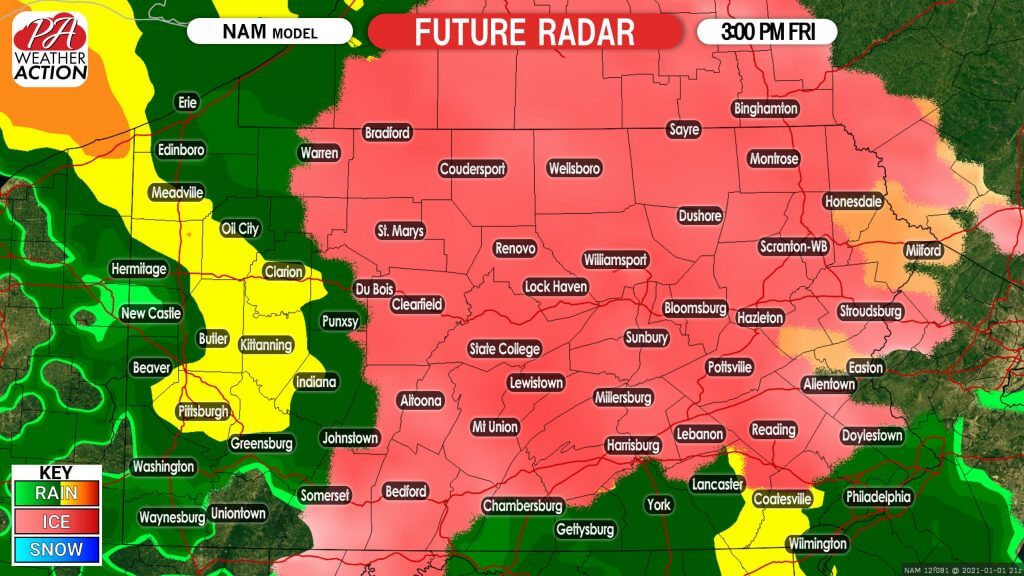 As we head into late Friday evening, cold air damming will erode, causing temperatures to rise above freezing south of I-80 and west of Route 219. Freezing rain is likely to persist in the northeast quarter of Pennsylvania until about 11 PM Friday. Below is future radar for 7:00 PM Friday.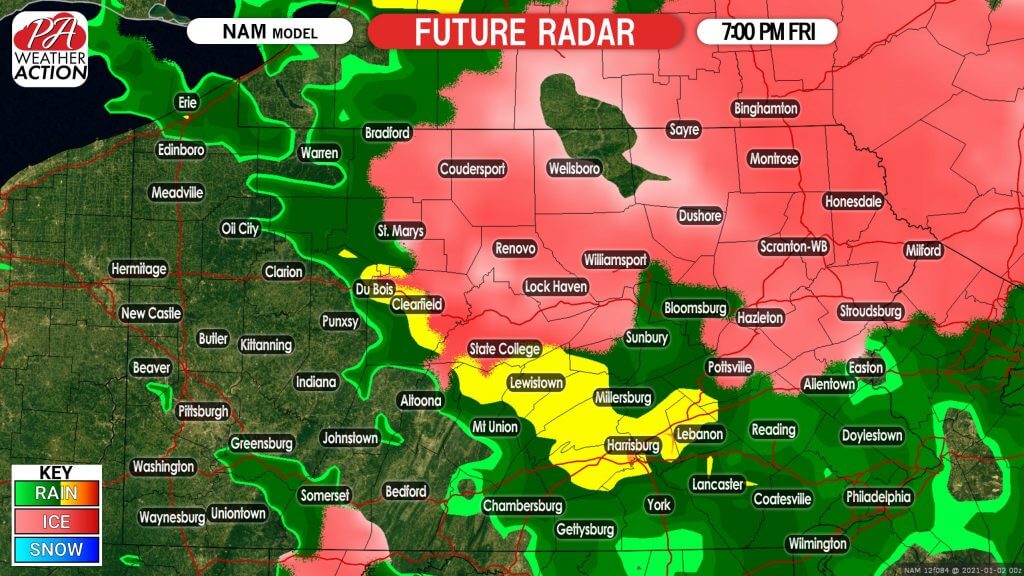 FIRST CALL ICE ACCUMULATION FORECAST FOR NEW YEAR'S DAY 2021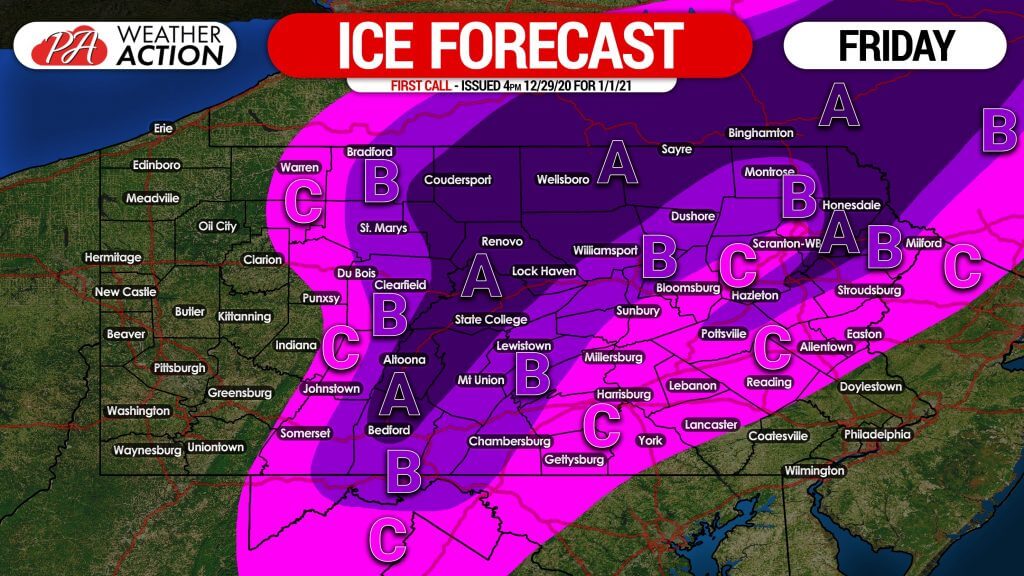 Area A: Ice accumulation of around a quarter-inch expected. Hazardous travel conditions are likely Friday afternoon and evening. Isolated power outages also possible.
Area B: Ice accumulation of around a tenth-inch anticipated. Hazardous travel conditions are likely Friday afternoon into the evening.
Area C: Ice accumulation of up to a twentieth-inch expected. Slippery travel conditions are possible Friday afternoon.
Stay tuned for updates to this forecast with our free app! Get it here on Apple & Android >>> Weather Action App Link
Don't forget to share this forecast with family and friends who may be traveling on New Year's Day using the blue button.
---
---