Shortwave energy will swing from the heartland, through the Ohio Valley, and into our area by Thursday afternoon. Although the high-impact solutions suggested earlier this week are off the table, this quick-hitting snow event may still make for an ugly Friday morning commute in many of the state's populated areas. This event will be a six to eight hour deal, partly due to the lack of a blocking high pressure to our northeast thanks to the positive NAO.
This forecast does not include the lake effect snow in far Northwest PA, please consult your local NWS forecast in those areas.
TIMING
SOUTHWEST PA: Recent trends have been to bring the snow into Southwest PA a few hours earlier Thursday evening. The evening commute will be unaffected, as some dry air just above the surface will prevent snow from reaching the ground initially. Heaviest amounts will be in the Laurel Highlands due to upsloping. Start time in SWPA is around 6 – 8 PM Thursday. End time in SWPA is around 12 – 2 AM Friday.
SOUTH CENTRAL PA: Snow will then rapidly push east-northeast into Central Pennsylvania, where light to moderate snow is expected to begin around 9 – 11 PM Thursday from west to east. Areas closest to the Maryland border are most likely to see snowfall rates of 1/2″ an hour to 1″ an hour. End time in SCPA is 3 – 5 AM Friday.
EASTERN PA: Snow will enter Eastern Pennsylvania, mainly south of Scranton, around 12 – 2 AM Friday. Moderate snowfall rates of up to 1″ an hour are most likely near Philadelphia and its northern suburbs during the 3 – 5 AM period. Snow will then exit from west to east around 6 – 8 AM Friday.
This snow will have no trouble sticking to all surfaces, and the Friday morning commute may be hazardous especially in Southern Pennsylvania. School delays are possible as well.
Below is future radar for this event. This model is slightly faster than most others, but storms have a habit of moving in a bit earlier than what most models project. This is more so an illustration of where best snow banding is likely to organize.
FIRST CALL SNOWFALL FORECAST FOR THURSDAY EVENING INTO FRIDAY MORNING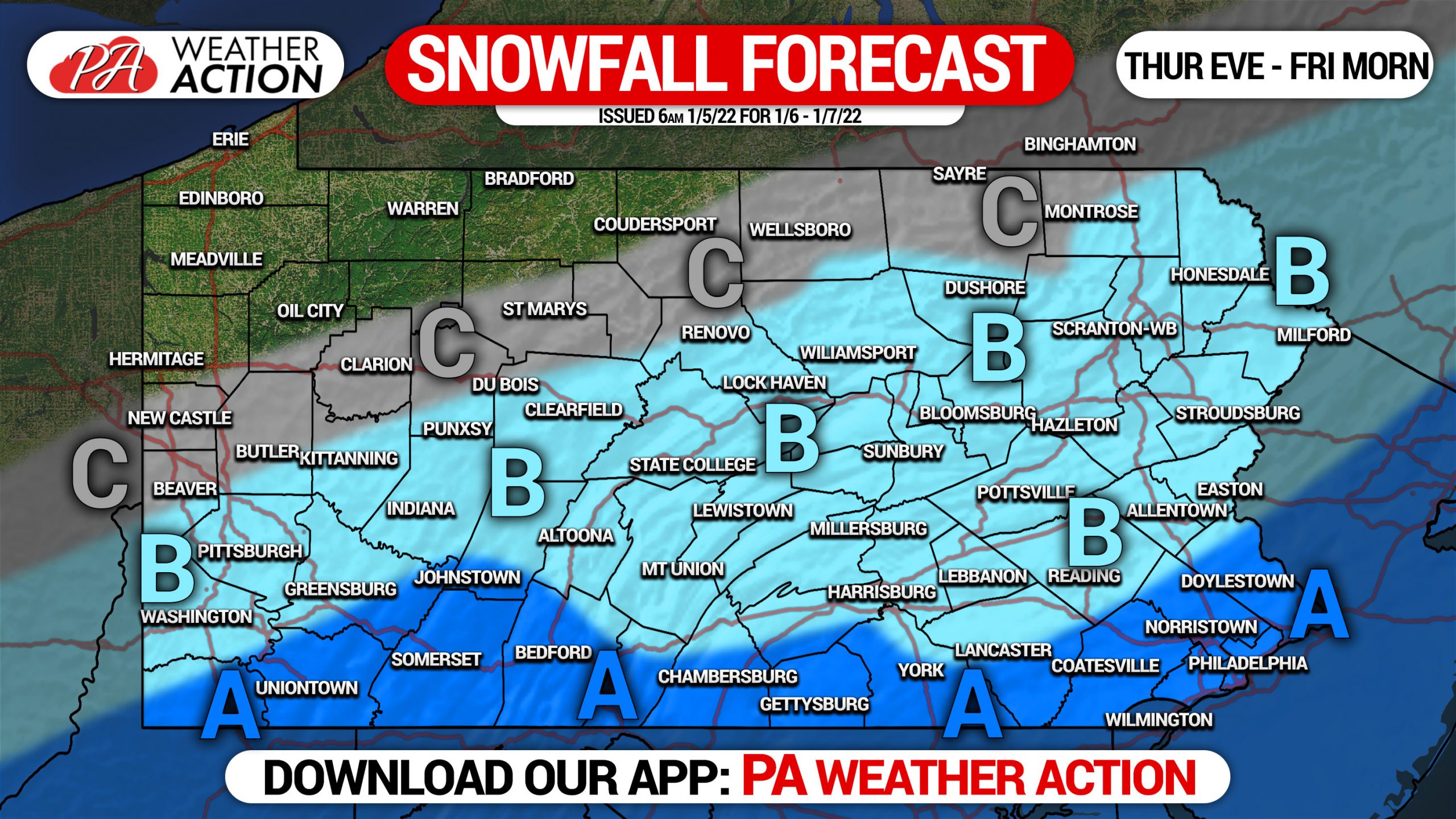 Area A: Snowfall accumulation of 2 – 4″ expected.
Area B: Snowfall accumulation of 1 – 2″ expected.
Area C: Snowfall accumulation of less than 1″ expected.
Model guidance has begun to come to a better consensus. There is the chance we may adjust the northern edge of Area A north or south in Thursday Morning's update, however maximum snowfall potential is not likely to increase.
We are also watching Sunday morning for the chance of some freezing rain in Central PA, but more uncertainty remains with that risk.
Be sure to share this snowfall forecast with family and friends who may have a messy Friday morning commute!
Get your hourly forecast with snow amounts, along with radar and our latest articles in the PA Weather Action App! Tap this link to view it on your phone's app store: