An area of low pressure tracking just to our south will try to strengthen as it heads off the coast Thursday Night. This puts the entire state on the cold side of the storm, leading to our first true all-snow event, especially for Southern PA.
Although the snow amounts anticipated will be on the rather light side, timing will be critical. We are expecting the snow to begin in the mid-afternoon hours out West and by the evening hours in Eastern PA. Because it will be very cold, the snow that does fall will stick to all surfaces and will quickly add up. Our biggest concern right now is for Southeastern PA where it looks like the snow may linger into the morning rush hour Friday Morning.
Assuming the snow does linger into the morning rush hour as projected, you can expect moderate travel delays Friday Morning if you live in the Southeast PA Region.
It is possible the system arrives here earlier and ends sooner. If so, that would be good news for those that have to do any traveling during the morning rush hour Friday.
Below is Hi-Res NAM short range model valid 1 AM Friday Morning: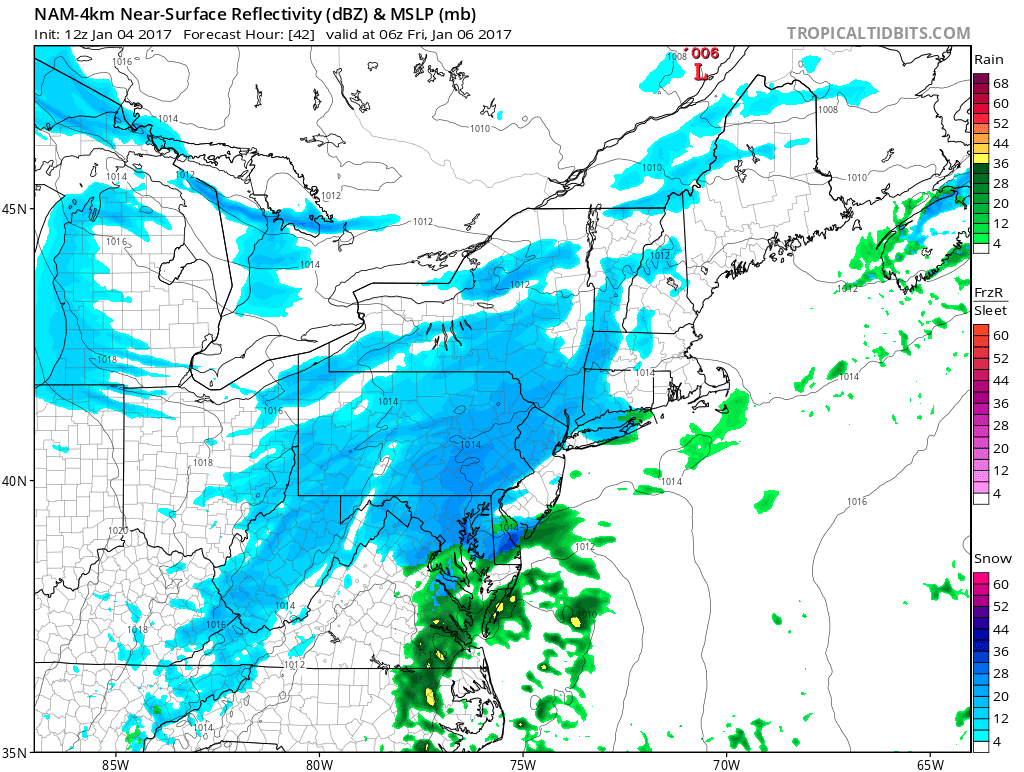 Temperatures will likely start out in the upper 20s to lower 30s when the snow begins, but will drop about 10 degrees overnight leading to a high ratio snowfall.
Below is projected low temperatures by the GFS early Friday Morning: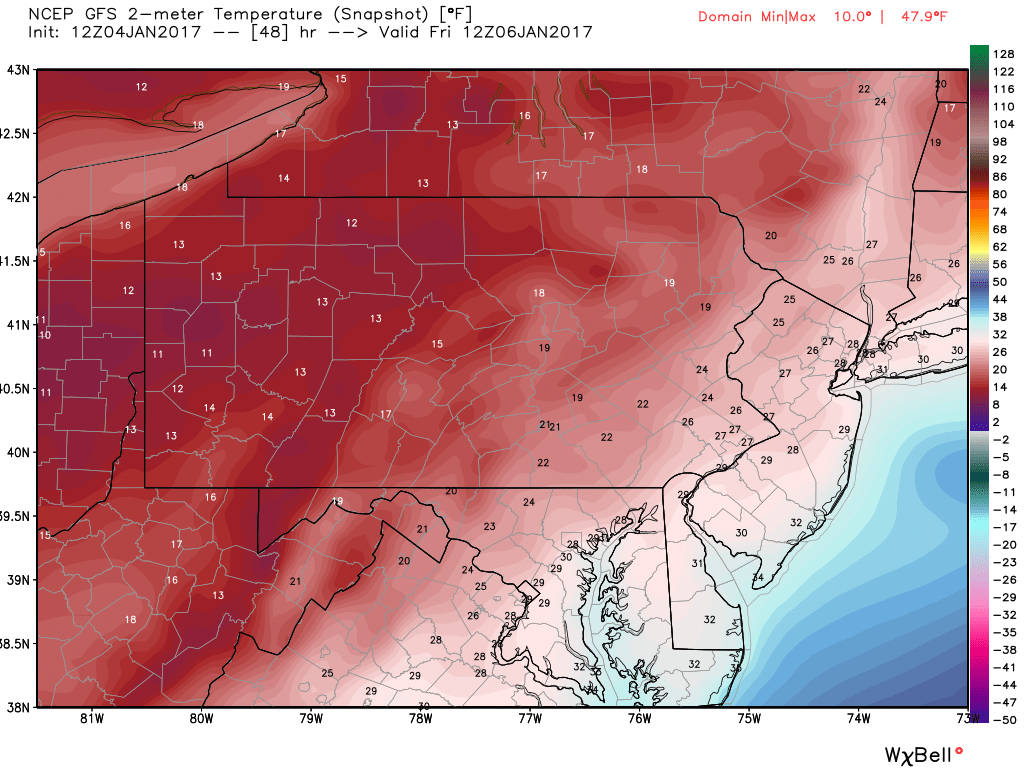 Instead of typical 10:1 snow ratio, which means for every 1 inch of liquid, you receive 10 inches of snow, this snow event will be more in the 15-20:1 range. Now nobody will receive 10 inches of snow out of this, but because of the high ratios, what would be a typical Coating to 2″ event, areas will have the potential to receive 3…maybe even 4 inches in spots.
FIRST CALL SNOW FORECAST
Timing: Start time will be around 3-5 PM in Western PA, 5-7 PM in Central PA, and after 7 PM in Eastern PA. The snow will end just after rush hour Friday Morning for Eastern PA, and before that in Central and Western areas.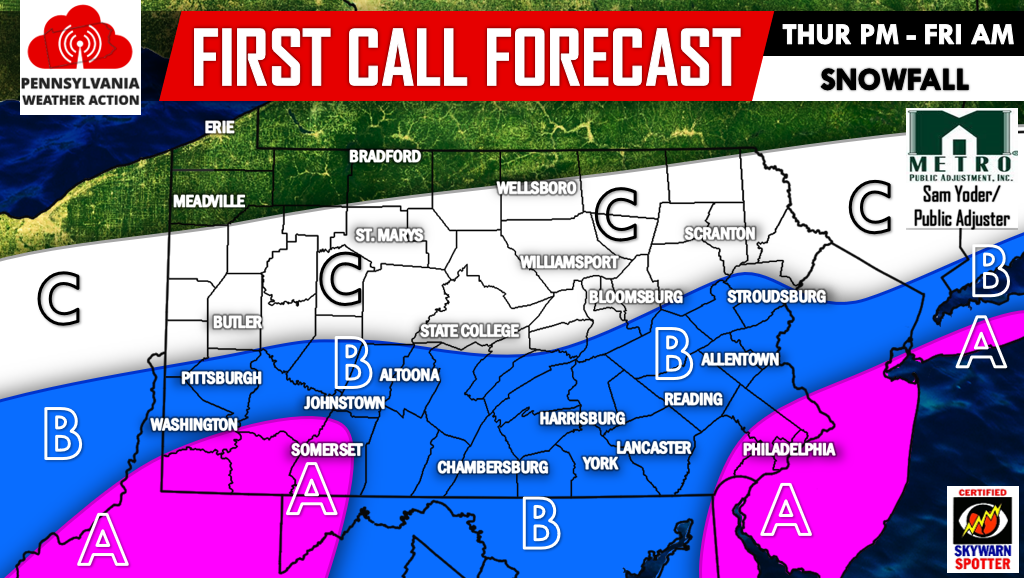 Area A – Snowfall accumulation of 2-3″+ is expected.
Area B – Snowfall accumulation of 1-2″ is expected. Isolated areas could see 3″.
Area C – Snowfall accumulation of less than 1″ is expected. Isolated mountain ridges could pick up over an inch.
For the latest updates regarding this storm and much more, make sure you have us liked on Facebook by clicking here>>>>PA Weather Action on Facebook!
FRIDAY MORNING TRAVEL IMPACTS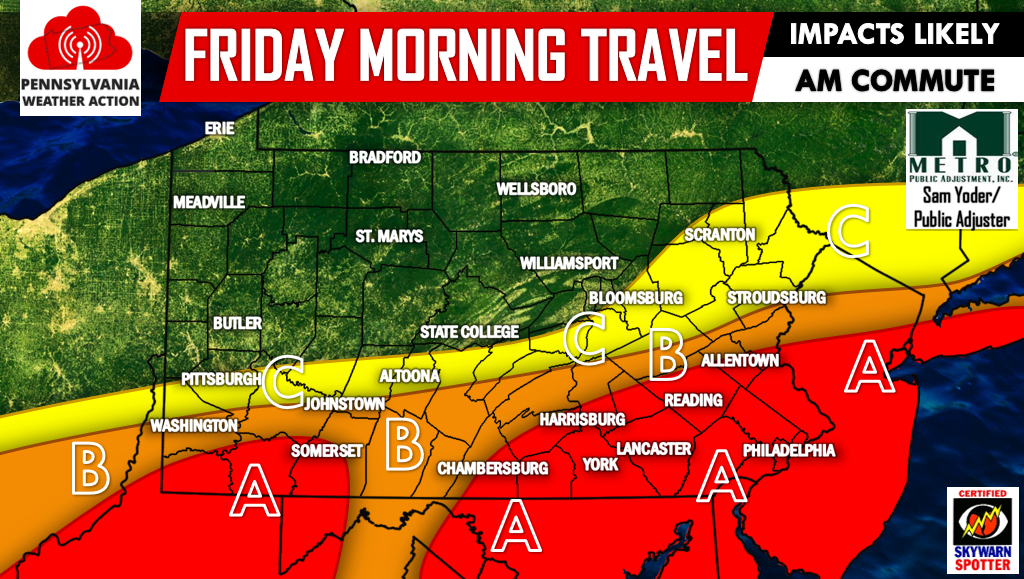 Keep in mind daytime highs Friday will not get out of the 20s. Snow will not melt off of roads.
Area A – Untreated/unplowed roads will be snow covered and treacherous.
Area B – Untreated/unplowed roads will be slick. Climbing steep hills will be difficult.
Area C – Untreated roads will be slick.
We will have an updated forecast Thursday Afternoon, significant changes are not anticipated. Remember to share this forecast with your friends and family below! Stay safe!