Going from record warmth this week, to temperatures cold enough to support potential snow showers in some locations throughout PA this weekend, there has to be a culprit for this right? Of course. A warm front will be pushing through the region Thursday, this will be our last warm day of the week for at least the southern half of Pennsylvania. Then during the morning hours Friday, a cold front will push through the region. Both the warm front and the cold front will deliver rainfall.
Here's a look at high temperatures Thursday per the GFS: 
The warm front is draped generally along I-80 in PA, hence why the northern parts of the state are much cooler than the rest.
Rain will enter the western parts of the state during the morning rush hours Thursday and push its way ENE from there. The rain may taper off before the cold front arrives early Friday Morning, delivering a more potent rainfall.
The latest GFS prints out pretty heavy amounts in a short period of time when the cold front passes through Friday Morning. So flash flooding is possible. The image below is valid 8 AM Friday: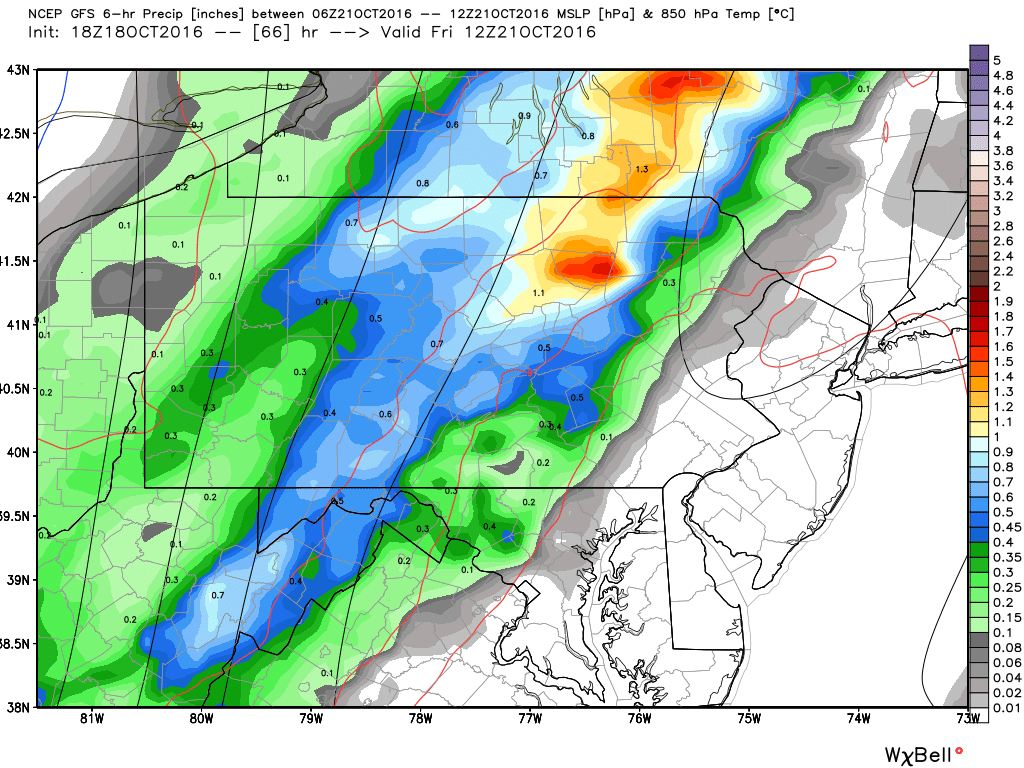 Our expected rainfall totals are listed below:
Area A – 2 to as much as 3 inches of rainfall is expected between Thursday's warm front and Friday's cold front. Potential for flash flooding does exist in this area.
Area B – 1 to 2 inches of rainfall is expected. Flash flooding is possible as Friday's cold front passes through, more-so for central and western areas in this zone.
Area C – 0.5 to 1 inch of rainfall is expected and flash flooding does not look like it will be a concern for this area.
Area D – Less than 1/2 an inch of rainfall is expected.
Tomorrow Evening we will be releasing our first snowfall map of the season. The map will cover which areas throughout PA have the opportunity for some snow showers this weekend so be sure to have our Facebook page liked by clicking here>>>>PA Weather Action on Facebook!
'Tis the Season!