If you have any outdoor plans this weekend, you might want to think of a plan B. A significant low pressure system will be sitting over our region for a few days, leaving us with cold and damp conditions.
Heavy rain will push into the region from the south tonight, overspreading the whole state by midnight. The rain will be steady and heavy at times through at least the mid to late morning hours. Below is the hi-res HRRR model valid for 8 AM Friday morning: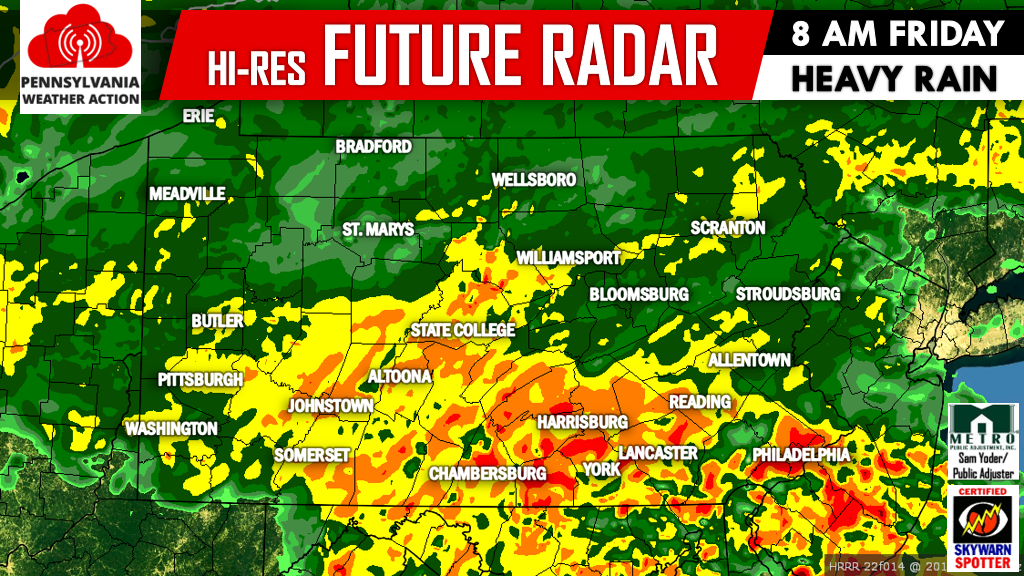 As we head into the afternoon, rain will become scattered in nature. However this is when we will have to keep an eye out for the development of strong thunderstorms over Central PA, which will then push into Eastern PA late Friday afternoon and evening. Because of this the National Weather Service has put much of the state under a Marginal Risk for severe weather.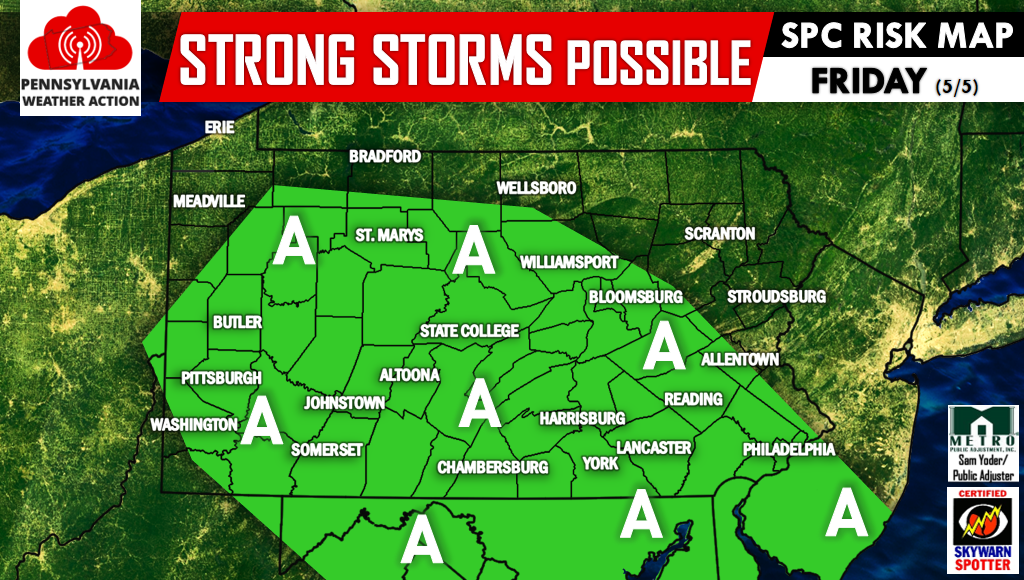 Area A – Marginal Risk exists for severe thunderstorms, meaning an isolated severe storm is possible.
The Hi-Res NAM model begins to hint at this strong line by 1 PM Friday afternoon:
Unfortunately, the low pressure will continue to sit and spin over our area throughout the day Saturday and even into Sunday. Saturday will feature damp conditions, but do not expect a complete washout, instead on and off showers with chilly conditions.
EXPECTED RAINFALL AMOUNTS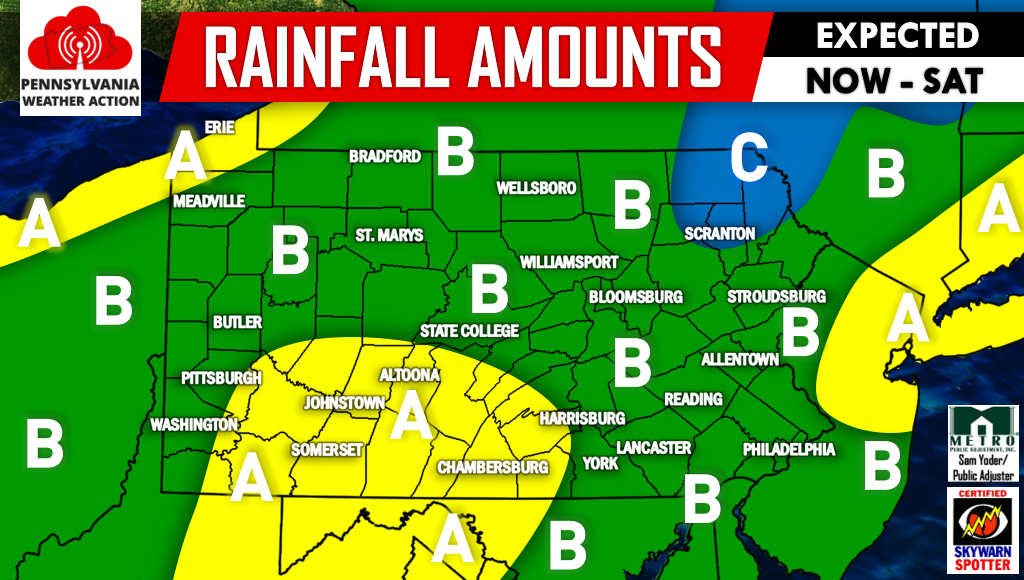 Area A – Rainfall amounts of 1.5-2″+ expected in this region.
Area B – Rainfall amounts of 1-1.5″ expected in this region.
Area C – Rainfall amounts of .5-1″ expected in this region.
By Sunday morning, there is a good chance the rain showers turn into May SNOW SHOWERS for high elevations of central pa and northwest pa. Truly incredible we are mentioning the possibility of snow showers for this time of year. Below is valid 2 AM Sunday Morning: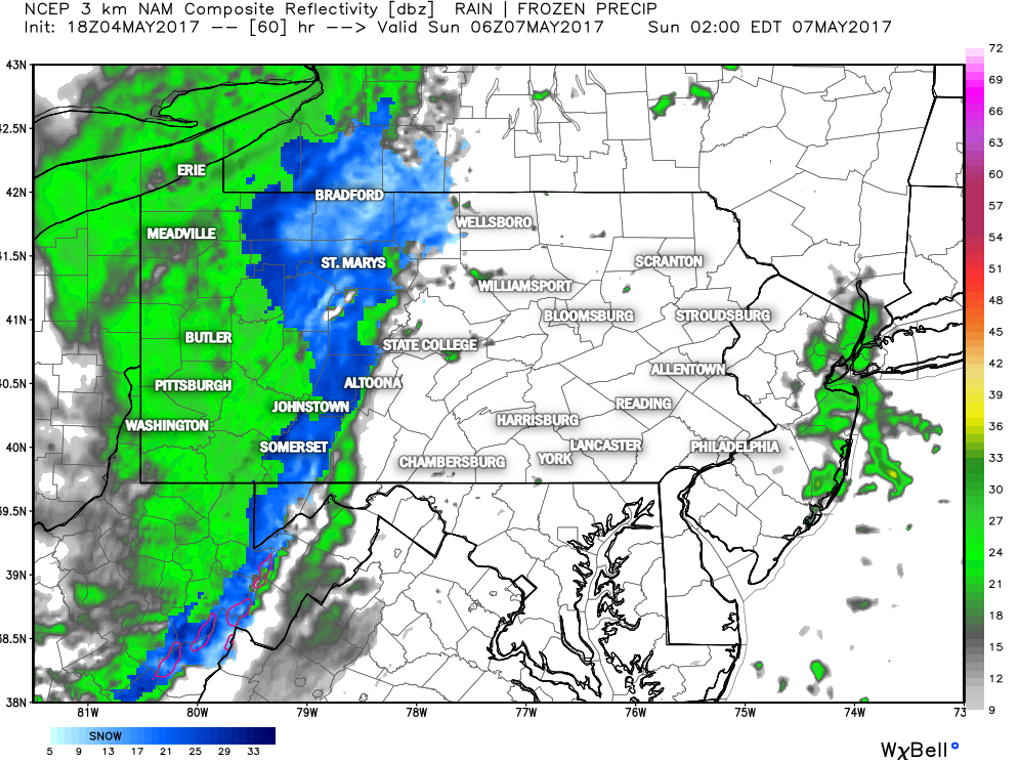 Many of us will not get out of the 40s during the day Sunday and Monday!
The weather pattern that we are currently in would be ideal for snow lovers if this was winter time. We have massive blocking currently going on that will allow for this cold and damp pattern to continue. Taking a look at next weekend (5/12-5/14), the GFS puts us under another significant trough: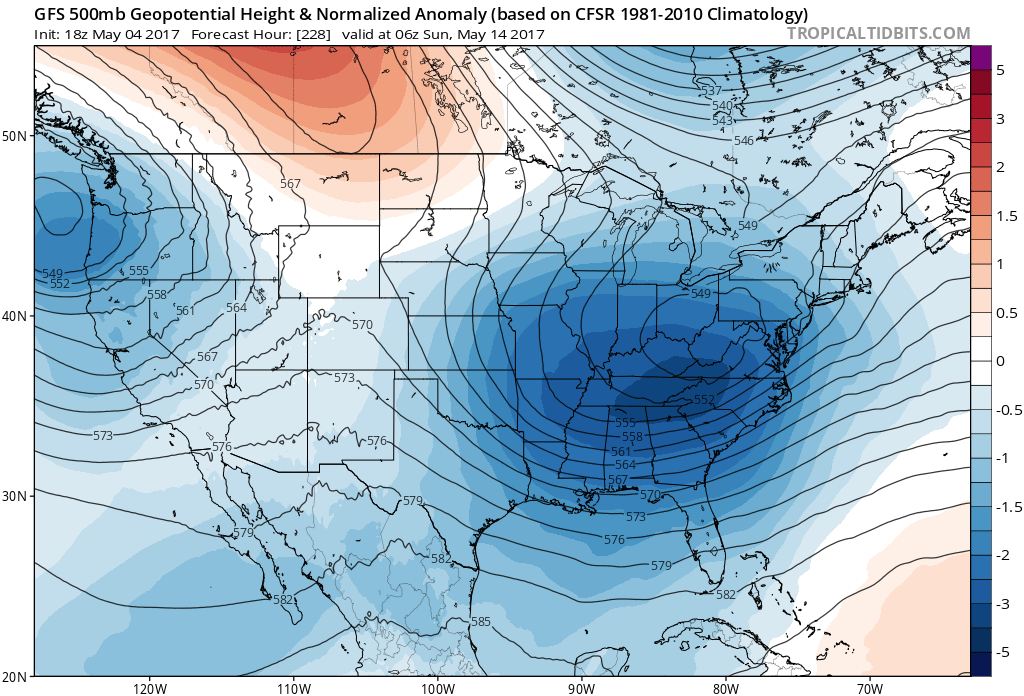 The latest GFS run was so cold it actually showed snow falling across parts of pa on May 17th…(Humor purposes only, not to be taken seriously.)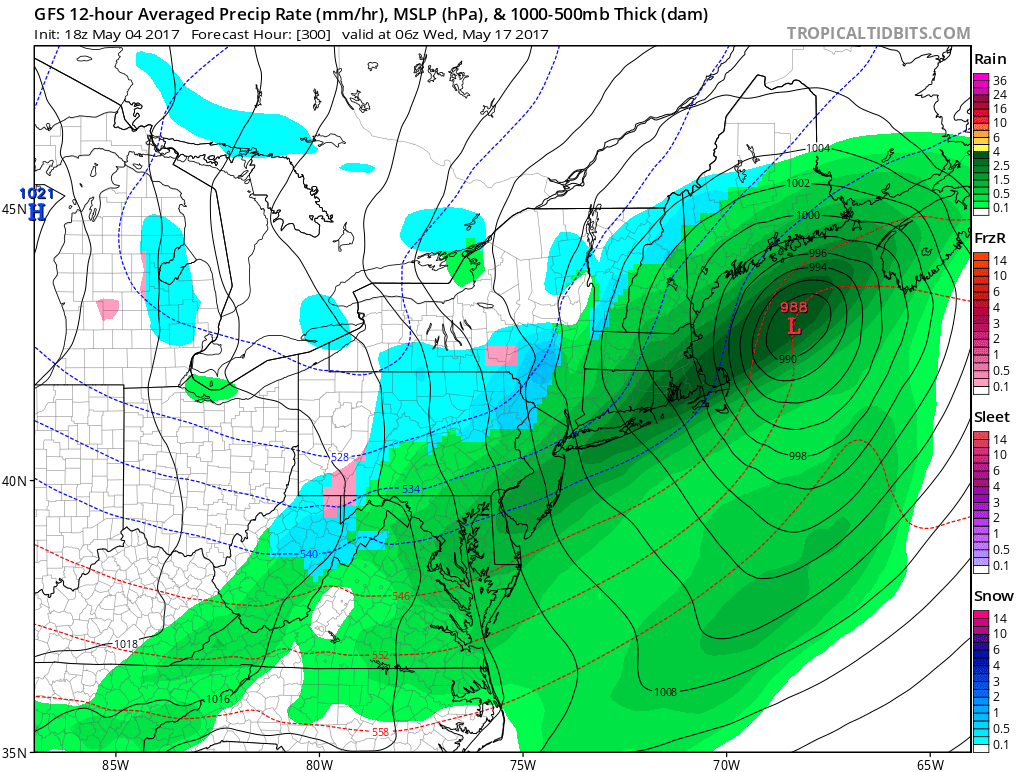 If you don't have us liked already, click here to like PA Weather Action on facebook. Also, track the rain and storms with interactive radar and more on our app, Click Here to Download Our New App! Don't forget to share this with your friends using the icons below!