After a very active week of weather with two significant snowstorms on the East Coast, we will start the new week with a freezing rain event. All surfaces will become very slippery immediately after freezing rain begins Sunday morning, which will lead to hazardous conditions outside.
TIMING
Freezing rain, perhaps briefly starting as sleet, will begin in Northwest Pennsylvania around 2:00 AM Sunday. The freezing rain will then spread east and cover much of Central PA by 7:00 AM, and Eastern PA (north of Pottstown and Doylestown) by 10:00 AM. Temperatures are not expected to rise above freezing from Altoona to Allentown and all areas in between until around 12 – 3 PM Sunday.
There is no concern for icy roads Monday morning, as windy conditions Sunday evening will dry us out.
Below is future radar timing for the icing.
---
FIRST CALL ICE ACCUMULATION FORECAST FOR SUNDAY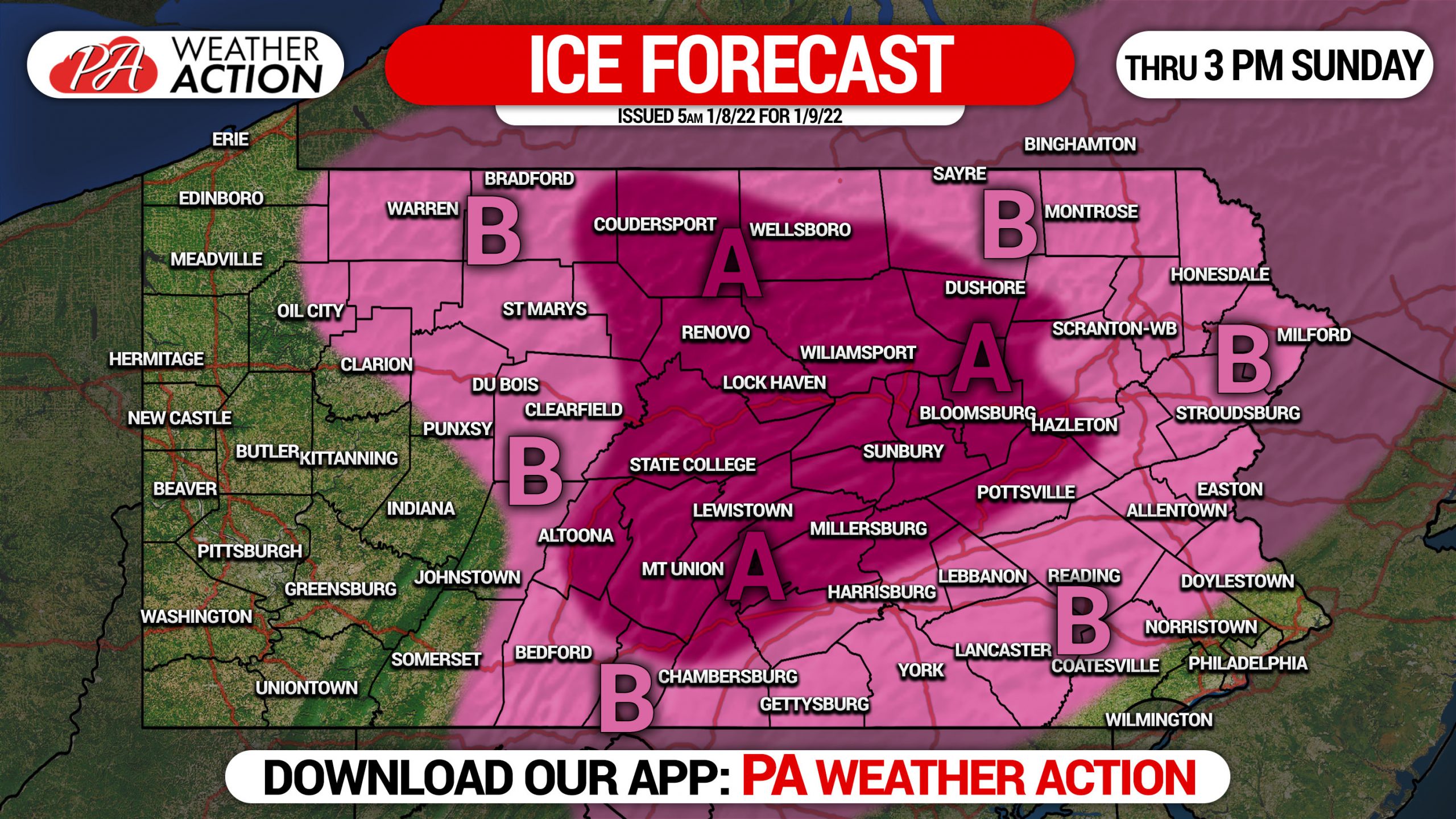 Area A: Ice accumulation of .10 to .25″ expected. Dangerous conditions are expected outside walking and driving between 3 AM and 3 PM Sunday, please be very careful if you must go out. Conditions may be slippery slightly before or after those times.
Area B: Ice accumulation of up to .10″ expected. Hazardous conditions are likely outside for walking and driving between 3 AM and 1-2 PM Sunday, please be very careful if you must go out.
These amounts may appear very minor, but they are anything but. It only takes .01″ of ice to cause you and your vehicle to slip.
Please share this forecast with friends and family! Ice often gets downplayed and leads to lots of injuries and accidents.
Get localized timing in our app and interactive radar with nearly a dozen premium layers that we give you for free! Also get notified when we issue a new forecast. Tap the banner below to get our app on your phone or tablet!