It is becoming apparent based off latest observations and model guidance that a strong low pressure system will pass to our northwest this weekend, delivering all types of precipitation. As the low pressure initially passes by, most areas will see rain showers on Saturday. Once the system passes to our northwest, wraparound winds and cold Canadian air over warm lake waters will allow for the rain showers to turn into snow showers and snow squalls by Saturday night. This is a strong and relatively slow moving storm, so the lake effect snow threat will last through Monday (11/20). Combining cold northwest winds, warm lake water, and a long duration event is the perfect recipe for someone in Northwest Pennsylvania and Western New York to see some significant accumulations.



Taking a look at the GFS model for Friday afternoon already shows the low pressure system strengthening over Kansas. Due to a strong cold blast dropping out of Canada and a southeast ridge, there really is only one place for this system to track, and that is over the Great Lakes region. If it was not for the southeast ridge, we could of been talking about the potential of our first true winter storm of the season.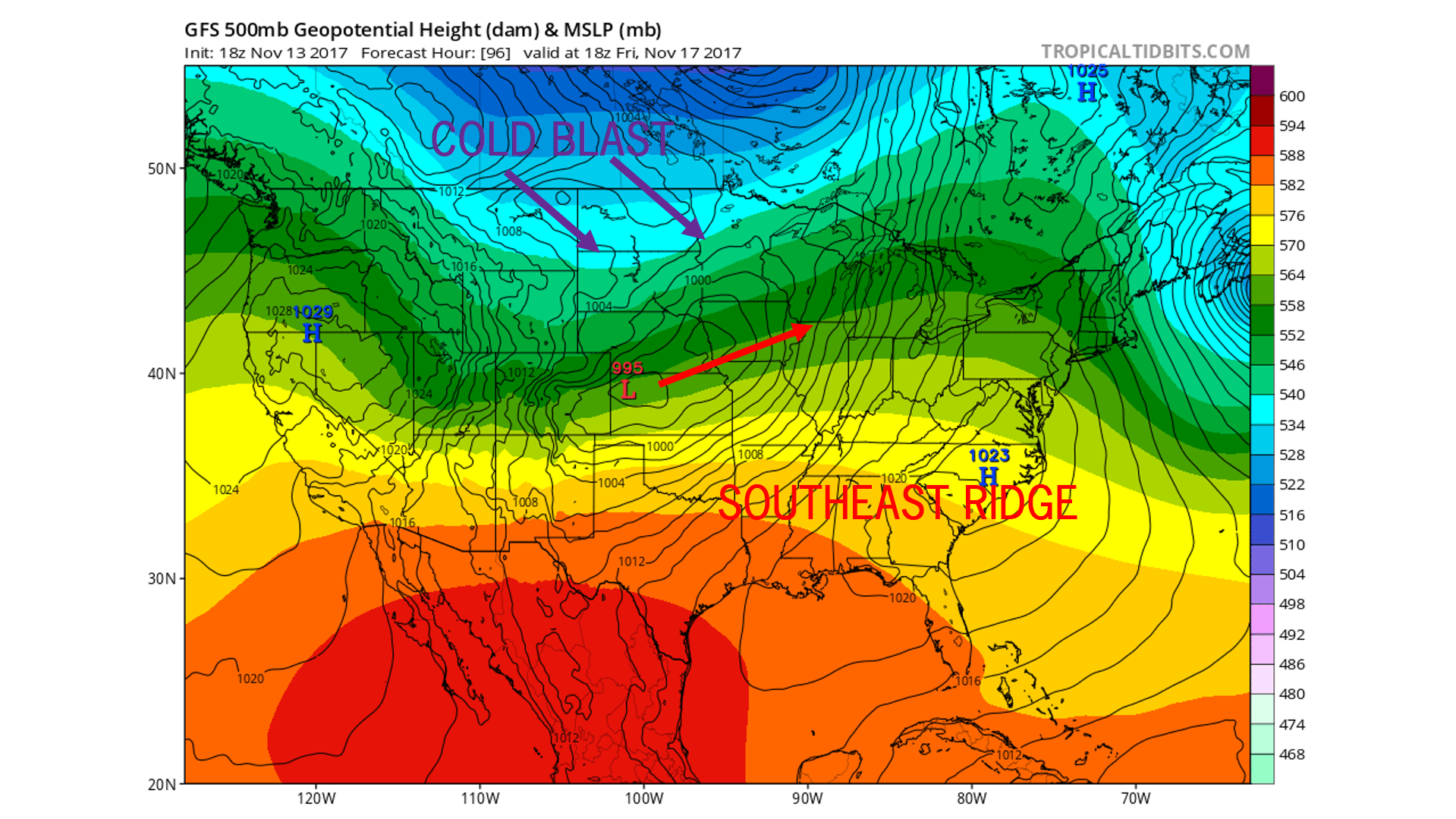 Advancing the GFS model 24 hours to Saturday afternoon, the low pressure system has rapidly strengthen and now sits over Lake Huron. Northwest winds are beginning push southeastward nearing Pennsylvania. Saturday will likely start off on the warmer side, but by Saturday evening and night, northwest winds will usher in and make things much colder. As you notice, the southeast ridge is also pushing out to sea, allowing for the cold air from Canada to advance southeastward even farther as we head into the second half of the weekend.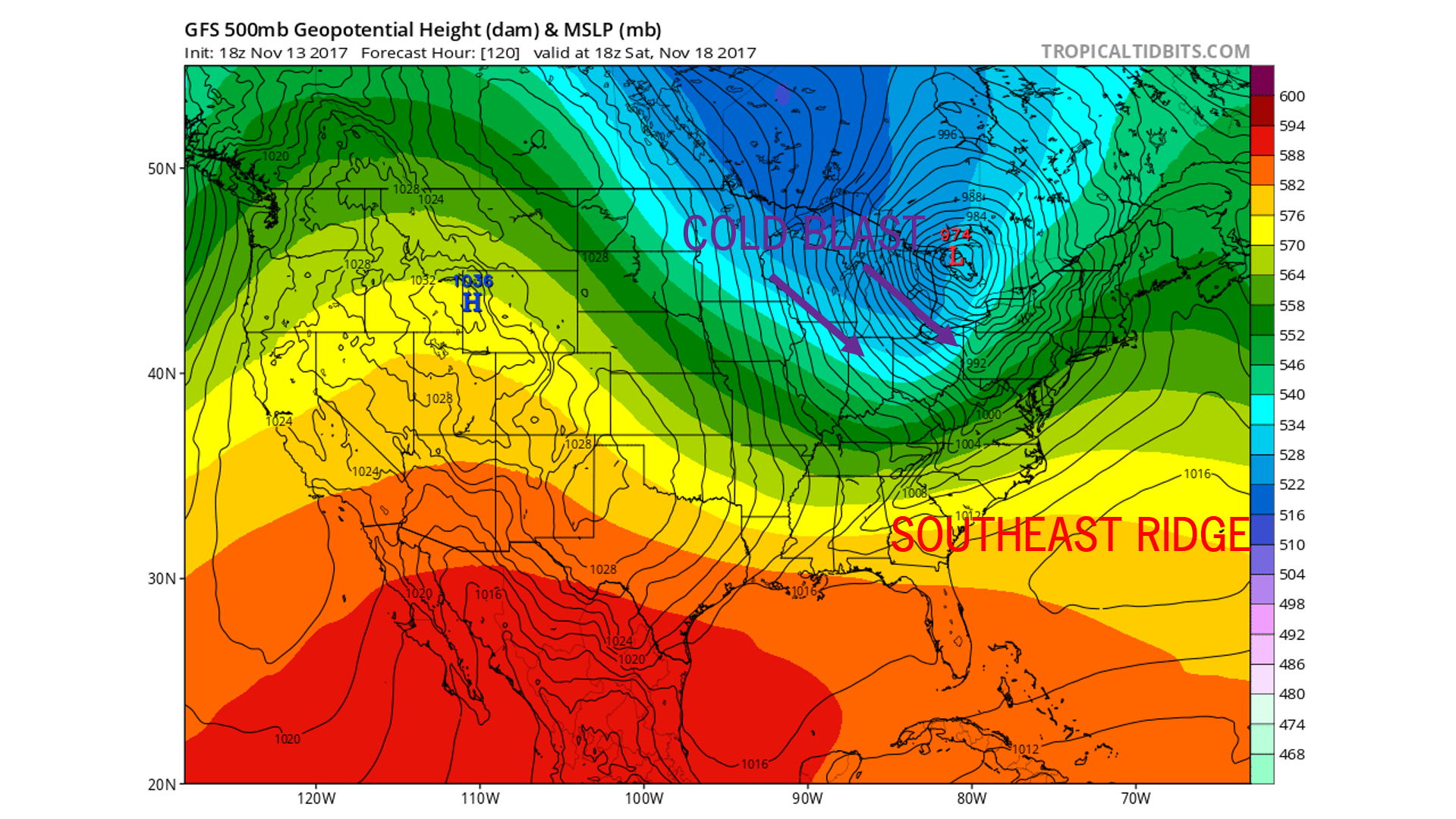 By Saturday night, our low pressure system is now sitting over Southern Canada. With its counter-clockwise motion, it is ushering in northwest winds over the warm lake waters. The rain that is expected Saturday will likely changeover to snow for northwest pa and the mountains across the Laurel Highlands and Central PA by Saturday evening.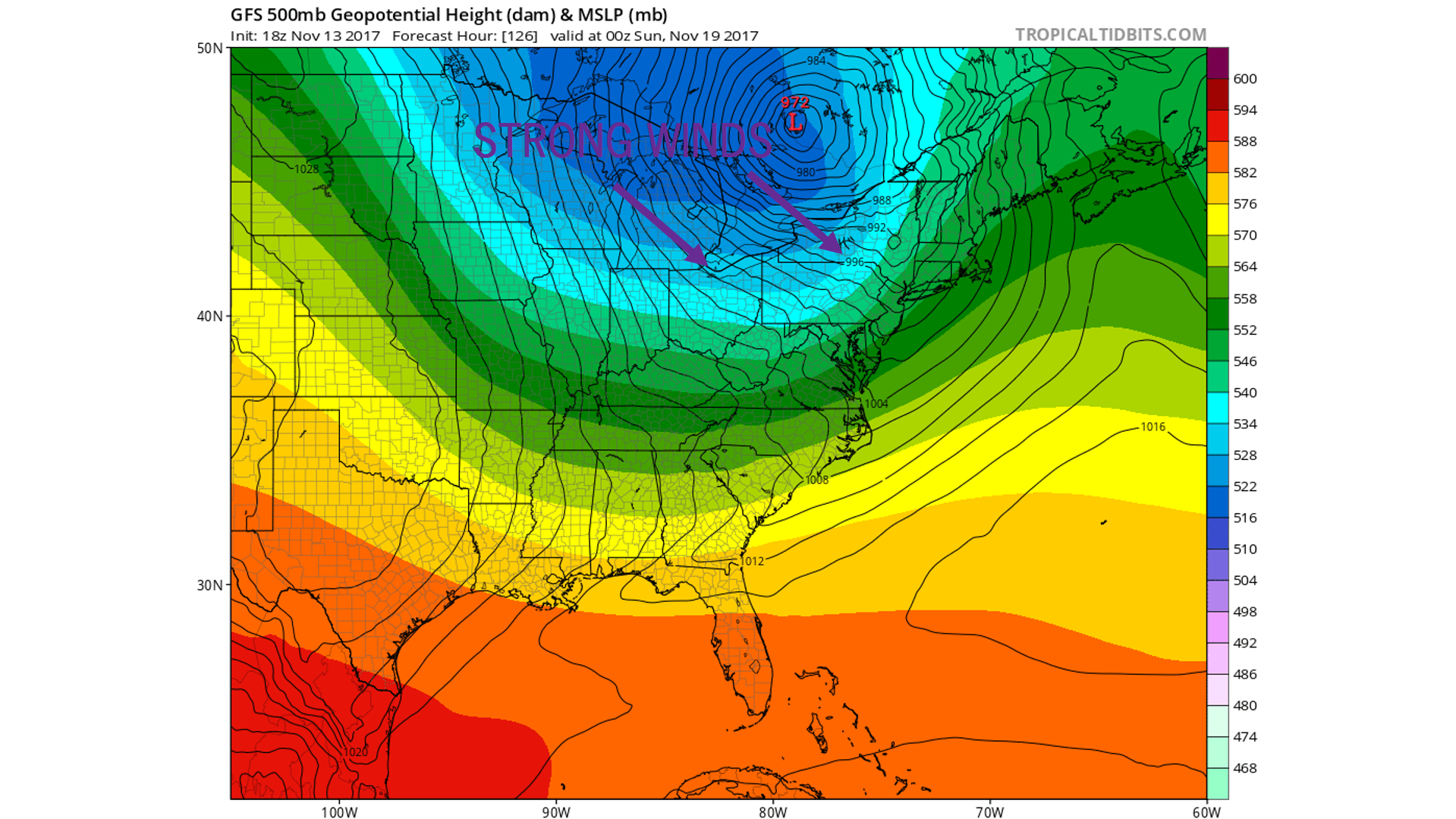 For those familiar with lake effect snow, you are well aware that your town could be experiencing whiteout conditions, while the next town over has little to no snow at all. So while we do anticipate many areas to receive lake effect snow across northwest pa and higher elevations of central pa, including the Laurel Highlands, we do not expect 24+ hours of consistent snow for anyone. There will be breaks in the action. For the towns that do receive several rounds of lake effect snow, especially Sunday into Monday, these towns could be easily looking at plow-able snowfall. This would favor areas that normally do well in lake effect snow events across Northwest PA. Below is the GFS for early Sunday afternoon to demonstrate the lake effect snow potential.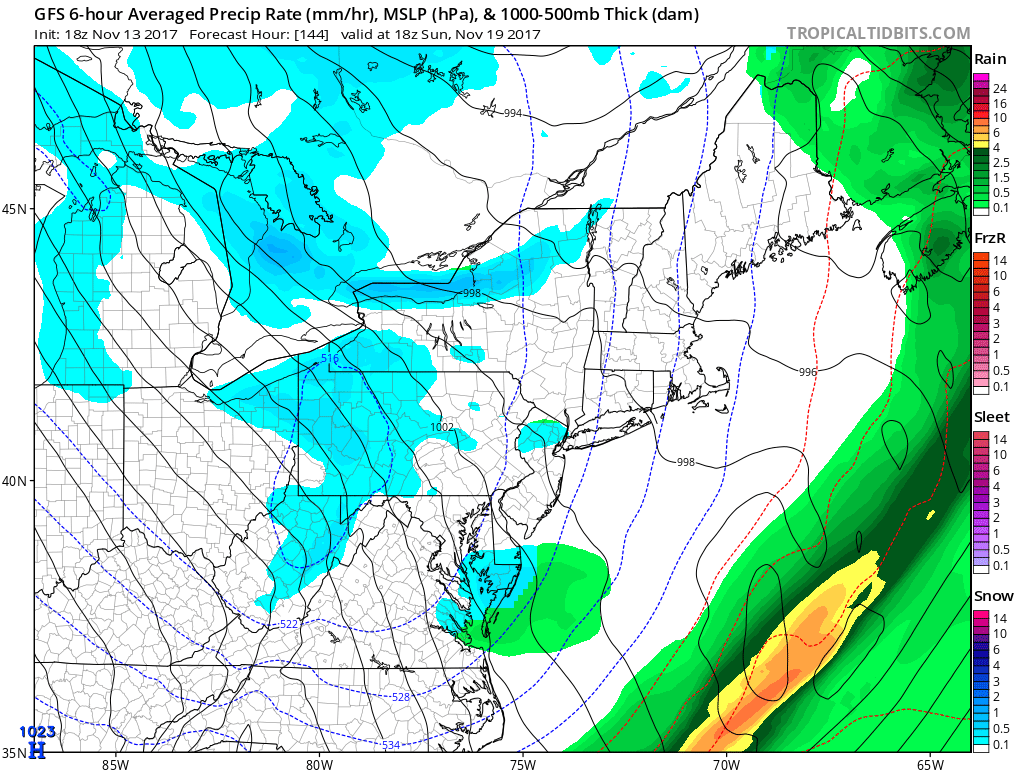 We are still over 5 days away from the system impacting our weather, so with that being said, we do not want to issue any type of snow map just yet. As we get closer, possibly as early as tomorrow, we will release our snowfall map once we have the details narrowed down. For now, Northwest PA, Central PA, including the Laurel Highlands should all expect a dose of lake effect snowfall Saturday night through Monday. If the lake effect snow bands are strong enough, some snow squalls could potentially reach Eastern PA as well. So stay tuned for more on this system as we move forward!
For the latest updates, be sure to have our Facebook page like by clicking here>>>Pennsylvania Weather Action's Facebook Page 
Use our icon below to share the wintry news for this weekend with your family and friends!