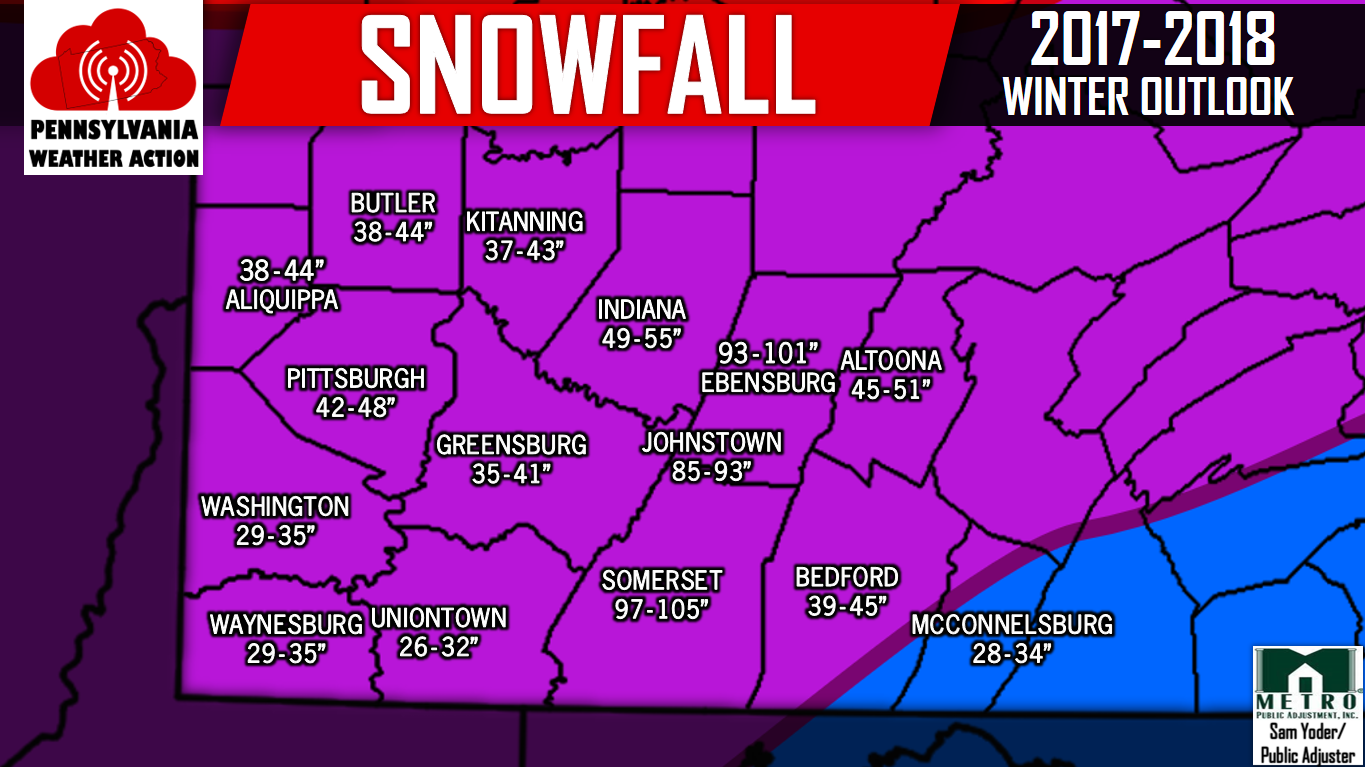 This winter, Southwest PA can expect below average temperatures in December, with average temperatures in January and February, followed by below average temperatures in March. We anticipate winter to get off to an early start with a cold, snowy month of December.
January and February will likely bring quite a few rain/snow/ice mix events. An active, chilly end to winter is anticipated with a few late season winter storms possible in March. If you have yet to see our Official 2017-2018 Winter Outlook, click here to read it.
Without further ado, here is our 2017-2018 Winter Snowfall Totals Map for Southwest PA! If you don't see your town, we have a full list of snow totals for even more locations below the map. Be sure to share this all-inclusive snowfall outlook with your family and friends using the button below!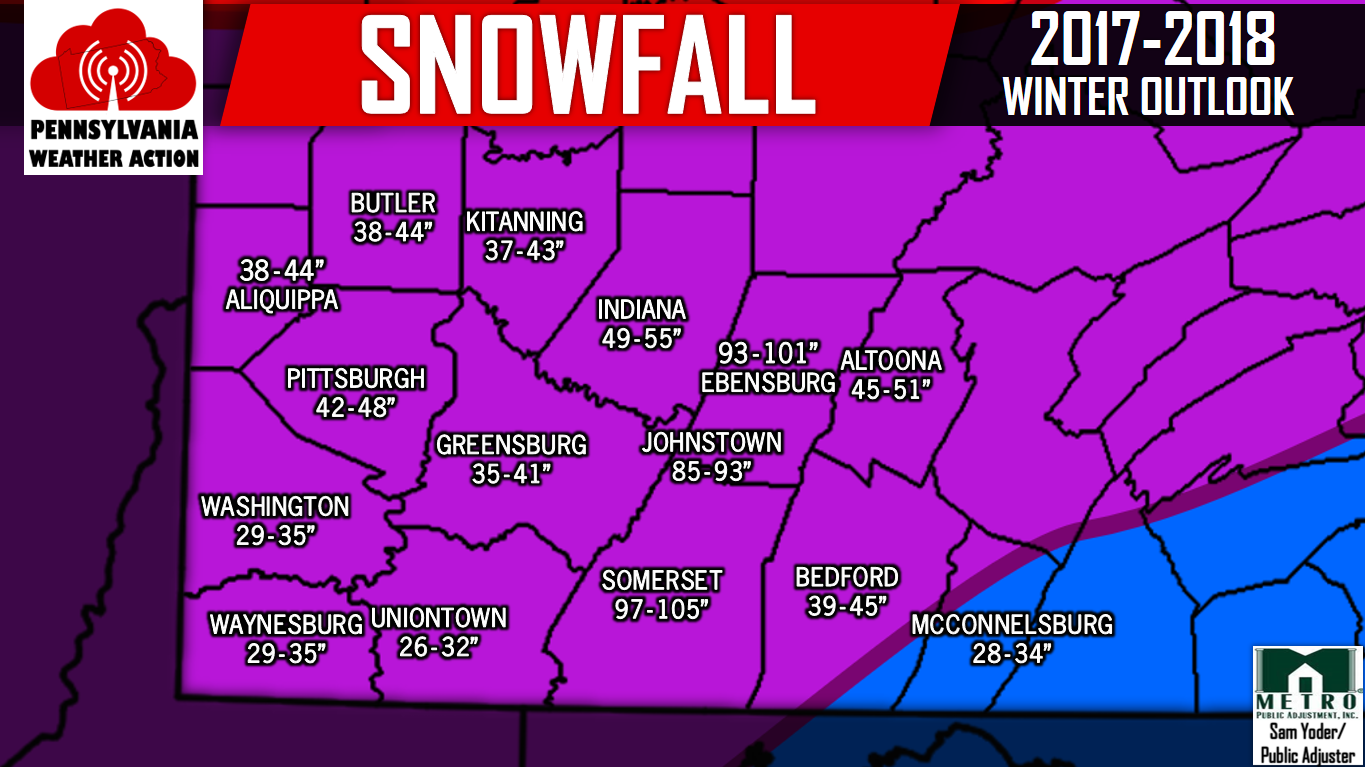 Allegheny County
Pittsburgh: 42-48″
Bethel Park: 40-46″
Monroeville – 43-49″
McCandless – 45-51″
McKeesport – 41-47″
Armstrong County
Kittanning: 47-53″
Ford City: 46-52″
Leechburg: 45-51″
Rural Valley: 48-54″
Apollo: 44-50″
Beaver County
Beaver Falls: 39-45″
Beaver: 38-44″
Darlington: 40-46″
Aliquippa: 41-47″
Bedford County
Bedford: 54-60″
Everett: 52-58″
Hyndman: 53-59″
Breezewood: 55-61″
Saxton: 50-56″
Blair County
Altoona: 45-53″
Holidaysburg: 46-54″
Roaring Spring: 48-54″
Williamsburg: 44-50″
Tyrone: 43-49″
Butler County
Butler: 38-44″
Slippery Rock: 42-48″
Zelienople: 39-45″
Saxonburg: 38-44″
Cranberry Twp: 40-46″
Cambria County
Johnstown: 85-93″
Edensburg: 93-101″
Northern Cambria: 79-87″
Nanty Glo: 93-101″
Cresson: 90-98″
Fulton County
McConnellsburg: 28-34"
Needmore: 26-32"
Burnt Cabins: 34-40"
Fayette County
Uniontown: 26-32"
Connellsburg: 30-36"
Brownsville: 31-37"
Point Marion: 25-31"
Masontown: 26-32
Greene County
Waynesburg: 29-35"
Windy Gap: 27-33"
Bobtown: 25-31"
Huntingdon County
Huntingdon: 39-45"
Mount Union: 34-40"
Broad Top City: 32-38"
Indiana County
Indiana: 49-55″
Blairsville: 44-50″
Homer City: 48-54″
Saltsburg: 42-48″
Clymer: 51-57″
Lawrence County
New Castle: 39-45″
New Wilmington: 40-46″
New Beaver: 38-44″
Ellport: 39-45″
Bessemer: 40-46″
Somerset County
Somerset: 97-105″
Myersdale: 91-99″
Windber: 86-94″
Boswell: 88-96″
Central City: 94-102″
Washington County
Washington: 29-35″
Cannonsburg: 33-39″
Bentleyville: 30-36″
Claysville: 28-34″
Westmoreland County
Greensburg: 38-44″
Latrobe: 39-45″
Ligonier: 61-67″
New Kensington: 37-43″
Murrysville: 39-45″
---
---