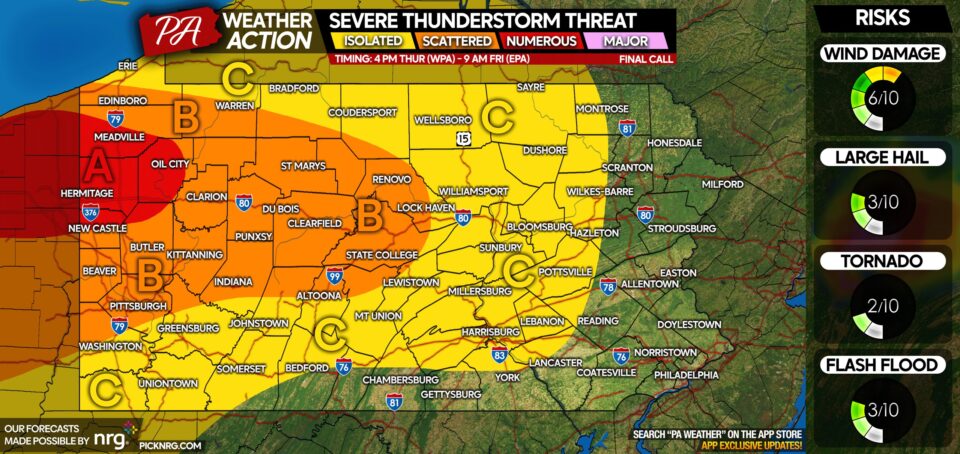 Severe weather season is slowly winding down already, which is hard to believe! But we're certainly not done yet, and with a tropical airmass in place, support is there for severe thunderstorms at all hours of the day. And this time we're not looking at the usual afternoon timing, but more so this evening into the overnight period and even Friday morning. Of course it'll depend on where in the state you are.
STORM TIMING
Scattered severe thunderstorms will fire in Northwest PA and across Ohio early this evening. Those storms will move east into North Central PA, as far south as State College. Then comes the main line of storms associated with the cold front late this evening in Northwest PA again. By 12 – 2am Friday, the line of storms is expected to be in Southwest PA and up through the Allegheny Highlands into North Central PA.
As the storms push into the rest of Central PA by 3 – 5am, they will likely lose some intensity and fall below severe criteria. Then by 7-10am Friday morning, the line of heavy rain and embedded thunder will reach Eastern PA. And then more storms will fire in Eastern PA Friday afternoon with another severe threat! Here is timing for this first threat.
RAINFALL FORECAST
Going with the theme of the past few weeks, highest rainfall totals in the next two days will actually be in Northeast PA. This area will get the leftovers of the line Friday morning, and then more rainfall from thunderstorms Friday afternoon and evening! The rest of the state is looking at around a half inch to an inch of rain, mainly between this evening and before sunrise Friday.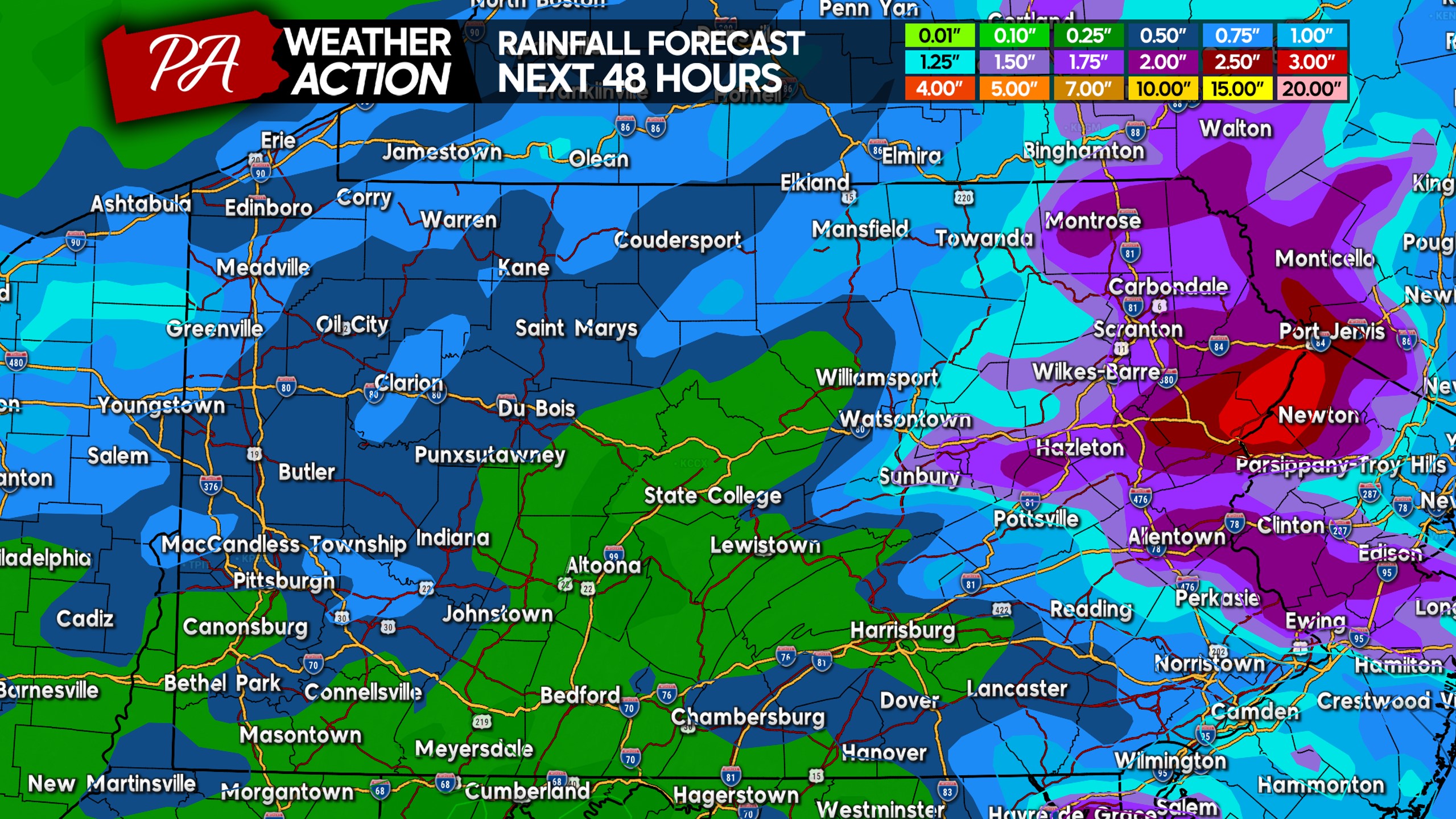 SEVERE THUNDERSTORM THREAT FORECAST (THURS PM – FRI AM)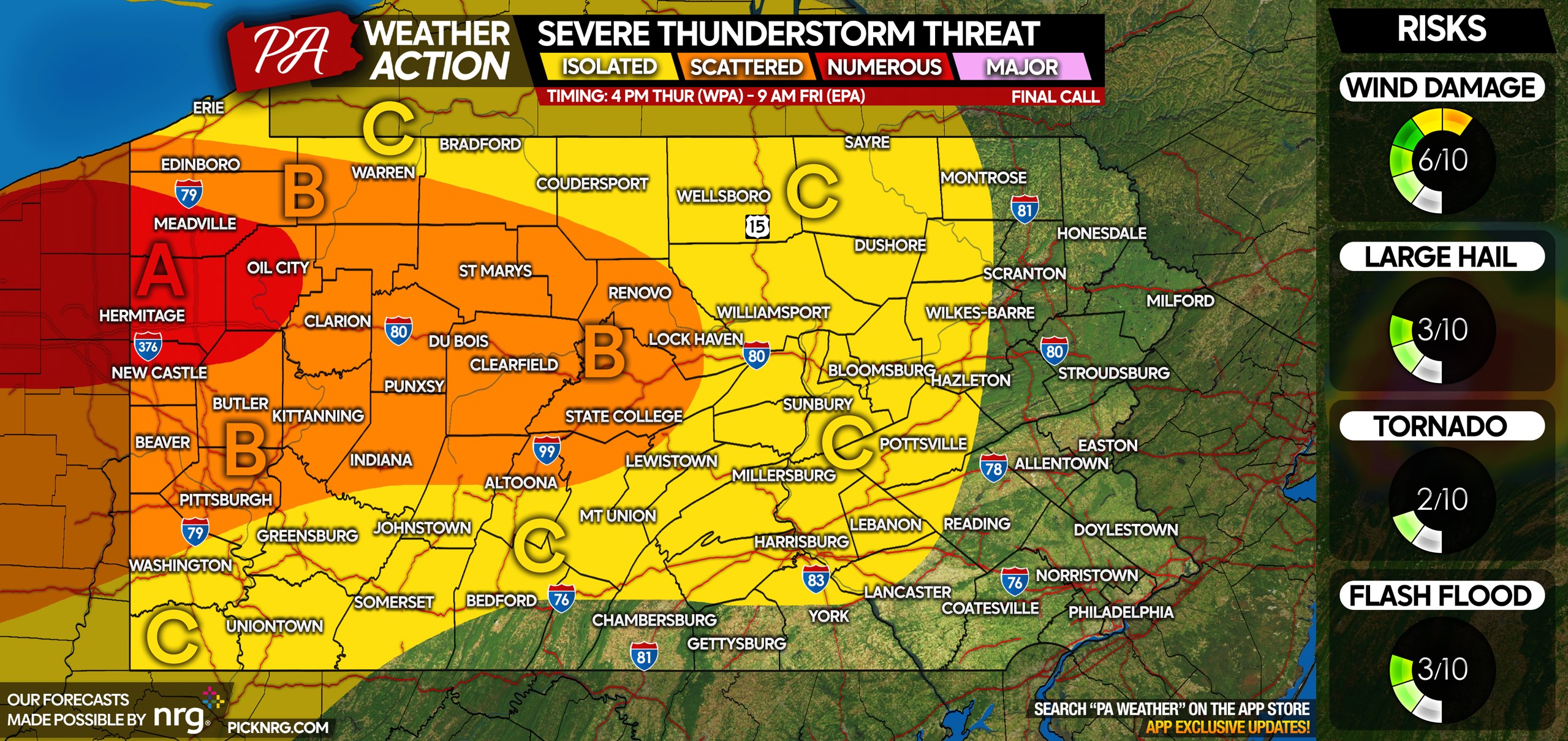 Area A: Numerous severe thunderstorms possible late Thursday afternoon into the late evening. Wind damage is the main risk, but large hail and an isolated tornado is certainly possible.
Area B: Scattered severe thunderstorms possible late Thursday evening into early Friday morning, as part of a line of thunderstorms along the cold front. Wind damage is the main risk but a brief spin-up tornado is possible.
Area C: Isolated severe thunderstorms possible late Thursday evening into early Friday morning, due to a line of thunderstorms pushing through. Wind damage is the primary concern.
Be sure to share this article with family and friends in the risk area!
A message from NRG:
With the damaging winds forecasted tonight, NRG wants to help make sure you are prepared. As a longtime supporter of PA Weather Action and its mission to keep you informed of weather events ahead of time, we offer these tips to help reduce your risks of damage and injury.
Bring pets and children inside.
Secure any objects on your property that are loose and lightweight. If possible, put your vehicle in your garage. 
If you are on the road, reduce your driving speed. 
Avoid and report to police or the local utility company downed power lines.
Download our app for great interactive radar, a simple home page design will all the info you need, and all our handwritten content! Tap the banner below to get it on your phone's app store!
---
---