Without a doubt over the week you heard of Hurricane Matthew, which is currently a major Hurricane, that may impact the East Coast late this week into next weekend. In fact, many of you have been asking about our forecast. We have been keeping quiet from posting about it over the last few days because many models were suggesting the worst case scenario for the East Coast. While we were concerned about the potential, we did not want to state that a dangerous/devastating hurricane was going to impact us when we were still 10 days away from the potential impact.
With that being said, we waited a few days to see if guidance would continue to suggest a crippling scenario or if they would back off. And sure enough over the last few days models have backed off on an extreme event and now suggest a more "close call" situation (thank goodness).
However, we still have about 5 days of tracking Hurricane Matthew before we can guarantee a close call solution.
Based on the latest Hurricane Advisory posted by the National Hurricane Center, Hurricane Matthew is located just to the Southeast of Jamaica.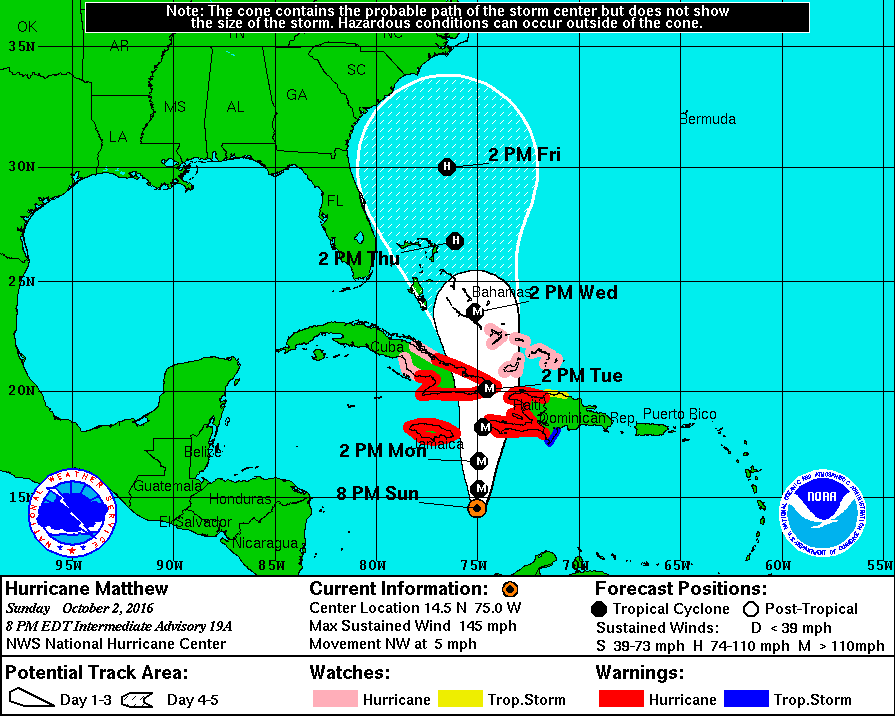 Notice a couple things here. For Eastern Cuba, Haiti, Eastern Jamaica, and the Caribbean Islands, devastating impacts will be felt as Hurricane Matthew will still be considered a major hurricane. The other thing is to look how slow the hurricane is moving. By Friday, Hurricane Matthew is only projected to be at 30N. This is why we still have 5 days before we can guarantee any type of impact.
Here's a look at the latest guidance spaghetti plot for Hurricane Matthew: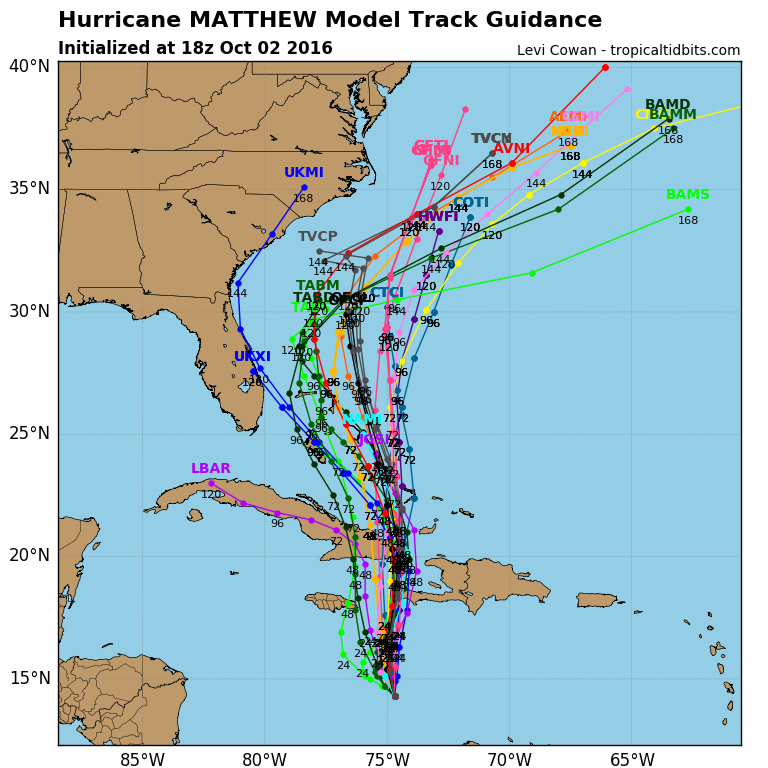 Many make a very close call for the Southeast Coast, but take a bend Northeast as they approach the Carolina Coastline. Earlier in the week, guidance was suggesting a Hurricane making landfall between the Carolina Coast and the New Jersey coast, but that has since changed.
Even though we cannot guarantee a certain track this far out, we can give probabilities for particular tracks. This is our thoughts for now:
Red Track – The most likely path with 60% confident. Hurricane Matthew will continue NNW before making a bend Northeastward as it approaches the Carolina Coast. This will lead to little to no impacts for coastal regions. Surf will be rough if you have plans out in the Ocean this week.
Green Track – Our second most likely track at 30% confidence. This track takes Hurricane Matthew well out to sea, leading to no impacts for the US.
Yellow Track – Our least likely track at 10%. This is the track that the East Coast does not want to happen, including PA residents. This would bring devastating hurricane impacts for the East Coast and significant impacts far inland. Fortunately for us, this does not look likely. But, this is the solution guidance was suggesting a few days ago.
If you hear a major hurricane is going to hit PA or the Coast, right now that is false as it looks to be a close miss. BUT IF, it were to hit, the time period to watch is Saturday through next Monday. Again we still have plenty of time to track Hurricane Matthew which is why it is important for you to keep it here throughout the week to any changes in the forecast track. We will also have our Preliminary Winter Forecast posted Tomorrow Evening. Get all the info by simply following us on our Facebook Page>>>> PA Weather Action on Facebook!