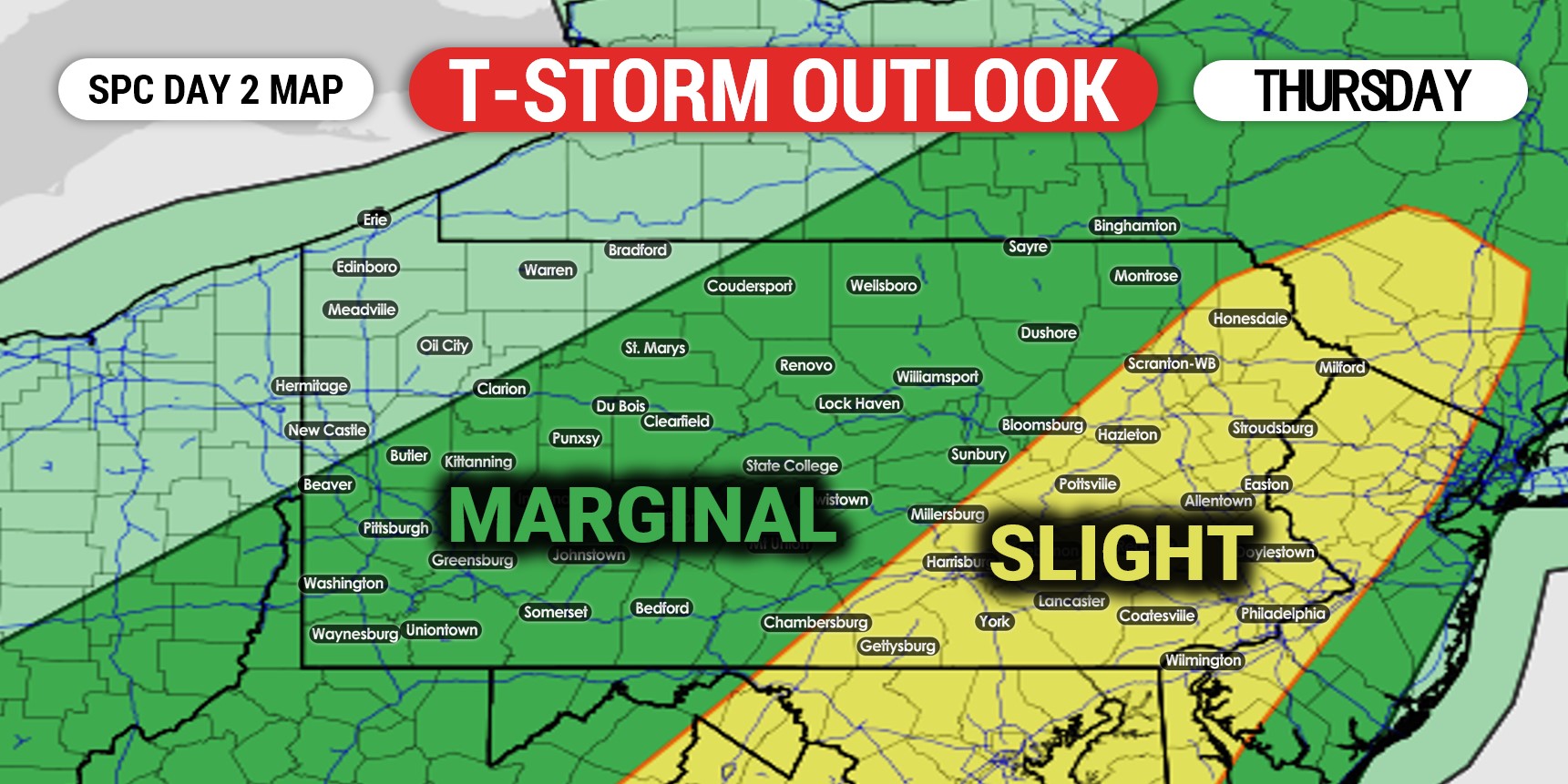 Scattered thunderstorms are expected to form ahead of a weak front Thursday afternoon, especially across the eastern half of the state. However, all of the state except NWPA has been added to the Marginal Risk, accompanied by the expanded Slight Risk.
Morning scattered rain showers and cloud cover does create some uncertainty as to when and where the expected destabilization will occur. Around 2 PM is when some clearing may take place in the eastern half of Pennsylvania. The Hi-Res NAM doesn't show much in the way of storms developing by 2:00 PM Thursday, as shown below.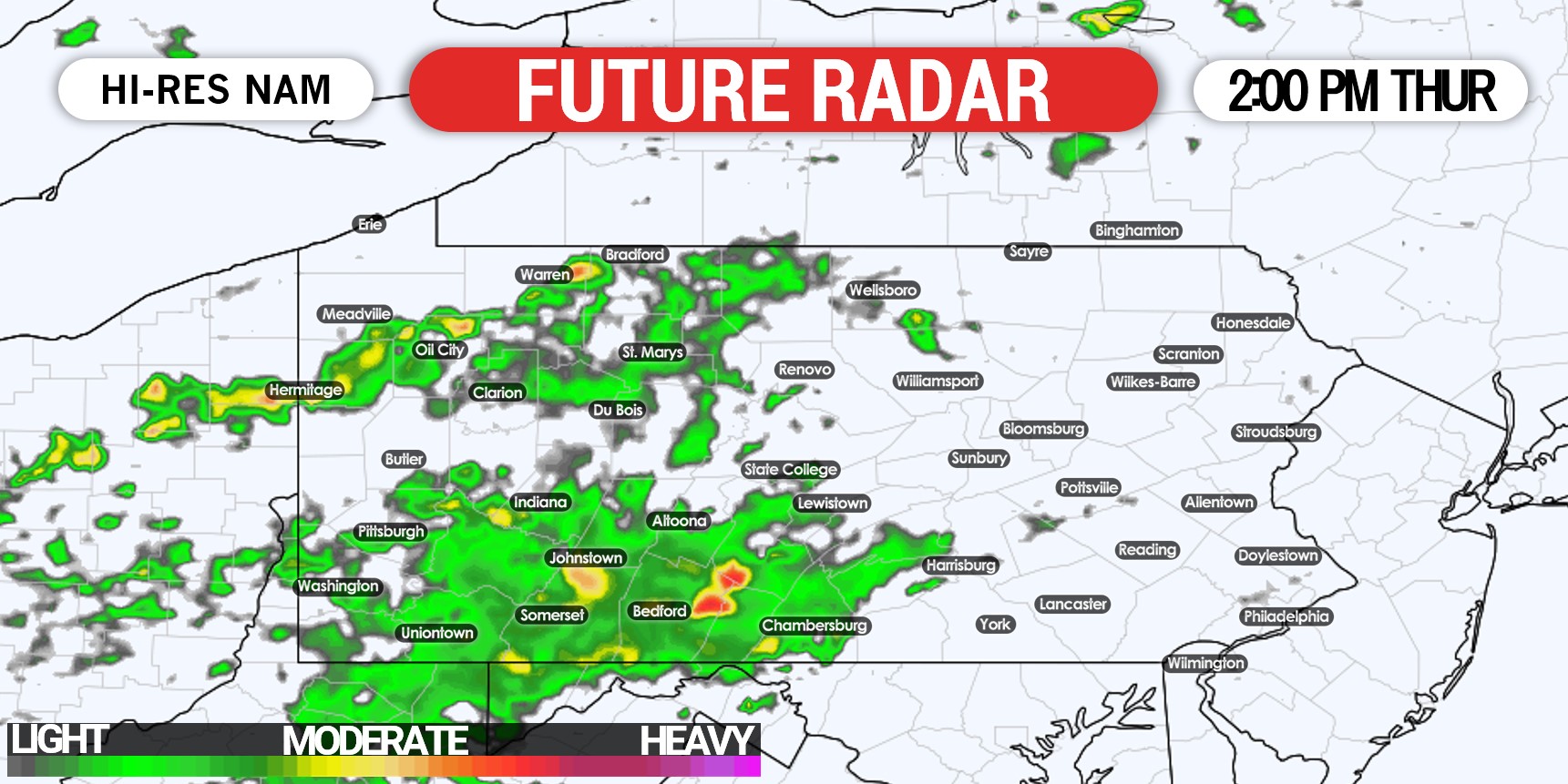 Around 3-4 PM is when we expect storms to begin to develop in central PA from just west of York to Harrisburg and up the river to Williamsport. They may develop farther east of cloud cover prevails in and west of those areas, as best instability will be east. These storms as usual will strengthen quickly after the pop-up, and will be moving east-northeast. Below is future radar for 4:00 PM Thursday.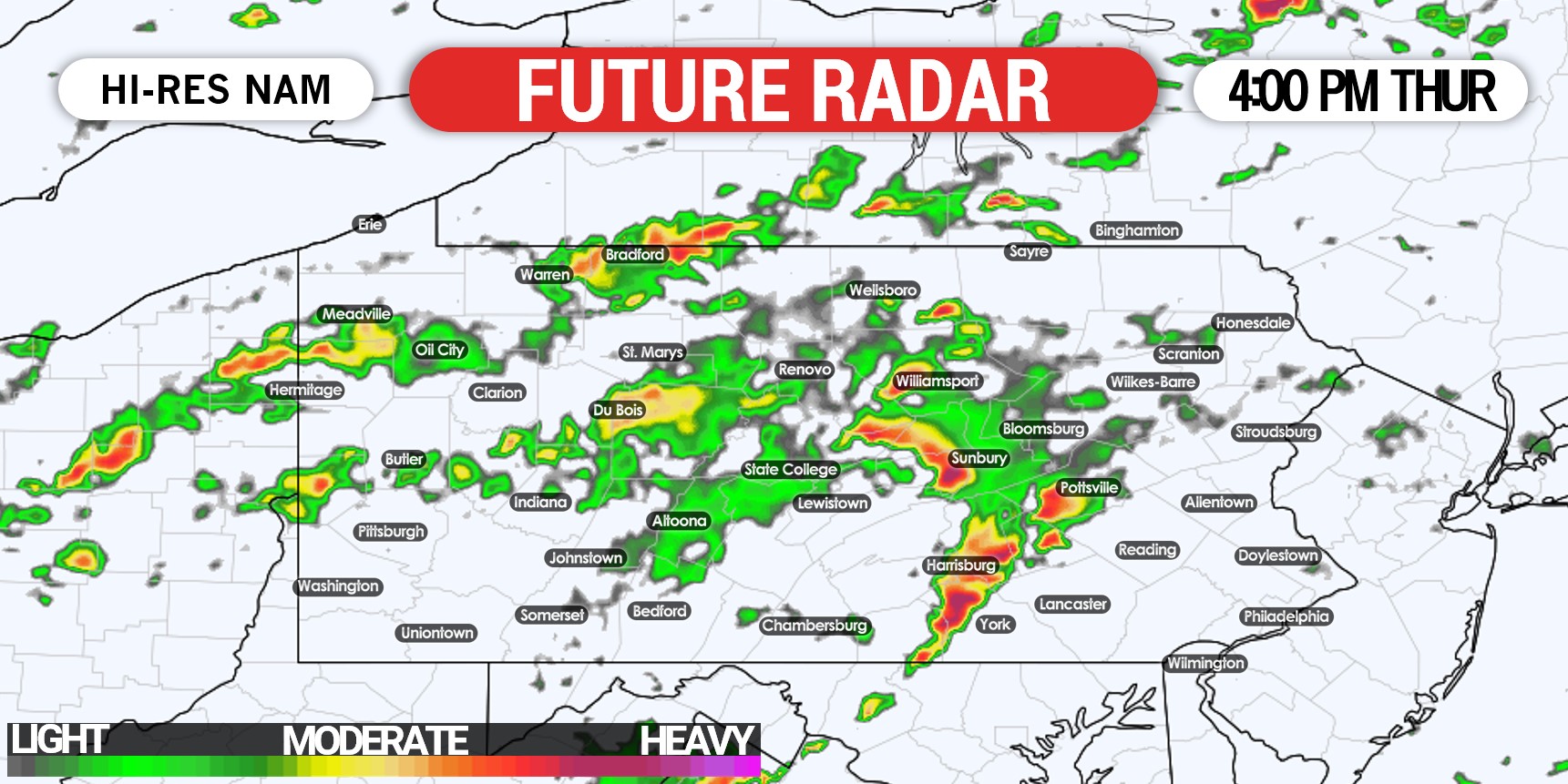 Storms will push east-northeast as we head into the evening rush. The evening commute may be impacted particularly from the Lehigh Valley, through Reading and down to Lancaster and the western Philadelphia suburbs. Here is future radar for 6:00 PM Thursday.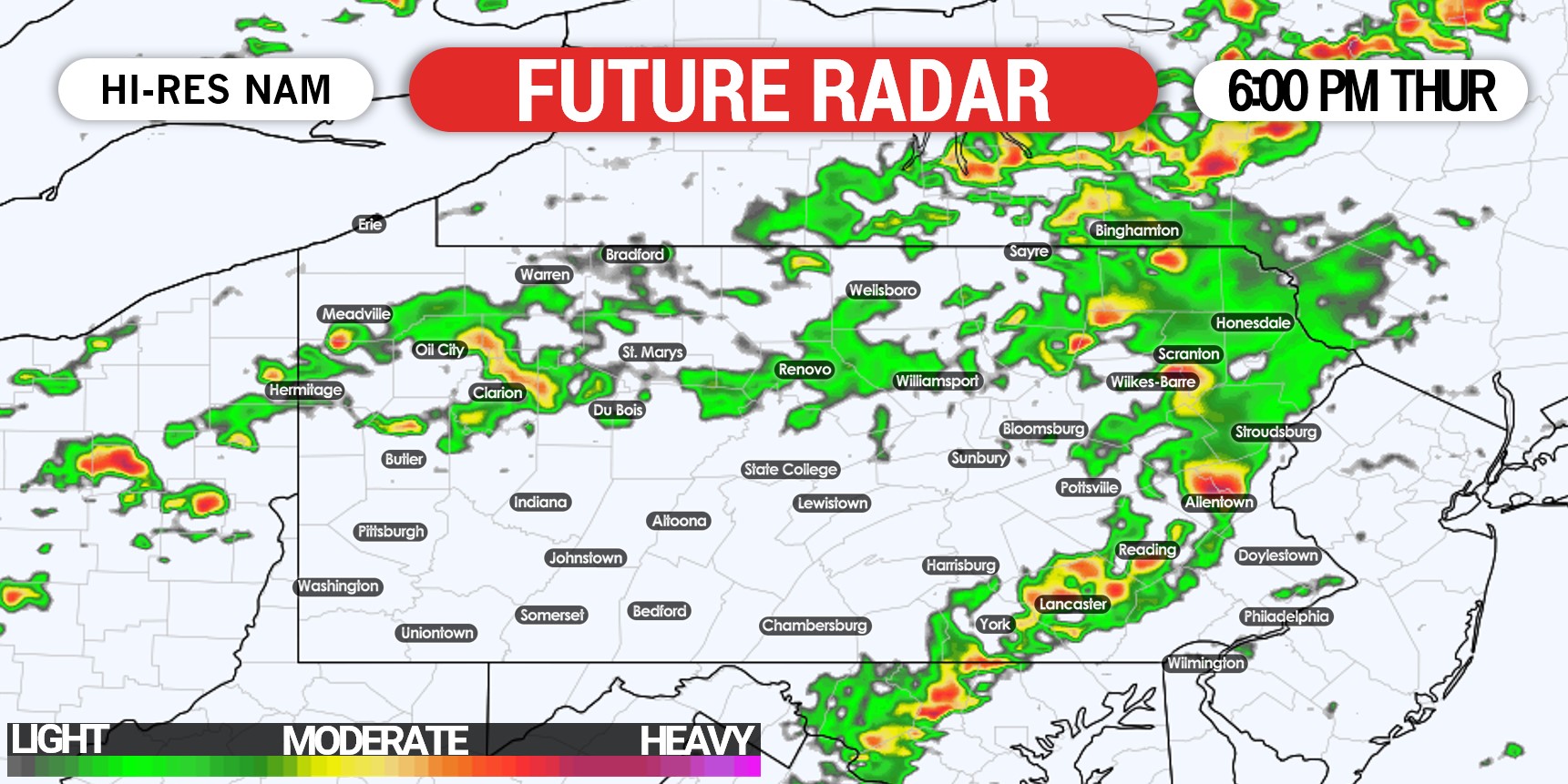 The thunderstorms may weaken slightly as they head into the Philadelphia Metro by mid-evening. By then, the only threat should be damaging winds. Urban flash flooding is also a concern especially in locations that saw highest rainfall amounts this past weekend. Below is future radar for 8:00 PM Thursday.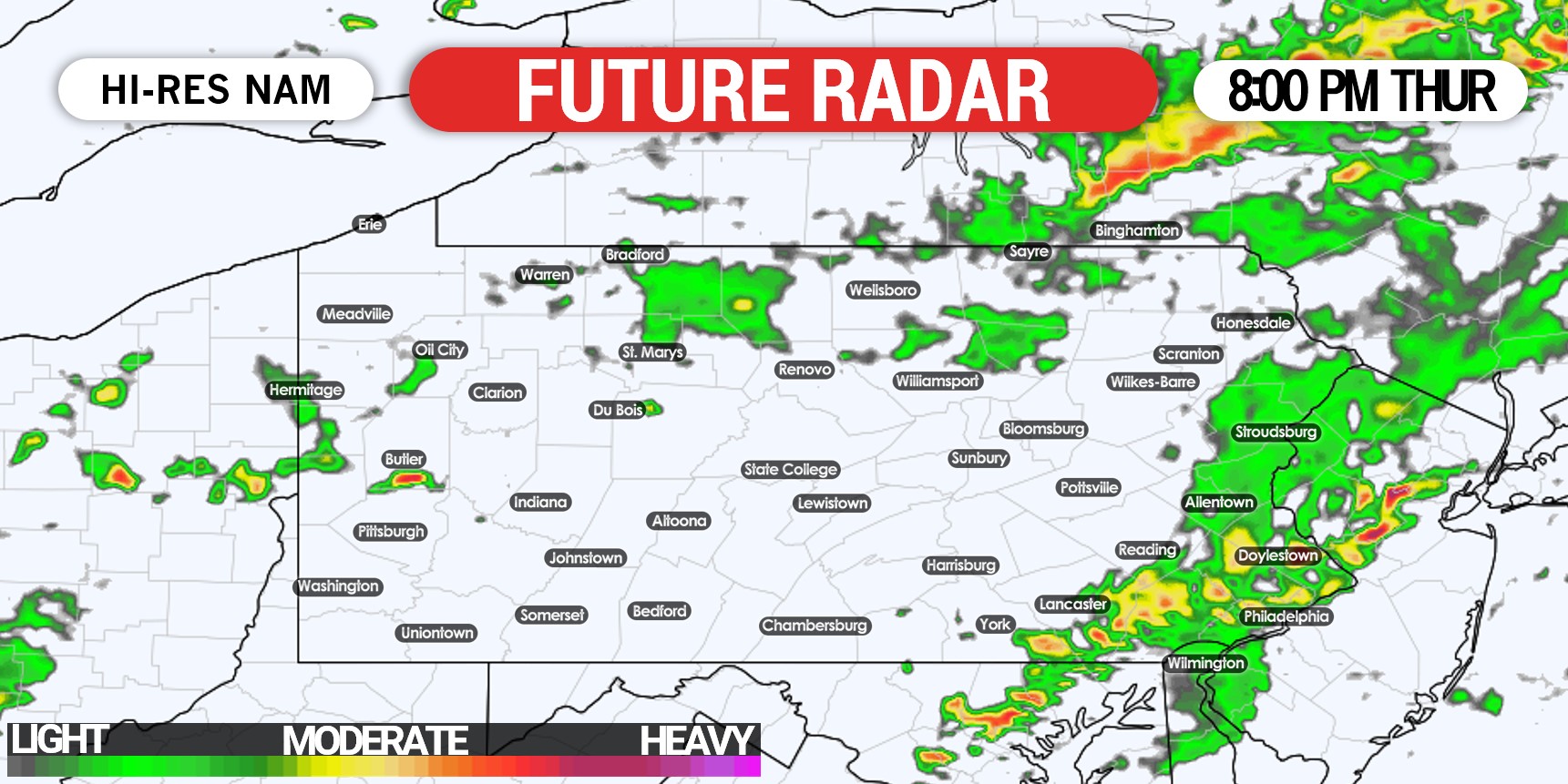 THURSDAY'S SEVERE THUNDERSTORM OUTLOOK (SPC)

Slight Risk Area (Yellow): Scattered strong to severe thunderstorms possible Thursday afternoon (west) and early evening (east). The main risk is damaging winds, with isolated hail and a very isolated tornado possible.
Marginal Risk Area (Green): A few isolated strong storms are possible in central PA Thursday afternoon as storms develop there, and then isolated strong thunderstorms will be possible in western PA Thursday evening. Gusty winds are the main concern.
Don't forget to share this article with friends and family using the blue button and stop by Thursday for thunderstorm coverage. Also have a good way to receive weather alerts.
---
---