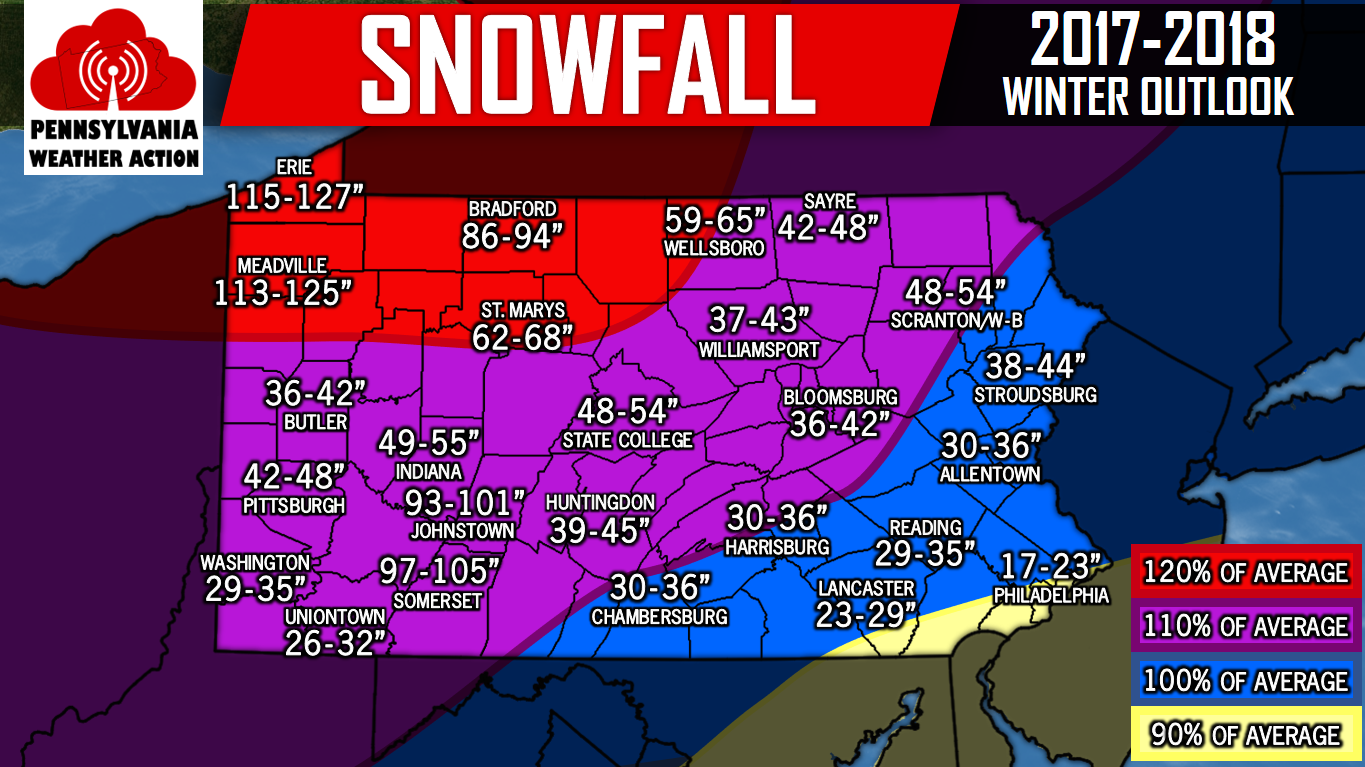 It is already well into November, which means it is time for our Official 2017-2018 Winter Outlook. The weather has corresponded well this week, with many areas receiving their first snowflakes already, and for some, their first accumulating snowfall! Below is the scientific explanation of our winter outlook as well as maps displaying temperature departures we are anticipating this year, and town-by-town snowfall outlooks. Click here If you would like to skip right to our temperature and snowfall outlook maps. Be sure to click your region's image to view town-by-town snowfall totals.
TECHNICAL DISCUSSION
To kick things off, we are going to discuss the current and projected state of the ENSO. As stated in our preliminary winter forecast, we are anticipating a weak La Nina for this upcoming winter. The state of the ENSO is based off of sea surface temperatures across the Equatorial Pacific. When this region of water is warmer than normal, an El Nino occurs. When the waters are cooler than normal, a La Nina takes place. Pictured below are model projections for the ENSO. Most model projections keep the ocean temperatures between 0.5° and 1.0°C below normal which translates to a weak La Nina.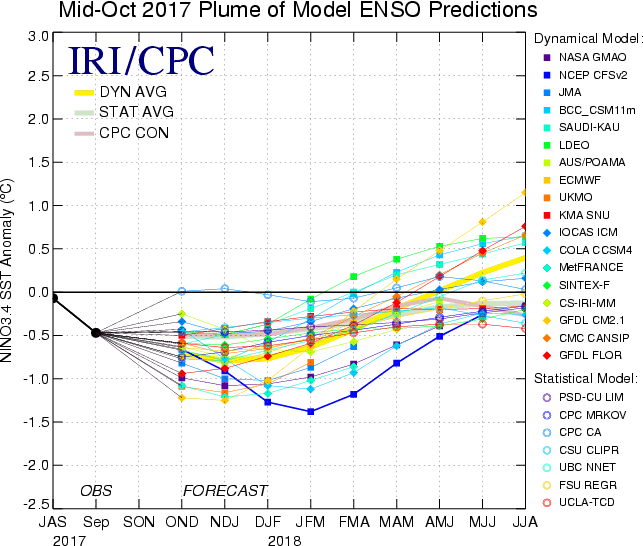 To be more precise, we are expecting an east-based weak La Nina this upcoming winter. Determining whether the La Nina is east-based or west-based is very important for our area. During east-based La Nina's, cold blasts from Canada will have an easier time spreading into Pennsylvania and the rest of the Northeast. During a west-based La Nina, the snow lover's dreaded southeast ridge has an easier time approaching and remaining in the area for long stretches, leading to much warmer than normal conditions.
With east-based La Nina's, troughing over the Northern Plains and Northeast typically keeps the southeast ridge at bay. The jet stream flows just south of the area, creating an ideal storm track for Pennsylvania. Below is a map showing the general differences between east and west-based La Nina's.
Just because we are expecting an east-based La Nina, this does not mean we should expect consistently below average temperatures. The southeast ridge will still be in play at times during the winter, especially for Southern PA. Temperature swings will be common theme throughout this winter.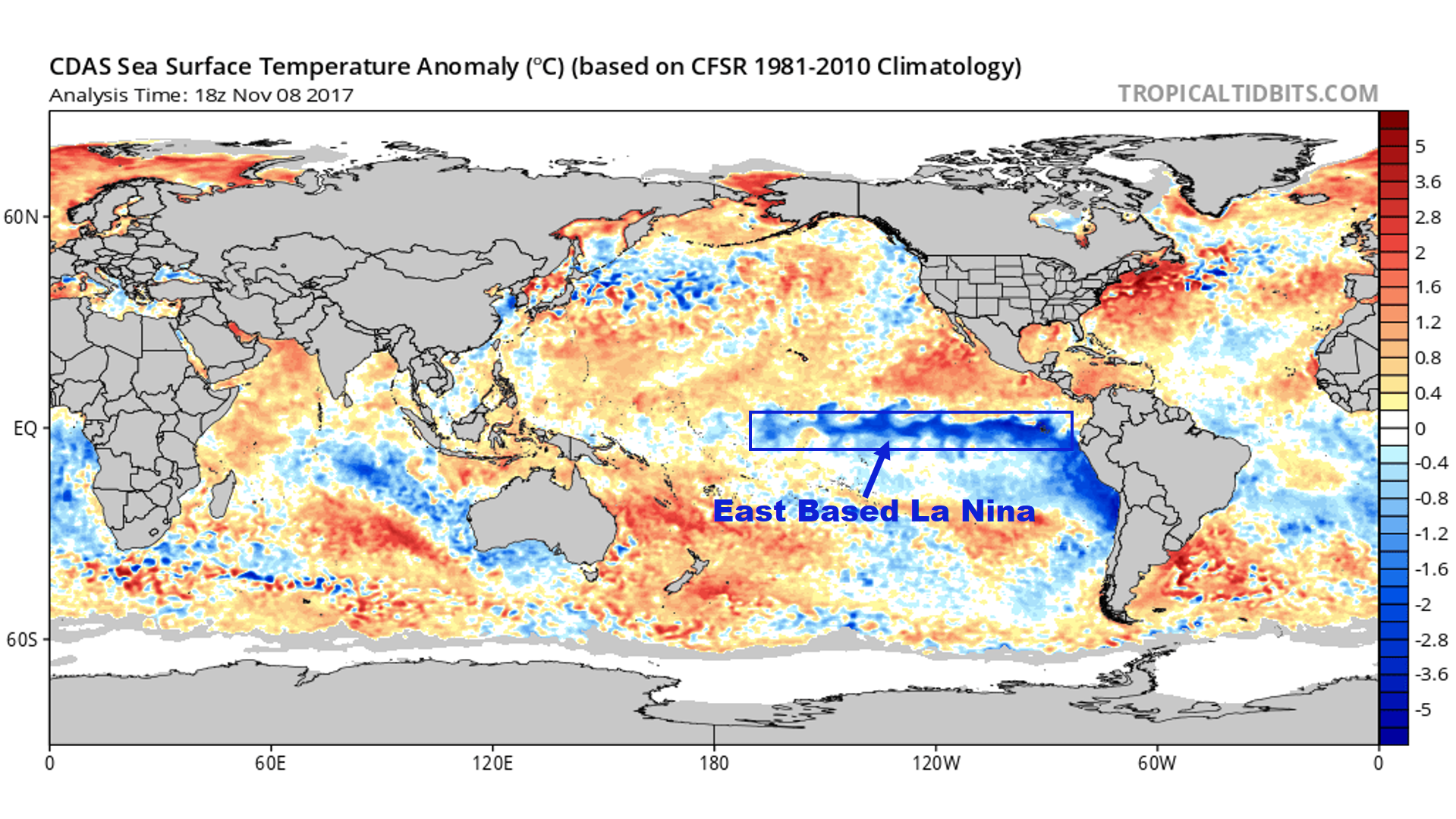 In addition to the east-based La Nina, sea surface temperatures in the Gulf of Alaska and along the west coast of the United States are generally warmer than normal. This is called a warm Pacific Decadal Oscillation (PDO) phase. During a warm PDO phase, ridging develops out west with troughing in the east. This will enhance our cold shots throughout the winter. Our latest observations however, have indicated sea surface temperatures are cooling in this region, while remaining warmer than normal. If this trend continues and we do reach cooler than normal sea surface temperatures in that area, this would enhance the likelihood of the southeast ridge flexing its muscles during the winter months.
When we put together winter outlooks, on top of looking at current observations, we take a look at year's past to see which years matched closest to what we are experiencing right now. These years are called analog years. Below is the sea surface temperature map using our analogs.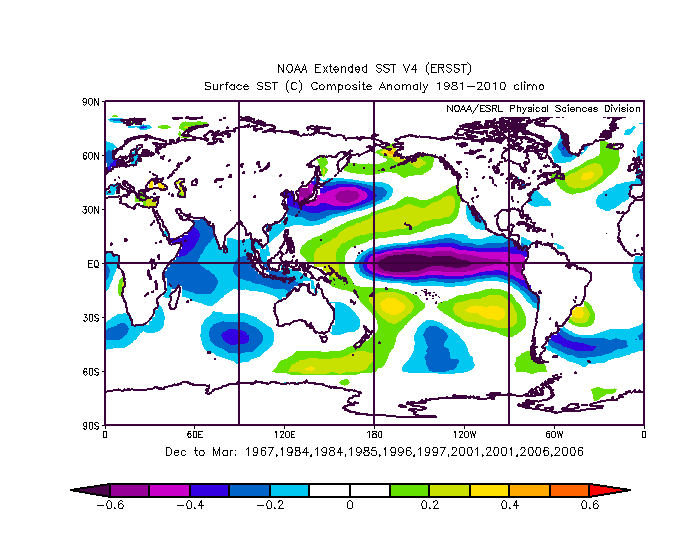 Our analog years go as follows: 1967-68, 1983-84, 1984-85, 1995-96, 1996-97, 2000-01, and 2005-06. Our top three analogs are 2005-06, 1983-84, and 2000-01. Looking at the sea surface temperature anomaly map from these years, you can see a basin-wide La Nina with a the warm PDO. In the coming months we expect Nino 1+2 to warm slightly, and Nino 3.4 to stabilize. However, the Nino 4 region will likely remain the warmest.
A very critical factor will be the amount of blocking we have over Greenland this winter. It is anticipated that we will have an active start to winter due to a negative North Atlantic Oscillation (NAO) phase. When blocking is present over Greenland, this allows for the pattern to slow down and for cold air to be locked into place over the area. This is a perfect recipe for snow for our region. We are not anticipating the Greenland block to maintain itself as we head into January and February, which could result in a thaw. Our analogs suggest the Greenland block to restrengthen as we head into March. In other words, this winter is expected to have an active beginning and end in terms of cold and snow.
Another significant factor going into this winter is the Quasi-Biennial Oscillation (QBO). The latest QBO for October came in at -16.79, which is an easterly QBO, opposite of what we saw last year. With a negative QBO, this helps with progression of splitting or displacing the polar vortex. This would lead to more cold shots into the US and will help fight off the southeast ridge. It is possible that the polar vortex moves into the Western US, not benefiting us. However with the other teleconnections favorable, this is less likely.
When we produce our temperature and snowfall maps, we use our analogs as a general guide. Taking a look our analog years, we come up with our temperature anomalies which are below.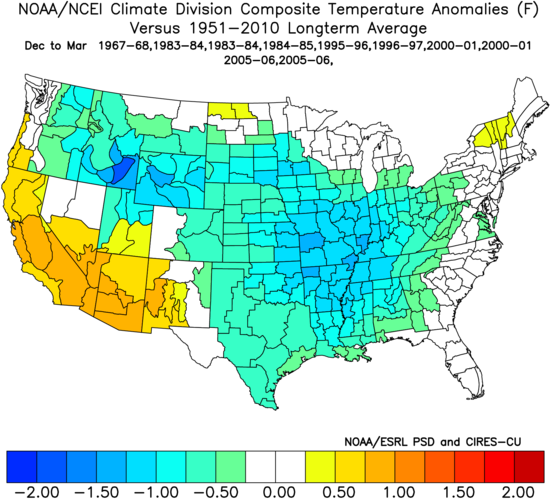 The theme with our analogs is that the worst of the cold will likely remain west of our area this winter, but numerous shots of cold will produce average to slightly below average temperatures for many locations.
SUMMARY
This winter will be far different from the last two winters. The last two winters were much warmer than average. This year, temperature swings will be common. There are a couple wildcards in this outlook. One being the PDO. If the PDO continues to cool, this will increase the chances of the southeast ridge making an appearance several times this winter. On the flip side, if we can maintain blocking over Greenland for not just December and March, but January and February, snow totals will surpass our current project snow totals. The potential for this is exists, however based off our analogs, an active start to winter, with a thaw in the middle and a cold and active March is anticipated.
2017-2018 TEMPERATURE OUTLOOK

Area A – Below average temperatures can be expected in December. Average to slightly above average temperatures are likely in January and February, with slightly below average temperatures in March. Temperatures swings are expected, especially in February.
Area B – Below average temperatures are anticipated in December. Slightly above average temperatures are expected in January and February, followed by slightly below average temperatures in March.
2017-2018 SNOWFALL OUTLOOK

Don't see your town or city? No worries, click on your region below to view our town-by-town snowfall outlooks! Be sure to share the outlook with your family and friends using the facebook button below!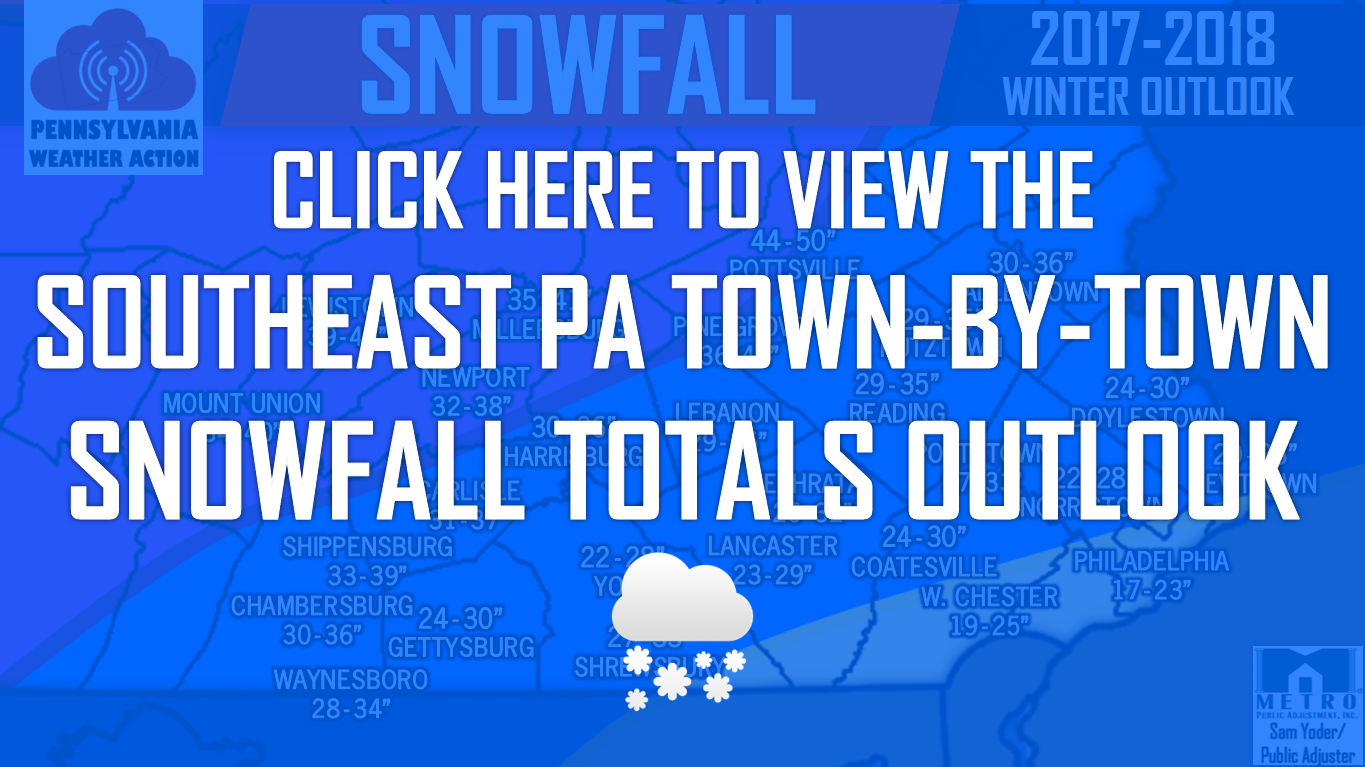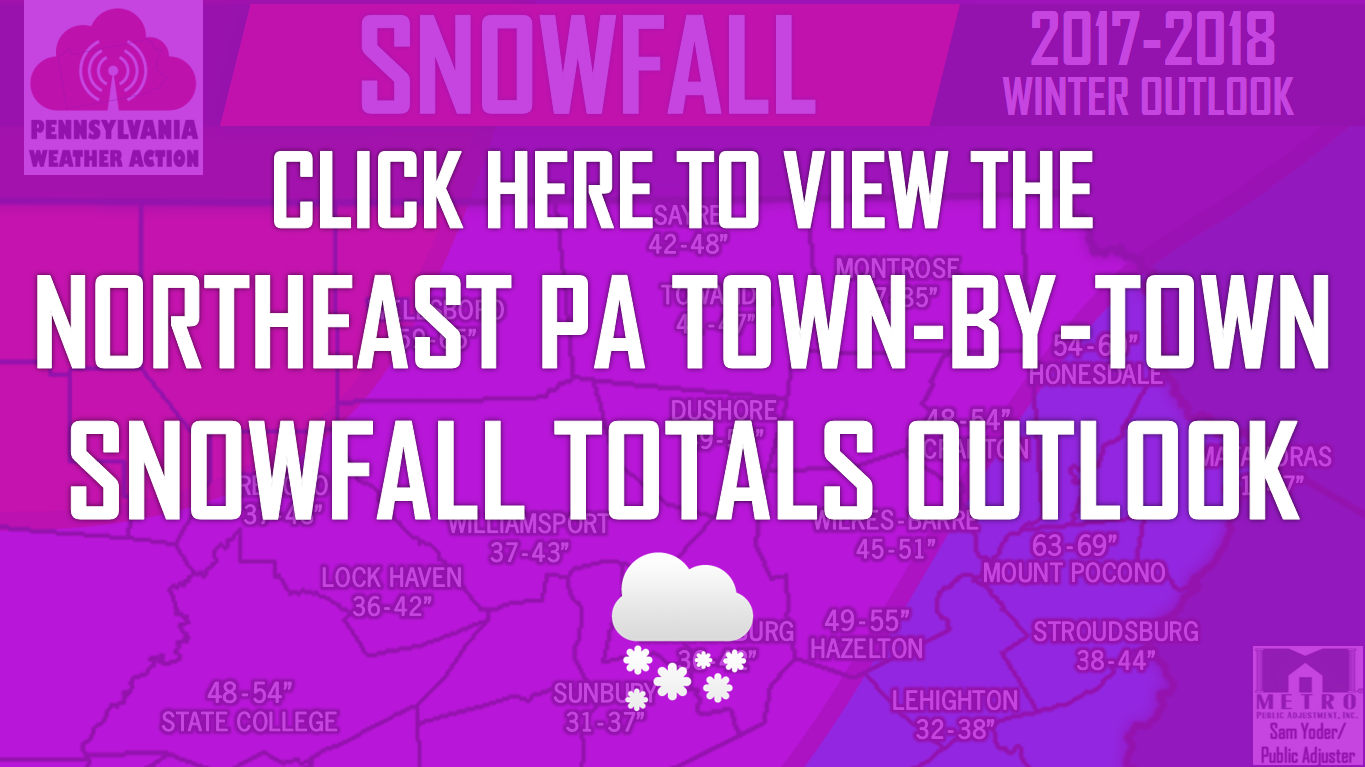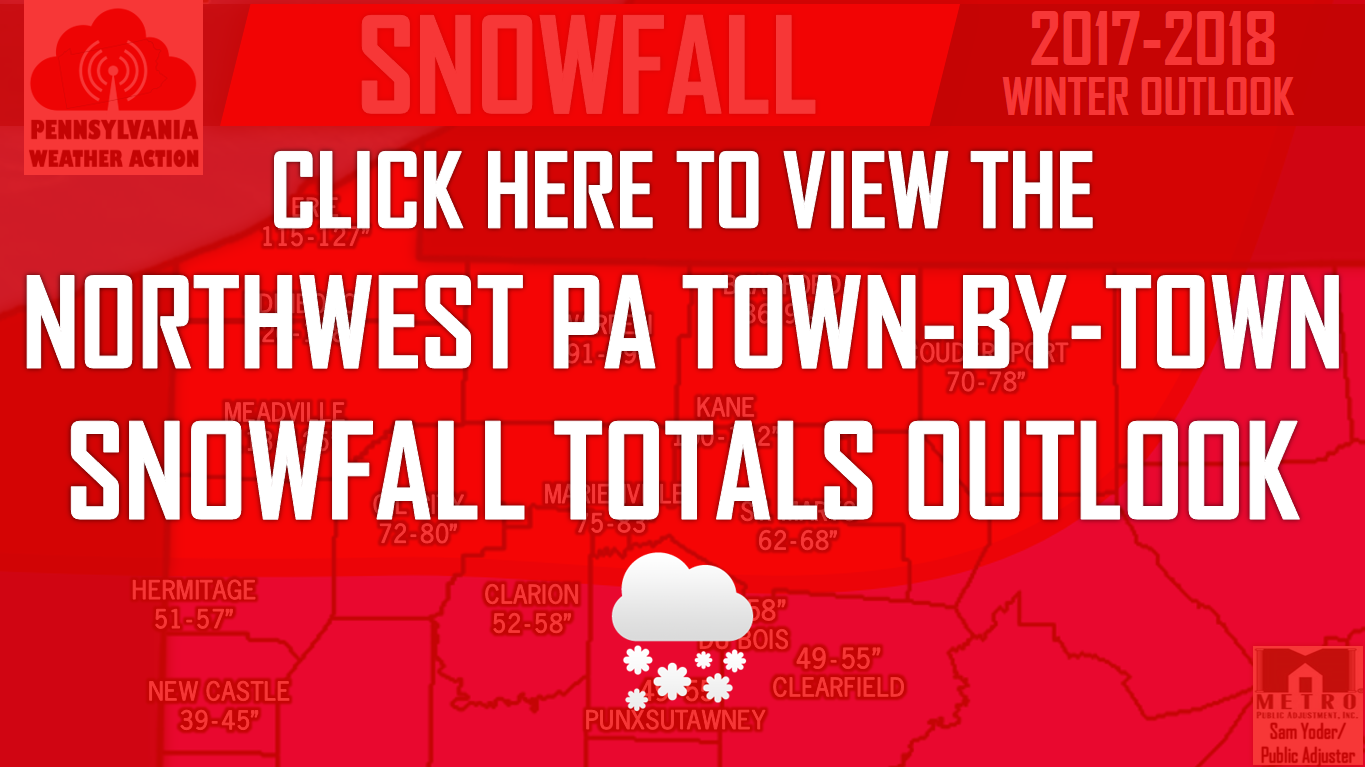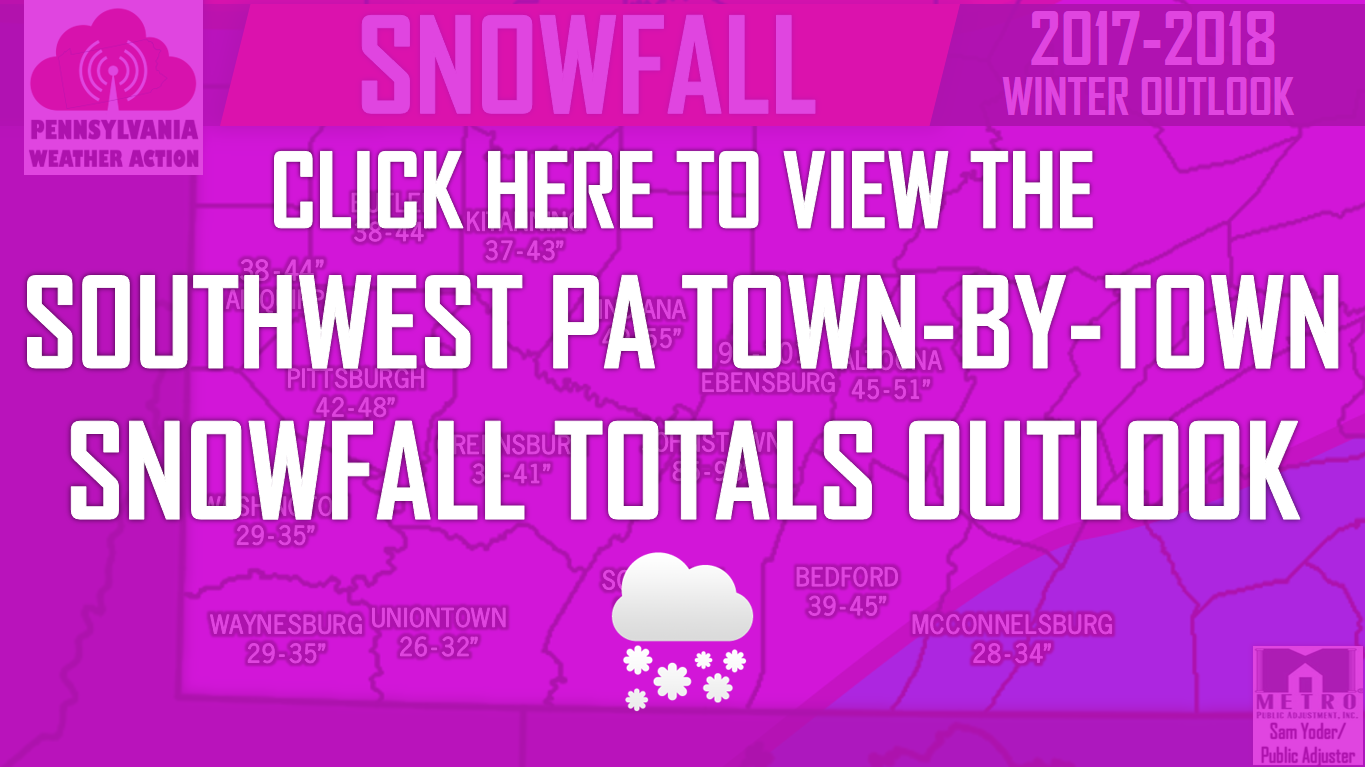 ---
---