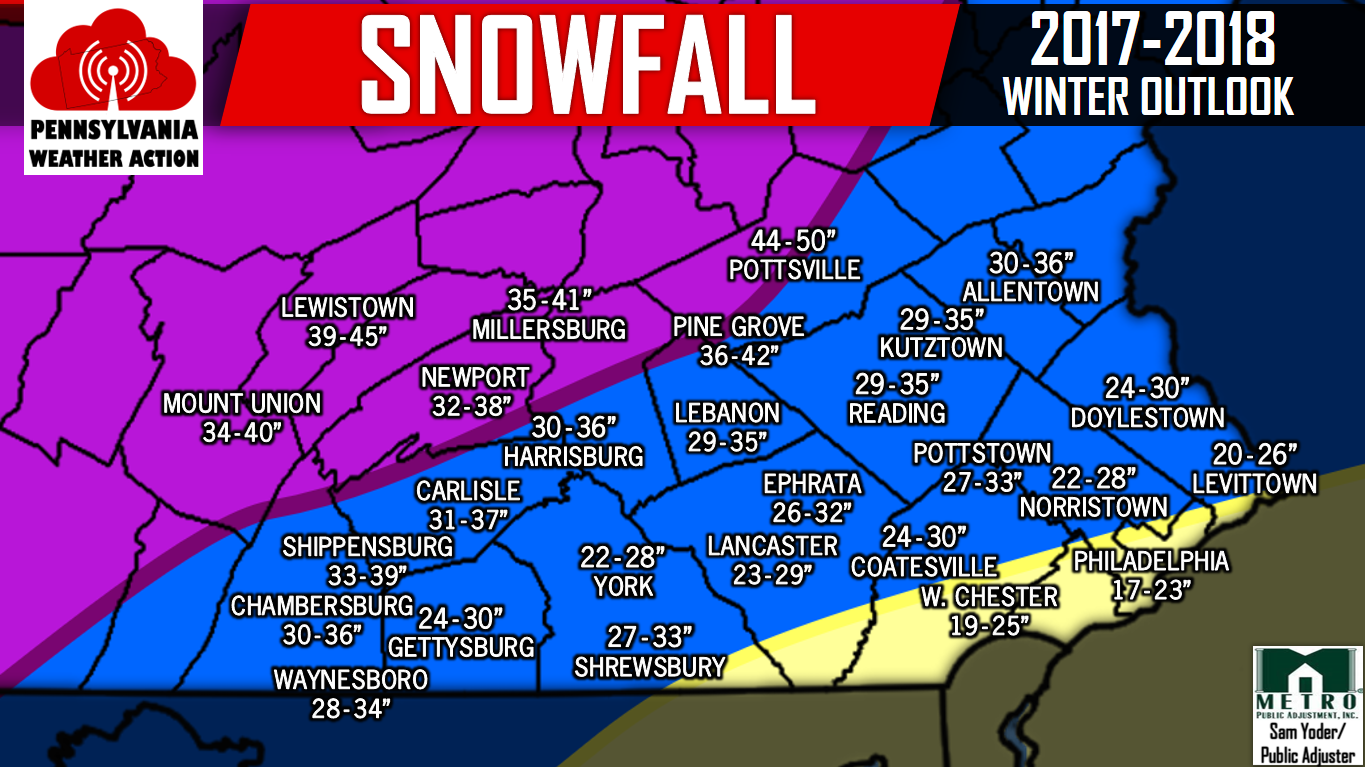 This winter, Southeast PA can expect below average temperatures in December, with slightly above average temperatures in January and February, followed by below average temperatures in March. We anticipate winter to get off to an early start with a cold, snowy month of December.
A mid-winter thaw is then expected in January, possibly into February, The majority of precipitation may fall as rain and during this period. Ice storms will also be a concern during this time especially in the Lower Susquehanna Valley and Cumberland Valley. An active, chilly end to winter is anticipated with a few late season winter storms possible in March. If you have yet to see our Official 2017-2018 Winter Outlook, click here to read it.
Without further ado, here is our 2017-2018 Winter Snowfall Totals Map for Southeast PA! If you don't see your town, we have a full list of snow totals for even more locations below the map. Be sure to share this all-inclusive snowfall outlook with your family and friends using the button below!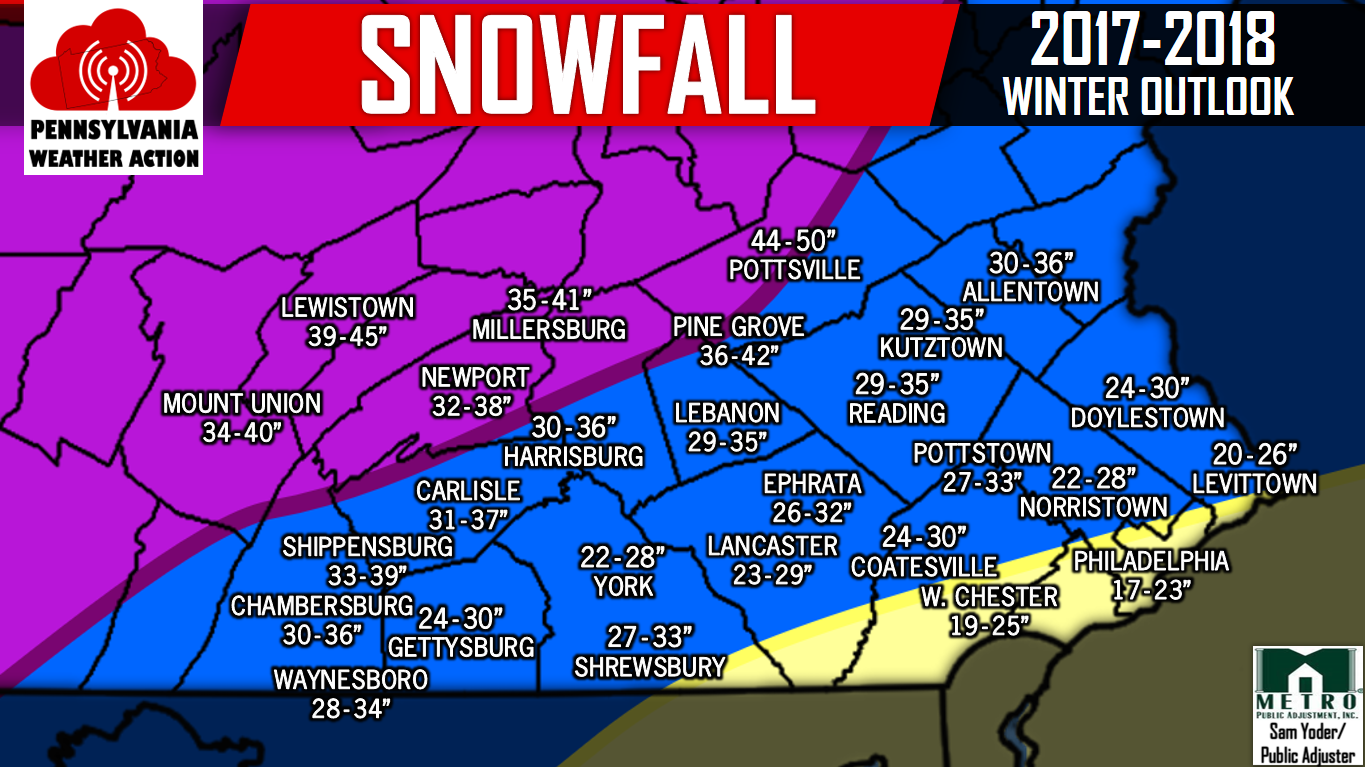 Adams County
Gettysburg: 24-30″
Carroll Valley: 28-34″
McSherrystown: 27-33″
Biglerville: 24-30″
New Oxford: 23-29″
Berks County
Reading: 29-35″
Wyomissing: 30-36″
Boyertown: 28-34″
Fleetwood: 31-37″
Kutztown: 32-38″
Bucks County
Doylestown: 24-30″
Quakertown: 25-31″
Warminster: 24-30″
Levittown: 20-26″
Morrisville: 20-26″
Chester County
West Chester: 19-25″
Downingtown: 20-26″
Coatesville: 24-30″
Phoenixville: 25-31″
Malvern: 23-29″
Cumberland County
Carlisle: 31-37″
Mechanicsburg: 30-36″
Camp Hill: 30-36″
New Cumberland: 31-37″
Shippensburg: 32-38″
Dauphin County
Harrisburg: 30-36″
Middletown: 29-35″
Hummelstown: 30-36″
Millersburg: 34-40″
Hershey: 30-36″
Delaware County
Upper Darby: 18-24″
Chester: 17-23″
Springfield: 18-24″
Media: 17-23″
Haverford: 16-22″
Franklin County
Chambersburg: 30-36″
Waynesboro: 28-34″
Greencastle: 30-36″
Mercersburg: 31-37″
Fannettsburg: 34-40″
Juniata County
Port Royal: 38-44″
Mifflin: 37-43″
Thompsontown: 39-45″
Lancaster County
Lancaster: 23-29″
Lititz: 25-31″
Ephrata: 27-33″
Elizabethtown: 29-35″
Columbia: 26-32″
Lebanon County
Lebanon: 31-37″
Cornwall: 29-35″
Palmyra: 30-36″
Myerstown: 29-35″
Jonestown: 33-39″
Lehigh County
Allentown: 30-36″
Emmaus: 29-35″
Macungie: 28-34″
Catasauqua: 31-37″
Coopersburg: 28-34″
Mifflin County
Lewistown: 36-42″
Burnham: 37-43″
McVeytown: 39-45″
Montgomery County
Norristown: 22-28″
Lansdale: 24-30″
Pottstown: 26-32″
Hatboro: 22-28″
Ambler: 23-29″
Northampton County
Easton: 30-36″
Bangor: 32-38″
Nazareth: 29-35″
Northampton: 31-37″
Bethlehem: 30-36″
Perry County
New Bloomfield: 33-39″
Newport: 32-28″
Duncannon: 31-37″
Millerstown: 33-39″
Marysville: 30-36″
Philadelphia County
Philadelphia: 17-23″
South Philadelphia: 16-22″
North Philadelphia: 18-24″
Schuylkill County
Pottsville: 44-50″
Tamaqua: 46-52″
Schuylkill Haven: 41-47″
Mahanoy City: 47-53″
Frackville: 46-52″
Snyder County
Selinsgrove: 36-42″
Middleburg: 36-42″
Shamokin Dam: 38-44″
Beavertown: 37-43″
McClure: 37-43″
York County
York: 24-30″
Hanover: 25-31″
Red Lion: 26-32″
Wrightsville: 24-30″
Dillsburg: 26-32″
---
---