This is the first time in quite a long time where we are releasing our official winter outlook after most of us have already experienced our first significant snowfall of the season! Will the snowy and cold continue into our winter months? Read the science behind the forecast, as well as the month-by-month breakdown below!
TECHNICAL DISCUSSION:
To kick things off with our winter outlook, we will take a look at the main driving factor that dictates our weather pattern. The main driving factor we are referring to is the state of the ENSO region in the Equatorial Pacific Ocean. This region determines whether we are in a El Nino or La Nina phase going into the winter. Below is a look at the current projection for the ENSO: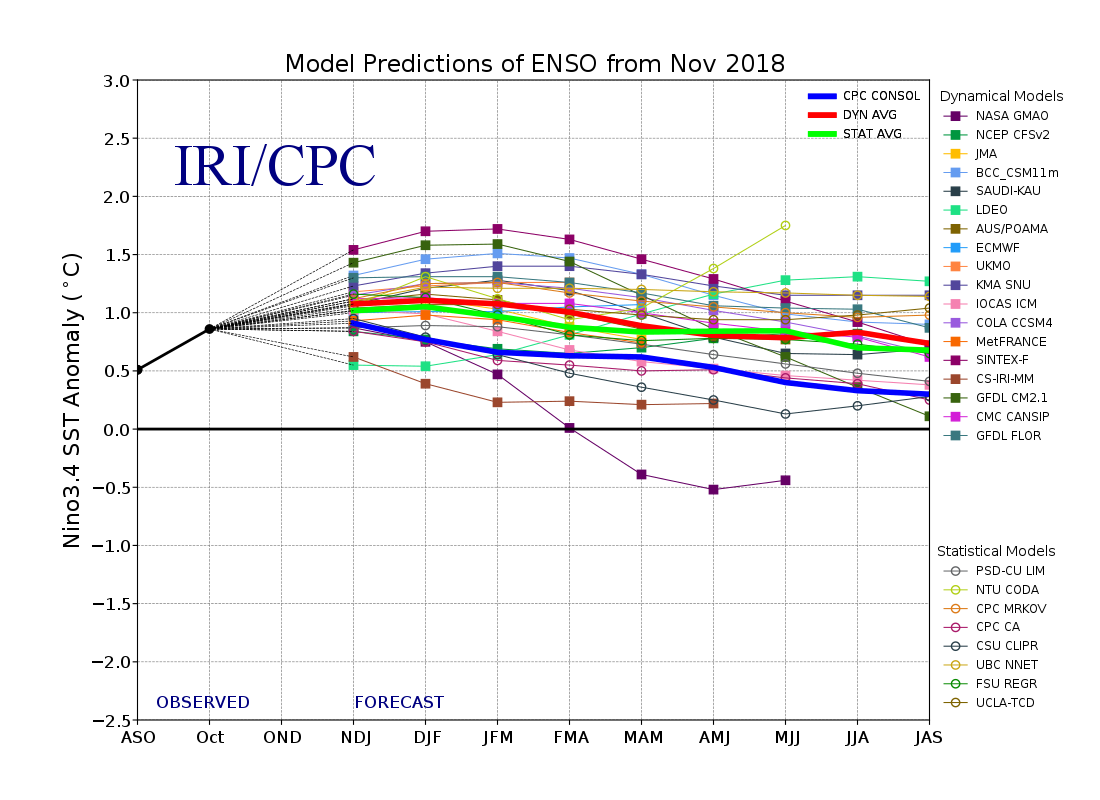 The overall consensus between observations and model guidance is the ENSO region sea-surface temperatures will be around 1 degree Celsius. This means this winter will be recognized as a weak El Nino. Typically with weak El Ninos, the subject tropical jet stream becomes very active. This will allow for an above normal amount of precipitation across the Gulf of Mexico and up the Eastern Seaboard into our area. This does not guarantee snow, as the precipitation still has to match up with the cold air. Due to recent warming of sea surface temperatures in the eastern sections of the Equatorial Pacific, we are thinking this will be more of a basin-wide event, rather than west or east-based.
Another area we focus on as we put together the winter outlook is the Gulf of Alaska. If the waters in the Gulf of Alaska are cooler than average, this usually means there is trough over the Western United States and a ridge over the east (above avg. temps. for PA). If the waters are warmer than average, this favors ridging over the Western United States and a trough over the east. Below is a look at the current sea-surface temperatures across the world. Our primary focus is in the Gulf of Alaska: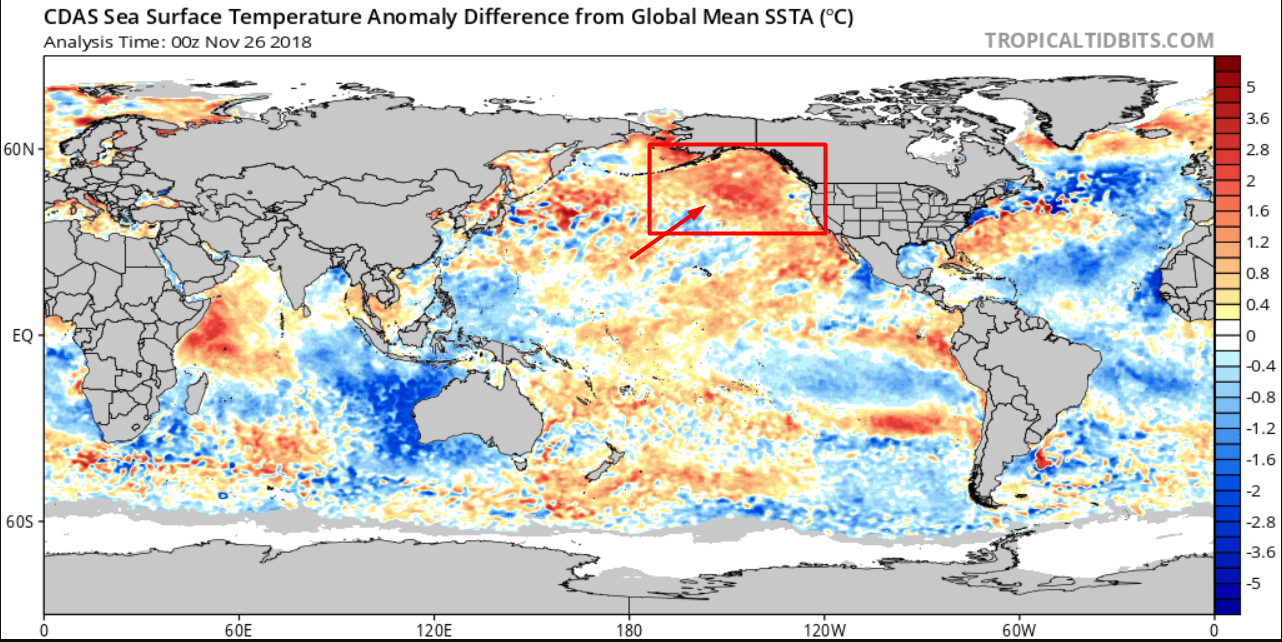 The Gulf of Alaska right now is well warmer than average which would increase the likeliness of a trough over the east. Anytime there is a trough over the east, that allows Arctic air from Canada to invade our area. Seeing the Gulf of Alaska this warm is a good thing for snow lovers. There is an increased chance this year for a major storm(s) because there will be many cold shots this winter. With the expected active sub-tropical jet stream, all it takes is one system to time up with a cold shot, to lead to a major winter storm.
While those are two ingredients in favor of a cold and snowy winter across Pennsylvania, there is one observation that is not quite as favorable. This observation would be the expected blocking or lack there of over Greenland this Winter. We do not anticipate much in the way of blocking this Winter. This will allow for the jet-stream to be fast moving. So while there is an increased chance of at least one major winter storm this season, we will need some temporary blocking over Greenland to help slow down the system to allow for a major storm to take place.
Even without the blocking over Greenland, we will still experience plenty winter storms. Just more often than not, the storms will be on the moderate side and fast moving. Quite similar to the more recent winters of 2013-14 and 2014-15. Both seasons there was never really a major winter storm, instead many moderate storms that added up over the season.
For every seasonal outlook, we take a look at past years where conditions were generally similar to what we are experiencing now. These years are called analog years. Below is a look at this year's analog years chart: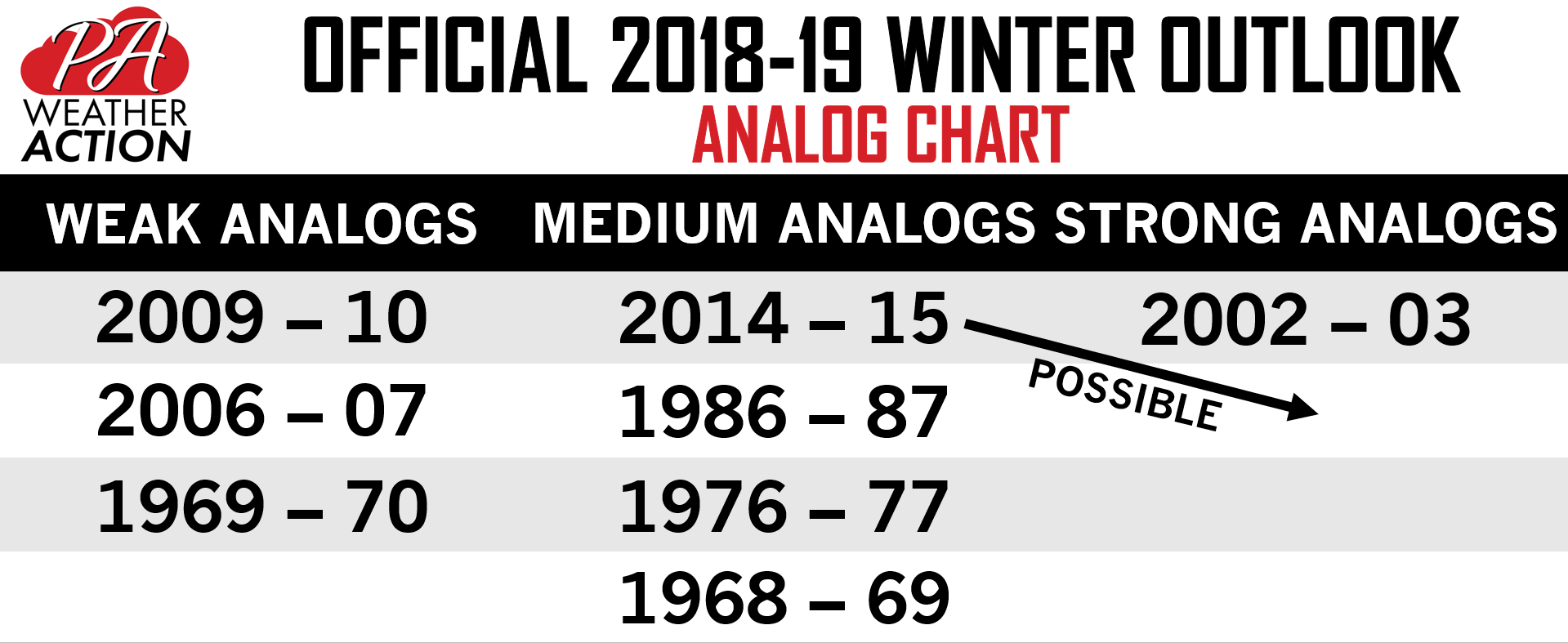 Early season high-latitude snow cover often has implications on the pattern for the upcoming season. Snow cover this year is looking impressive, especially in North America. There is often a correlation between above average early season snow cover and below normal winter temperatures. Below is a comparison of this year to 2002, which was a very cold and snowy winter for us. As you can see, snow cover is similar.

MONTH-BY-MONTH OUTLOOK
It is important to look at this upcoming winter on a month-by-month basis. When it is a little warmer than average around Christmas, we do not want people wondering what happened to the "cold and snowy" winter outlook. Let's begin by looking at how our analogs performed each winter month.

December: We expect December to start off cold, but rainy. Our best shot at a snowstorm will be around the 7th to 12th, as this will be a transition period. We anticipate a pattern change by mid-December, bringing above average temperatures at least until Christmas and possibly until the end of the month. This is not to say we will see no snow at all around Christmas, but it will be more difficult.
Temperatures: Average
Snowfall: Average to slightly below average
January: A pattern change around the near year is possible, with below average temperatures following and persisting for much of the month. We expect a decent amount of small to medium-sized storms in January.
Temperatures: Slightly below average to below average
Snowfall: Slightly above average
February
: Although there may be short-lived periods of warmth, we expect February to also be a cold month relative to average. Small events along with possibly a big storm or two are possible in February.
Temperatures: Below average
Snowfall: Above average
March: The cold pattern from February may roll over in March, but things may warm up by mid-late month.
Temperatures: Average to slightly above average
Snowfall: Average
2018-2019 WINTER TEMPERATURE OUTLOOK

Area A: Temperatures will likely end slightly below average as a whole during the December to March period. For details, read our monthly outlook.
2018-2019 SNOWFALL OUTLOOK
Note: Totals do not include snow that has already fallen.
Due to the fact the active southern jet stream will be just south of the state, we expect the southern half of the state to benefit from numerous small to medium-sized events, specifically during the months of January and February. In addition, we do tend to see at least one to two major snow storms during weak to moderate El Nino winters, and we don't see this season being an exception.
Around average lake effect snow is expected. However, that period of potentially above average temperatures during the second half of December may set Northwest PA back a little compared to average.
For the entire season, we anticipate areas south of i-80 to see around 25% more snow than average. Locations north of i-80 are projected to see around average snow for the season.
Download our app for winter storm updates throughout this season, along with your local forecast and radar! Tap here >>> PA Weather App Link!
Be sure to share this outlook with your winter-loving friends and family! Also, we are having a big sale on all apparel on our store, including the shirt below. Click here to head over to our store to take advantage of the sale, as it will be ending on Wednesday.
Don't see your town on the graphic above? Select your region below to see what you can expect this season!