We continue to track a major storm that is becoming more and more likely to impact parts of the Upper Mid-Atlantic to New England early this weekend. This will be a rapidly intensifying coastal storm, and no doubt has the potential to drop feet of snow in hardest hit areas. Being three to four days out, we are still determining just who will get into the jackpot.
The setup is this: multiple pieces of energy will be swinging south from Canada into the US on Thursday. Exactly where that energy goes and how long it takes to phase together will determine how far west the heavy snow axis is. If we see a later phase, chances are this will be a New England Special, leaving us with just a few snow showers. On the other hand, if the energy doesn't separate as much out west and phases together earlier, we will then see an earlier-developing storm that is closer to the coast. That would result in heavy snow being thrown back into Eastern PA.
Either way, Eastern Pennsylvania has the highest chance of seeing accumulating snow. Whether it's 1-3″ or 10-15″+ will all depend on where the energy phases together. Recent model trends have suggested we will see an earlier phase. There is still lots of guidance that doesn't support big impacts in Eastern PA, however if these trends continue as they usually do for another two days, things may be different by tomorrow or Thursday. Let's get into the scenarios, which have an equal chance.
---
SCENARIO #1 EARLY PHASE TRACK: 50% CHANCE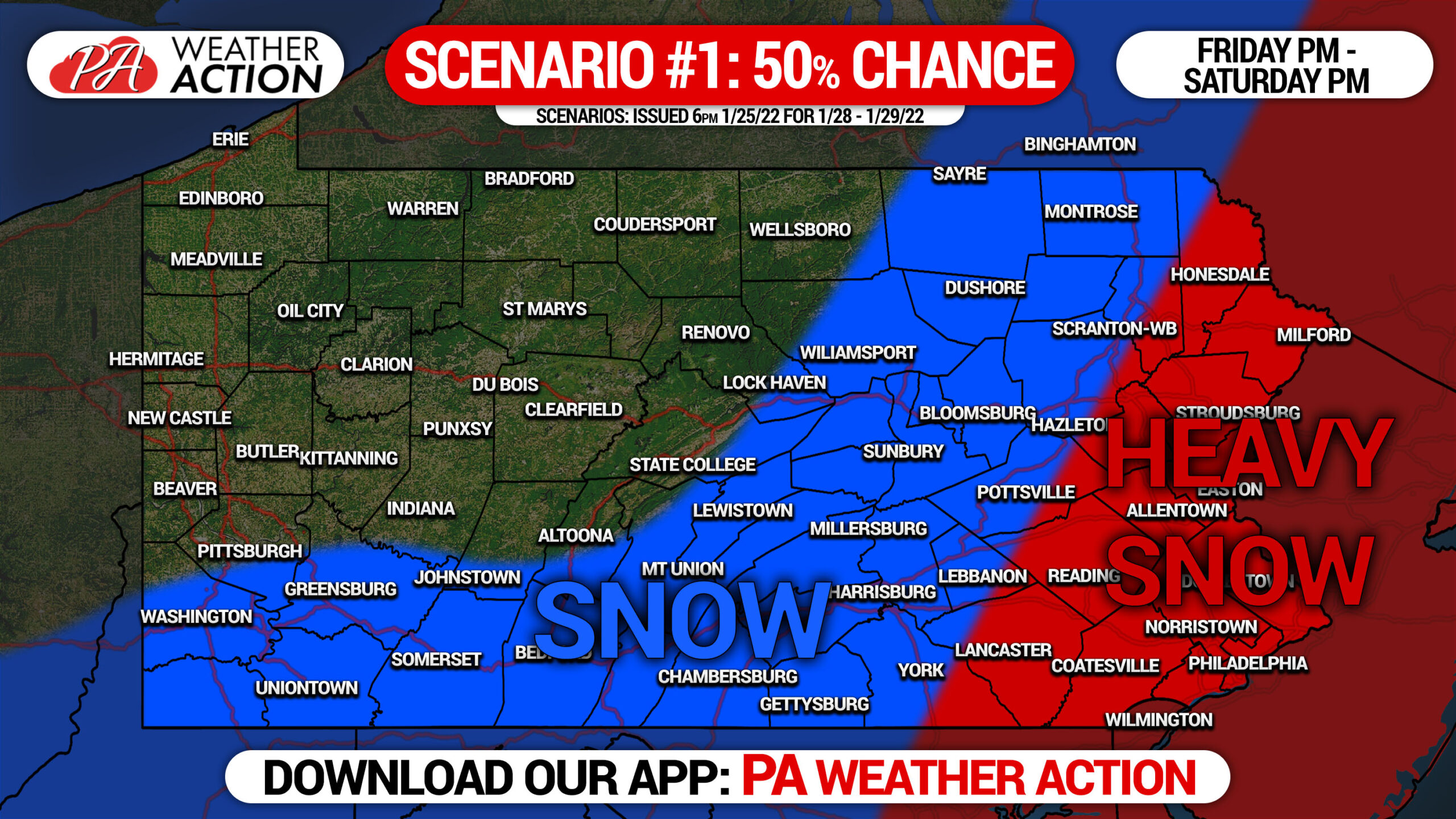 Scenario #1 will play out if the energy phases together earlier in the Southeast US, keeping the low pressure closer to the coast. In this scenario, snow showers will begin Friday before the heart of the storm begins in the "Heavy Snow" area early Saturday Morning and continuing late in the evening. Double digit snowfall numbers will be possible in Eastern Pennsylvania if this scenario plays out.
---
SCENARIO #2 LATE PHASE TRACK: 50% CHANCE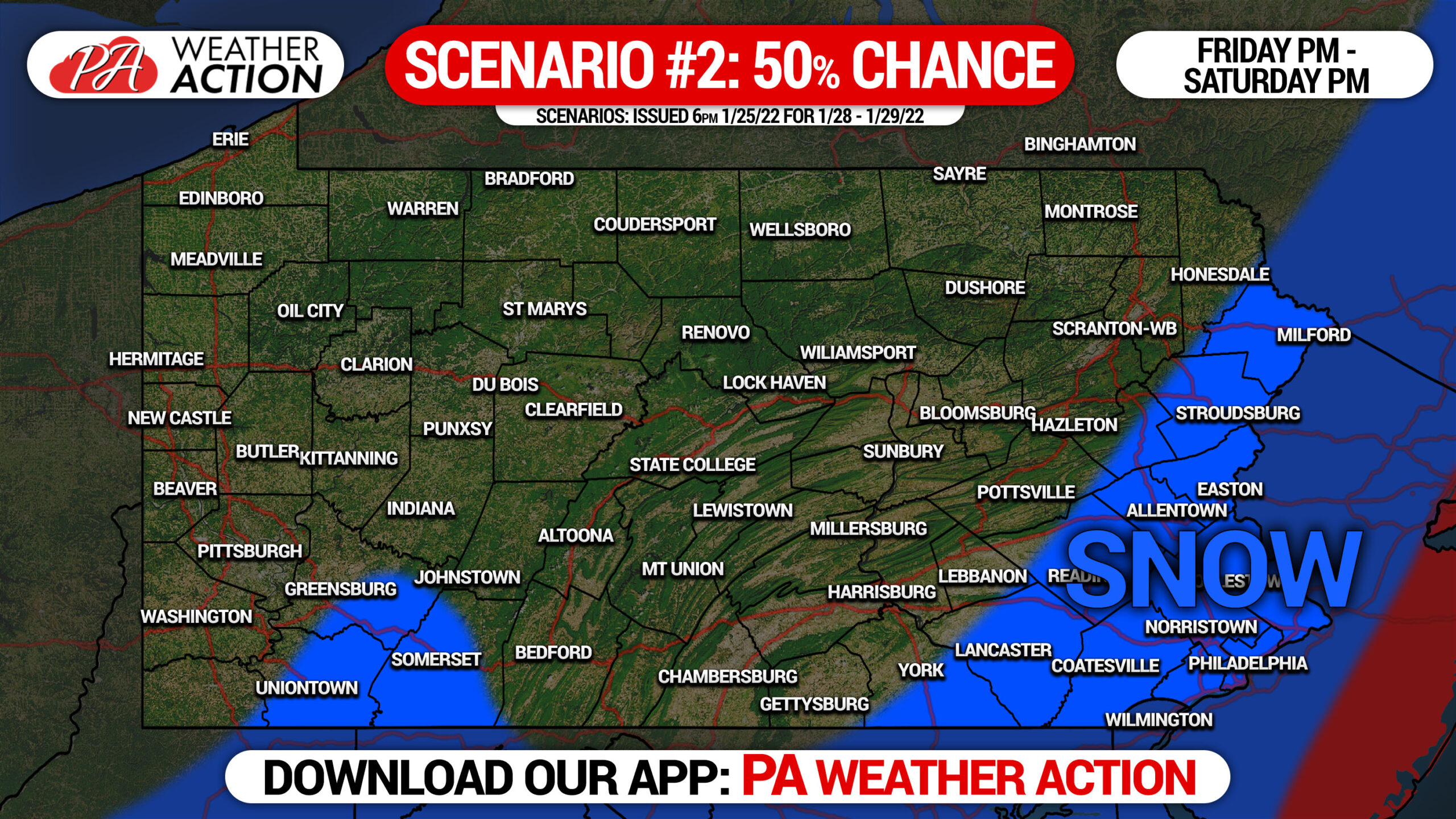 On the other side of the coin, we have Scenario #2. This scenario will play out if the energy spreads farther apart out west and takes longer to phase in the Southeast US. This is the New England Special track, meaning while the storm will still deliver a significant hit to areas east of NYC, most locations in NJ and Eastern Pennsylvania will see just snow showers.
As of right now, these scenarios have an equal chance of happening. Latest trends have been moving a bit closer to Scenario #1, which is not surprising considering we often see "northwest" model trends a few days before coastal storms, especially given the mostly favorable pattern.
It's still too early to cancel plans you have this weekend. By Wednesday, while we may not have a snowfall forecast out yet, we will be able to tell you which scenario is more likely to happen. We will have you covered with the latest updates all this week.
Many of you reading this aren't following our Facebook page! You can follow us by heading to our page with this link: PA Weather Action Facebook
Be sure to share this information with family and friends who will be interested!
Monitor this storm with our latest updates, maps, forecasts and more with the PA Weather Action App! Get it below.