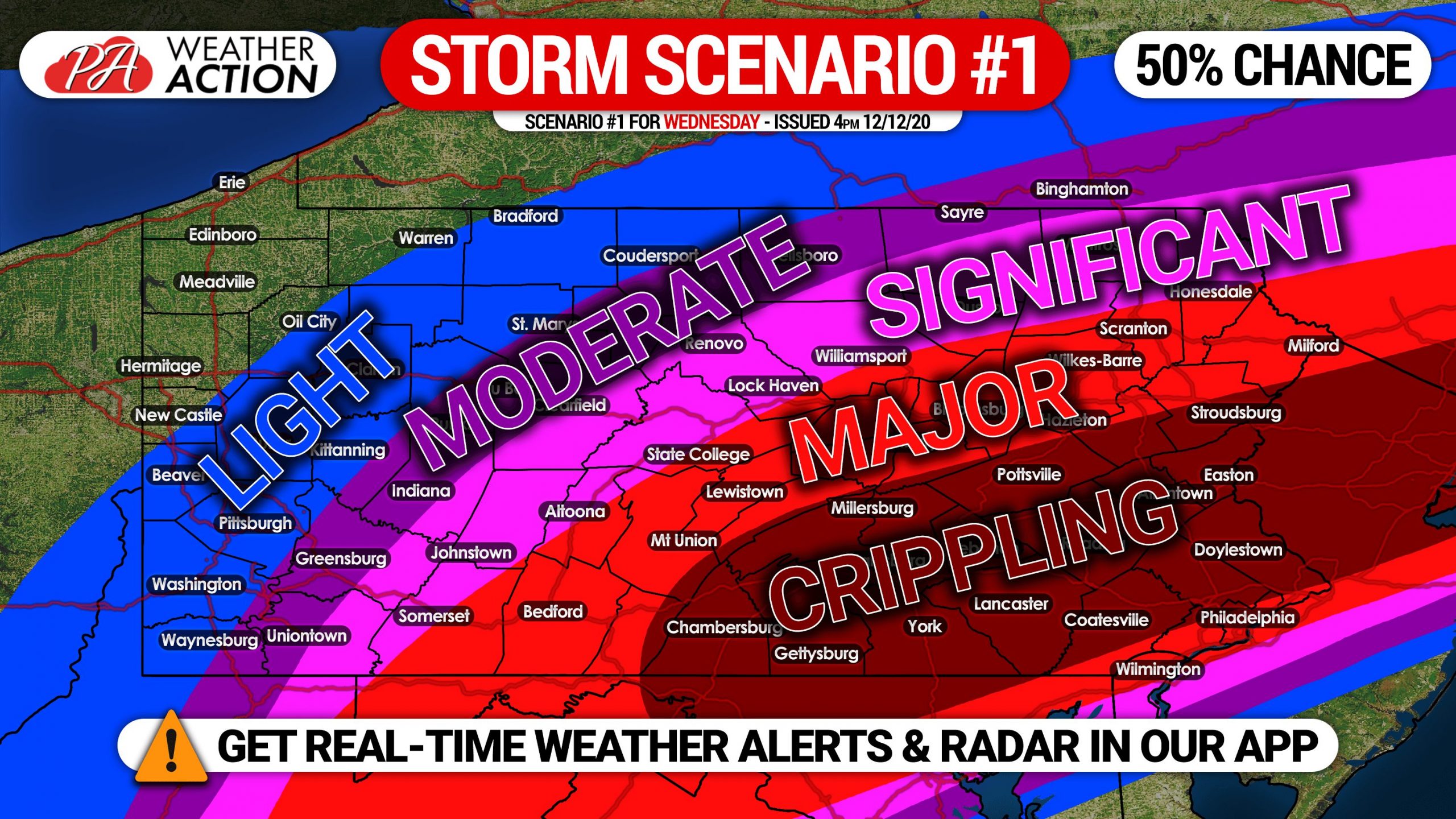 FINAL CALL FORECAST POSTED – TUESDAY PM UPDATE:
Final Call Snowfall Forecast for Wednesday's Historic Winter Storm
Last winter was extremely abysmal when it came to snowfall. Fast forward to this season, winter has officially not begun, yet there is the potential for many areas to triple their seasonal snow total from last winter in a single storm come Wednesday. Model data and observations are locking in on a storm that could rival December snowfall records across the state. We are still 4 days away from the storm impacting the region. This means while everything is looking more and more promising for a major winter storm, there are still multiple scenarios on the table.
A large storm system will develop to our south during the day Tuesday and into Tuesday night. This storm system will take a direct path towards our region on Wednesday and will eventually transfer into a full blown coastal storm. Temperatures will be cold enough, that just about the entire state will see mostly snow from this storm, if not all snow. As it stands right now, far southeastern areas have the best chance to see any mixing issues.
Taking a look at the American model, it has the snow developing across the state around lunchtime Wednesday and completely overspreading the state by Wednesday afternoon. Below is a look at 4:00 PM Wednesday: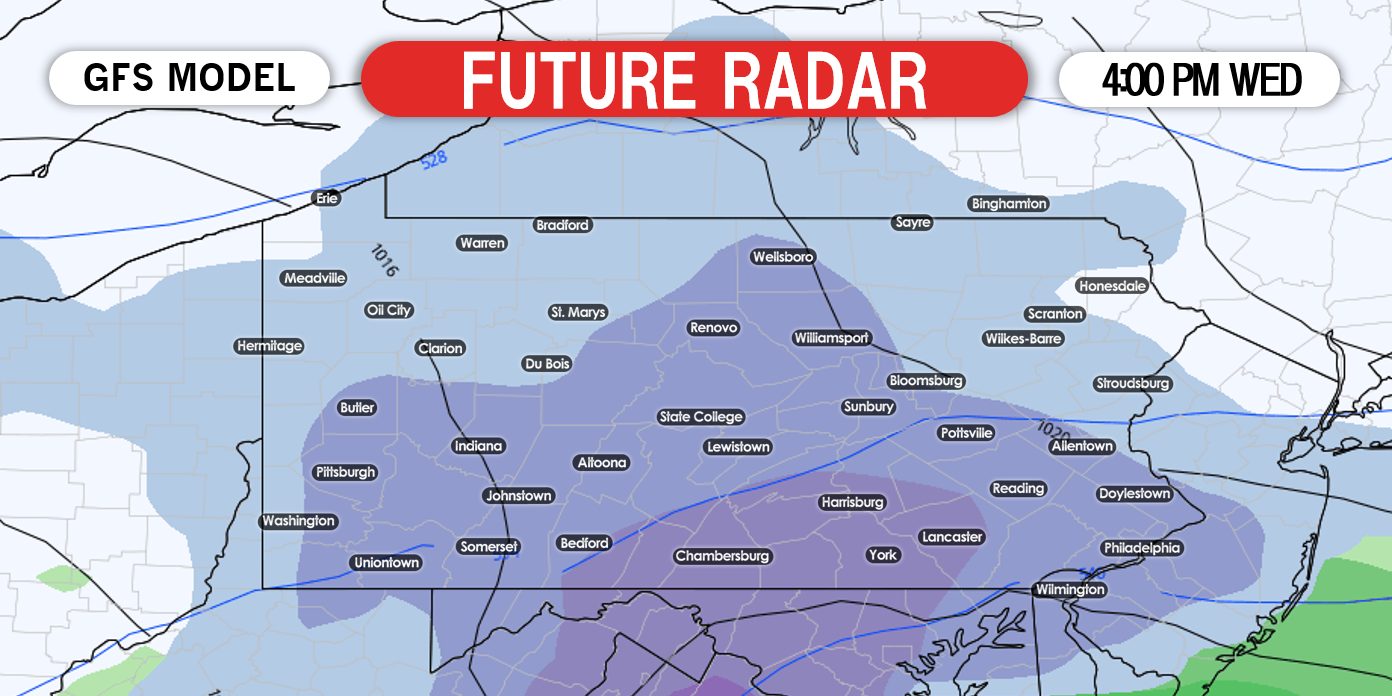 As the storm begins to transfer to the coast, the coastal low will completely take over and bands of heavy snow will fall across much of eastern Pennsylvania according the American model. All of our current data suggests something similar. Below is a look at 1:00 AM Thursday: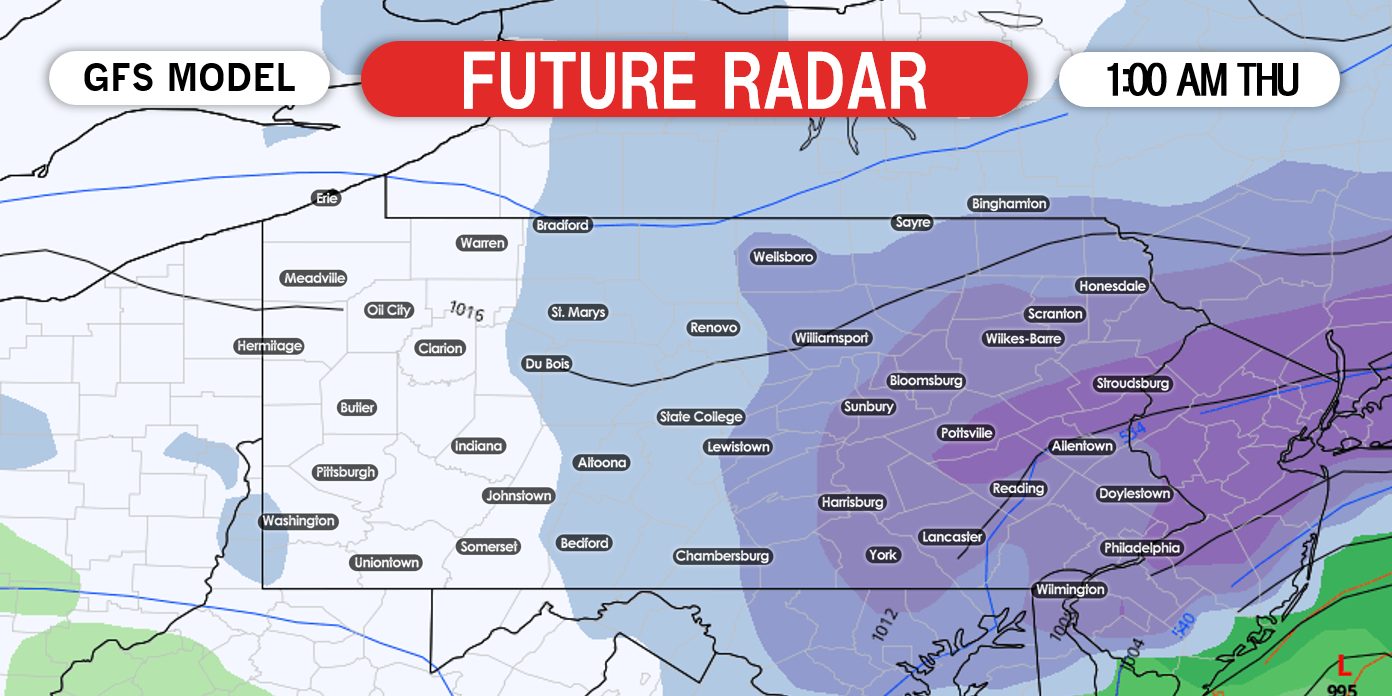 If  the current model data and observations come to fruition, many locations will be measuring well over a foot of snow by the time Thursday morning comes around once the storm wraps up. Again we are still four days away. We do expect changes. For now, we have three listed scenarios for what might happen across the coverage area Wednesday. Find those snow shovels and snow blowers if you have not already!
SCENARIOS FOR WEDNESDAY'S POTENTIAL MAJOR WINTER STORM:
SCENARIO #3 MAP – 20% CHANCE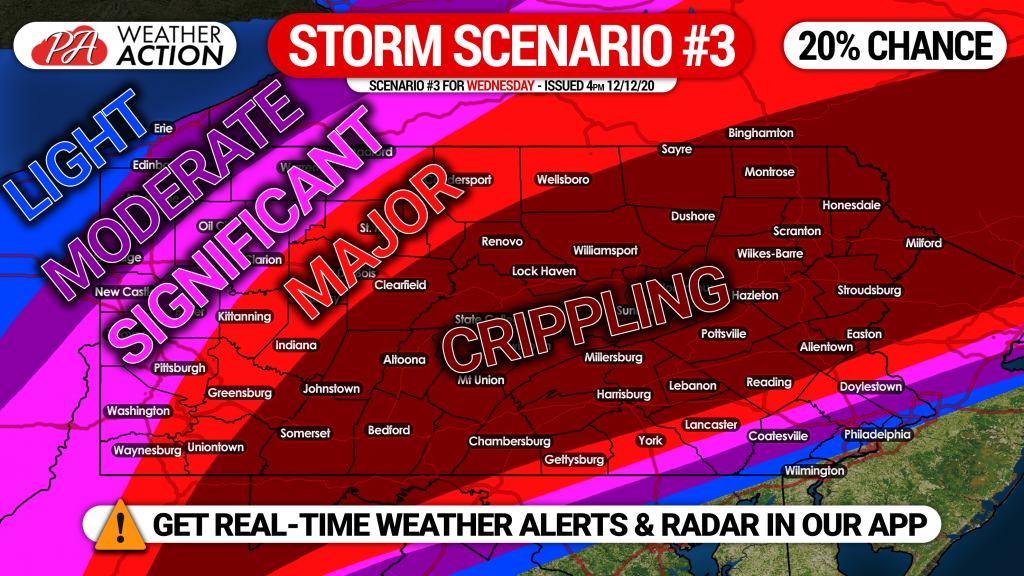 Above is Scenario #3, the least likely scenario. This scenario may occur if the low pressure is much more northwest than expected. Very heavy snow would fall well inland, and much of southeast PA would deal with a rain/snow mix. We are giving this scenario a 20% chance due to little to no model guidance supporting it. Also, this type of snow axis is much more rare compared to the other two scenarios.
---
SCENARIO #2 MAP – 30% CHANCE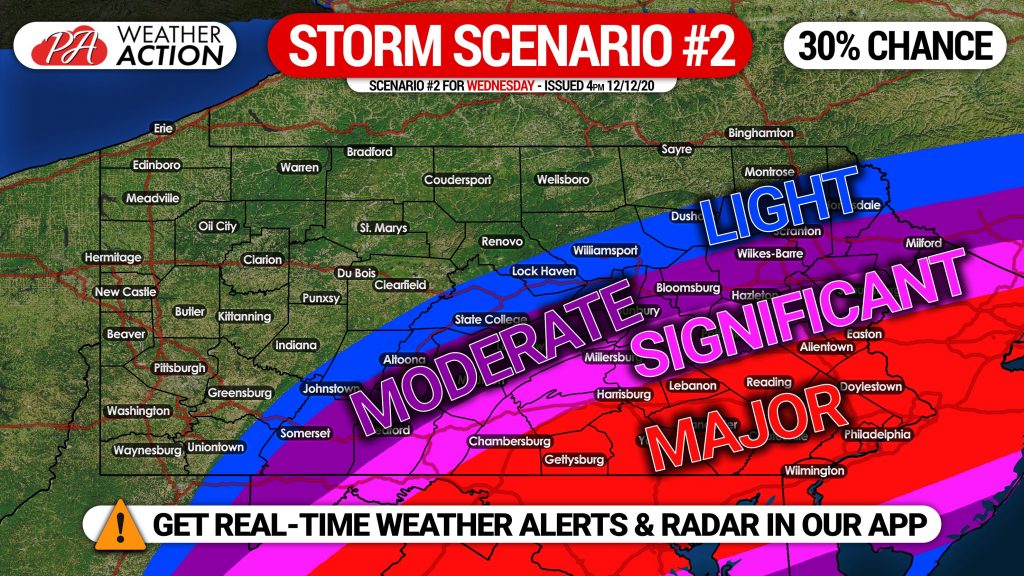 Above is Scenario #2. For this scenario to occur, the coastal low pressure would need to be weaker and faster than expected, staying farther off the coast as well. There would be no mixing issues in PA, however snowfall amounts would be lower. Currently, there is little support for this scenario among model guidance, but it remains possible.
---
SCENARIO #1 MAP – 50% CHANCE
Above is Scenario #1, our most likely scenario right now at a 50% chance. The coastal low pressure would move over Ocean City, MD, giving much of the eastern half of the state major to crippling snowfall amounts over an 18 hour period Wednesday afternoon into Thursday morning. Travel could very well be impossible from south-central PA to the Lehigh Valley, and down into Philadelphia.
Some uncertainty remains four days out, however models are in agreement and have been for several days. We will have our First Call Snowfall Forecast posted at 5:00 PM Sunday.
Remember to warn your family and friends of this winter storm, as travel may be impossible for a while during and after the storm. You can share this article using the blue button below. Stay tuned!
---
---