Hope you all are enjoying the warm weather while it lasts because we are narrowing in on the details of this season's first widespread snowfall beginning Tomorrow Afternoon and lasting through Monday.
Do not let Tomorrow's early on temperatures fool you, as it will be very warm to start your day off on your Saturday. Here are the projected temperatures for 2 PM Saturday Afternoon: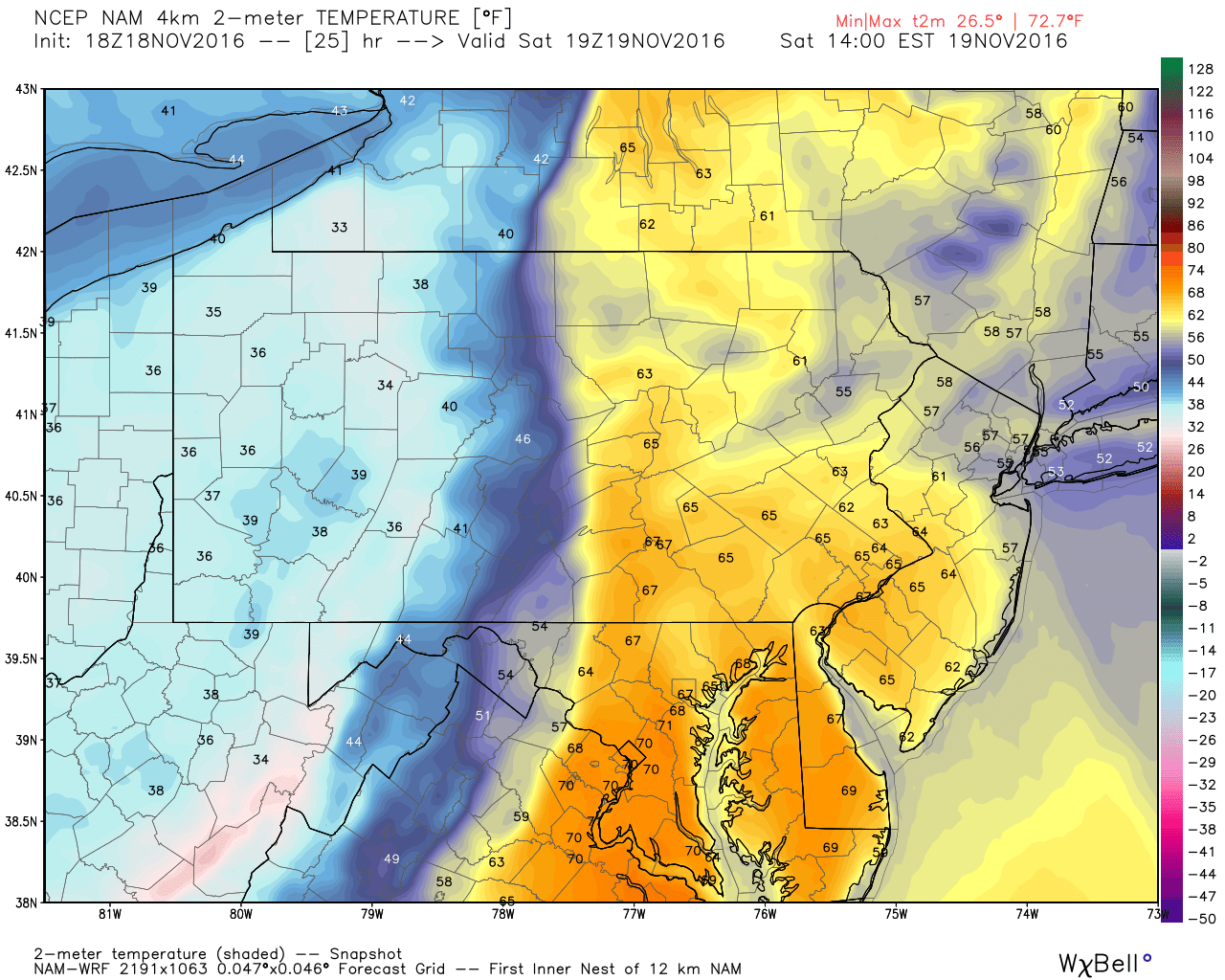 A very strong cold front is splitting the state about in half. Temperatures ahead of this front will likely reach the mid to upper 60s in many locations. But looking out behind the front, you can see the cold temperatures that trail this front.
As we take the Hi-Res NAM model out to 7 PM Saturday Evening, the cold front has now just about made it through the state. Verbatim it is located right around the PA/NJ border. . You can see the rapid crash in temperatures across the Eastern half of the state.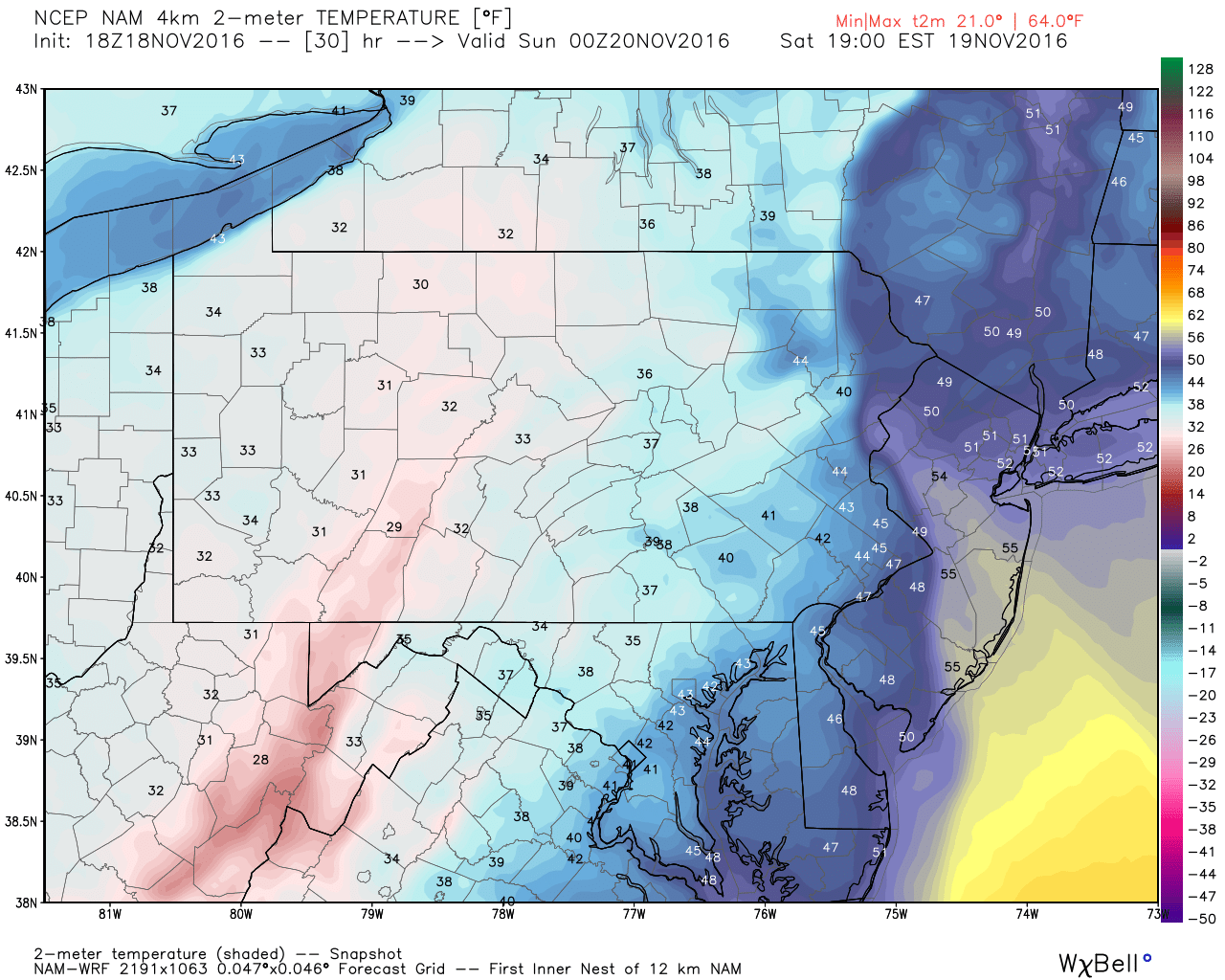 The main thing to take away from this is, it will be a warm start Tomorrow. And many places will start off as rain. But once the cold front pushes through, expect a rapid drop in temperatures and winds to pick up tremendously, with snow flying in the air especially the farther North and West you go.
Below is our second call. The only changes that were made, was to upgrade some areas in NW PA and downgrade other areas slightly. For the most part, very similar to our first call.
Click here to "like" us on Facebook for our latest updates>>>>PA Weather Action on Facebook!
Area A – 6 to 10 inches of snowfall, with isolated amounts up to a foot possible. Blizzard like conditions will be felt at times with winds gusting over 40 mph.
Area B – 4 to 6 inches of snowfall is expected. Blizzard like conditions are possible due to winds gusting over 40 mph.
Area C – 2 to 4 inches of snowfall is expected. Whiteout conditions are possible at times due to winds gusting over 30 mph.
Area D – 1 to 2 inches of snowfall is expected. Brief whiteout conditions are possible under locally heavier snow squalls. Winds will gust over 30 mph.
Area E – Snow showers are possible. Little to no accumulation is expected. Winds will gust over 30 mph.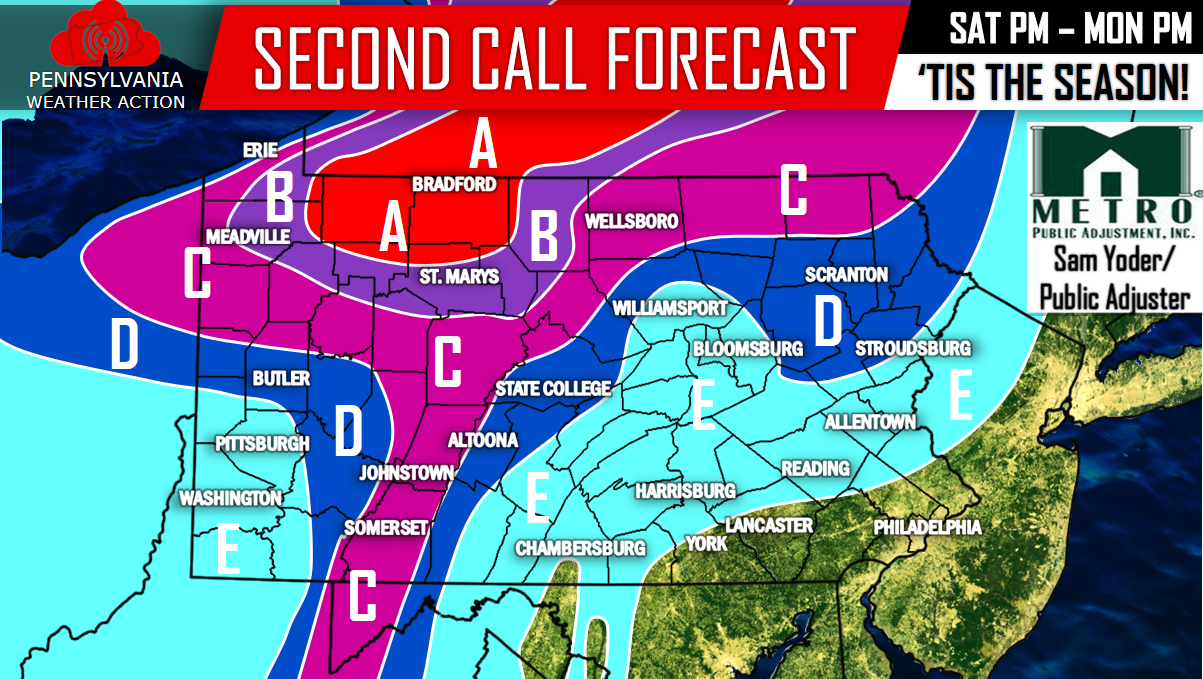 Remember to share the snowy news to your family and friends!