Severe thunderstorms have not been a common occurrence this year. Most of our severe weather has come in the form of flash flooding. With Fall starting on Saturday, we are definitely on the downhill side of severe storm season here in Pennsylvania.
An organized line of strong to severe storms is likely to form ahead of a cold front Friday. The line will enter Northwest PA late Friday afternoon or early evening, and continue to move east-southeast into north-central and west-central PA Friday evening before losing strength as the sun goes down and instability lowers. Timing will be a big factor in determining how far south and east the line makes it in the state. Short range models tend to be a couple hours behind when it comes to thunderstorm development and movement. If the line moves faster than expected, more of western and central PA will see strong to severe storms.
As of now, the risk in southern PA looks to be less than in areas north of i-80. Below is the Hi-Res NAM model for 9:00 PM Friday Evening.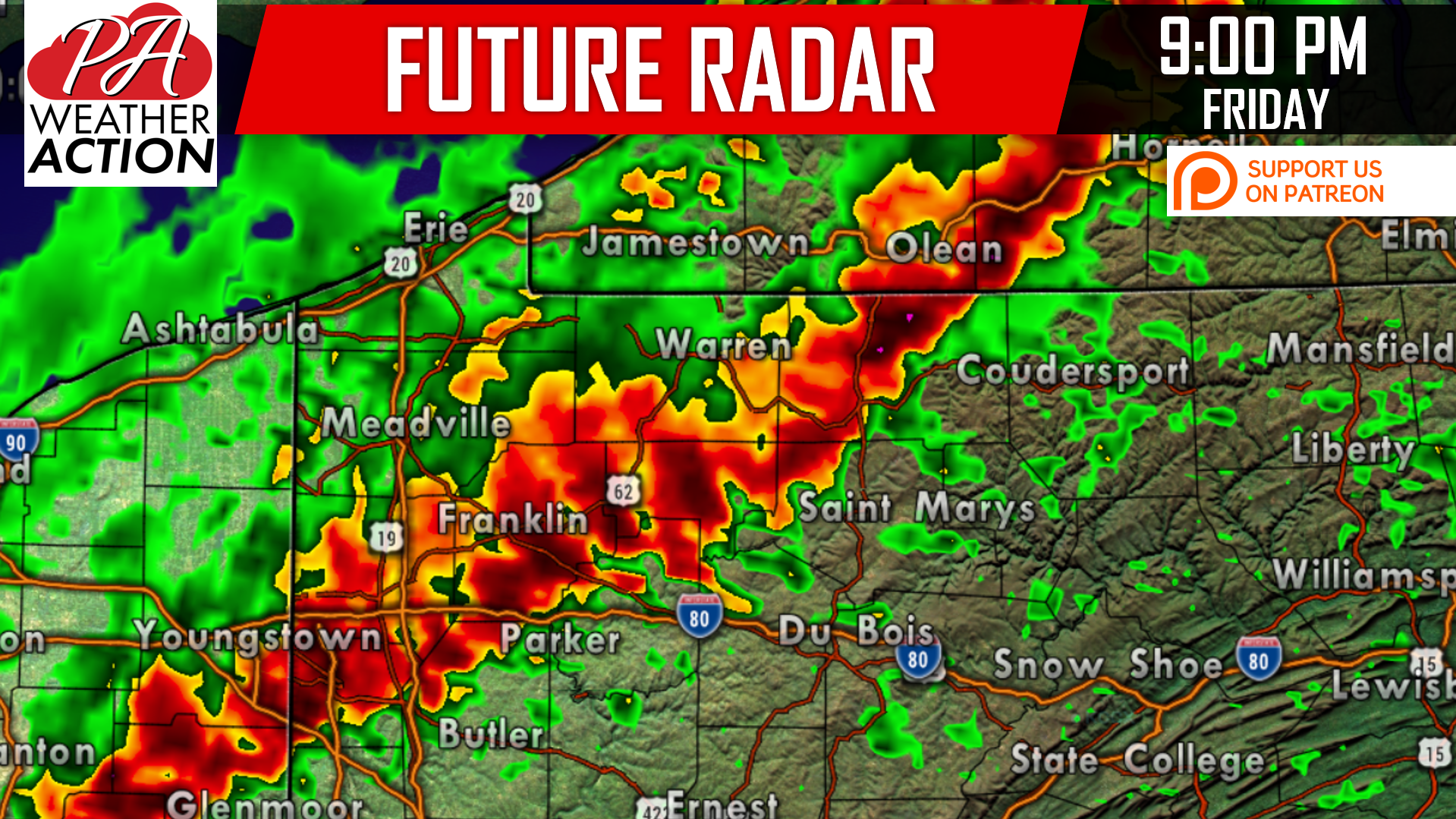 FRIDAY'S SPC RISK MAP
Area A: Damaging winds of 60 MPH or more and small hail will be the main risks that accompany the line of strong to severe storms as it moves east-southeast Friday afternoon and evening. Areas north of Pittsburgh, State College, and Scranton have the highest chance of seeing these storms.
Area B: This area will see strong storms if either the line moves faster than modeled or the line holds together into Friday Night. Damaging winds of 50 MPH are possible in this area.
We will have an updated forecast tomorrow, so be sure to like us on Facebook to see the update by clicking here>>>Pennsylvania Weather Action's Facebook page
Don't have our app yet? We will soon be making a big update to it, so be sure to download it by tapping here>>>Pennsylvania Weather Action's App
Share this forecast with your family and friends using our icon below!