A weak cold front will sweep through Thursday, accompanied by the threat of some severe weather specifically in central and western PA. Storms are expected to fire near the Ohio border around or just before noon Thursday, followed by an east-southeast movement during the afternoon. Latest short range model guidance indicates locations in the state south of Butler, State College, and Reading have the highest chance of seeing severe weather, likely in the form of a line as typical with fronts. Main risks include damaging winds and hail, but an isolated spin-up cannot be ruled out.
By 1:00 PM Thursday, strong to severe thunderstorms are expected to be moving through southwest PA, including the Pittsburgh Area, as well as the north-central PA. Below is the Hi-Res NAM future radar for 1:00 PM Thursday Afternoon.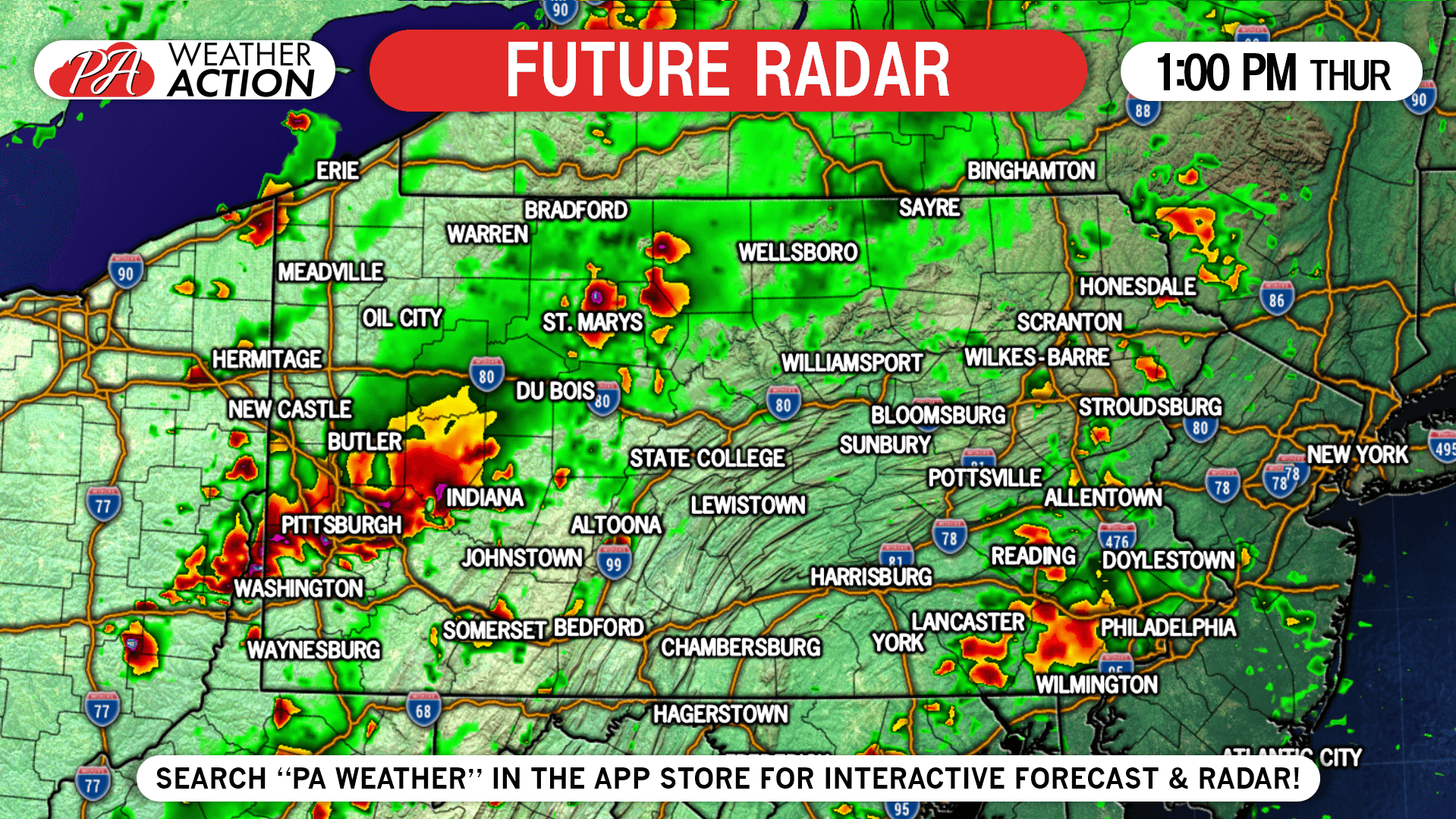 From this point, the line of storms will likely strengthen due to a more unstable environment as the afternoon progresses. By 3:00 PM, this line of strong to severe storms is likely to move over the Laurel Highlands and the State College Region. Here is future radar for 3:00 PM Thursday.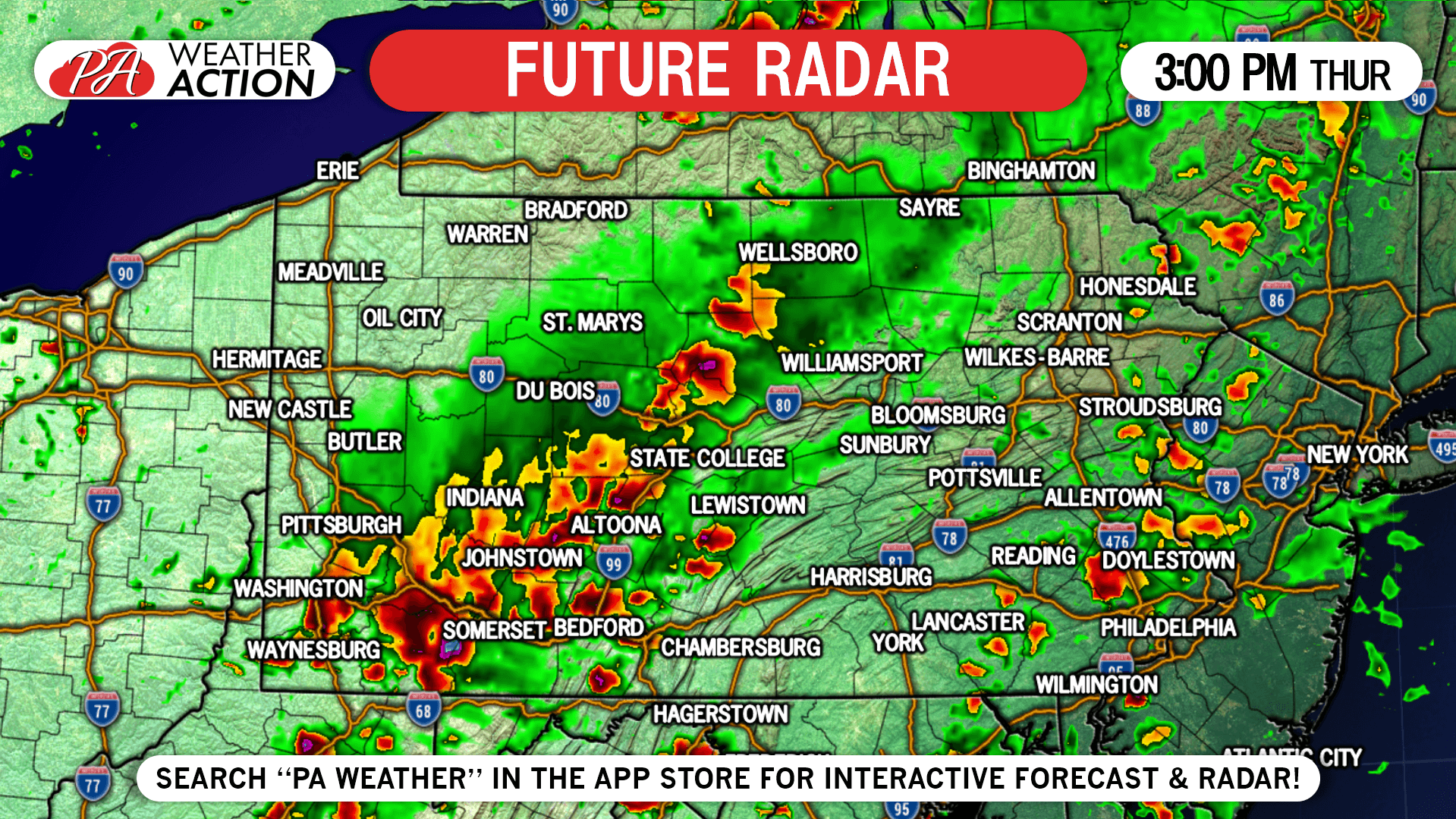 The line is anticipated to hit its maximum strength around 5:00 PM Thursday, during which it is expected to be moving into Chambersburg and the Lower Susquehanna Valley. This may make for a treacherous evening commute, so be sure to stay tuned to the radar and latest alerts issued for your area. Below is future radar for 5:00 PM.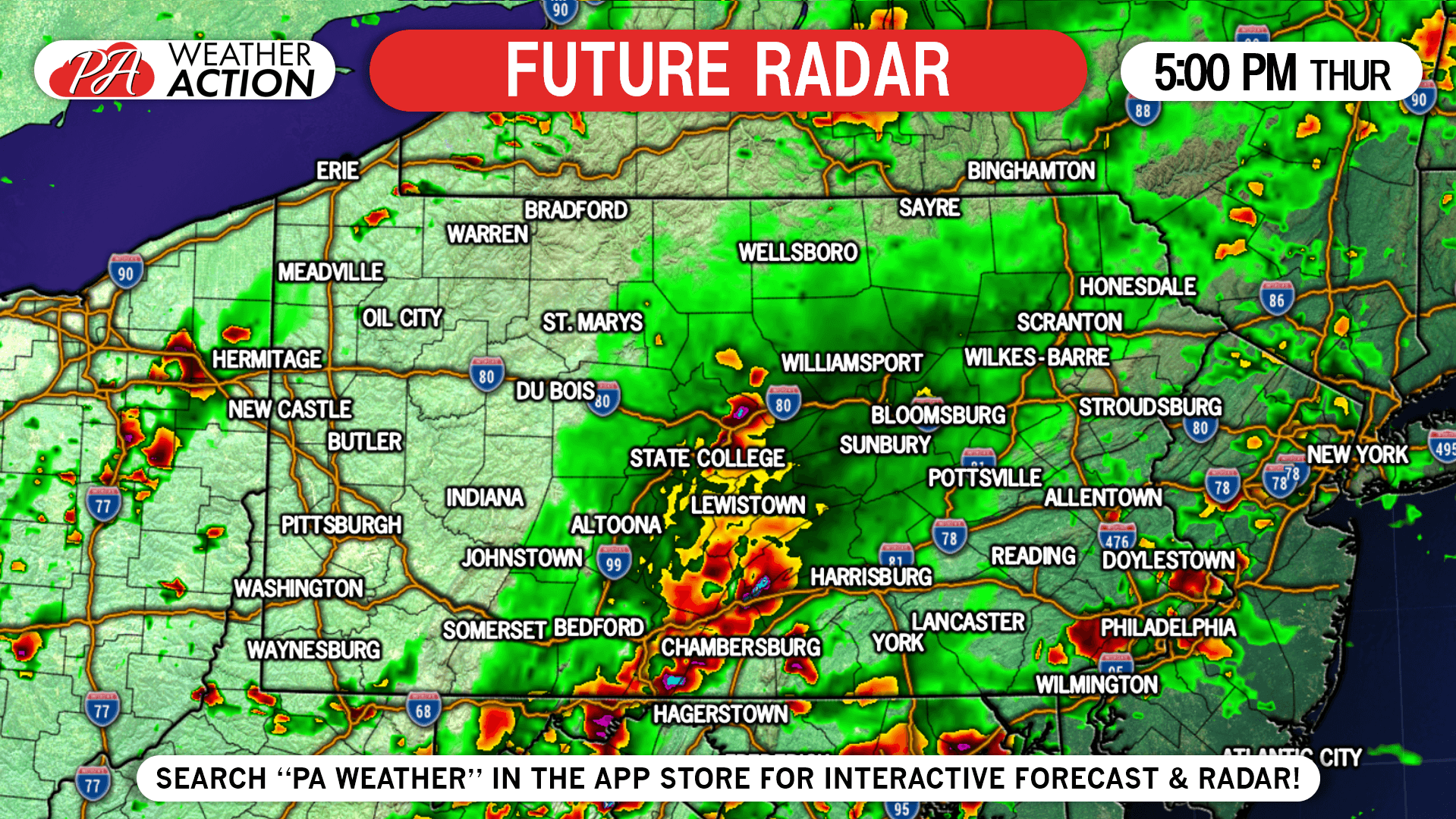 By 7 PM Thursday Evening, the line will likely be moving into Maryland and the Del-Mar-Va. However, there may still be some strong storms in southeast PA as well as another line attempting to form in western PA. View future radar for 7:00 PM Thursday below.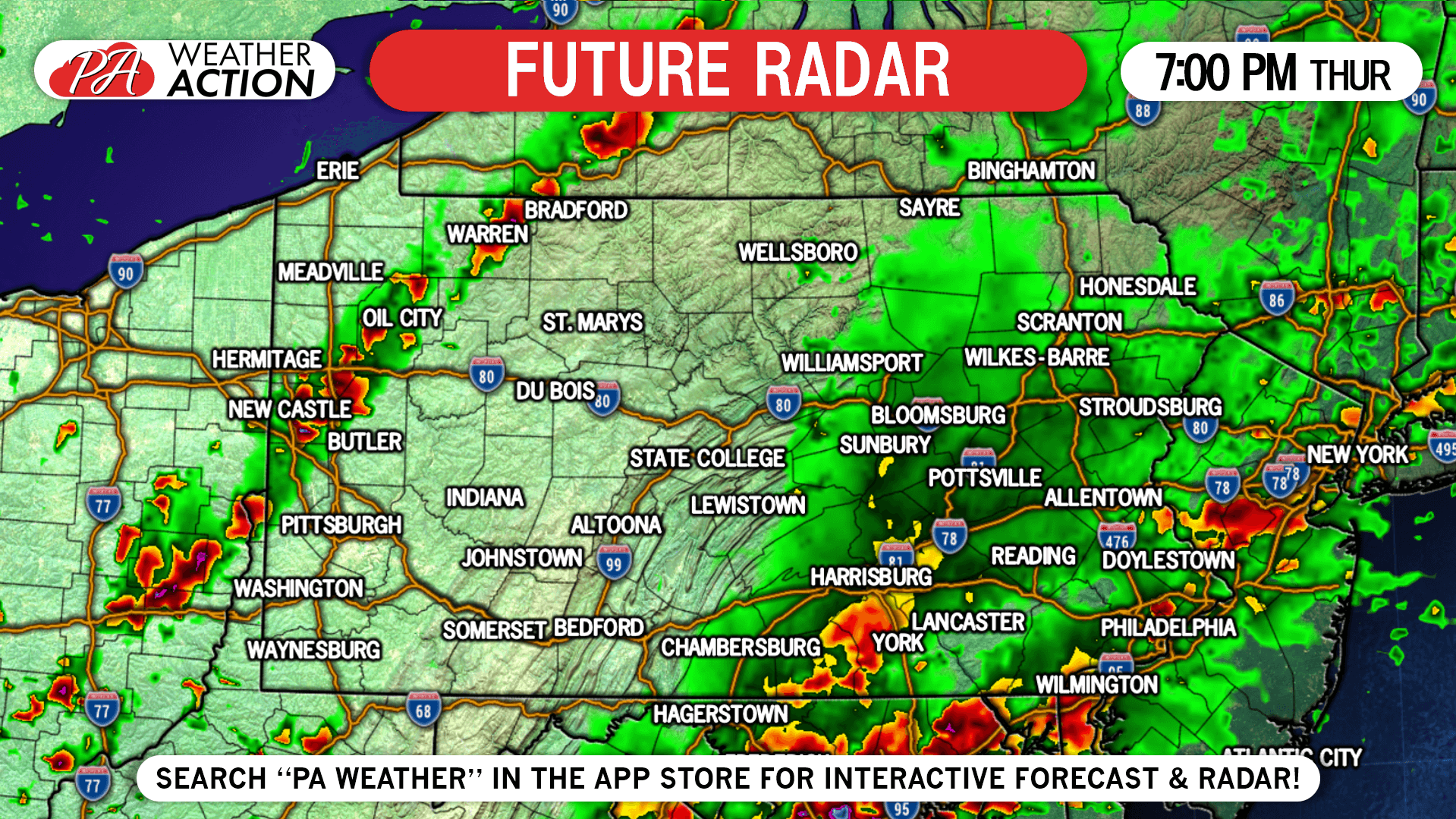 As the sun sets, the possible second line in western PA will run out of energy and fall apart around Pittsburgh. Storms are also expected to be well to our south at this point with just some rain leftover in southeast PA. Here is the future radar for 9:00 PM Thursday.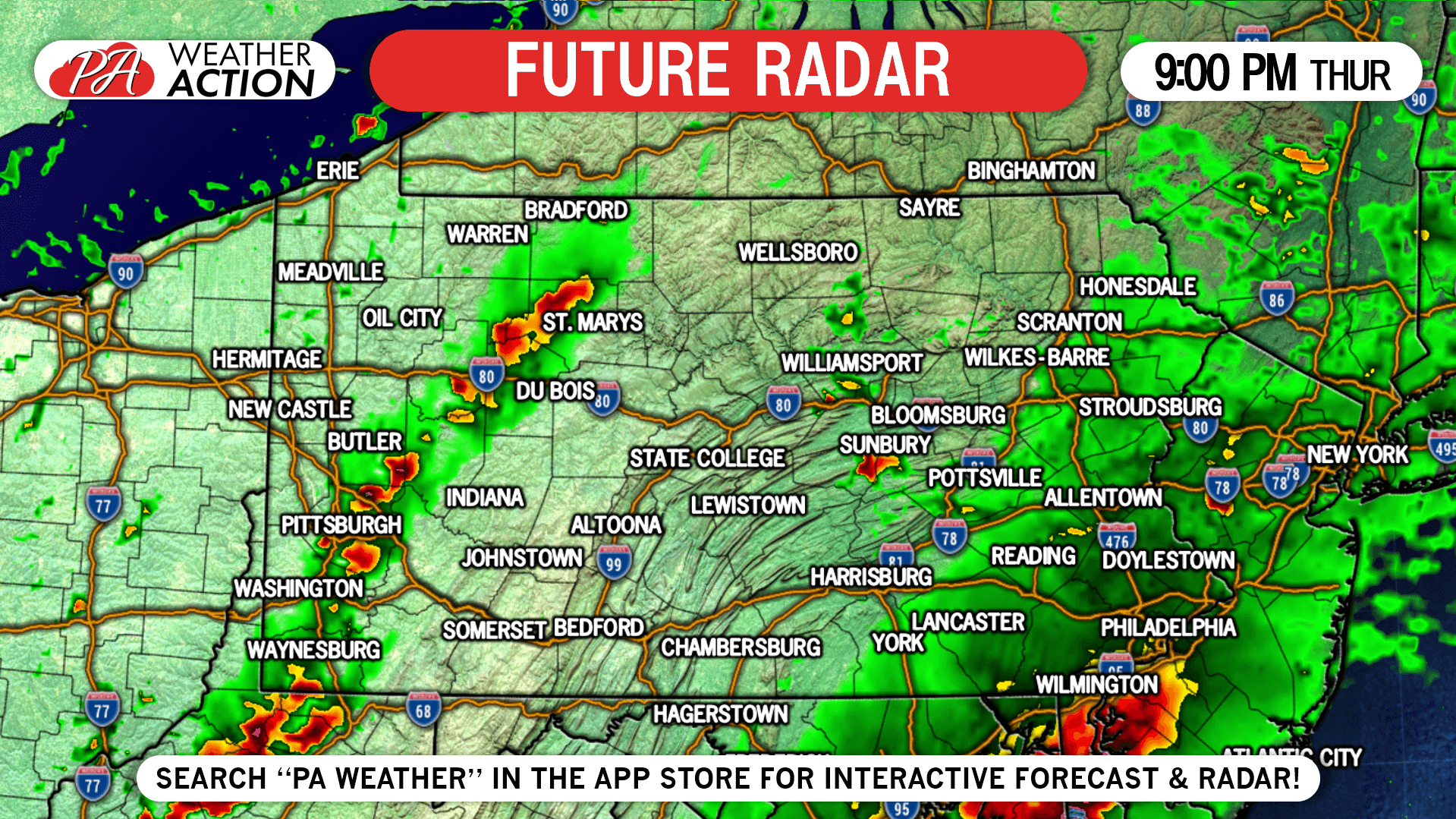 SPC SEVERE THUNDERSTORM OUTLOOK
Area A: Strong to severe storms will move east-southeast through this area Thursday Afternoon and early evening. Not all locations will see the same impacts, so staying updated on the latest radar and severe weather alerts for your location will be important, and can be done with our app.
Area B: Strong storms are possible in this area mainly in the form of pop-up thunderstorms ahead of the main line Thursday Afternoon.
You can stay ahead of Thursday's severe weather activity on our newly-updated iOS & Android App! Just tap the banner below to be directed to the app store >>>