The weather has been quiet for a while, but we are once again having a lot thrown at us at once. From severe storms possible in PA both Tuesday and Wednesday, to a major hurricane landfall Thursday morning in Texas or Louisiana, there is a lot to talk about.
Potent clusters of severe thunderstorms with potentially damaging winds will move through late Tuesday afternoon in parts of the state ahead of a strong cold front. There is an enhanced threat for damaging winds associated with these storms, along with an isolated hail threat.
TUESDAY'S STORM TIMING
We expect the storms to develop near or just south of I-80 in the western half of PA by 1-2 PM Tuesday. The thunderstorms will then move southeast, gradually strengthening as they move into the Pittsburgh Area. Below is Hi-Res NAM future radar for 3:00 PM Tuesday, showing the storm clusters near Pittsburgh and Greensburg.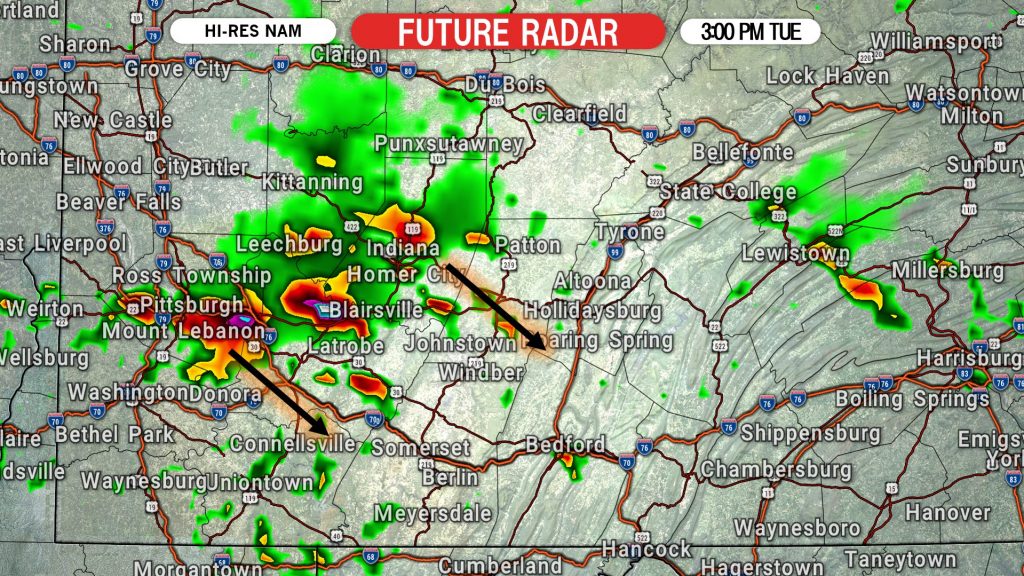 The clusters of storms are expected to reach the Laurel Highlands, including Johnstown, Altoona, and Somerset by 4 PM. Storms may still be strengthening at this point in the day, as we near peak daytime heating. Here is future radar for 4:00 PM Tuesday.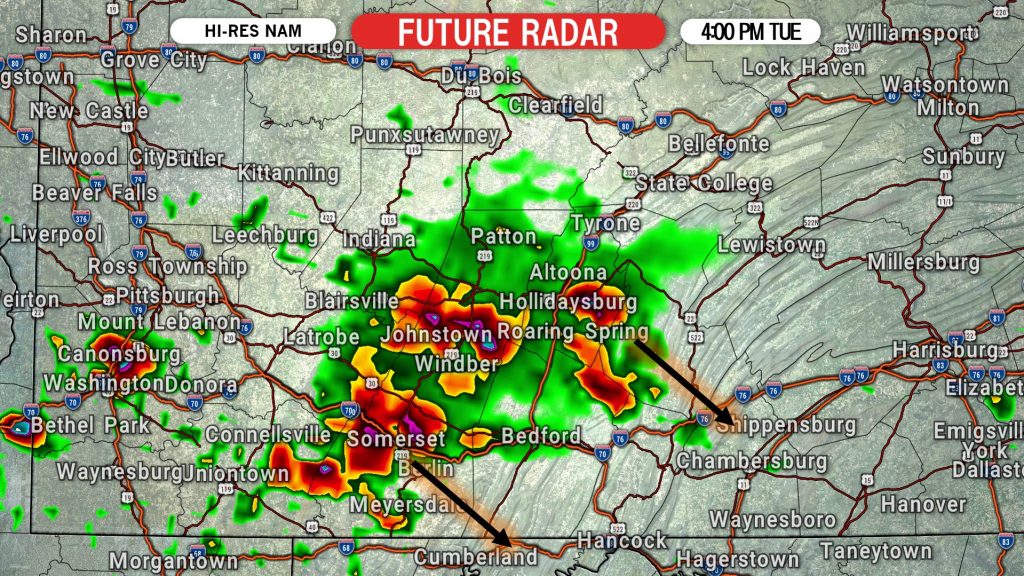 These will be fast moving storms, and by around 5 PM the cluster of storms is expected to reach parts of south-central PA, including Chambersburg, Carlisle, and Gettysburg. Below is future radar for 5:00 PM Tuesday.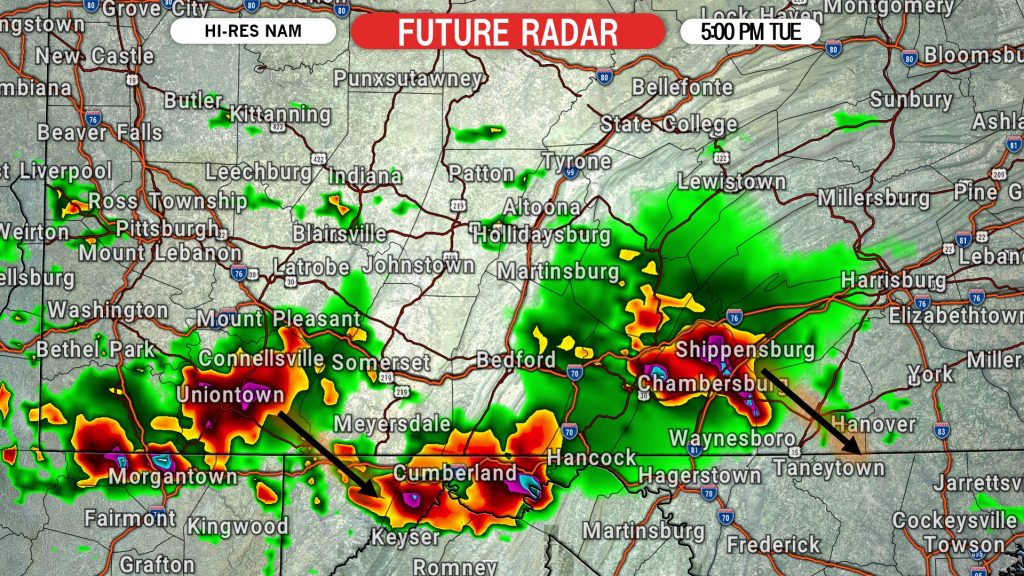 As we head into dinnertime hours, the storms should cross the southern PA border. They will move into Maryland and onto the Del-Mar-Va. A few storms could pop-up in southeast PA right before crossing the southern border. Here is future radar for 6:00 PM Tuesday.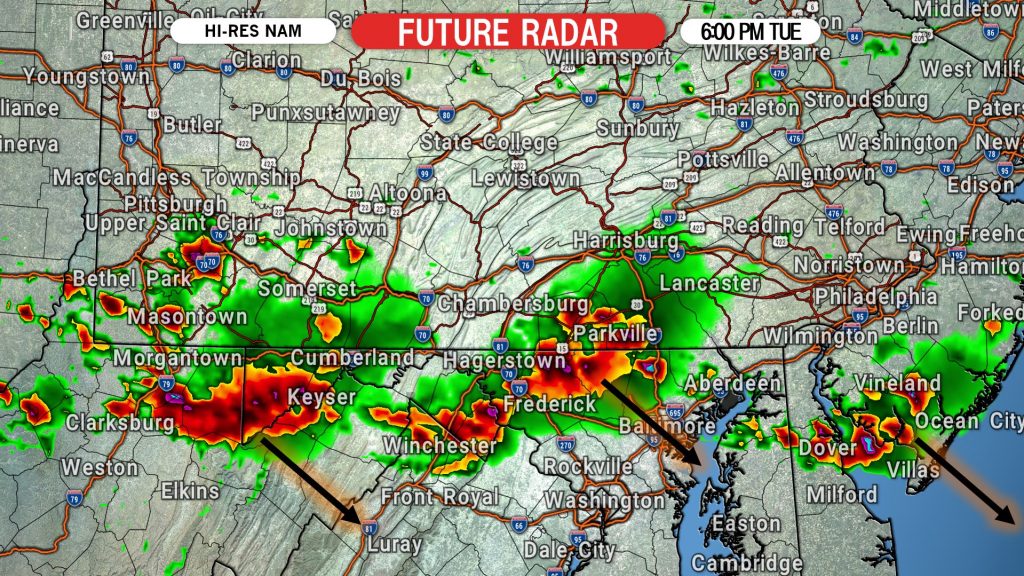 ---
TUESDAY'S SEVERE THUNDERSTORM OUTLOOK MAP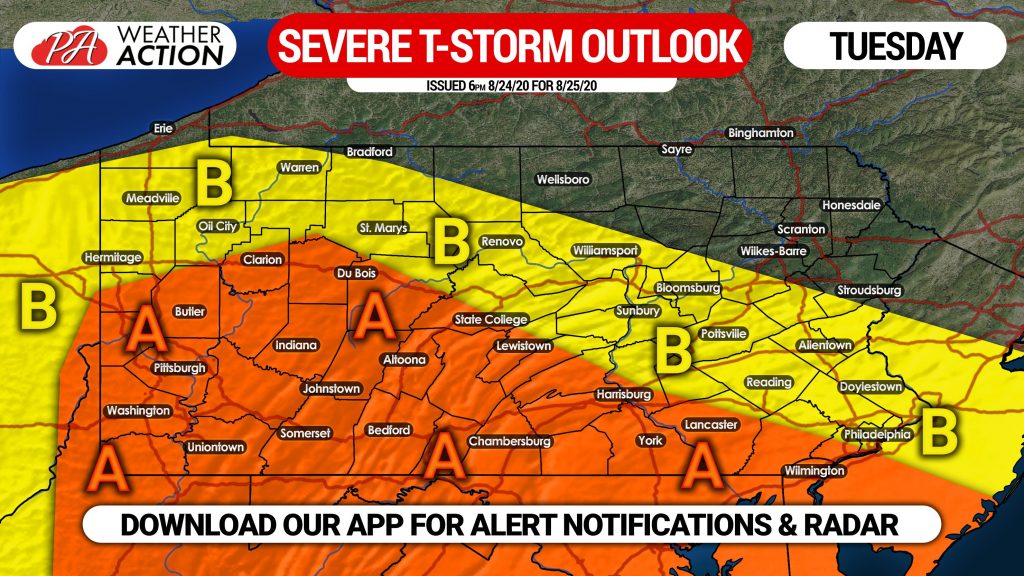 Normally we post the Storm Prediction Center's map. They have an enhanced risk in SEPA, but we disagree. We expect low lapse rates in eastern PA to limit storm development, and result in isolated activity at most. Best dynamics will likely be in western and central PA.
Area A: Multiple clusters of severe thunderstorms will move southeast across this area. Not all areas will be hit equally, as this won't be a line. An enhanced damaging wind threat is anticipated, with gusts up to 70 MPH possible. Bring any objects that may be damaged or blown away in high winds indoors if possible.
Area B: Isolated strong to severe thunderstorms are possible in this region Tuesday. Damaging winds will be the main threat.
Don't forget to share this post with family and friends who may find this info useful using the blue button below.
---
For the second part of this article, we will briefly cover the SPC outlook for Wednesday and what will be Hurricane Laura.
A Slight Risk is up for western and central PA on Wednesday, with a Marginal Risk in eastern PA, as shown below.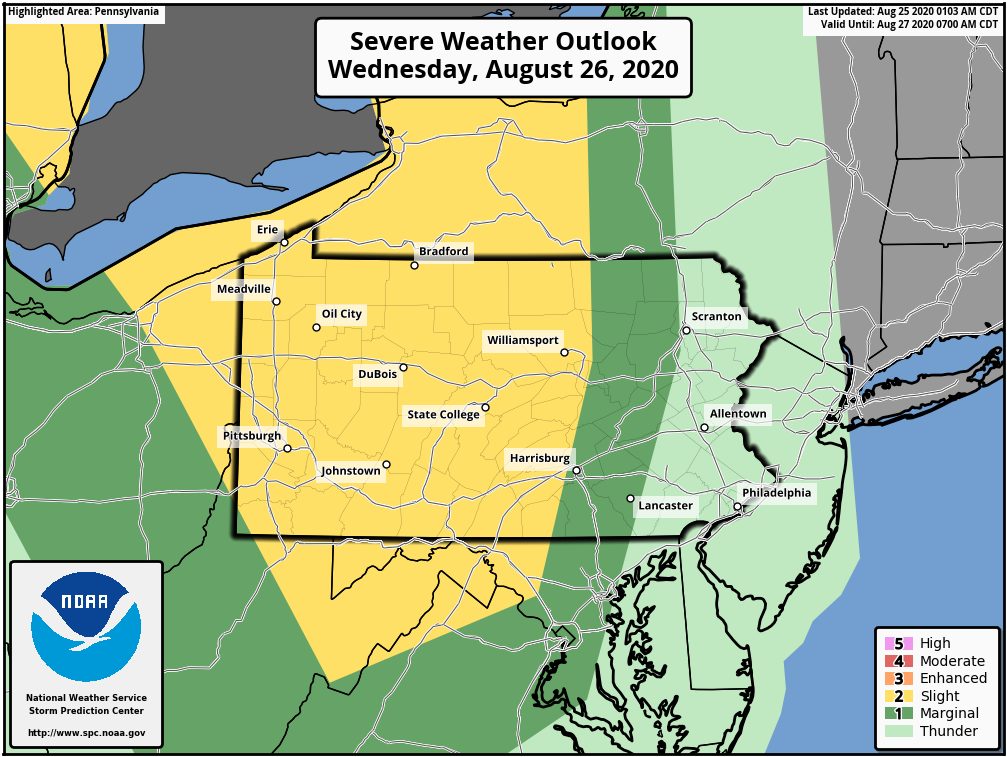 Most guidance now brings what will be Hurricane Laura as a category three major hurricane into southern Louisiana or far eastern Texas Thursday morning. Winds of 110-115 look likely, with gusts to 130 MPH. Below is the latest NHC forecast cone.