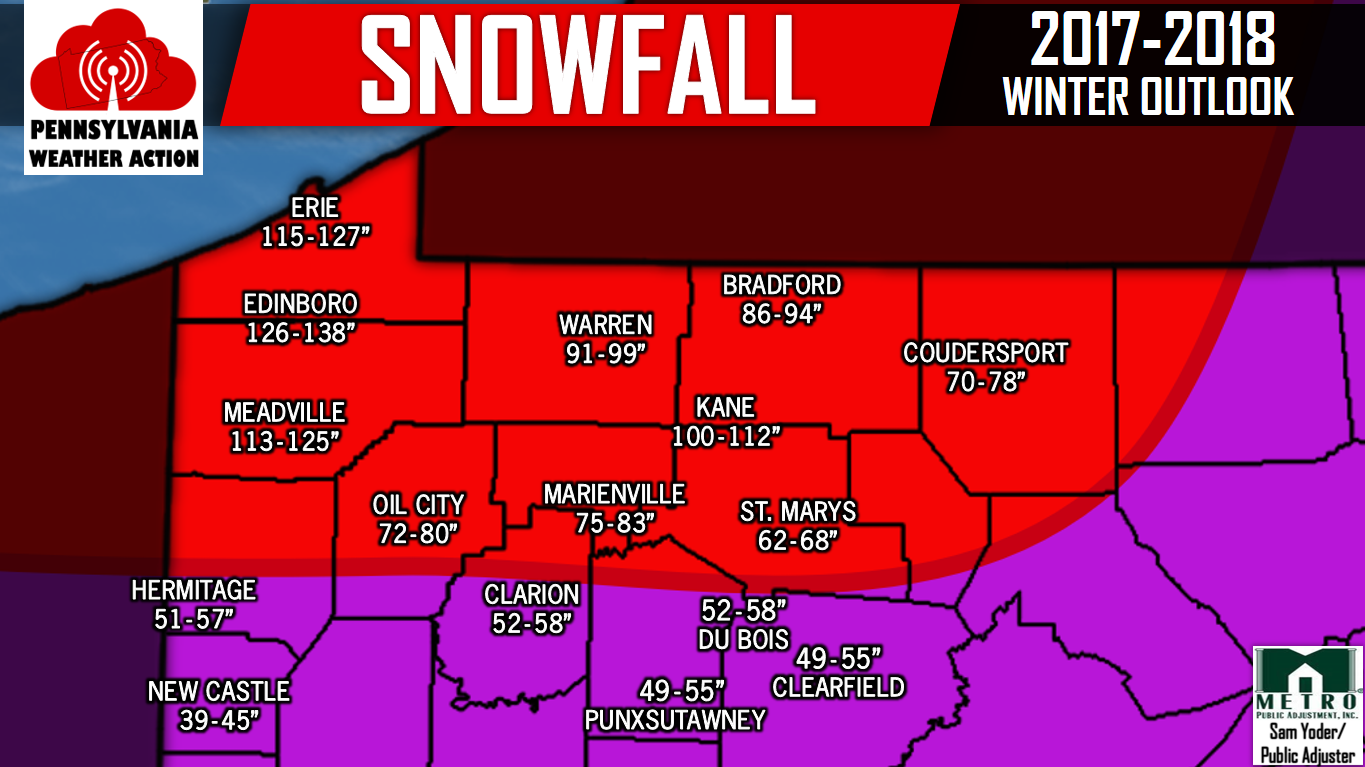 This winter, Northwest PA can expect below average temperatures in December, with average temperatures in January and February, followed by below average temperatures in March. We anticipate winter to get off to an early start with a cold, snowy month of December.
Lake Erie may be frozen by early January, ending the lake effect season earlier than normal. An average January and February can be expected in both the temperature and snowfall category. An active, chilly end to winter is anticipated with a few late season winter storms possible in March. If you have yet to see our Official 2017-2018 Winter Outlook, click here to read it.
Without further ado, here is our 2017-2018 Winter Snowfall Totals Map for Northwest PA! If you don't see your town, we have a full list of snow totals for even more locations below the map. Be sure to share this all-inclusive snowfall outlook with your family and friends using the button below!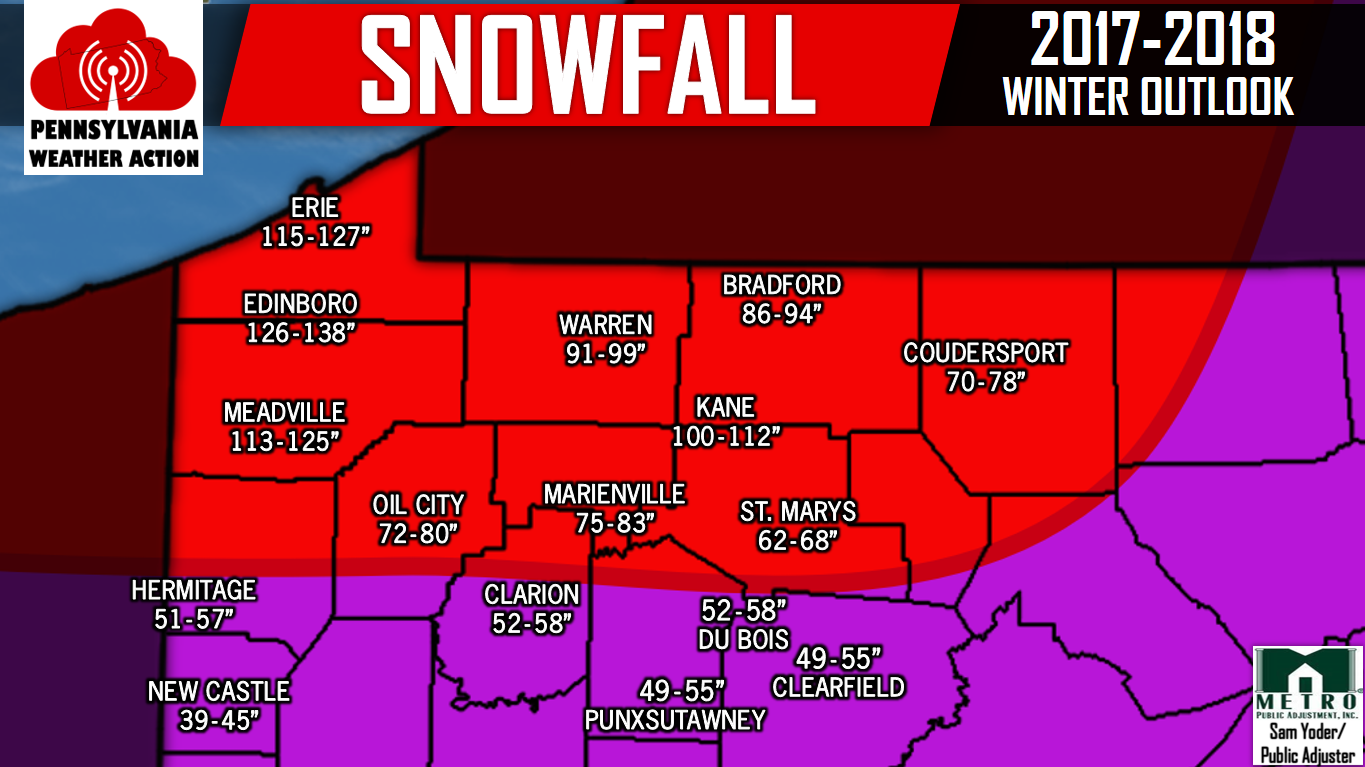 Clarion County
Clarion: 52-58″
East Brady: 50-56″
Rimersburg: 51-57″
Knox: 52-58″
New Bethlehem: 51-57″
Clearfield County
Clearfield: 49-55″
Du Bois: 54-60″
Curwensville: 49-55″
Osceola Mills: 47-53″
Treasure Lake: 55-61″
Crawford County
Meadville: 113-125″
Titusville: 102-114″
Linesville: 111-123″
Cambridge Springs: 114-126″
Cochranton: 104-116″
Elk County
St. Marys: 62-68″
Ridgway: 64-70″
Johnsonburg: 66-72″
Erie County
Erie: 115-127″
Corry: 110-122″
Edinboro: 112-124″
Girard" 106-118″
North East: 117-129″
Forest County
Tionesta: 68-74"
West Hickory: 75-83"
Jefferson County
Brookville: 52-58″
Punxsutawney: 49-55″
Brockway: 51-57″
Reynoldsburg: 50-56″
Sykesville: 50-56″
Lawrence County
New Castle: 39-45″
New Wilmington: 40-46″
New Beaver: 38-44″
Ellport: 39-45″
McKean County
Bradford: 86-94″
Smethport: 77-85″
Kane: 110-112″
Mercer County
Hermitage: 51-57″
Mercer: 51-57″
Sharon: 50-56″
Grove City: 48-54″
Greenville: 57-63″
Potter County
Coudersport: 70-78″
Austin: 73-81″
Ulysses: 67-73″
Venango County
Oil City: 72-80″
Franklin: 70-78″
Emlenton: 65-71″
Warren County
Warren: 91-99″
Youngsville: 94-102″
Tidioute: 87-95″
---
---