While many of us are enjoying the abnormally warm weather for this time of year, we are tracking a potent cold front that will be pushing across the state during the day Tomorrow. It currently stands that Central and Eastern PA will have a more likely chance of experiencing these strong to severe storms Tomorrow due to it occurring later in the day.
Western PA will be first to be hit by the cold front, anywhere between 5 AM and 8 AM, this will lead to downpours and possibly a rumble of thunder. Because it is occurring early in the morning Tomorrow, we do not anticipate Western PA to meet severe criteria. There will likely not be enough instability in this region to produce severe weather. Nevertheless, these areas can still expect a good soaking rain in the morning.
Below is the Hi-Res NAM model valid 8 AM: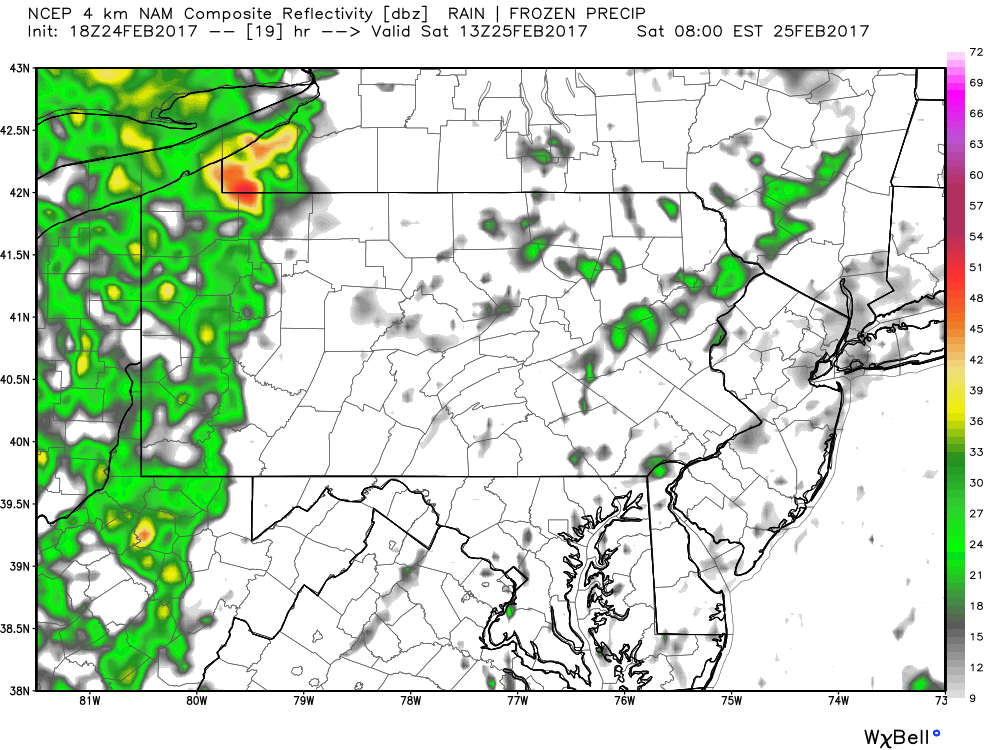 As this cold front moves east, it will be move into less stable air, leading to lines of severe weather along this cold front. When we take this same Hi-Res NAM model out to 12 PM Tomorrow, we begin to see this happening: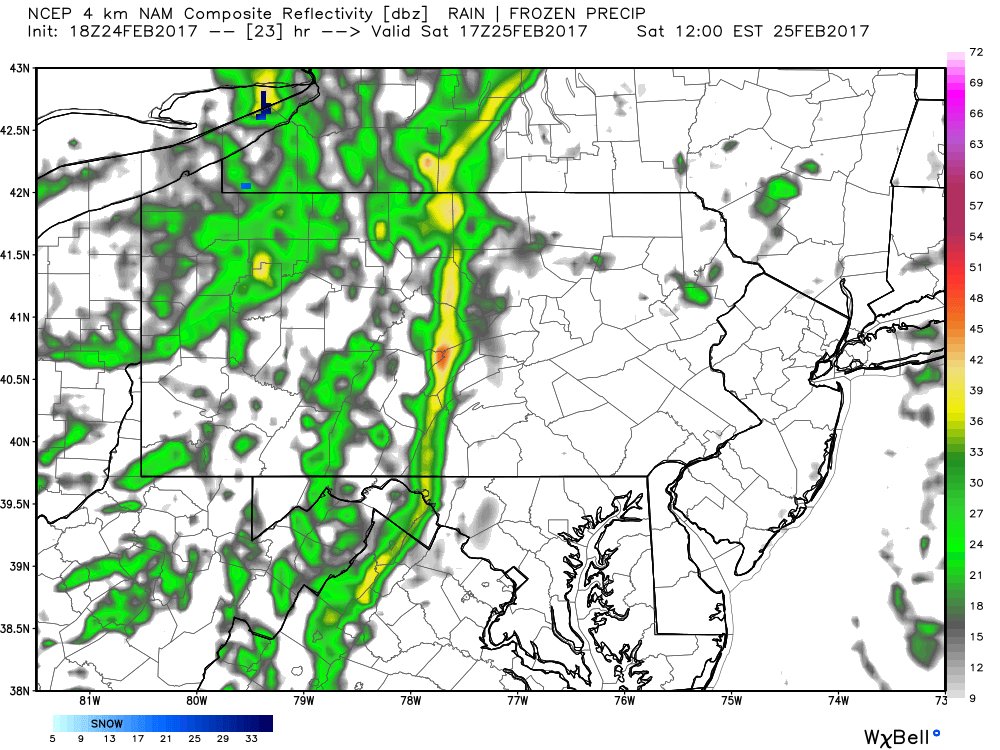 Anywhere in Central PA can expect the cold front to pass through between 8 AM and 2 PM. Damaging winds and heavy downpours remain the greatest threat in this region.
This line will continue to strengthen as it heads towards Eastern PA between 2 PM and 8 PM: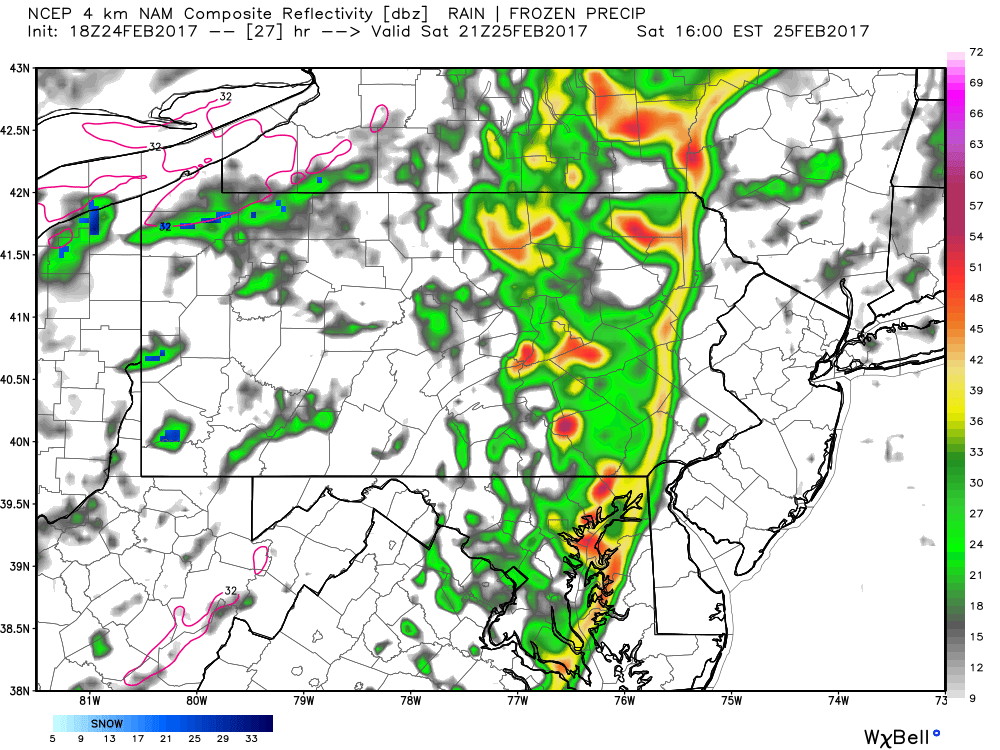 According to this model, strong cells are possible behind the main line. This increases the threat for frequent lightning over Eastern PA, along with damaging winds and heavy downpours. All activity should be out of the region between 6 PM and 8 PM.
Behind this cold front, temperatures will significantly drop by Sunday Morning: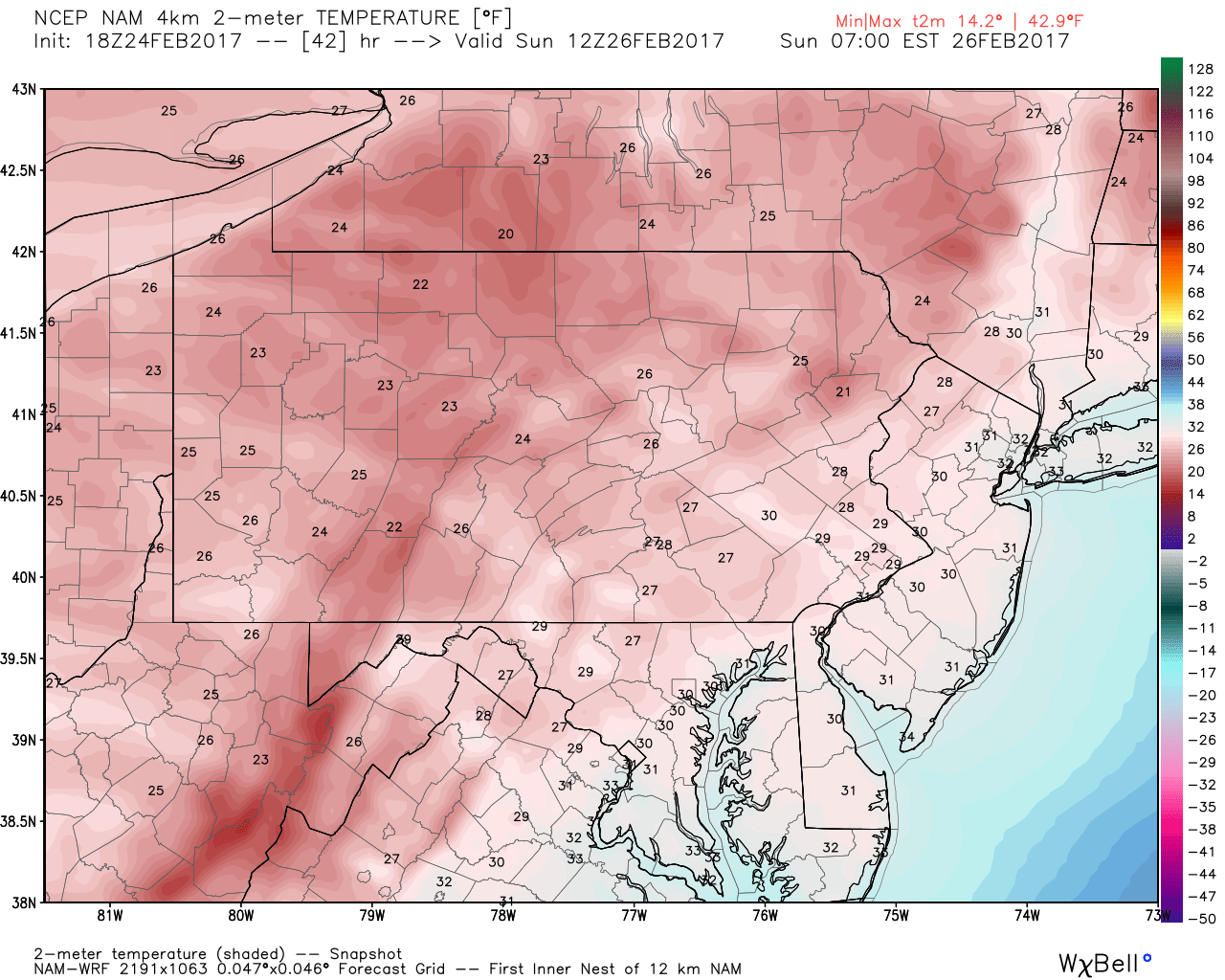 Sunday Morning low temperatures are likely to be in the 20s for many of us, with some areas still hanging onto the low 30s in far Southeast PA. Temperatures next week will not be nearly as warm as this week has been, however we will remain slightly above average.
TIMING: As mentioned, the cold front will pass through Western PA between 5 AM and 8AM, Central PA between 8 AM and 2 PM and Eastern PA between 2 PM and 8 PM.
Below is the Storm Prediction Center's Forecast for Pennsylvania:
Area A: This area stands the best chance for strong to severe storms. The SPC has placed this area under a marginal risk for severe weather. The main threat is for damaging winds and heavy downpours.
Area B: This area will likely remain below severe limits, but will still experience some heavy downpours and perhaps a rumble of thunder.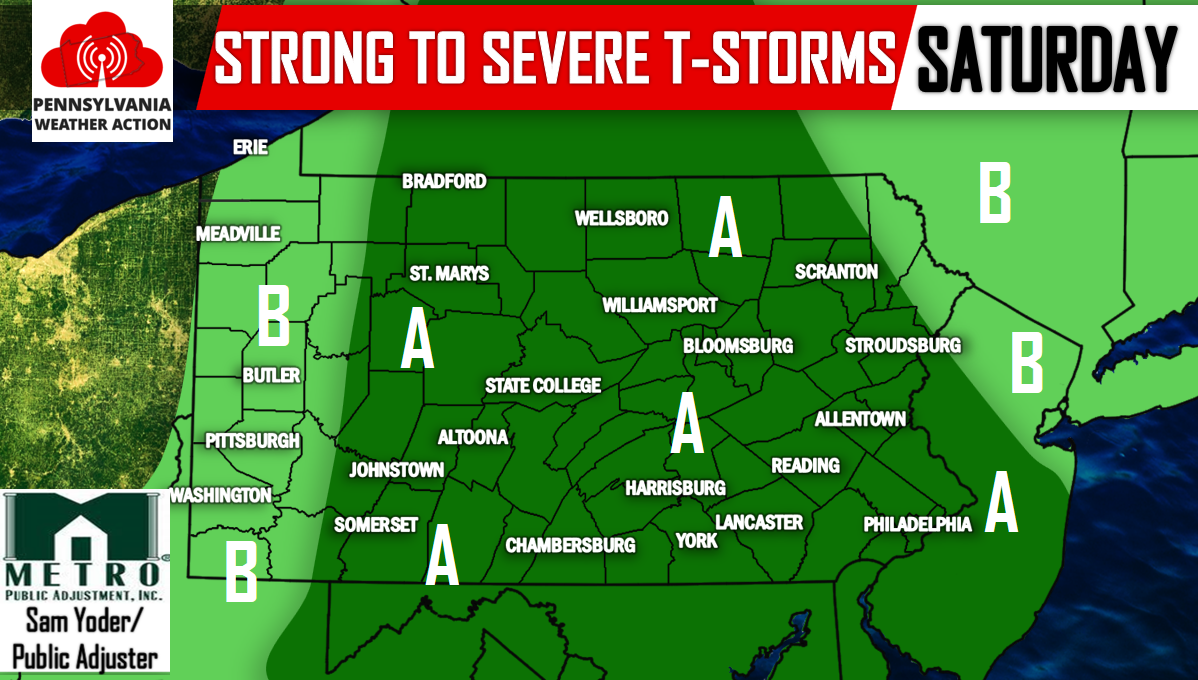 For the latest click here to follow us on Facebook for more updates>>>PA Weather Action on Facebook!
Don't forget to share this with your family and friends using the icons below, stay safe!