After scattered storms moved through parts of southern Pennsylvania Tuesday afternoon, the region looks likely to see a more widespread strong to severe thunderstorm threat Wednesday afternoon. A Slight Risk has been posted for Wednesday across the entire state except northwest PA, where a Marginal Risk exists. Damaging winds will be the main threat, along with isolated hail and potentially a very isolated chance for a tornado.
FUTURE RADAR TIMING
Before we get started, note that as of Wednesday morning, latest short range models have pushed back the timing of these storms by 60-90 minutes. It is important to rely on live radar during the event, rather than hourly forecasts that are based on these models that may be incorrect on timing and placement of storms from the start.
Storms are likely to get an early start Wednesday thanks to the very unstable environment anticipated. By noon, thunderstorms are expected to begin developing in the Laurel Highlands. The storms are not likely to be severe this early in the day. Below is future radar for 12:00 PM Wednesday.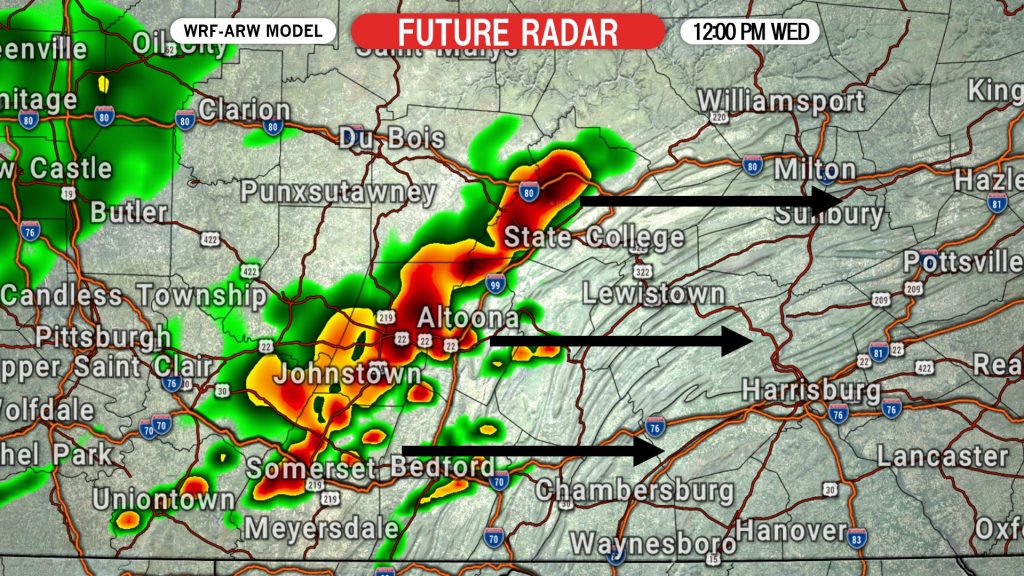 These storms will move directly east at about 40 MPH. We expect to see an organized line of strong to severe thunderstorms form in the early afternoon on the western edge of the Susquehanna Valley. Below is future radar for 2:00 PM showing those storms near Chambersburg, Sunbury, and Williamsport.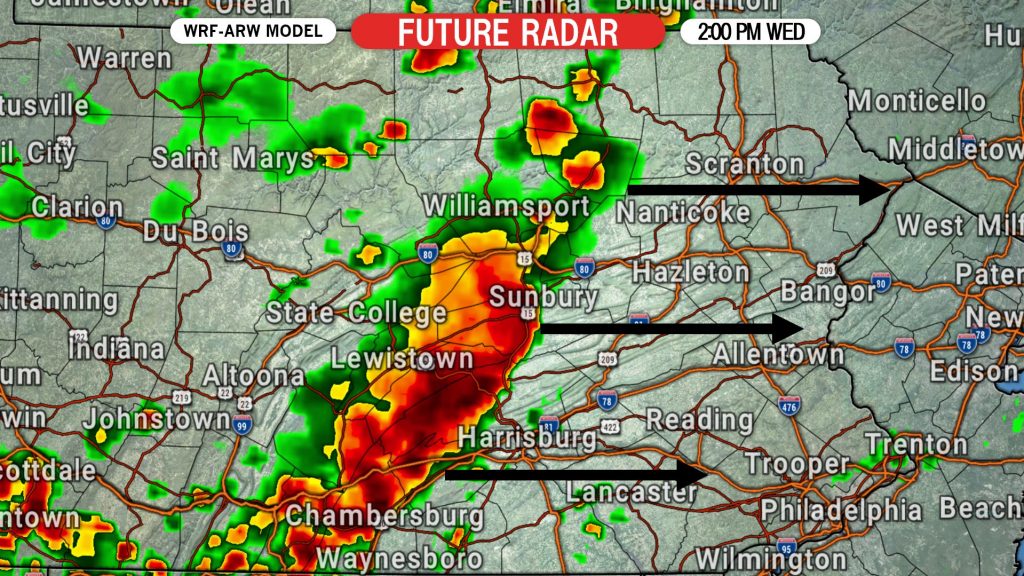 By 3:00 PM, the line of storms is expected to have reached the eastern Susquehanna Valley, from Lancaster to Pottsville to Bloomsburg. Some parts of the line will be stronger than others, resulting in differing impacts. Here is future radar for 3:00 PM Wednesday.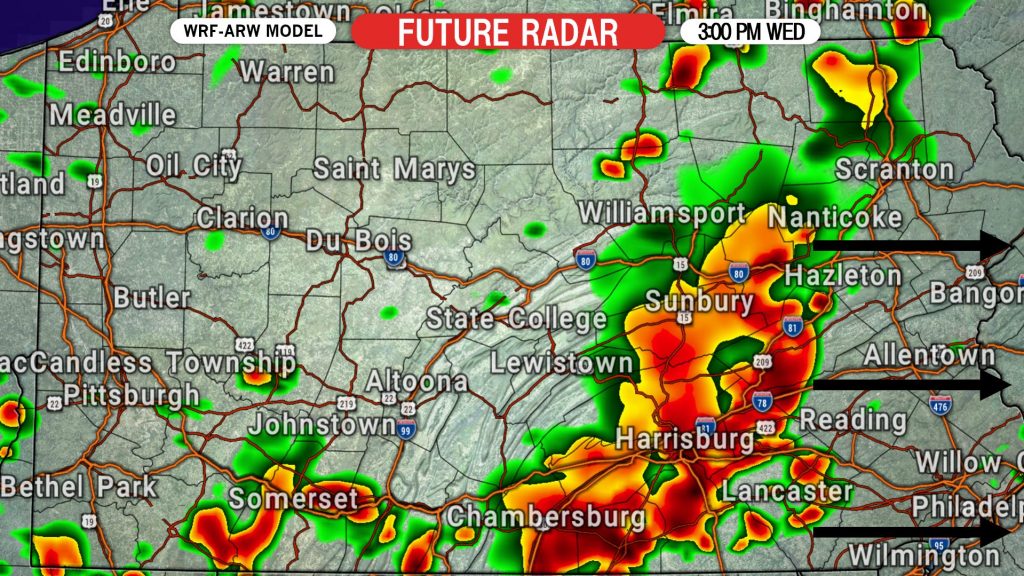 Heading into the late afternoon, by 4 PM we expect storms to be approaching the Poconos, Lehigh Valley, and northern Philadelphia suburbs. There is the chance cloud cover could greatly lower the threat in the Poconos. Below is future radar for 4:00 PM Wednesday.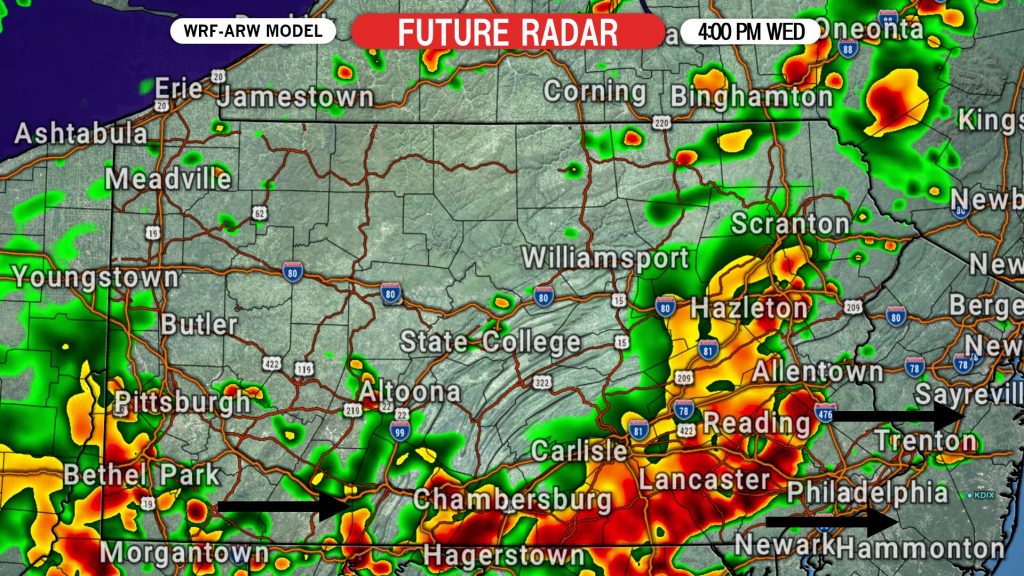 Finally by 5:00 PM, storms are expected to reach Philadelphia. There may still be pockets of heavy rain in other parts of the state, but nothing as strong as this main line. Here is future radar for 5:00 PM Wednesday.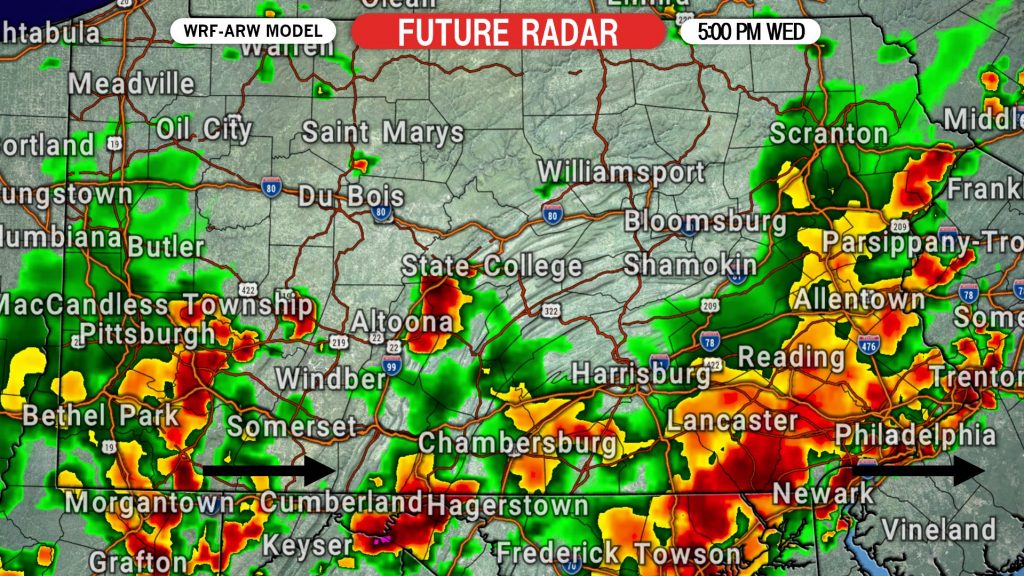 SEVERE THUNDERSTORM OUTLOOK MAP FOR WEDNESDAY (SPC)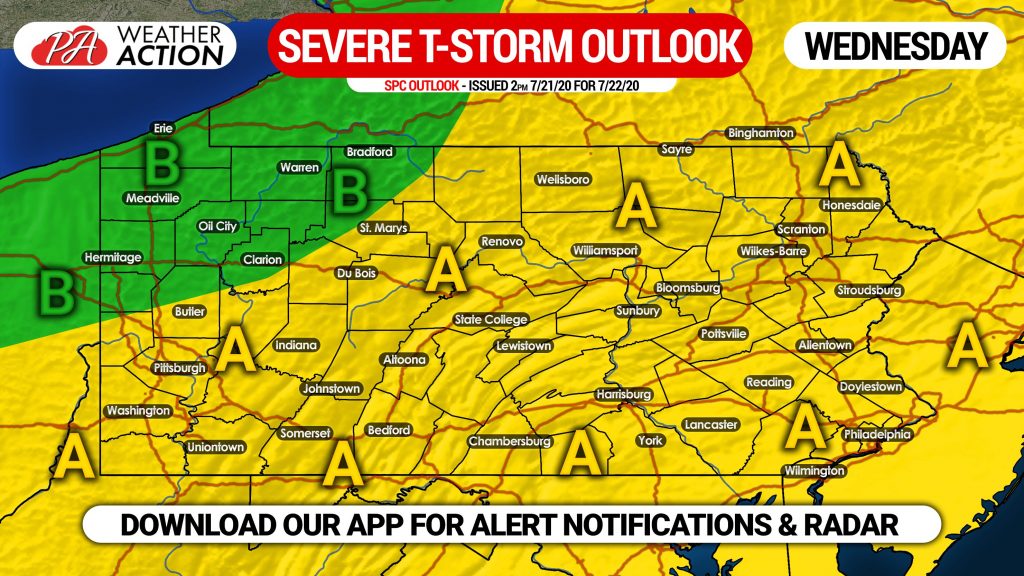 Area A: Scattered severe thunderstorms will be possible, with numerous strong thunderstorms expected in the form of a line segment that will move east across the state Wednesday afternoon. Damaging winds are the main threat. Isolated hail is possible and an extremely isolated tornado threat exists in northeast PA.
Area B: Scattered strong storms are possible Wednesday evening. Gusty winds will be possible in stronger storms.
We will have live radar on our facebook page Wednesday afternoon, assuming this threat materializes. Another easy way to follow severe weather is with our app, where you can get real-time severe weather notifications, live interactive radar and more. Download our app on Apple & Android here >>> Weather Action App Link
Don't forget to share this article with your friends and family using the blue button below. Stay safe!