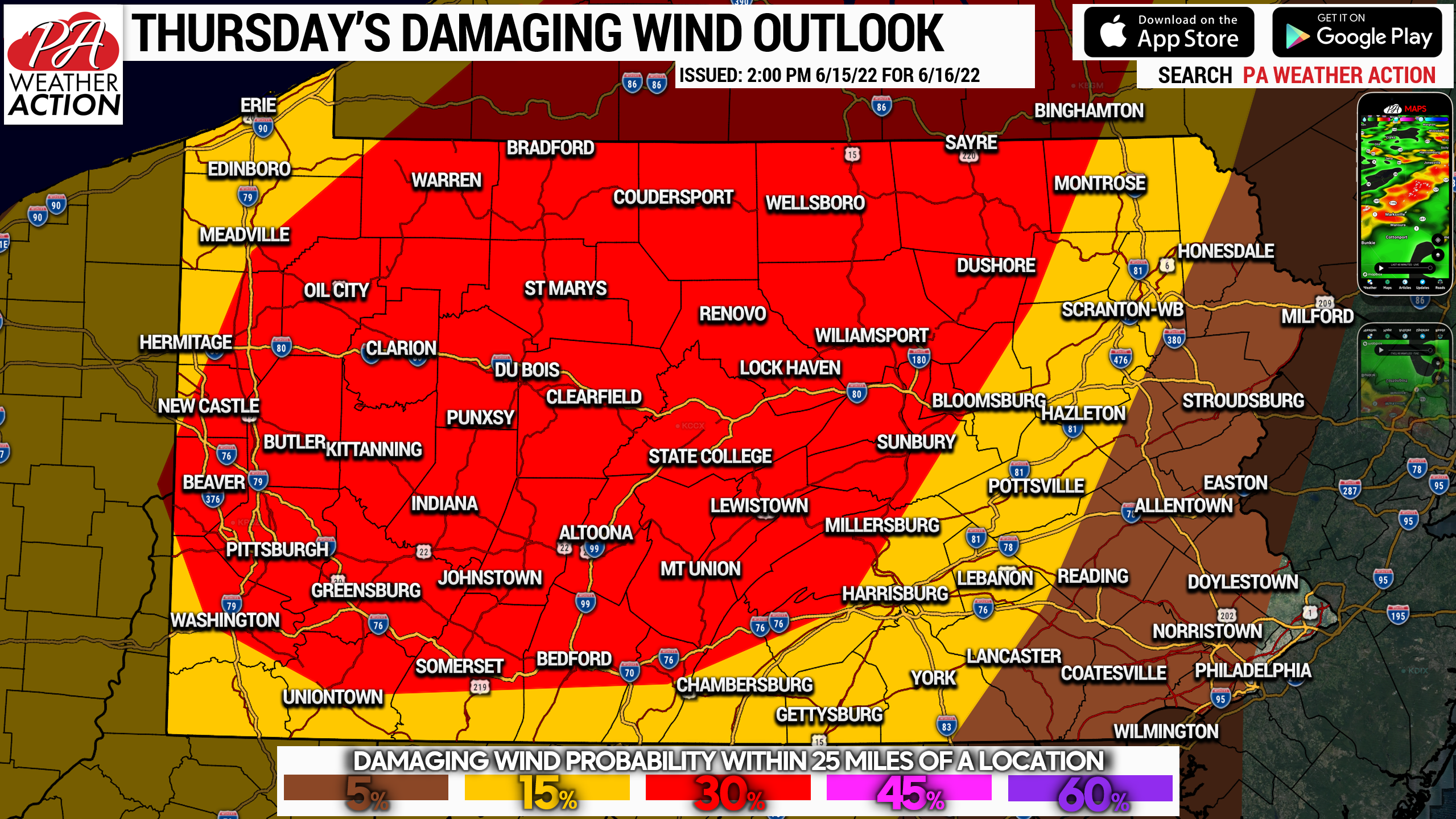 After Tuesday Morning's derecho narrowly missed Western PA, another shot at severe thunderstorms comes Thursday, with an Enhanced Risk centered on the heart of the state.
Early morning thunderstorms are possible Thursday morning as a mesoscale connective system (small area of storms) works through the region between 2-7am Thursday. Storms look to develop across the northern mountains and work their way south across the eastern two-thirds of the state, from Altoona to the Delaware River. These thunderstorms should be harmless, but some isolated damaging winds gusts are possible in the center of the state.
The main concern, however, is Thursday evening when a strong cold front will drop in from the northwest. Rapidly intensifying thunderstorms are likely to develop in Northwest PA between 2-4pm Thursday and push southeast. A broken line of potent thunderstorms is modeled to develop from there, with scattered damaging winds, large hail, and a few tornadoes certainly possible especially in Northwest PA. These storms are then expected to drop south-southeast and be on a line from Pittsburgh to DuBois to Mansfield by 5-7pm Thursday.
Exactly how far south in the state this line of storms makes it before fizzling out depends on when it forms. If the line forms a bit late, it will probably only impact as far south as Altoona to Sunbury to Scranton. However if the line forms about when we expect it to as mentioned above, it should make it down to near Southern PA border before weakening around 9-10pm Thursday. Areas west of I-81 have a greater risk of being impacted by this line Thursday evening than areas east.
Below is the latest Hi-Res NAM future radar for the two periods of thunderstorms Thursday.
THURSDAY MORNING SEVERE THUNDERSTORM RISK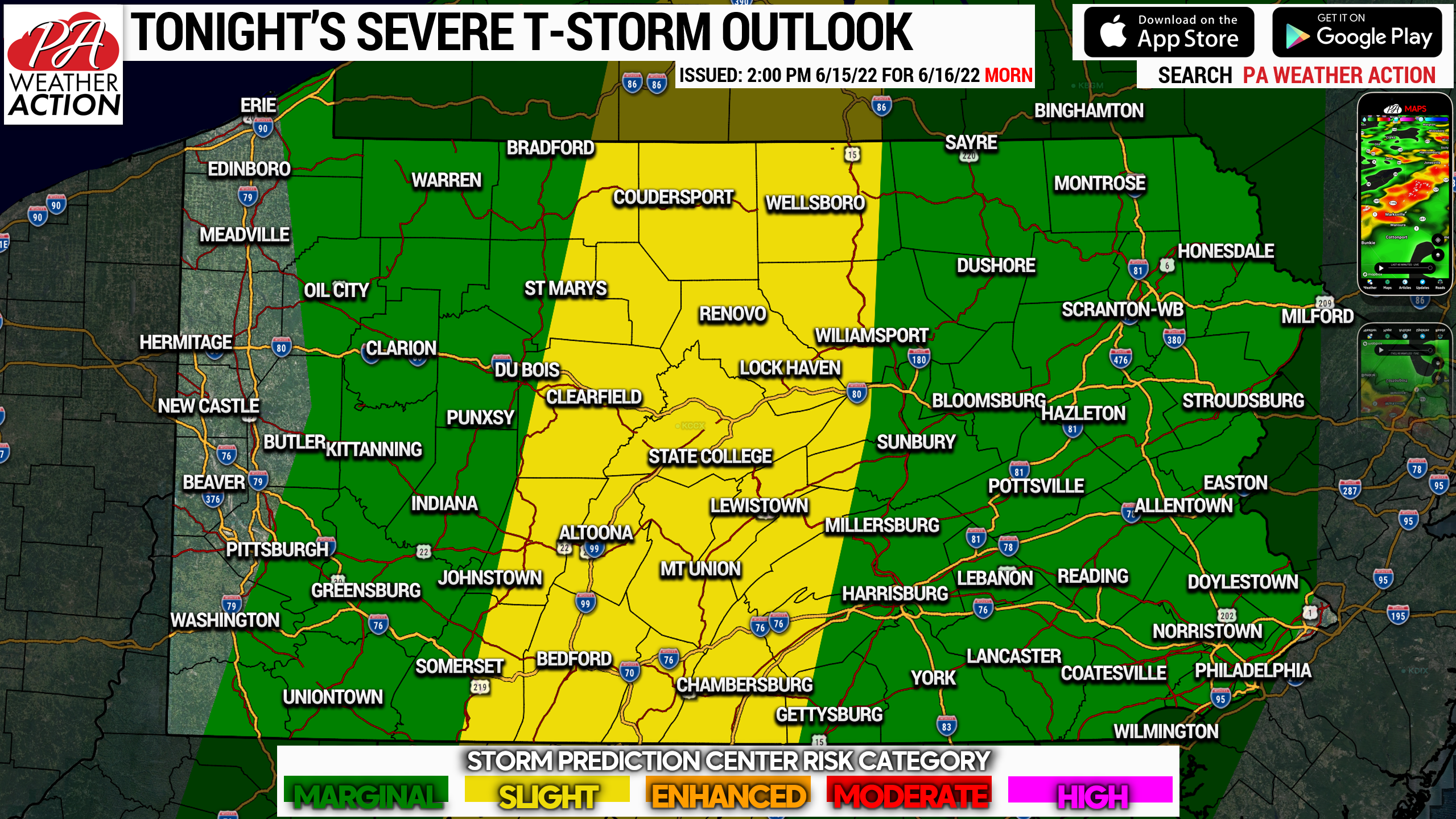 This graphic is for the Thursday MORNING, specially between 2-7am. Isolated damaging wind gusts are possible in Central PA but for the most part these will be garden-variety thunderstorms.
THURSDAY AFTERNOON – EVENING SEVERE THUNDERSTORM RISK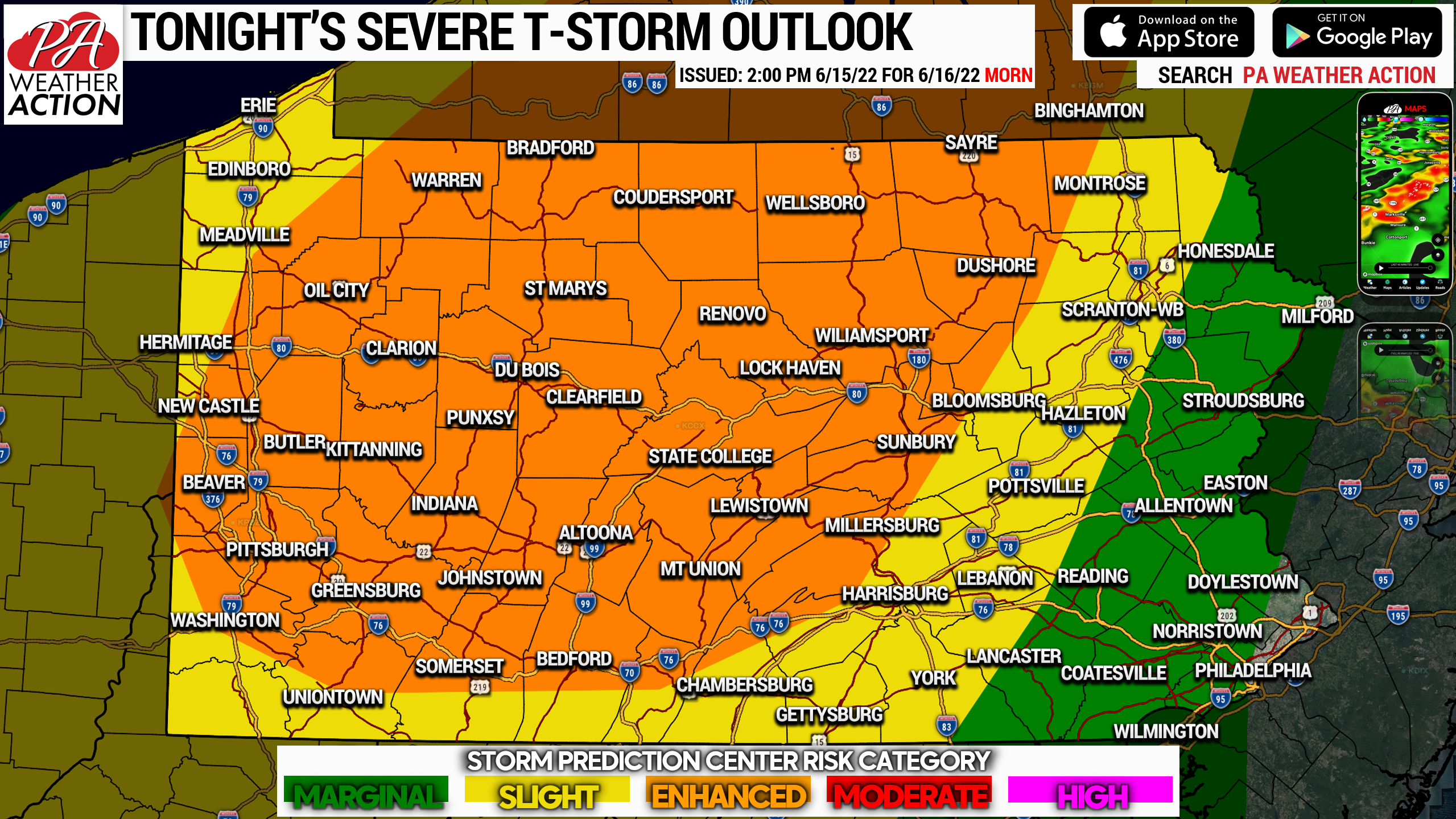 This will be for the most part a Western and Central PA event Thursday afternoon into the evening. The dynamics in Eastern PA will not be as supportive, and the line won't move that way until sunset or after. On the other hand, if you're from Williamsport to the Ohio border, damaging winds, large hail, and a few tornadoes are very possible. By the time the line reaches the PA Turnpike (I-76), it will likely begin to weaken as daytime heating lessens around sunset. Find the timing and other details above.
THURSDAY AFTERNOON – EVENING DAMAGING WIND RISK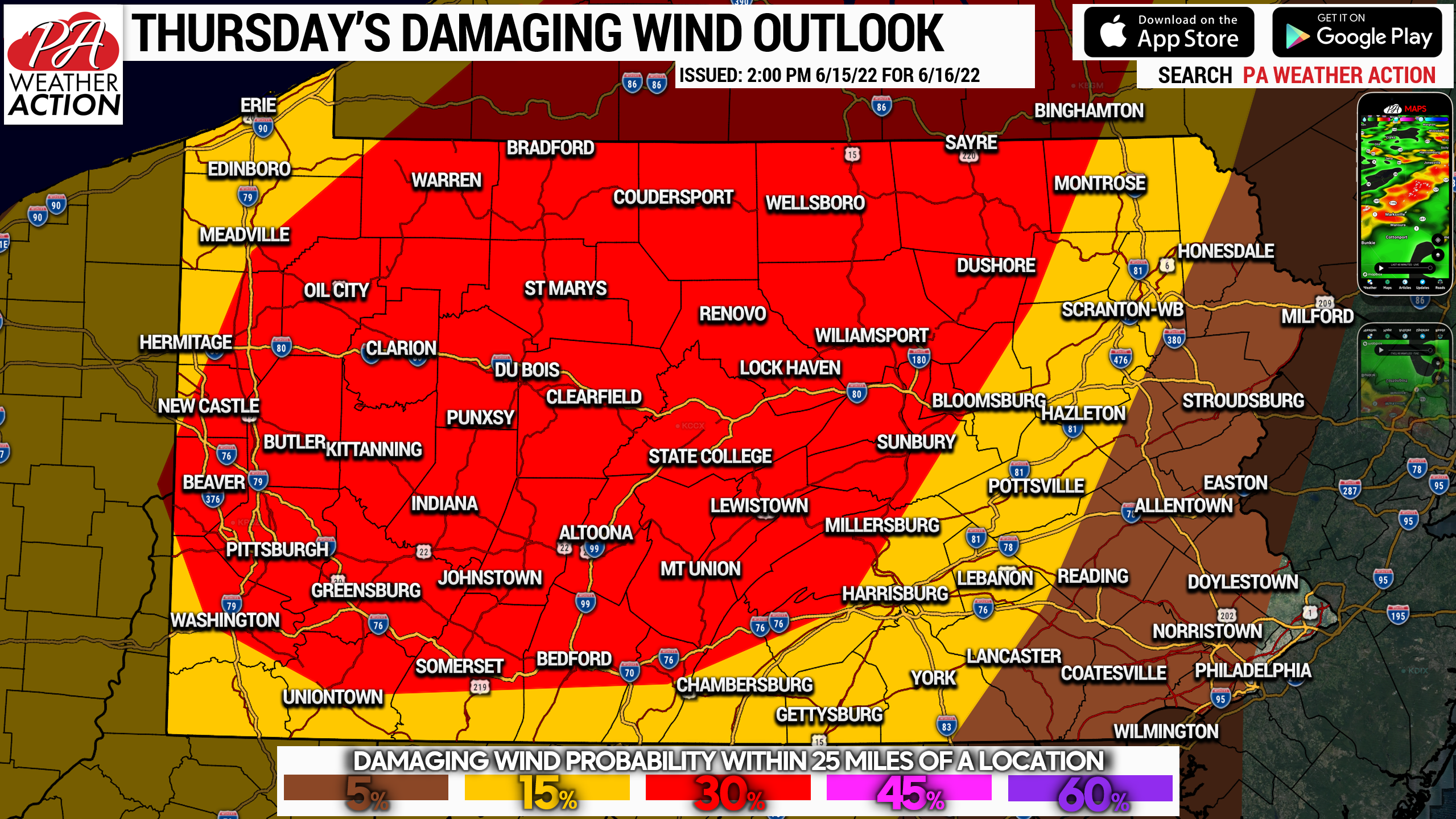 Although 30% may not seem too impressive, it is rare we see this type of risk posted on the East Coast. This will be an exceptionally strong cold front and very supportive dynamics exist tomorrow for damaging winds, as well as isolated hail and tornadoes. This is the Storm Prediction Center's outlook, and I agree for the most part. To me, the greatest risk for damaging winds Thursday will be in areas west of State College, from the NY border to as far south as Greensburg, Altoona, and Lewistown.
After this, we have a nice dry weekend on tap with highs in the 60s and 70s and lows in the 40s and 50s.
Don't forget to share this article with family and friends in the path of these storms Thursday afternoon & evening.
Our app has free radar maps with lightning, alerts, wind, storm outlooks, etc. We will soon be bringing a much upgraded home page we have been working on since last fall! Tap the image below to download!
---
---