With weather remaining calm locally, we turn our attention to Tropical Storm Isaias, which is currently centered 350 miles southeast of Puerto Rico as of 5:00 AM Wednesday. The system is currently moving west-northwest at 23 MPH, and has maximum sustained winds of 45 MPH. But the real question that many of you are wondering is…what will its impacts be on the United States?
With the center of Isaias on a direct collision course for the high, mountainous terrain of Hispaniola, the system is likely to stay weak as it approaches Florida this weekend. Tropical systems always weaken when moving over land, but especially mountainous areas.
Several other unfavorable factors such as high wind shear ahead of the system, as well as dry air wrapping into the southern flank of the storm look to keep any potential strengthening after Isaias leaves Hispaniola to a minimum. Here are the latest models at the time this article was posted (6 AM Wed), showing potential tracks and intensities for Isaias.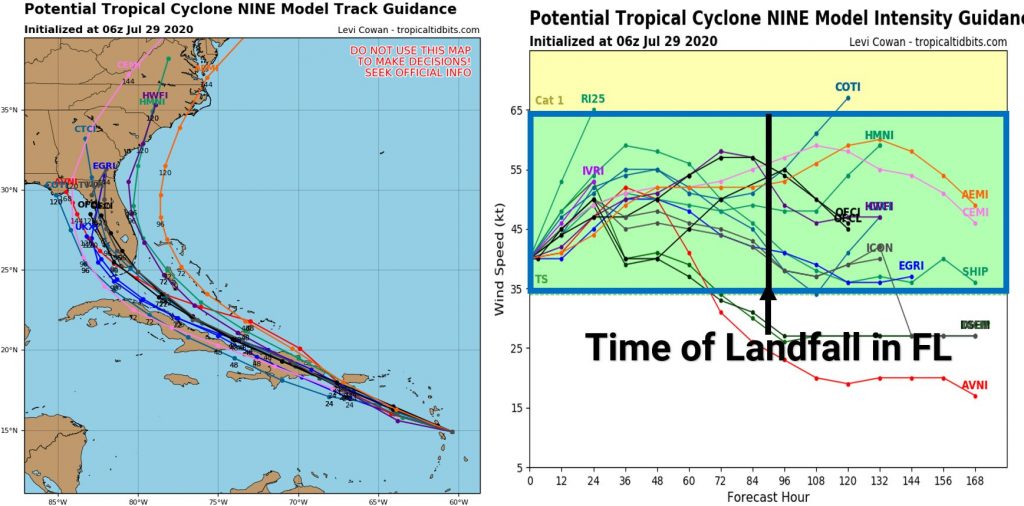 As you can see, nearly all models take the storm directly over Hispaniola, then just to the north of Cuba, before making or nearing a potential landfall between Key West and Key Largo, FL early Sunday morning. Model guidance generally agrees Isaias will be a 55-60 MPH tropical storm around landfall in Florida (assuming it makes landfall in the FL Keys).
Major models such as the European model (ECMWF) and the American model (GFS) both keep the system extremely weak. In fact, neither of them have isaias being anything more than a rainy day with 20 MPH wind gusts in south Florida Sunday.
However, the National Hurricane Center disagrees. Their forecast, which is most important and the one we should be most closely monitoring, has Isaias as a strong 65 MPH topical storm, with gusts up to 75 MPH around the time of landfall Sunday morning near the Florida Keys. The NHC's Forecast is below.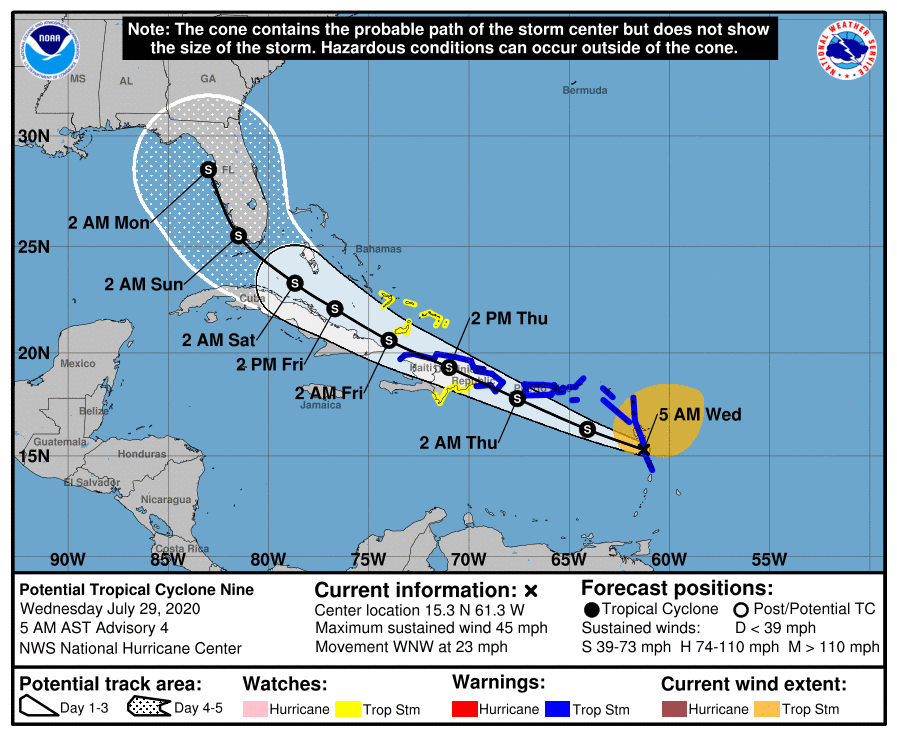 The bottom line is, Isaias is currently not expected to reach hurricane strength and its impacts on Florida will likely be minor.
Don't forget to share this forecast with your friends and family who may be interested using the blue button at the top, as you will be hearing a lot more about Isaias in the coming days.
If you're interested in more information and a more detailed summary of the future of isaias, watch our video below!