Winter Storm Watches and Winter Weather Advisories have been issued for much of Pennsylvania ahead of our first widespread significant winter storm of the season. Starting on Sunday from the Appalachians and on east, a prolonged period of moderate freezing rain will lead to dangerous travel in many areas. This will be followed on Sunday night into Monday by a snowstorm in eastern PA, and up into New England.
Scattered power outages are possible in the Appalachians (including the Poconos) on Sunday, in addition to very hazardous travel conditions. We advise avoiding travel if at all possible. On Monday, snow in Eastern PA will likely cause school delays/closings, and a very difficult morning commute especially north of Allentown and Pottsville.
STORM TIMING
Freezing rain will overspread all of central PA by dawn Sunday, possibly starting as a quick sleet/snow mix in the northern mountains. Here is future radar for 7:00 AM Sunday.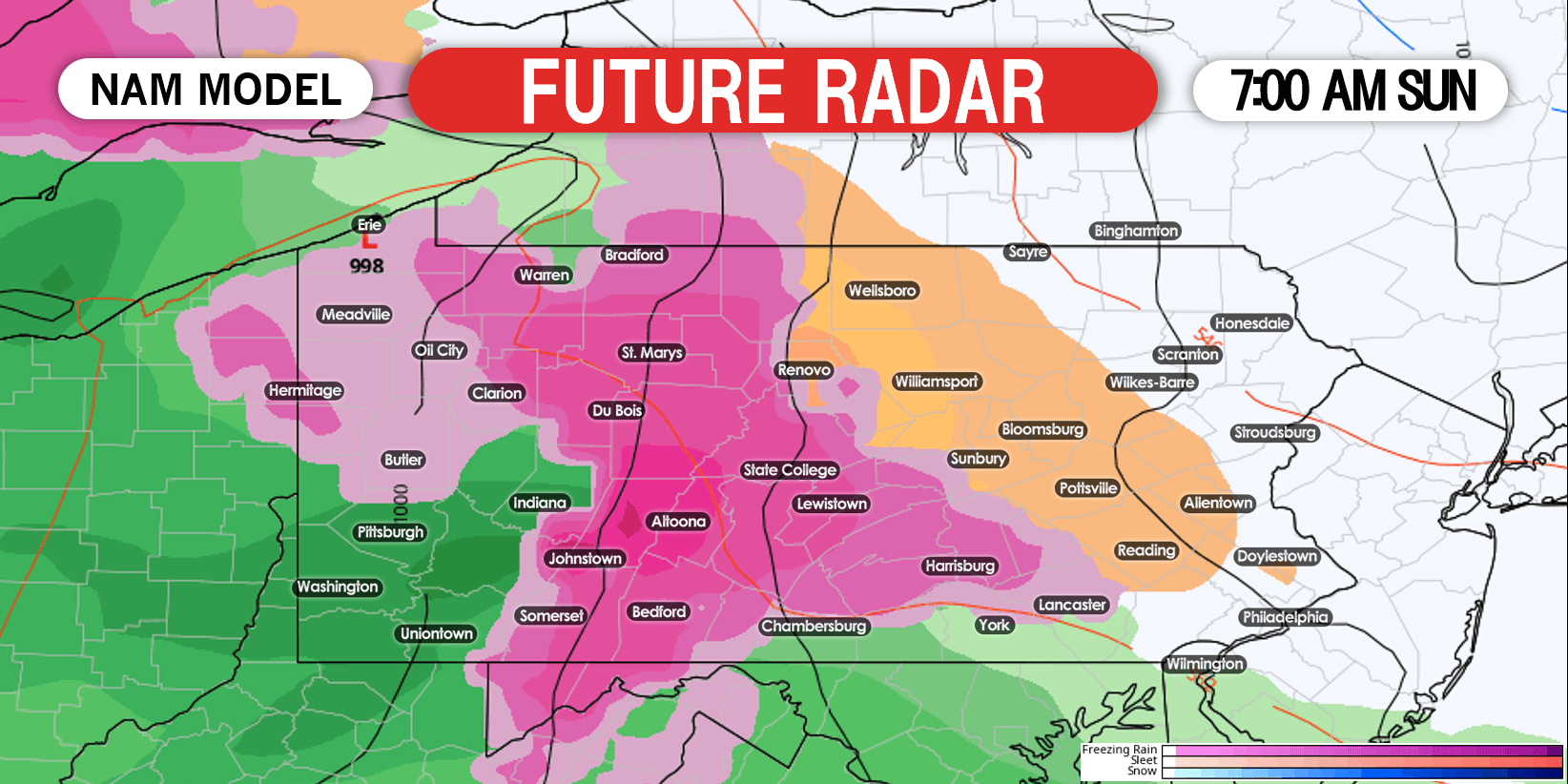 Freezing rain will move north and east into eastern PA by late morning. Nearly all of central and eastern Pennsylvania will be seeing freezing rain and treacherous travel conditions by early Sunday afternoon. Future radar for 1:00 PM Sunday is below.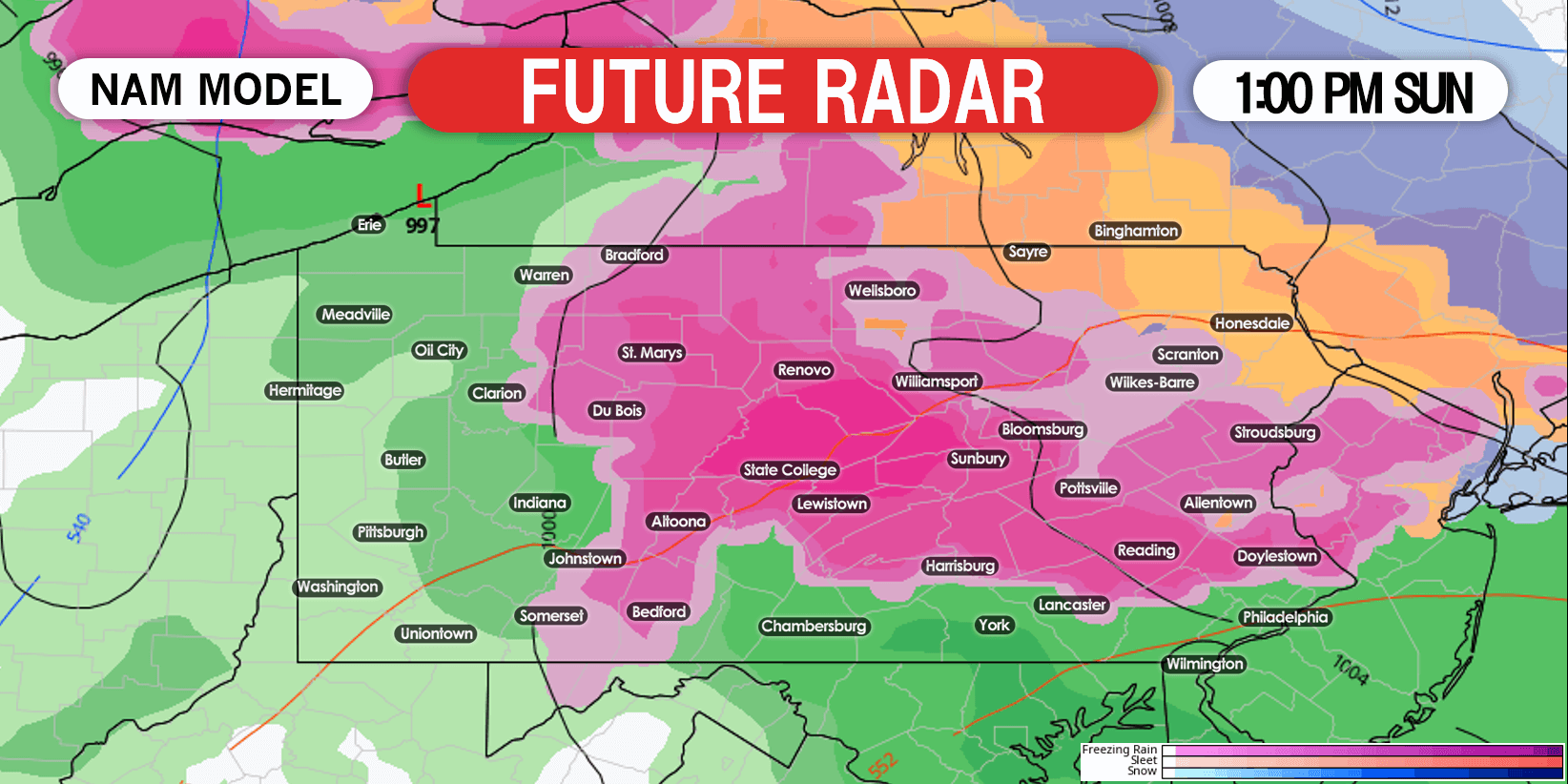 As Sunday afternoon progresses, temperatures are expected to rise above freezing in most locations south of i80. Travel is still not advised during this period. Below is future radar for 7:00 PM Sunday.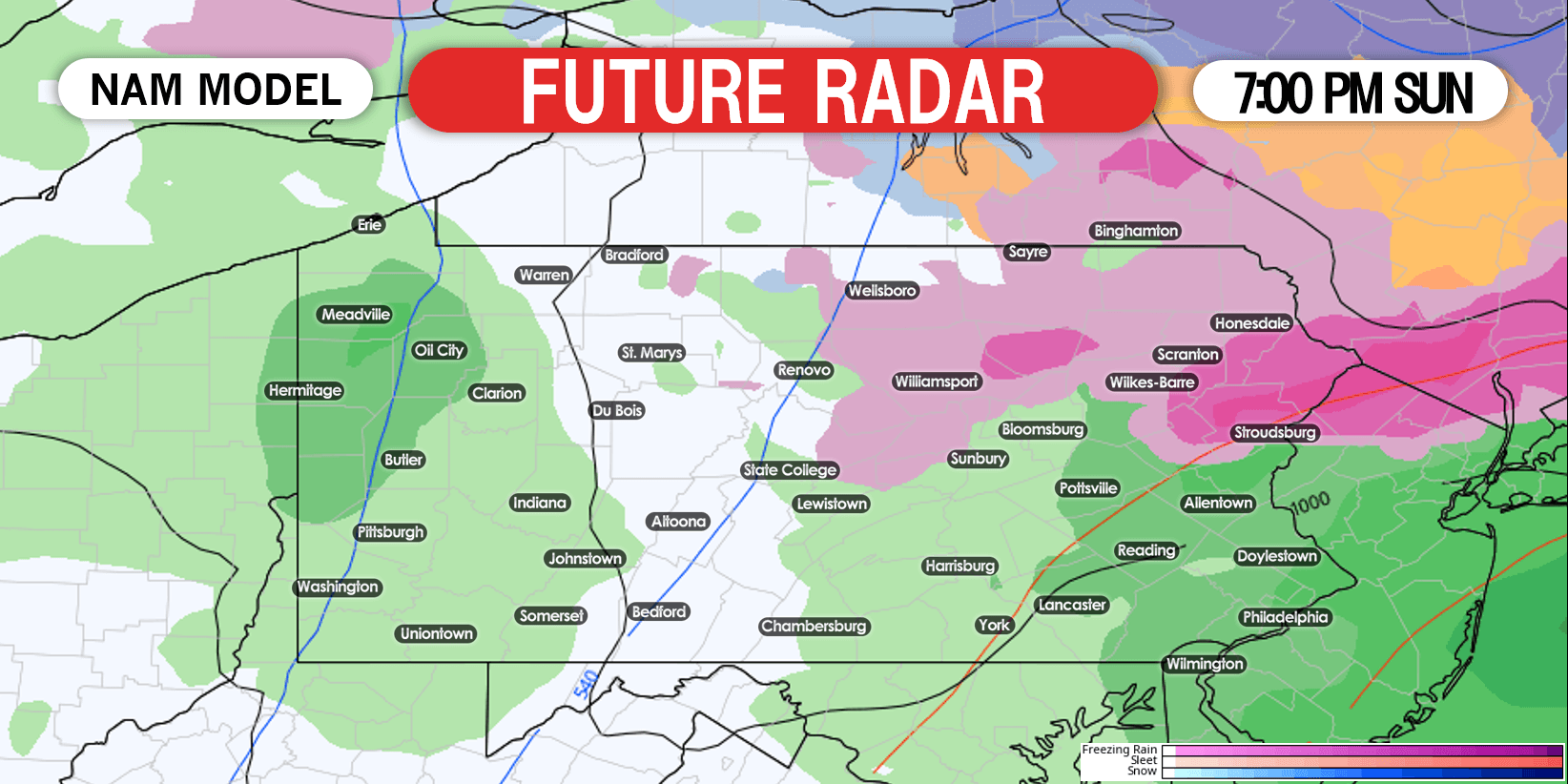 The coastal storm will takeover Sunday evening, and throw wintry precipitation back into much of eastern and central PA by early morning Monday. This is when the Poconos and the Lehigh Valley will begin to see moderate snow. Here is future radar for 1:00 AM Monday.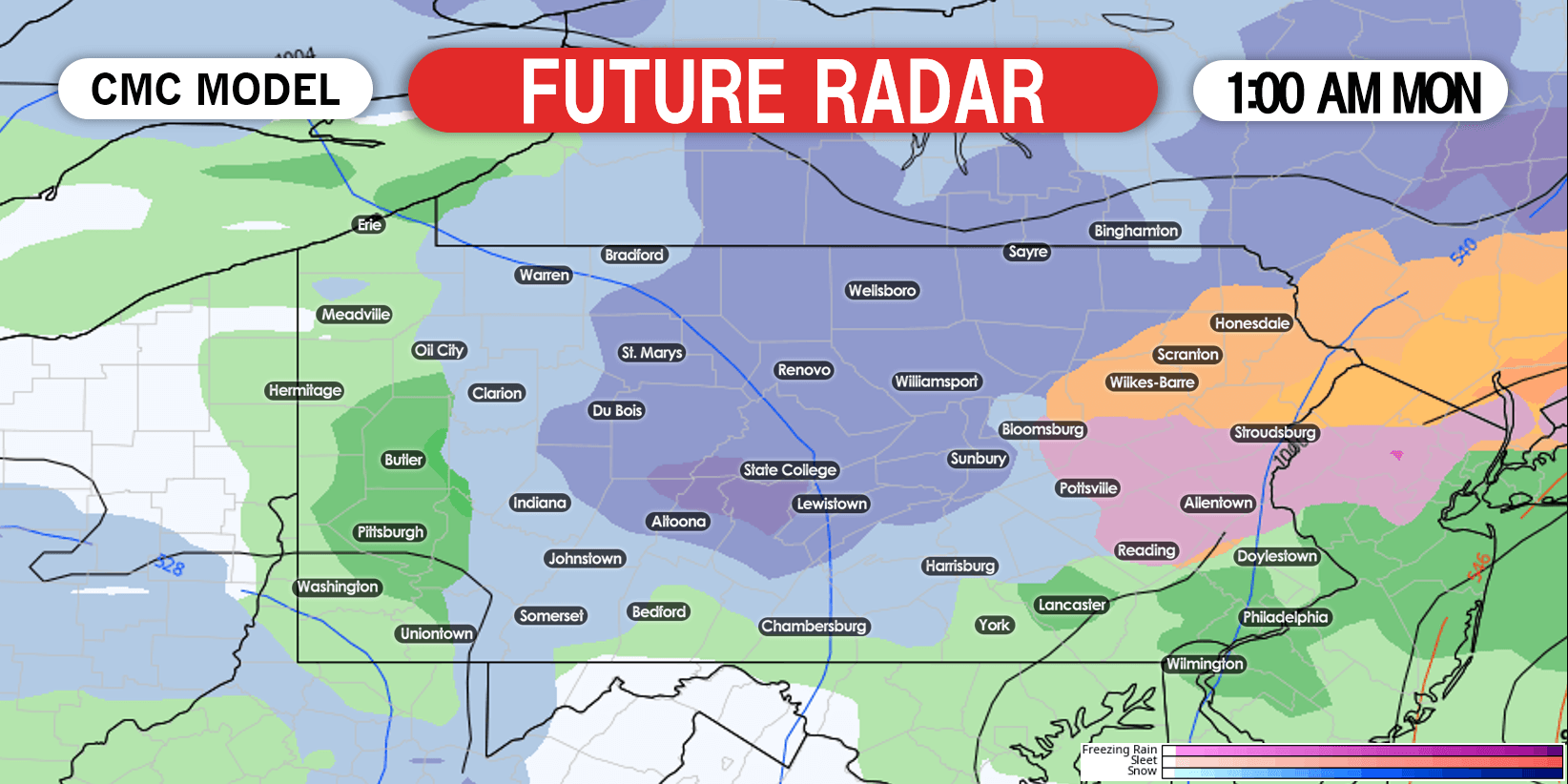 Snow will continue in much of eastern PA Monday morning, with heavy snow bands of 1″ an hour likely in the Poconos. The Monday morning commute in these areas will consist of slippery, snow packed roads. Below is future radar for 7:00 AM Monday.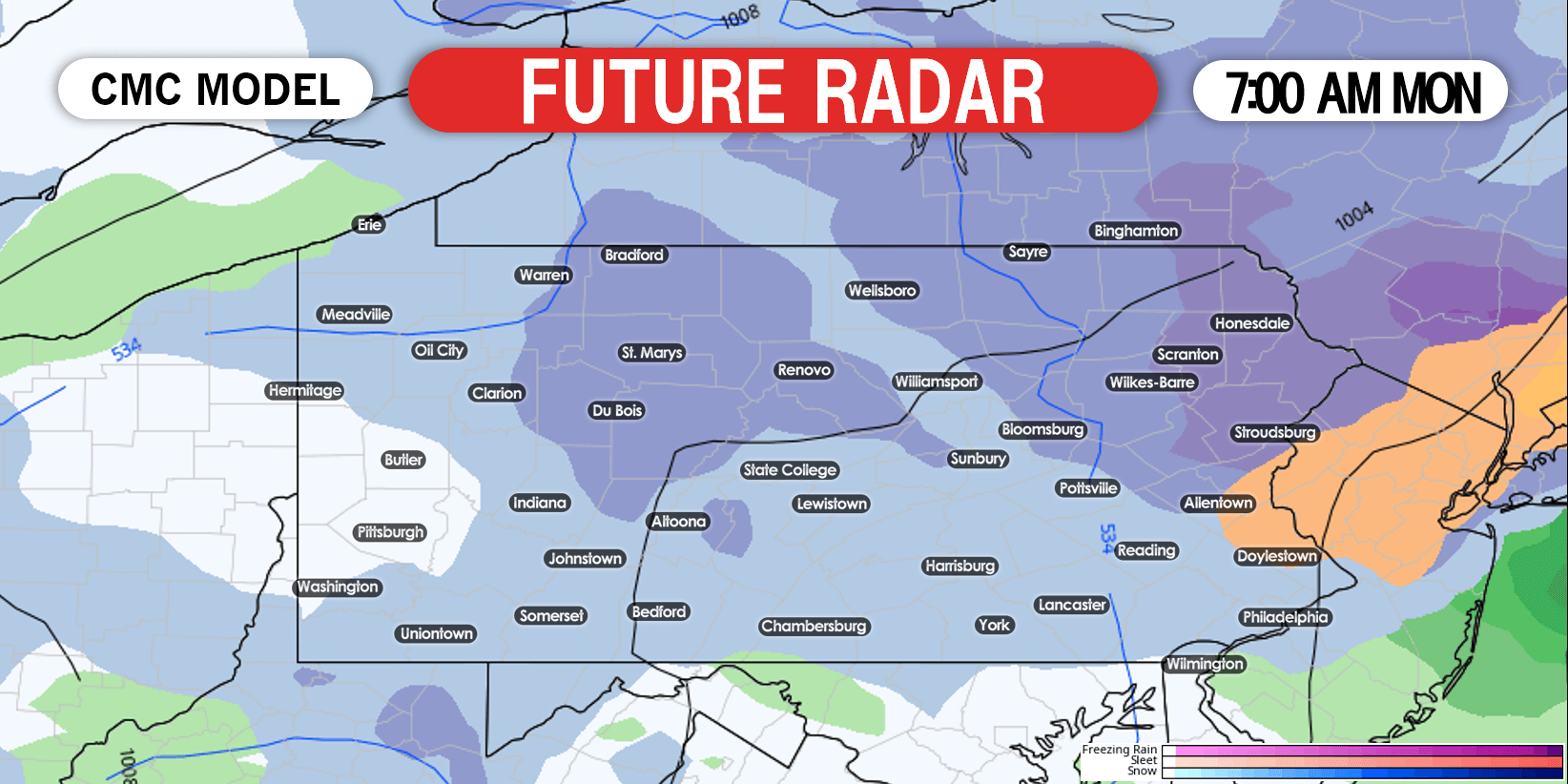 Snow will continue through the first half of Monday afternoon, before winding down and moving east. Future radar for 1:00 PM Monday is below.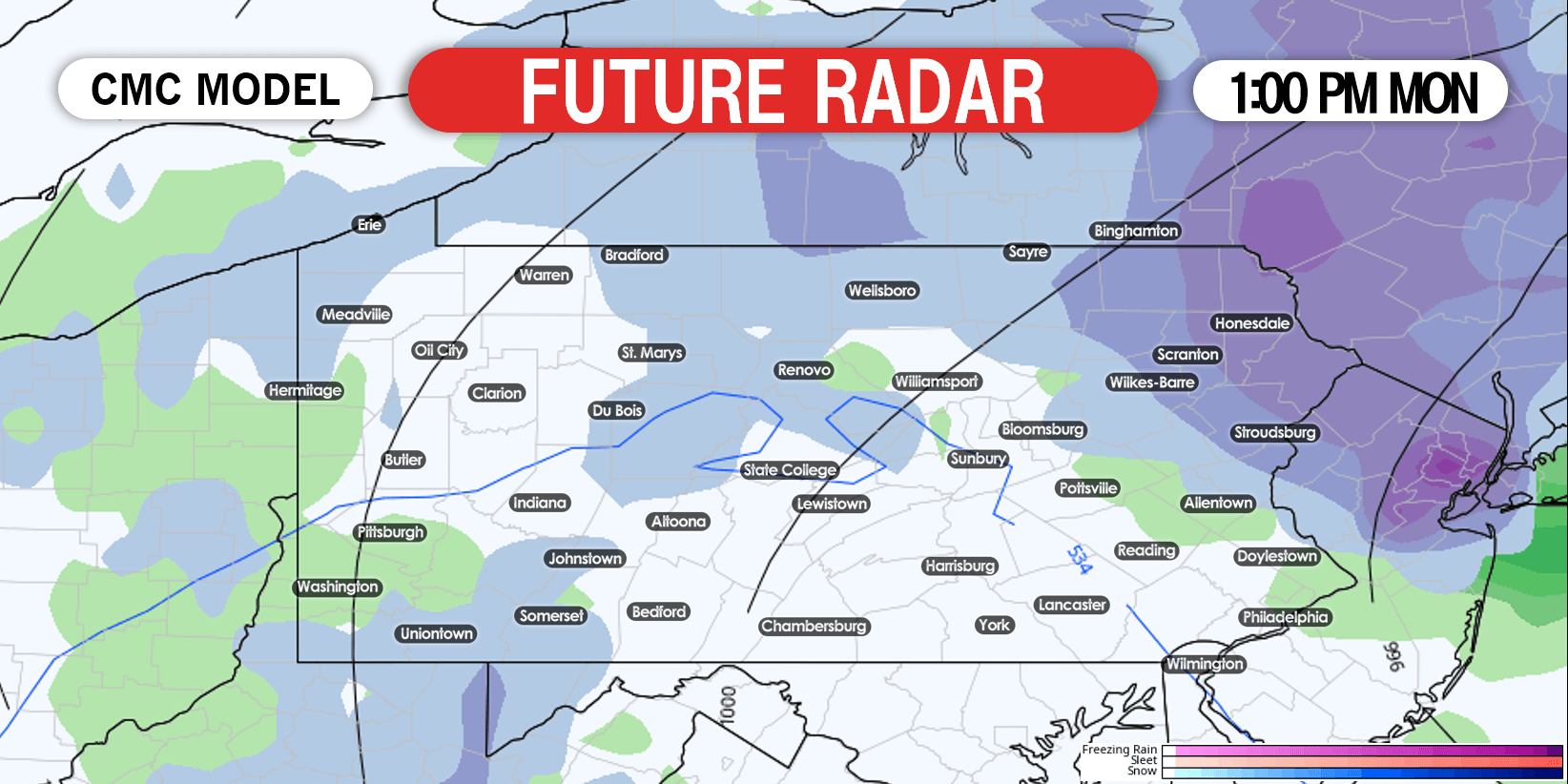 ---
SECOND CALL ICE FORECAST FOR SUNDAY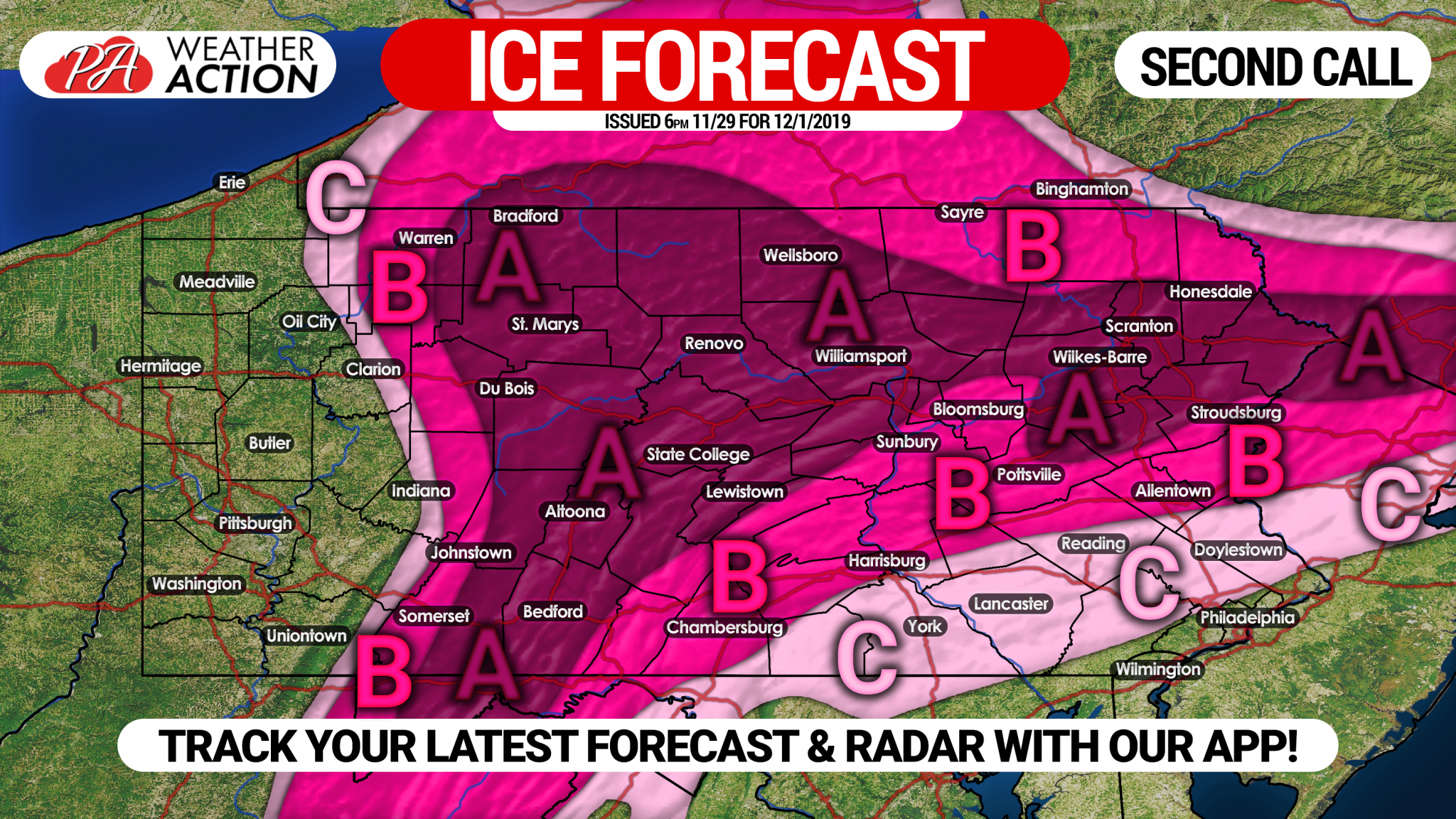 Area A: Ice accrual of .25 – .50″ expected. Do not travel Sunday, it's that simple. Scattered power outages likely.
Area B: Ice accrual of .10 – .25″ expected. Roads will be icy until late Sunday afternoon or early evening. Isolated power outages likely.
Area C: Ice accrual of .01 – .10″ expected. Travel still not advised until late Sunday afternoon.
---
FIRST CALL SNOWFALL FORECAST FOR SUNDAY NIGHT – MONDAY
Area A: Snow accumulation of 6 – 10″ expected. Snow-packed roads likely Monday, causing delays/closings.
Area B: Snow accumulation of 3 – 6″ anticipated. Avoid travel until Monday evening.
Area C: Snow accumulation of 1 – 3″ expected. Slushy roads possible Monday morning.
Area D: Snow accumulation of <1″ anticipated.
---
Don't forget to share this forecast update with your friends and family in the area! You can track updates to this forecast, as well as your local hourly & daily forecast, radar, and more with our free app >>> Weather Action App