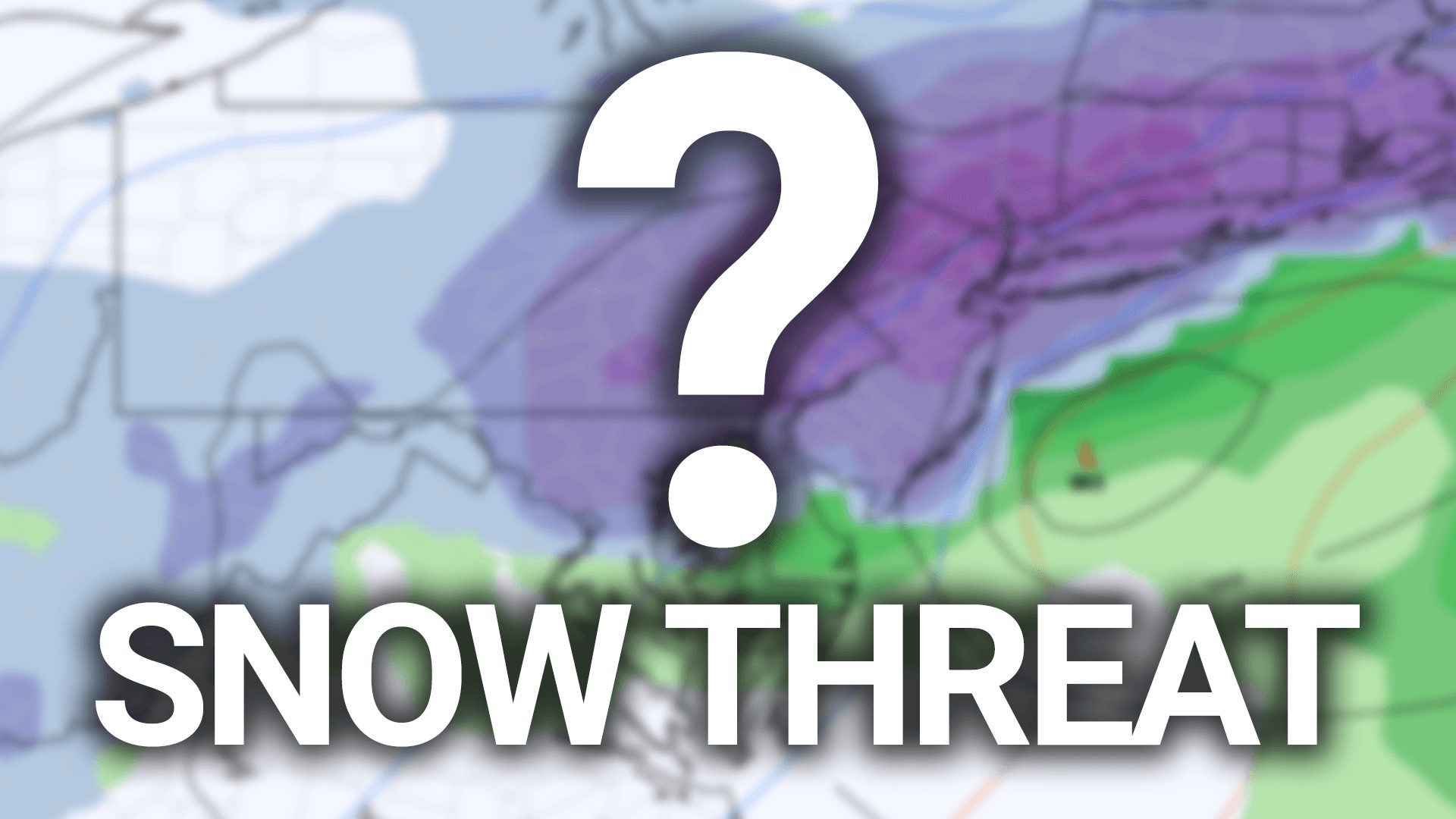 UPDATED ARTICLE POSTED:
The last time Philadelphia picked up an inch of snow was 649 days ago, and in Harrisburg it has been 327 days. Finally, it may be time to dig out the shovel and test out the old snow blower. We are tracking two separate potential winter storms that may impact the area within the next seven days. And we aren't just talking northern PA, but rather the entire state. But at a range of four to six days out, realize that neither of these storms are yet likely, instead just possibilities at this point.
STORM POTENTIAL #1
Storm potential #1 is on Monday, and right now has a lower ceiling than the next potential, but we are still watching it. A Colorado low will develop in the southern Plains, likely bringing snow to those areas. The system will then move east-northeast. The problem is there will be no mechanism to capture the energy and bring it northeast.
However, latest model guidance has indicated that Saturday's cutter will move out faster, making way for Monday's system to move farther north. Also, guidance is showing Monday's system may be stronger, which would likely bring the storm somewhat north. Furthermore, we sometimes see these types of storms trend north the closer we get in time to the potential. So who in Pennsylvania has a chance of seeing snow from Monday's potential?
Right now, southern PA has the best chance to see any impacts from Monday's system. There is still some work to be done, as a few more northern shifts on the models are needed. We are confident that precipitation would fall as snow because the storm will have to be stronger to even impact southern PA, resulting in more cold air drawn in and heavier precipitation rates, which would result in dynamic cooling. Below is the latest run of the GFS Ensemble (American model).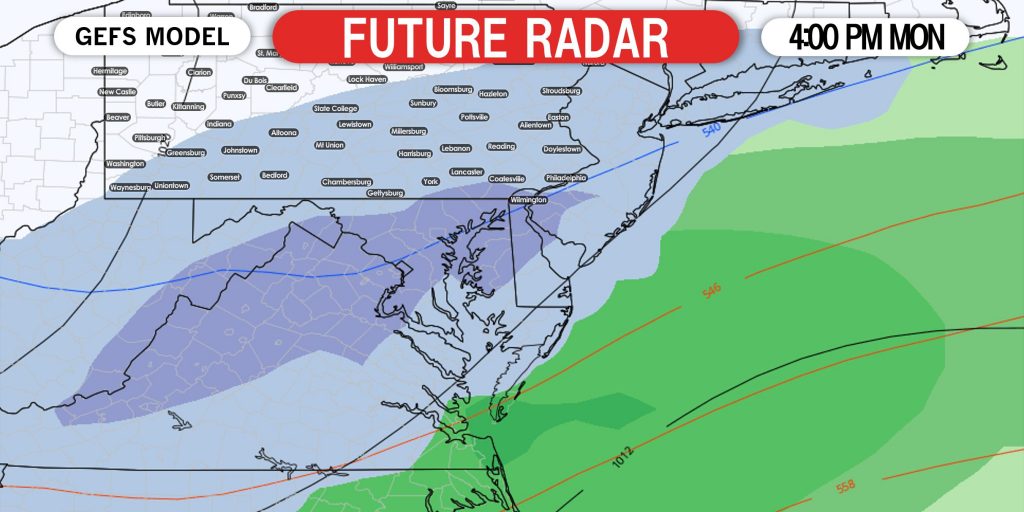 This is actually one of the more north-leaning models, and as you can see, the core of the snow is still modeled to be south of PA. Right now, we are giving areas east of Somerset and south of I-76 a 40% chance of seeing accumulating snow on Monday. If you are north of there, chances are lower.
---
STORM POTENTIAL #2
We are six to seven days out and models change substantially every six hours, so be hesitant to get excited yet about this one. You may be hearing about it on social media soon, but realize that we will not know much about this system until Sunday or Monday. It could be gone in two days. Also, we need storm potential #1 to quickly exit the region to make way for this potential since they are so closer to each other. So a stronger storm #1 may result in a weaker storm or no storm #2. But here is the setup.
We will have a large area of energy swinging into the southern Plains on Tuesday. This will form a system, which will then want to cut into the Ohio Valley. That would bring us rain. However, there is currently modeled to be a strong area of high pressure in Ontario and Quebec, which would likely cause the system to transfer to the coast, where a low pressure would then rapidly intensify. But there are a few things that need to go right.
First, that high pressure in Canada needs to be correctly positioned and strong enough to force the system to transfer to the coastal low. Second, assuming the first step works out, we will then need the coastal low pressure to be close enough to the coast to produce snow in the eastern half of PA. Third, if the storm transfers too late, areas to our north will see snow while we see rain or weak precipitation. Each one of these steps depend on the previous, and if one goes wrong, we will not see a big winter storm.
Remember to take models with a grain of salt right now. Forecasters use a blend of models to make a prediction, so putting trust into a model that shows a major storm while others show a minor event is not recommended. Below is the GFS Ensemble for Wednesday evening.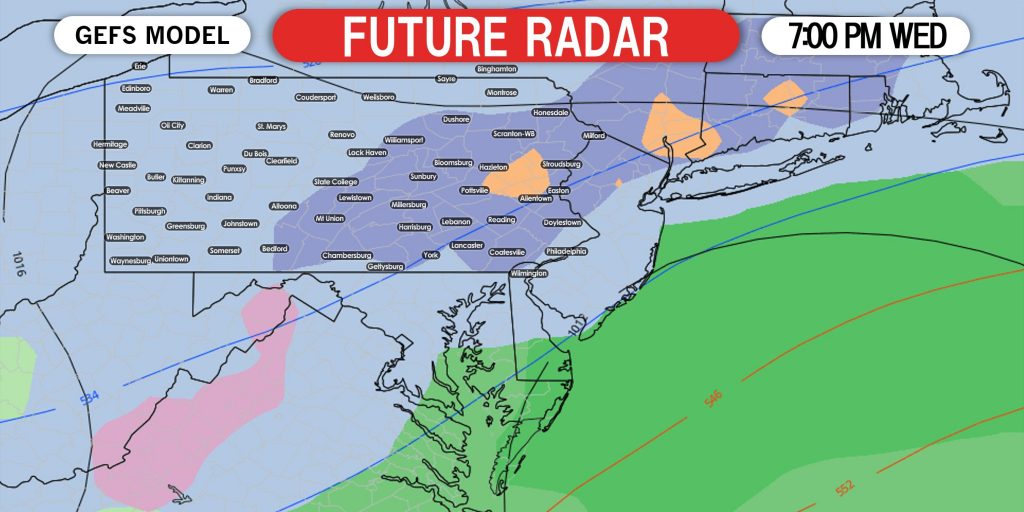 Confidence is not high enough to specify which areas of the state may receive what. If this storm is still on the models by Sunday, we will then give those details.
This is where things stand right now, and it's key to just take the storms one at a time and not get ahead of ourselves. Keep an eye on our latest forecasts with our app! We just put out a new update and now is a great time to test it out! Get it on Apple and Android here >>> Weather Action App
Don't forget to share this article with any snow-starved family and friends using the blue button. Stay tuned!
---
---