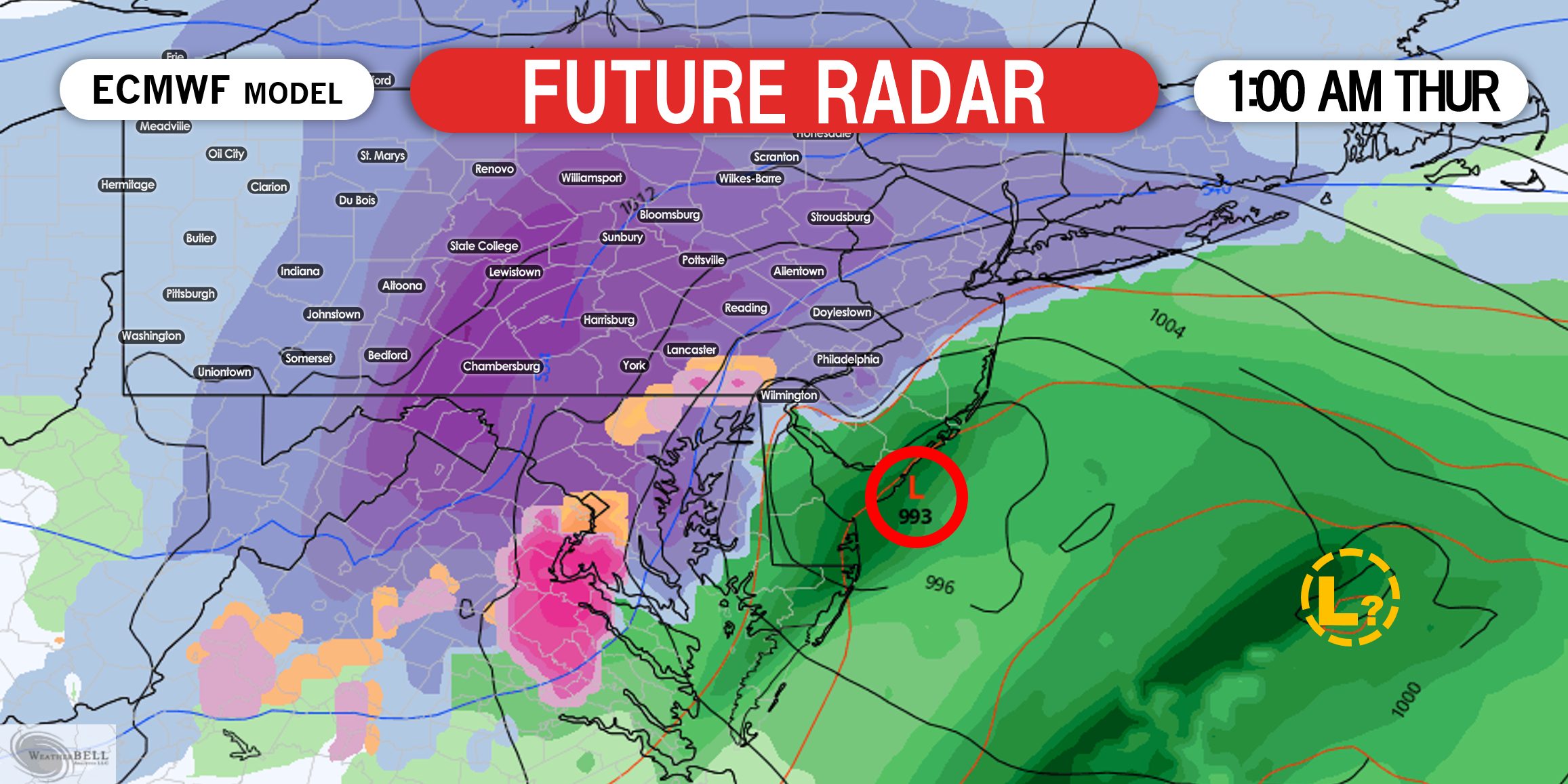 SECOND CALL FORECAST POSTED – MONDAY PM UPDATE:
Second Call Snowfall Forecast for Wednesday's Likely Historic Snowstorm
The million dollar question – is a big snowstorm coming on Wednesday? After having gone multiple winters without even being able to ask that question, many are anxious and hopes are high. We are five days out. That is a long time for things to change for the better or worse. The ingredients are there, now we have to put them together to bake the cake. Here is where things stand as of Friday evening.
On Thursday we discussed the potential for two separate winter storm chances, one Monday and one Wednesday. Currently, Monday's storm looks minor, with an inch or two of wet snow possible in the southern half of PA. If needed, our first call snowfall forecast for Monday's snow will be posted Saturday morning.
Now for main event on Wednesday. A strong coastal storm is expected to form off the Carolina coast Wednesday morning and intensify as it moves north-northeast. By Wednesday evening, the strong storm is currently modeled to be sitting just east of Ocean City, MD, sending heavy precipitation into the eastern two-thirds of Pennsylvania. Thanks to a strong high pressure to our north Wednesday, temperatures are expected to be below freezing. Put both together and we have the potential for a major snowstorm in much of the state.
How much snow is possible? While we will not be posting out first call forecast for a few days due to uncertainty, there may still be clues. The amount of snow that falls will depend on how fast the storm moves. This may be a similar scenario to the Blizzard of 2016, in that current model guidance suggests the coastal low pressure center may sit just off the SNJ coast for 8-12 hours, which would throw copious amounts of snow into PA, before the low pressure center to the east takes over. So the question is – will the low pressure stay tucked up near the coast for a while, or will it just keep moving? Below is the ECMWF (European model) for early Thursday morning.
This image is a great illustration of what may happen if the storm stays tucked up near the SNJ coast for a while. The low pressure circled in red is winning out, but there is also a second area of low pressure to the east. The amount of snow we see will all depend on how long that low pressure sits off Cape May, NJ. The longer it sits, the more snow we will see. The potential for a foot of snow definitely exists with this setup. But we need that low pressure near the NJ coast to win out.
We will likely post scenario maps on Saturday. Follow our Facebook page if you haven't yet for that update >>> PA Weather Action Facebook Page Link
Don't forget to share this article with family and friends using the blue button, stay tuned!
---
---