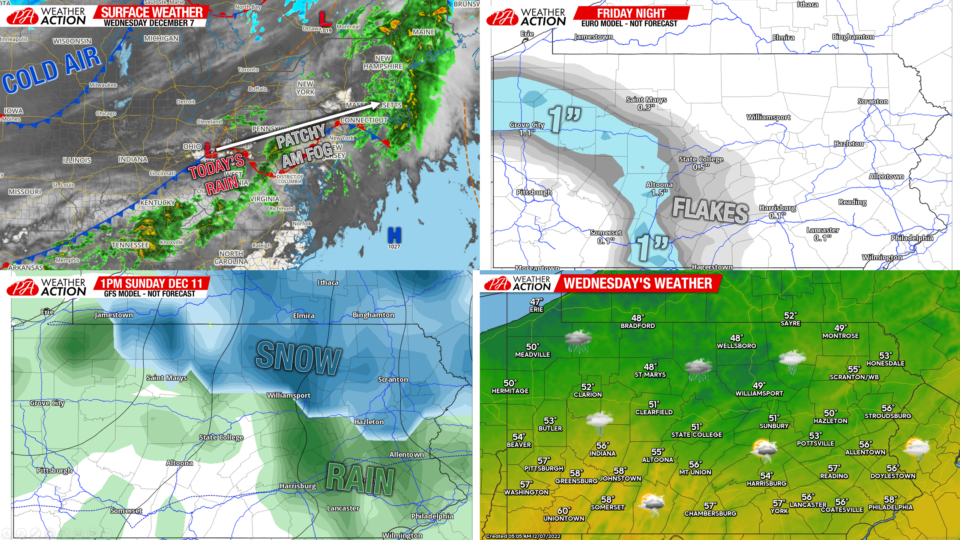 December 7, 2022 Morning Update
Morning Surface Weather Map
A low pressure system just to our west will be moving over the state today. Foggy conditions are present especially in the valleys of Central & Eastern PA where cold air damming is in place, but will diminish by 9am. Cold air is still bottled up in the Upper Midwest. View live interactive radar.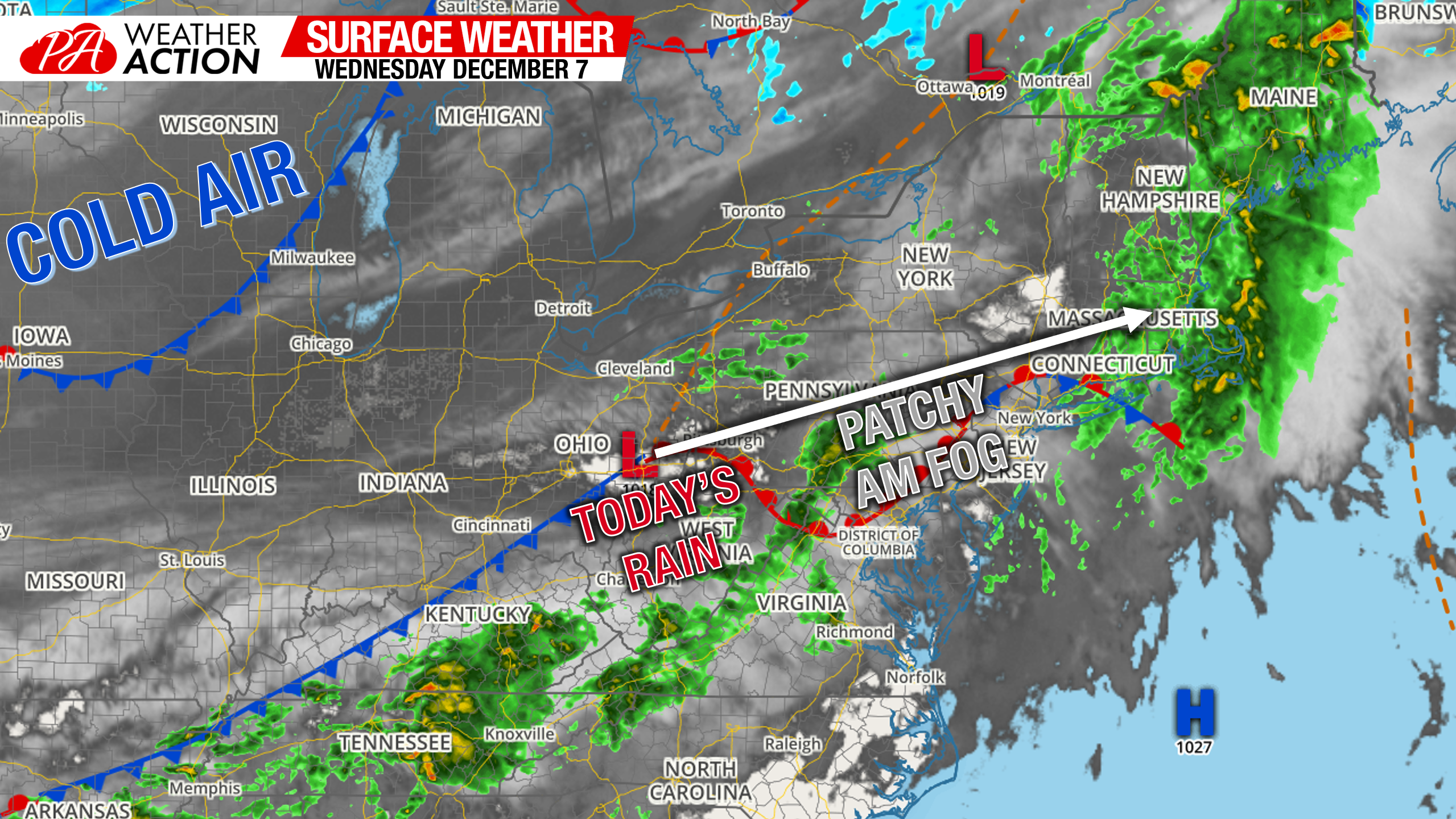 Wednesday's Weather Map
Today's weather map once again is not pretty, but she's a bit prettier than yesterday's. We will have a warm front slide through, ushering in showers and warmer air. So instead of dreary and cold, it'll be dreary and cool.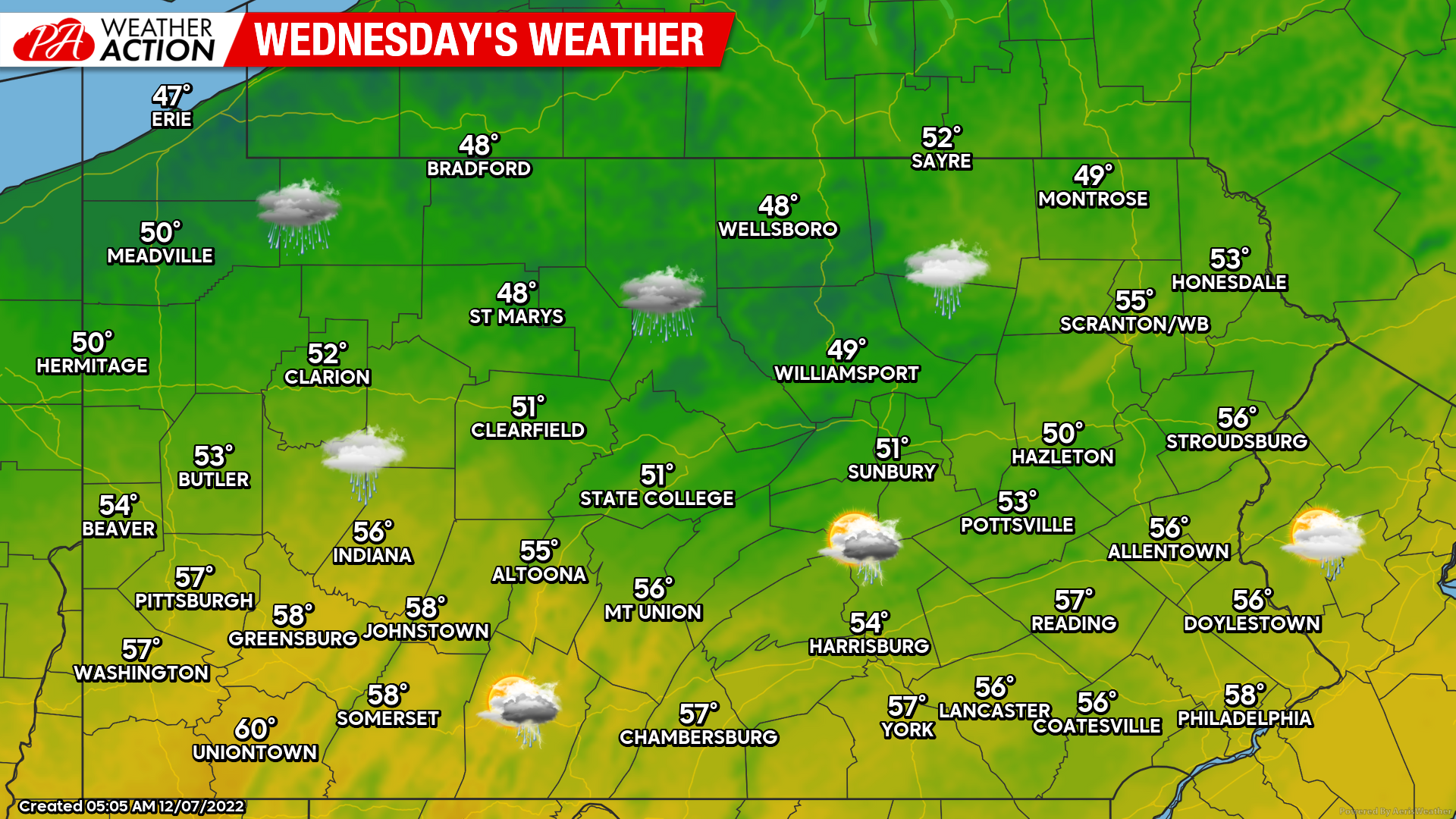 Thursday's Weather Map
Partly to mostly cloudy skies are expected tomorrow, with very seasonable temperatures for this time of year. View weather maps for the next five days on our home page.
Friday Night Snow/Rain Showers
What was once modeled to be accumulating snow for a decent part of Pennsylvania has turned into a narrow strip of snow possible. A weak low pressure coming from the Midwest will hit the block of high pressure that's to our northeast and lose almost all of its precipitation. Still, some hit-or-miss snow showers are possible in places near Clarion, Altoona, Bedford, and perhaps Chambersburg. Maximum accumulations will probably be an inch or two at best, with many areas seeing under an inch.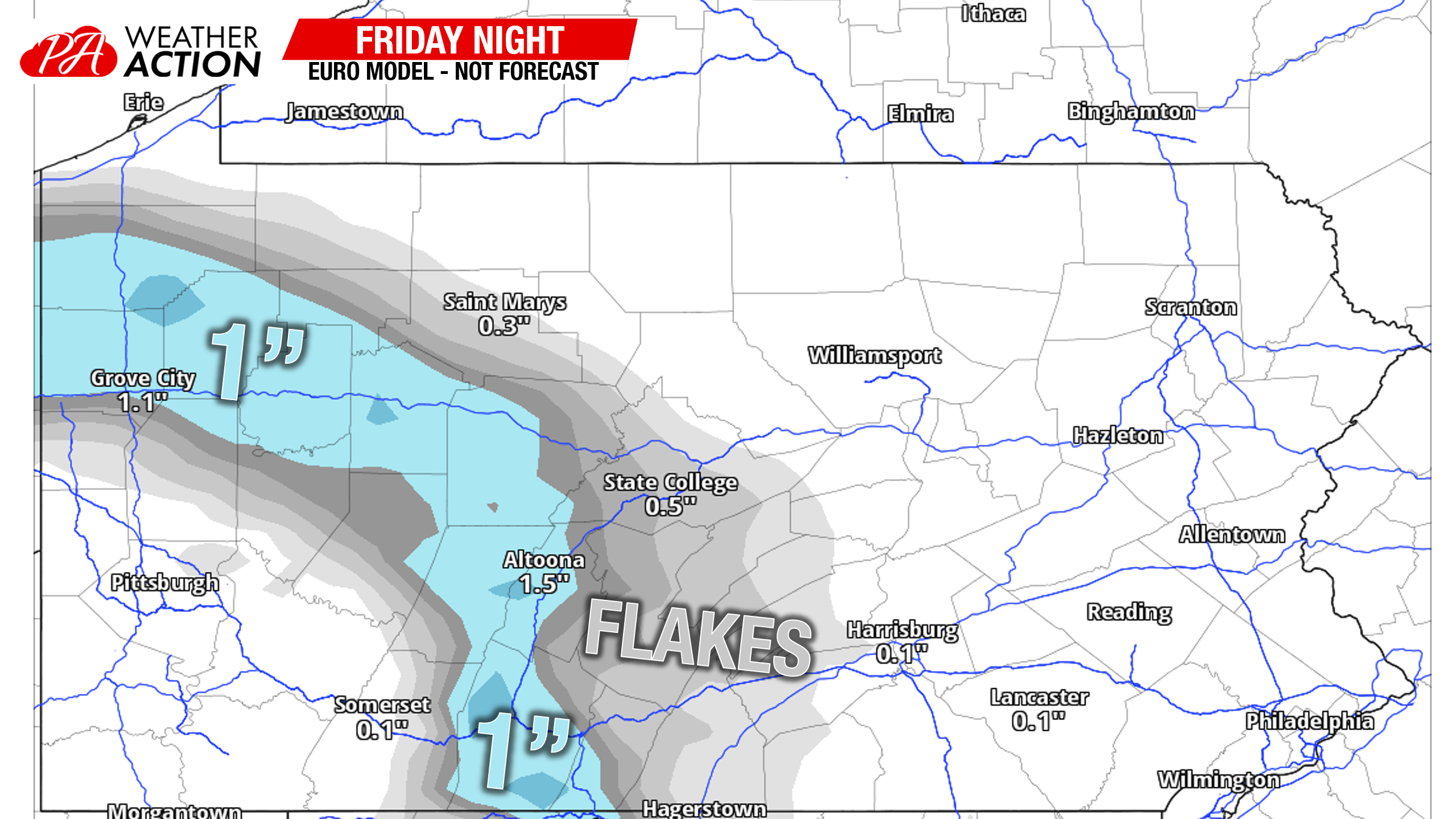 Sunday Afternoon – Evening Snow Potential North of I-80
This threat is gaining momentum, unlike the previous one. However, in classic December La Nina fashion, it's mainly a north of I-80 threat, as areas south will probably see rain more than anything. We are also over 100 hours out, so this is more of an idea than anything right now. So let's not jump to conclusions just yet. The GFS and especially the Canadian models have really come onboard with this, and the European also made a considerable jump. The setup will be a low pressure coming out of the Lower Great Lakes, hitting high pressure and jumping to the coast below Long Island.
This setup is too far north for most of Pennsylvania, besides areas north of interstate 80, to get in on accumulating snow. But for the PA wilds, endless mountains, and Poconos, this has the potential to produce a few inches (or more?) or snow Sunday afternoon and into the late evening. Here is the GFS model from this morning.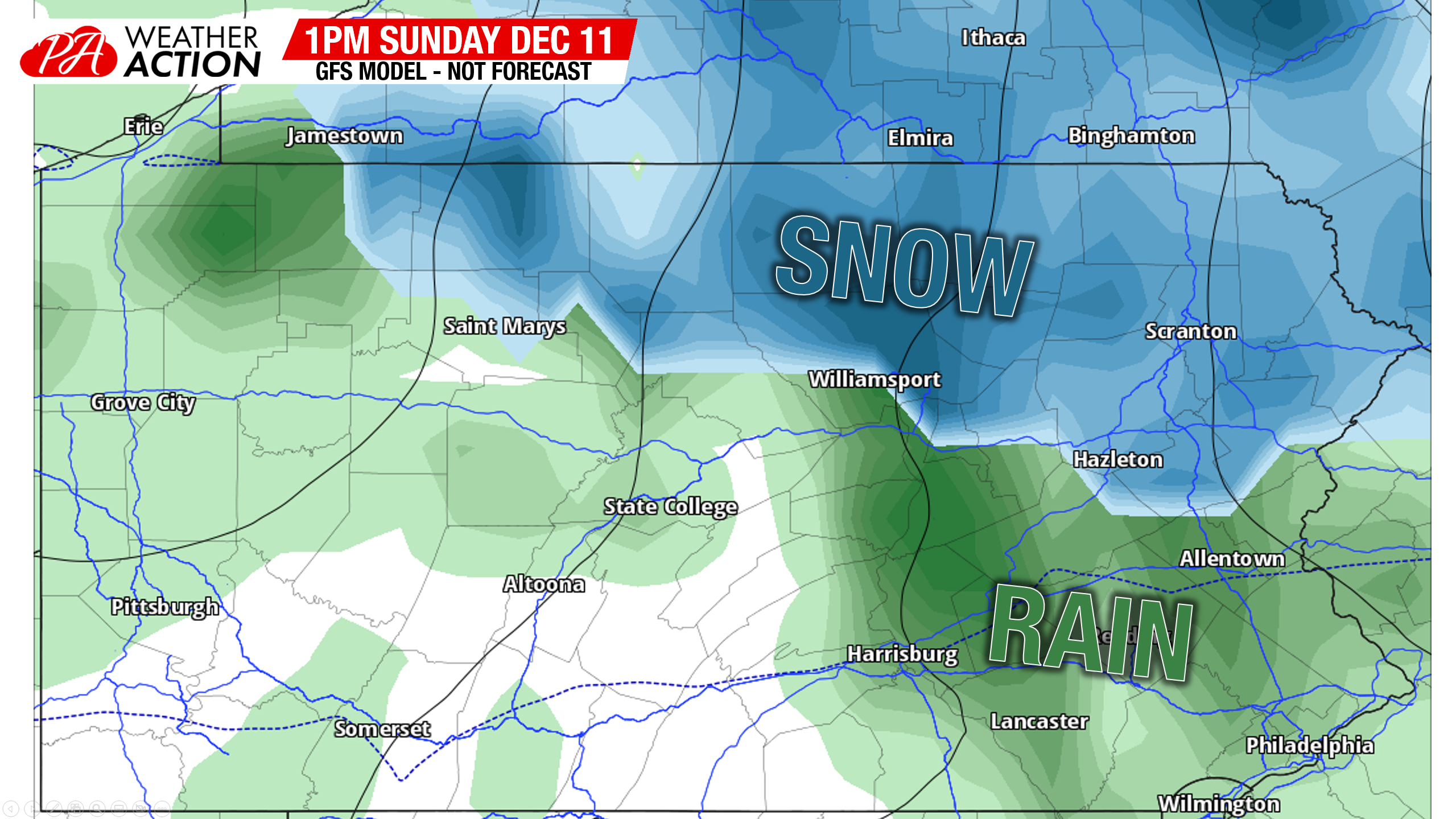 The Canadian model is more aggressive with precipitation amounts, dropping significant snow from the Poconos through Southern New England. But it's the same idea that this will be a Northern Pennsylvania snow event, Southern PA rain event.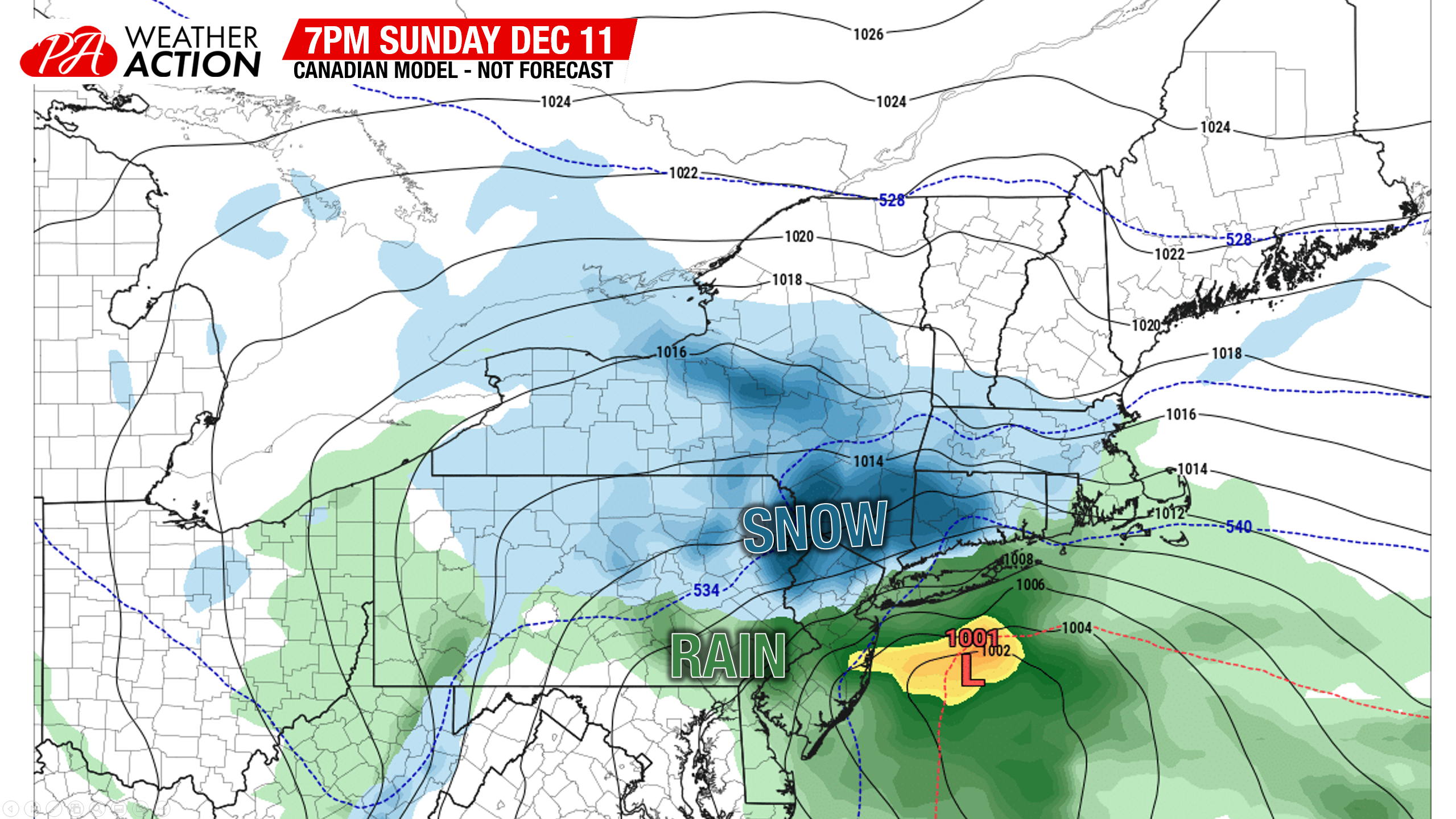 For now, all weekend plans should remain on your schedule. Find your local 7 day forecast, radar, handwritten updates (like this), and even some unfiltered model updates in our app (tap here)!
---
---