As we are waking up this morning, many of us are in the 30s. Do not anticipate much of a rebound in temperatures today as cloud cover out ahead of our low pressure system will keep temperatures from warming up this afternoon. Most areas will struggle to reach 40 degrees today, with the exception being southcentral and southeastern Pennsylvania.
Precipitation will be moving in from the south after 11 AM. Guidance has trended colder over the last 24 hours, cold enough that many locations will receive a wintry mix this afternoon and evening. Take a look at the latest NAM model for 4 PM this afternoon: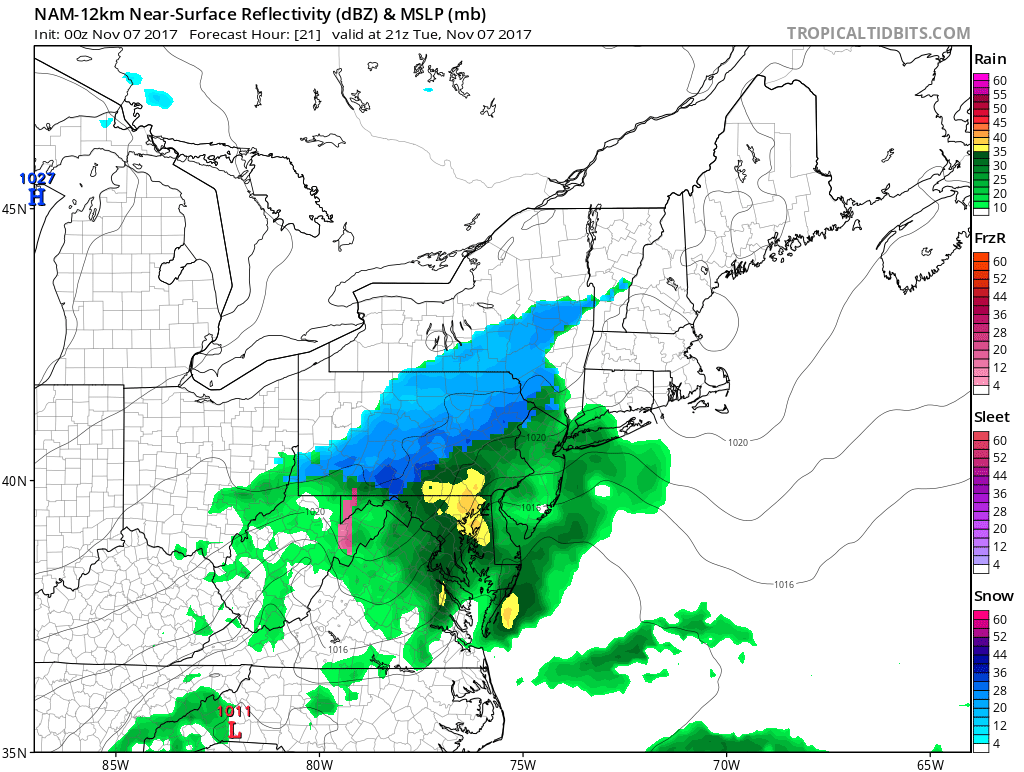 Temperatures will be marginal. Many areas will experience rain, mixed with sleet and perhaps snow. While other areas in higher elevations, especially north and west of I-78 and over the Laurel Highlands, will see the precipitation turn to all snow before it wraps up this evening.




For areas that do receive snowfall, we do not anticipate much in the way of accumulations, except for grassy surfaces. As you can see below, most locations are above 32 degrees at the surface.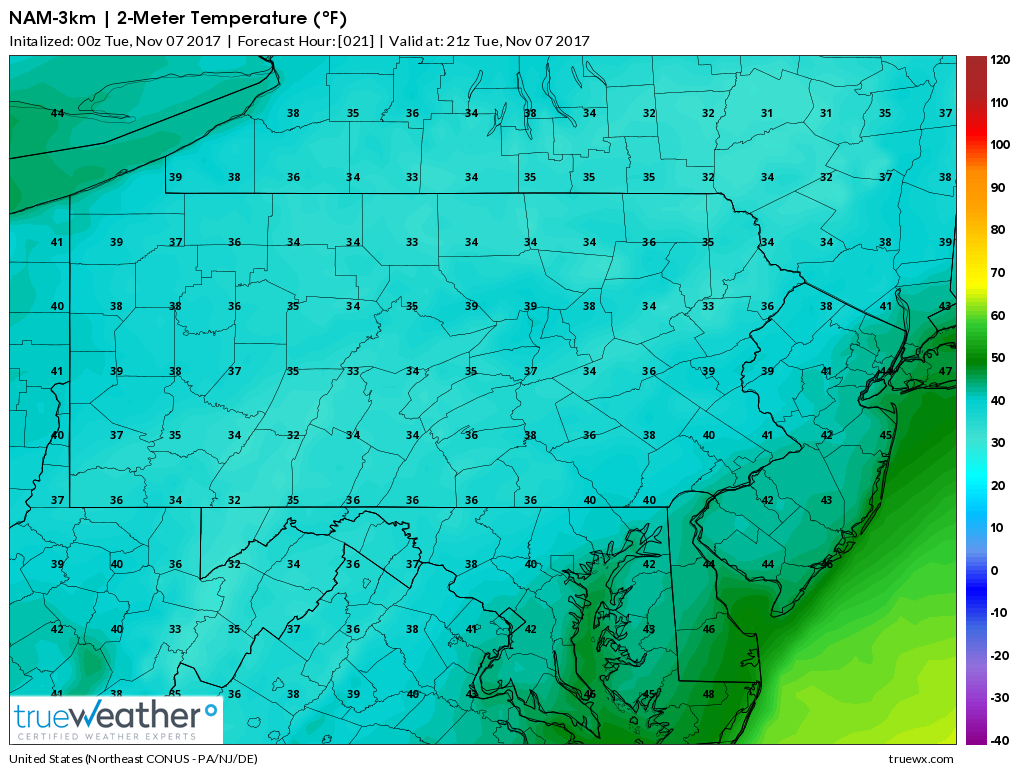 Below is our official forecast for today. Just another friendly reminder that Winter is right around the corner!
WINTRY MIX EXPECTED TODAY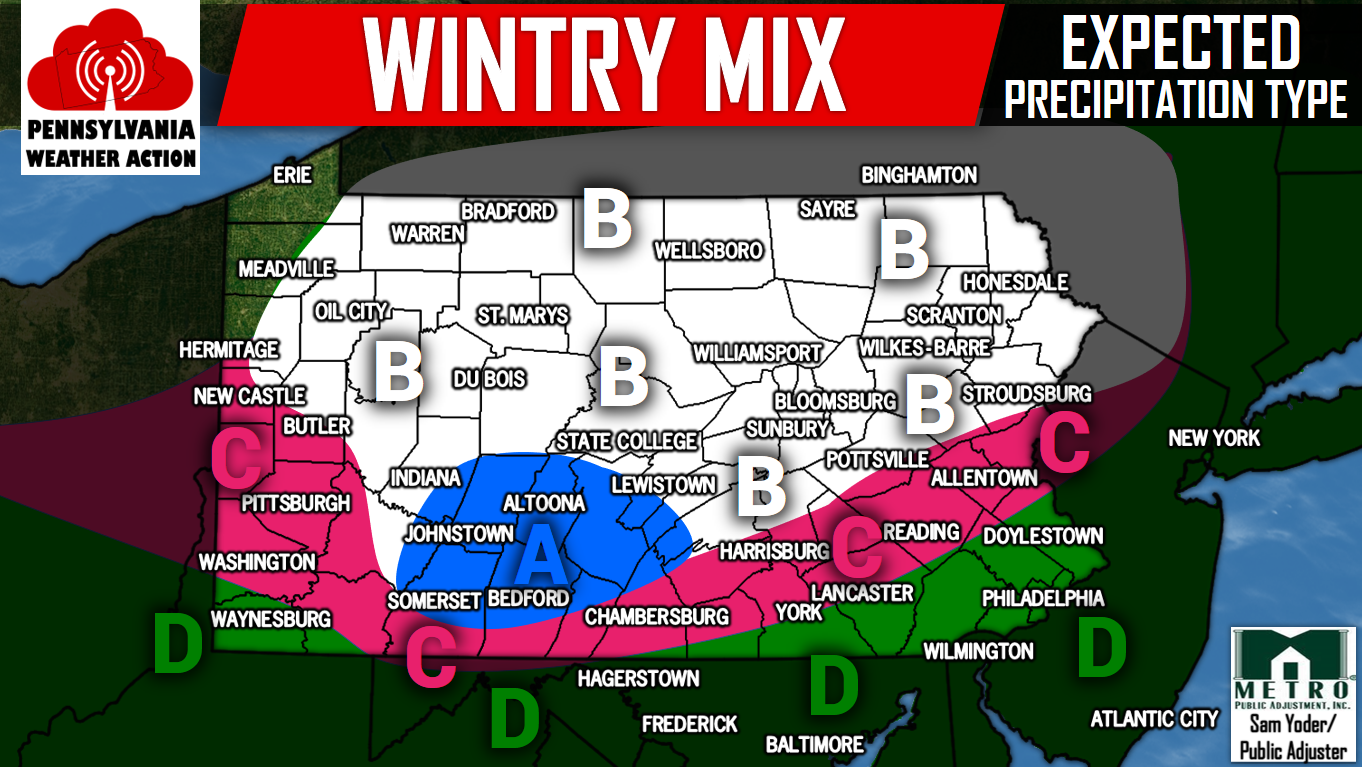 Timing: Precipitation will move in from the south after 11 AM. The bulk of the action will be during afternoon hours through the evening rush hour. All precipitation will be shut off after 10 PM.




Area A – Snow, some sleet may mix in at times. Best chance for accumulations. Snow accumulations of up to one inch possible in grassy surfaces.
Area B – Snow, some sleet may mix in. A slushy coating is possible on grassy surfaces.
Area C – Rain, mixed with and possibly changing to sleet and/or snow. No accumulation is expected.
Area D – A cold rainfall is expected.
Be sure to have our Facebook page like to receive the latest updates, click here>>>Pennsylvania Weather Action's Facebook Page
Share the wintry news with your family and friends by clicking the button below!