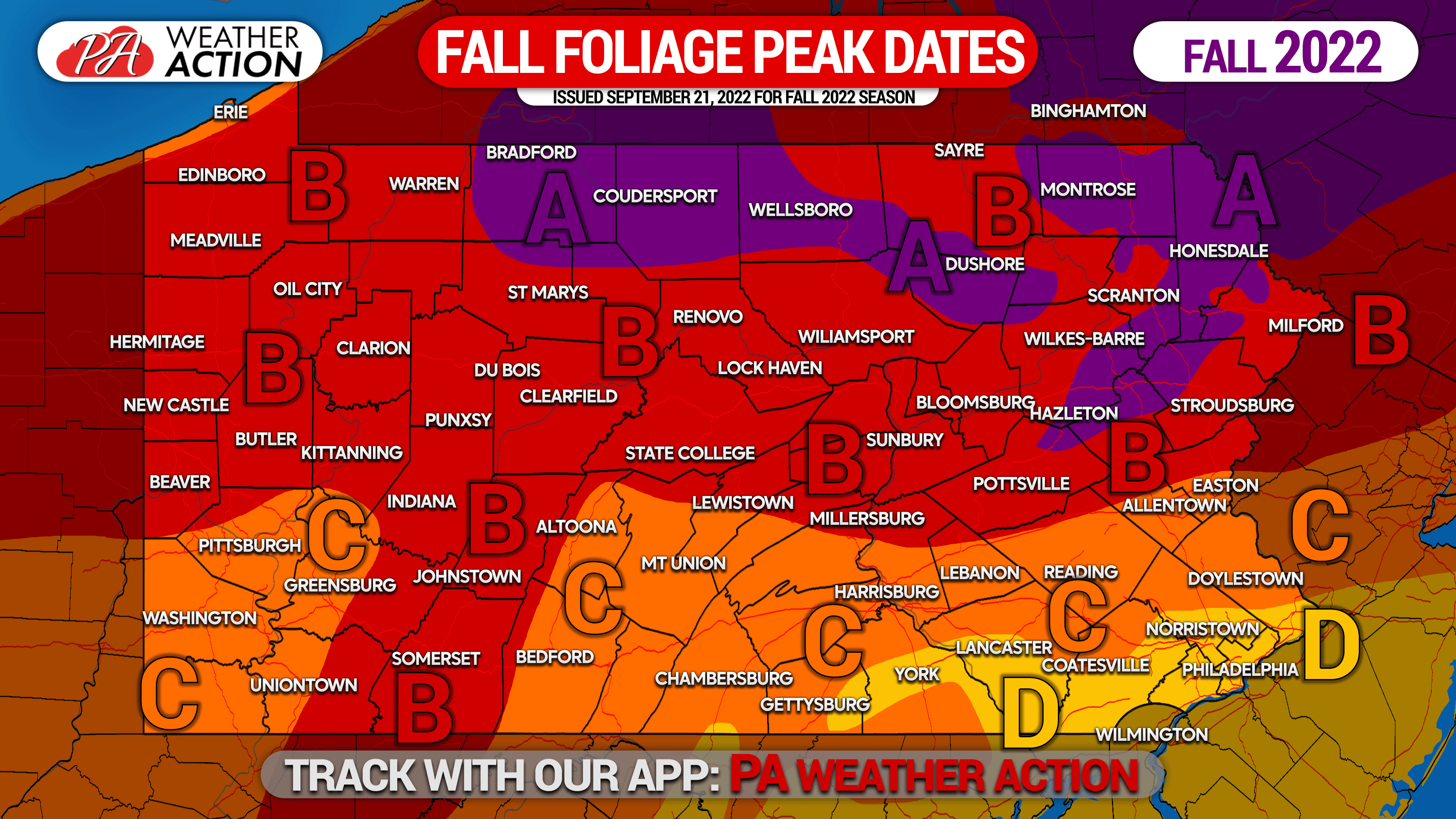 [quads id=1]
In a few hours we will officially welcome in the Fall 2022 season, meaning daylight and darkness are equal in length. But the amount of daylight won't be the only thing dropping, as a strong cold front will push southeast through the state today, ushering in much cooler air. This won't be transient either, as some places may not reach the 80 degree mark again in 2022. Highs will commonly be in the 60s with lows in the 40s for the next few weeks, with mostly dry conditions. This is one of the ingredients for a vibrant fall foliage season!
Another ingredient for a vibrant foliage season is ample summertime rainfall, and that's where things get interesting. Because while many areas of the state had at least average rainfall this summer, others fell short. Nearly all of Western PA, along with areas near the northern and southern PA border had more than enough rainfall. However, there were some dry patches in Eastern Pennsylvania, specifically from the middle Susquehanna Valley to the Coal Region to the Lehigh Valley. As a result, those regions may see earlier peak colors, but more dull than last year.
2022 FALL FOLIAGE COLOR VIBRANCY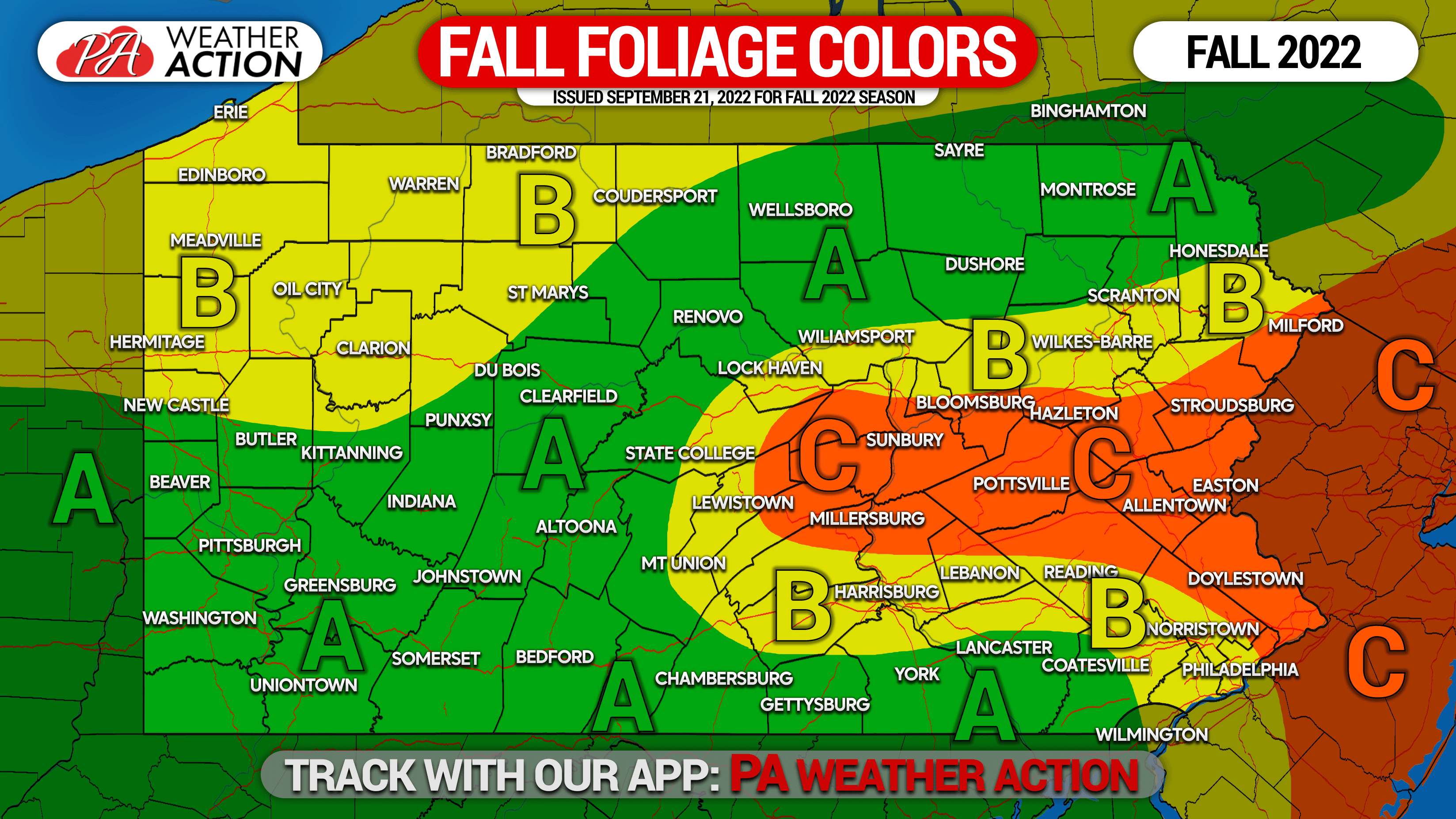 The main wildcard is a wind-driven rain from a tropical storm that would result in leaf-drop. We are watching early October for this, but right now it's unlikely.
Area A: Vibrant fall foliage color expected due to average summer rainfall and sunny early fall days, with cool nights. These conditions encourage more oranges and crimsons to be present during peak conditions.
Area B: Normal fall foliage color anticipated, meaning not particularly dull or vibrant. Slightly below average summer rainfall may hurt chances of vibrant colors, but a wet late spring may have been enough to offset that. Upcoming sunny days and cool nights will also help develop oranges and crimsons.
Area C: Slightly duller than normal fall foliage colors are expected due to a dry summer, however there is hope that perhaps the ample late spring rainfall was enough to offset the summer deficit. Sunny days and cool nights across the next few weeks may support more oranges and crimsons.
Remember this graphic is still a forecast and not set in stone. We are most confident about areas nearest to the NJ border, as those areas have been more anomalously dry.
[quads id=2]
Temperatures were well above average last October, leading to a 10 day delay of fall foliage peaks. This year, that will not be the case. Slightly below average temperatures are favored on the East Coast, despite much of the rest of the Lower 48 expecting well above average temperatures. Our October 2022 Temperature Outlook is below.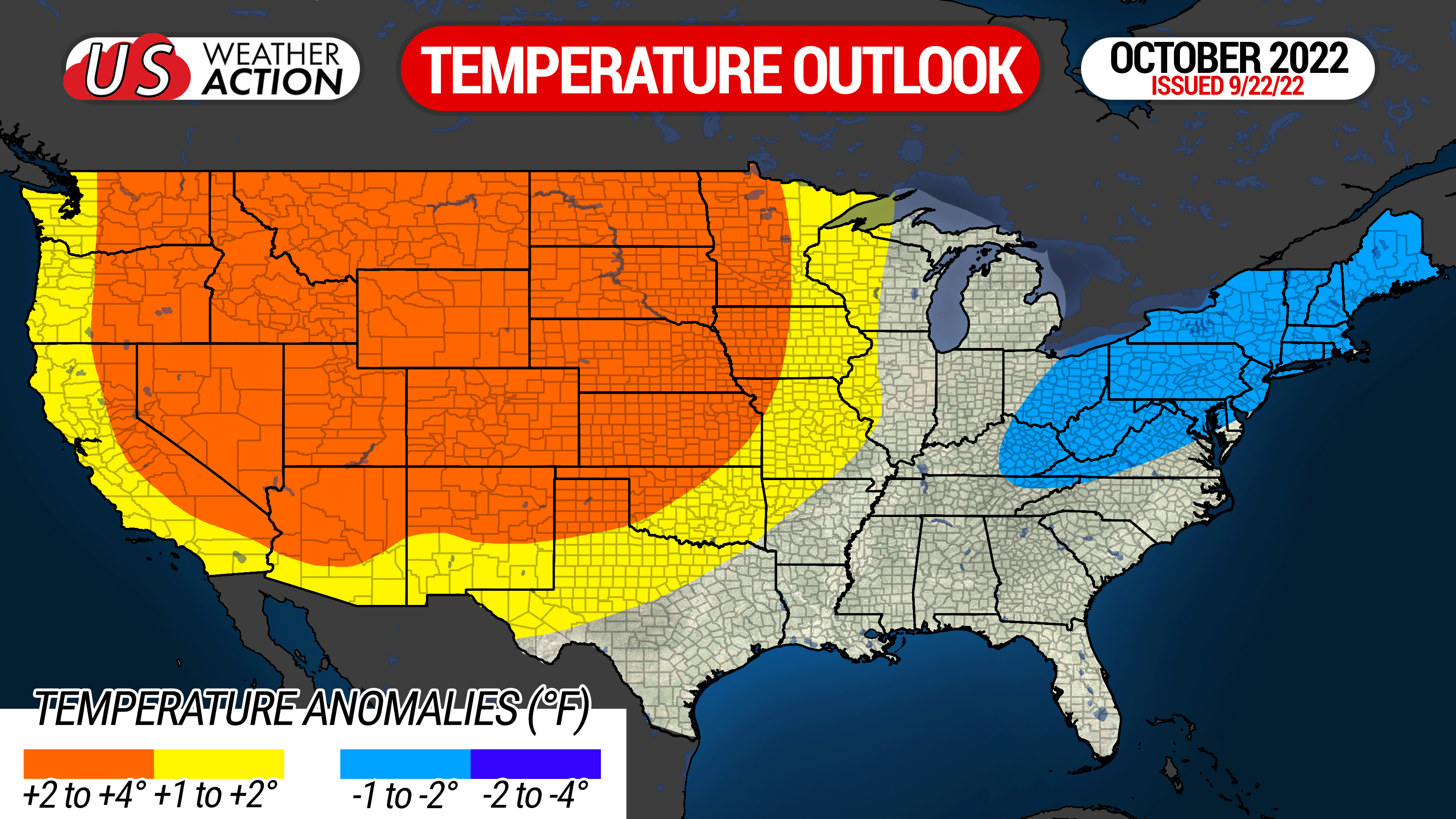 Due to the widely varying precipitation anomalies across the state, areas like Southeast PA may peak a few days before normal, while areas like Southwest PA that had more rain may peak a few days past normal.

2022 FALL FOLIAGE PEAK DATES FORECAST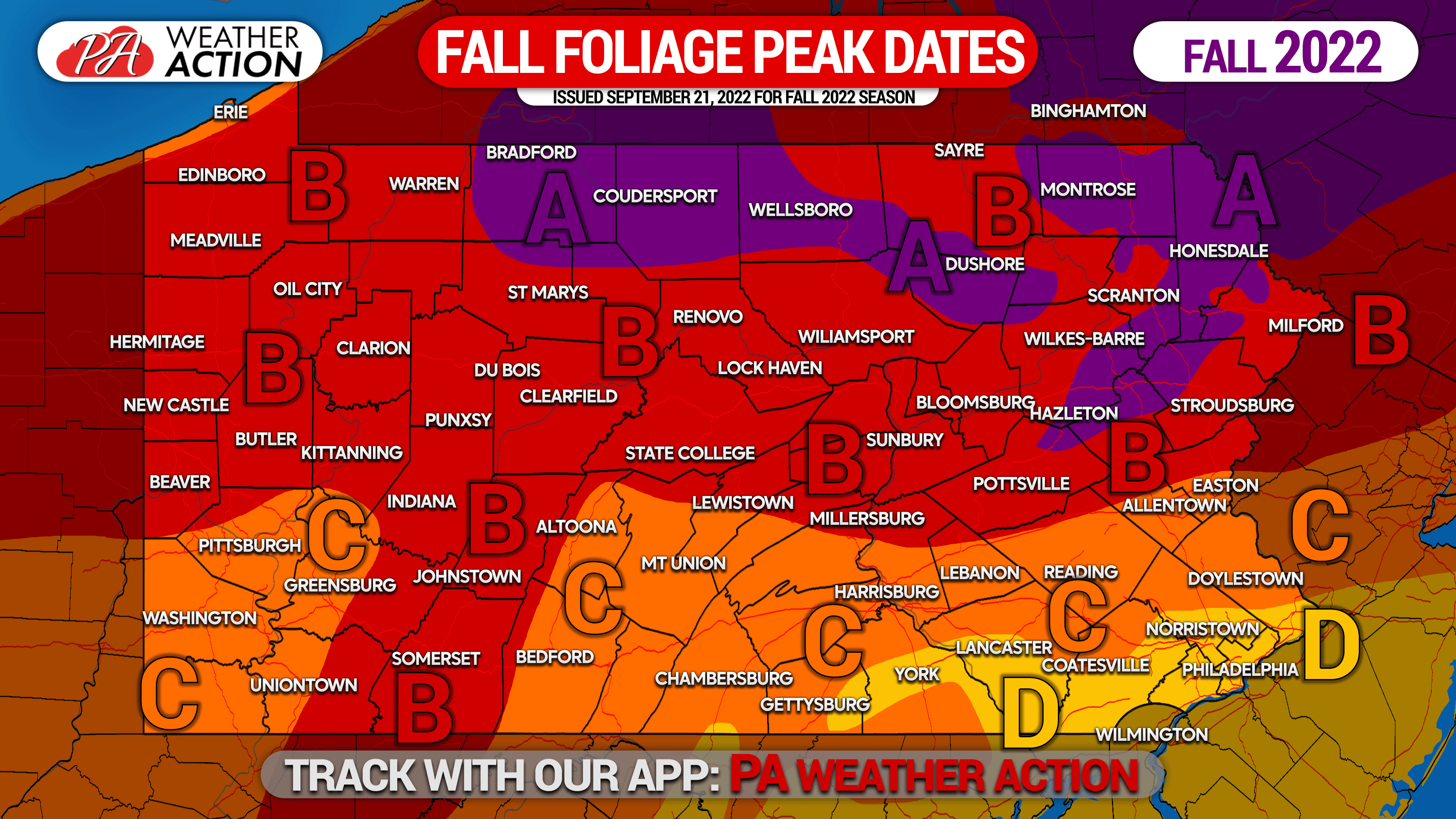 Ridges above 1500′ elevation will peak before valleys, and may peak a few days before the dates below.
Area A: Peak fall foliage is expected the week of October 16 – 22, 2022.
Area B: Peak fall foliage is anticipated the week of October 23 – 29, 2022.
Area C: Peak fall foliage is expected the week of October 30 – November 5, 2022.
Area D: Peak fall foliage is anticipated the week of November 6 – 12, 2022.
Fall is the best time of year for so many reasons, and nothing sets the mood like cool October weather with a great fall foliage season! We will have an article with beautiful fall foliage hikes and drives shortly!
Like our page if you haven't yet here.
Don't forget to share this article with family and friends who may be interested using the blue button below!
---
---