Good afternoon! I hope everyone has had a chance to enjoy the dry and sunny conditions this week because major changes are coming to the pattern over the next few days and as we head into Thanksgiving week. Winter is coming!
FRIDAY:
Friday will bring the last day of widespread warmth to the region as we see a southerly wind of 8-15 MPH develop during the afternoon hours. Expect high temperatures to climb into the mid-to-upper 60s, with a few areas touching the 70-degree mark in the far south-central counties.  Unfortunately, it will not be very dry on Friday as the cold front will help spawn rain showers, especially after 4 PM with widespread impacts by 7 PM across the area. If you are planning to be out during the late afternoon and evening hours, remember to bring the rain gear. With the passage of the cold front, temperatures will rapidly be dropping off as well, with many locations dropping into the 30s overnight.

Taking a look at the future radar projection for tomorrow evening, much of the area will be experiencing showers by 7 PM. Expect these showers to slide through the region west-to-east between 4-10 PM, with many areas dry by midnight on Saturday. Expect a general swath of 0.25 – 0.50″ of rainfall, with some areas receiving slightly more and/or less depending on where the heaviest showers setup.

SATURDAY:
With the cold front passage Friday evening, Saturday will allow for much colder conditions as we see a northwesterly flow return. Expect high temperatures to only climb into the mid-40s to low-50s with sustained afternoon winds of 7 – 12 MPH with occasional gusts up to 25-30 MPH, making for a cool and blustery afternoon. Not sure why these automated graphics are showing rain showers for Saturday, but it should be a primarily sunny day for the entire region!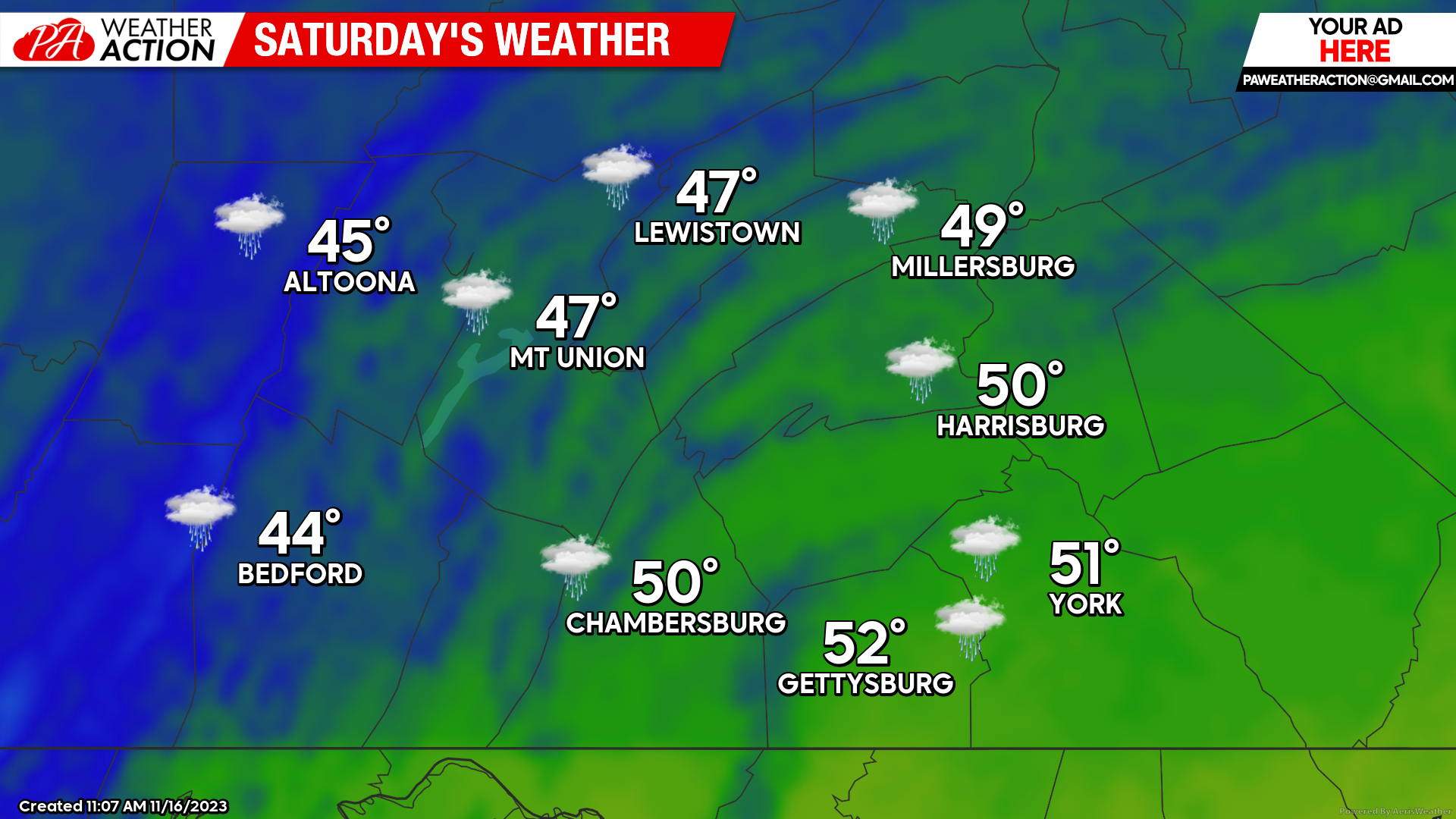 SUNDAY:
Sunday will be similar in many aspects to Saturday, with high temperatures climbing into the upper-40s to low-50s across the area under generally mostly sunny skies. However, it will be quite windy with sustained winds of 10-15 MPH out of the northwest with sporadic gusts up to 30-35 MPH. The wind will make it feel significantly cooler than it is at times, which will make for a chilly afternoon.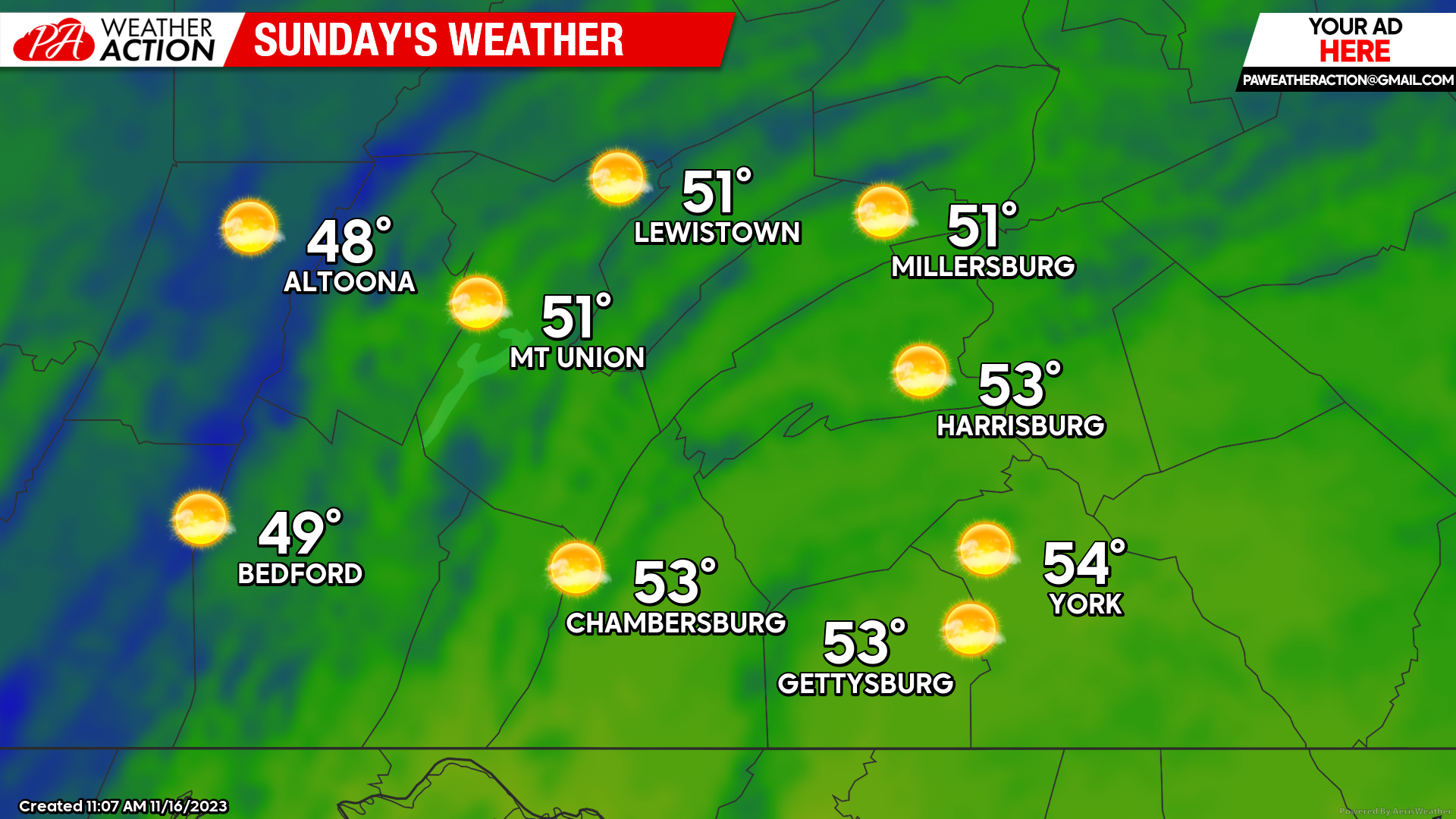 ACTIVE THANKSGIVING WEEK:
As we head into next week, we will enter a very favorable pattern for colder and more active weather. With a ridge out west, we will see a trough dig down into the central and eastern United States. While it still up in the air of whether these systems will bring rain, snow, or both, it is likely that between Tuesday – Thursday of next week will be impacted by some sort of a strong low pressure system, which will likely bring travel impacts to the area. Stay tuned!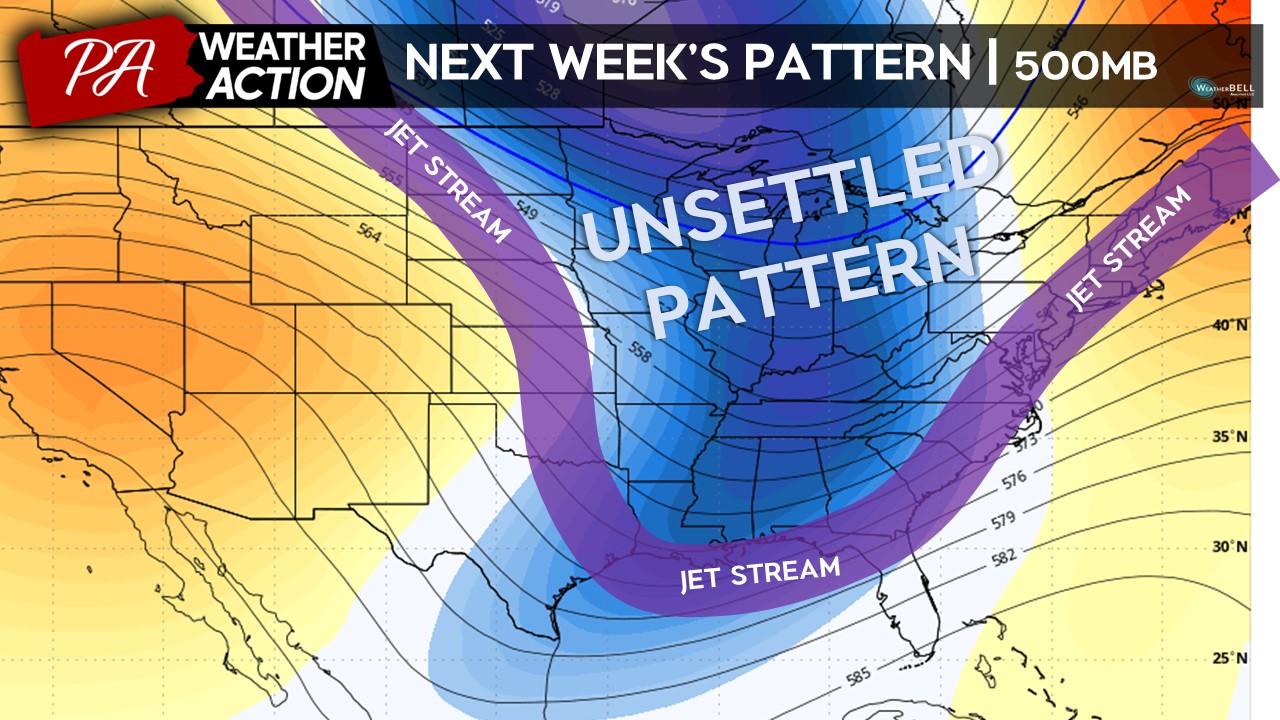 ggg
Following next week's system, very cold air will pour in from Canada after the storm system moves to the northwest. Taking a look at temperatures at 850MB (several thousand feet above the surface), these temperatures will be as much as 20-30 degrees below normal. Some of these anomalies will be felt at the surface as well, with potential high temperatures as we go into Thanksgiving in the low-to-upper 30s. With the cold air in place, we could be dealing with more wintry systems in the 5-10 day period.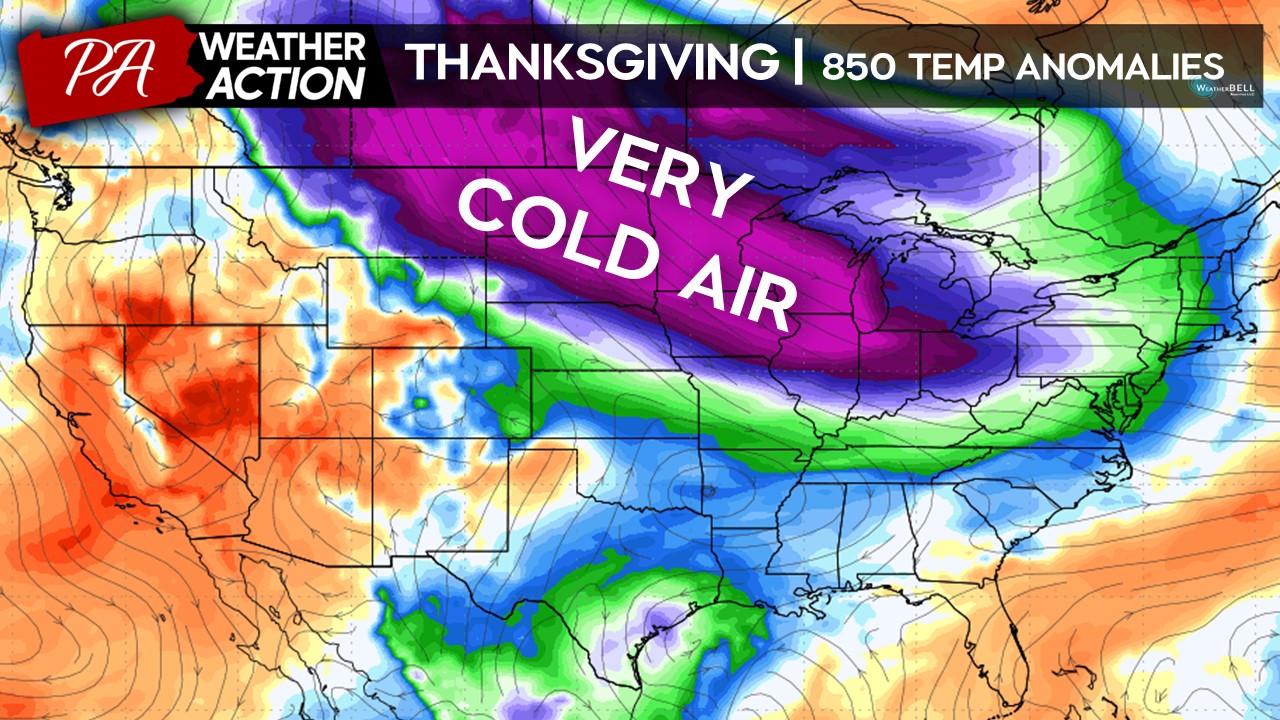 All I can say is just to enjoy today's sunshine and warmth. The cold front that will be moving through Friday afternoon will bring significant changes to the pattern. If you have any questions and/or concerns, feel free to reach out.  For more updates, follow PA Weather Action on Facebook and download the app for more!
Best,
Denys