Wow, what a difference 24 hours makes. Yesterday, every forecast model and even our own observations suggested Saturday would remain dry for all locations in Pennsylvania, while the coastal areas along Maryland, Delaware, and New Jersey would be brushed by snow. Now guidance has come in significantly northwest with the precipitation, putting much of Eastern Pennsylvania in the path of accumulating snow.
To demonstrate the incredible differences between guidance, take a look below at last night's NAM run (LEFT) and the newest NAM run (RIGHT): 

This is a very complex setup and is exactly why we have observed such extreme differences with the latest model guidance. We have two pieces of energy to keep an eye on, one piece of energy in the South and one piece diving out of the Midwest. How these two pieces of energy interact will determine exactly how much snow our area will see.
The longer these two systems take to interact, the more likely it is we see a solution that the old NAM run printed out from last night. However, the quicker these two energies interact, which has been the trend, we will more than likely see what the newest NAM run printed out.
The two pieces of energy we are referring too are marked by an "X" below, still using the latest NAM model valid for 1 PM Saturday: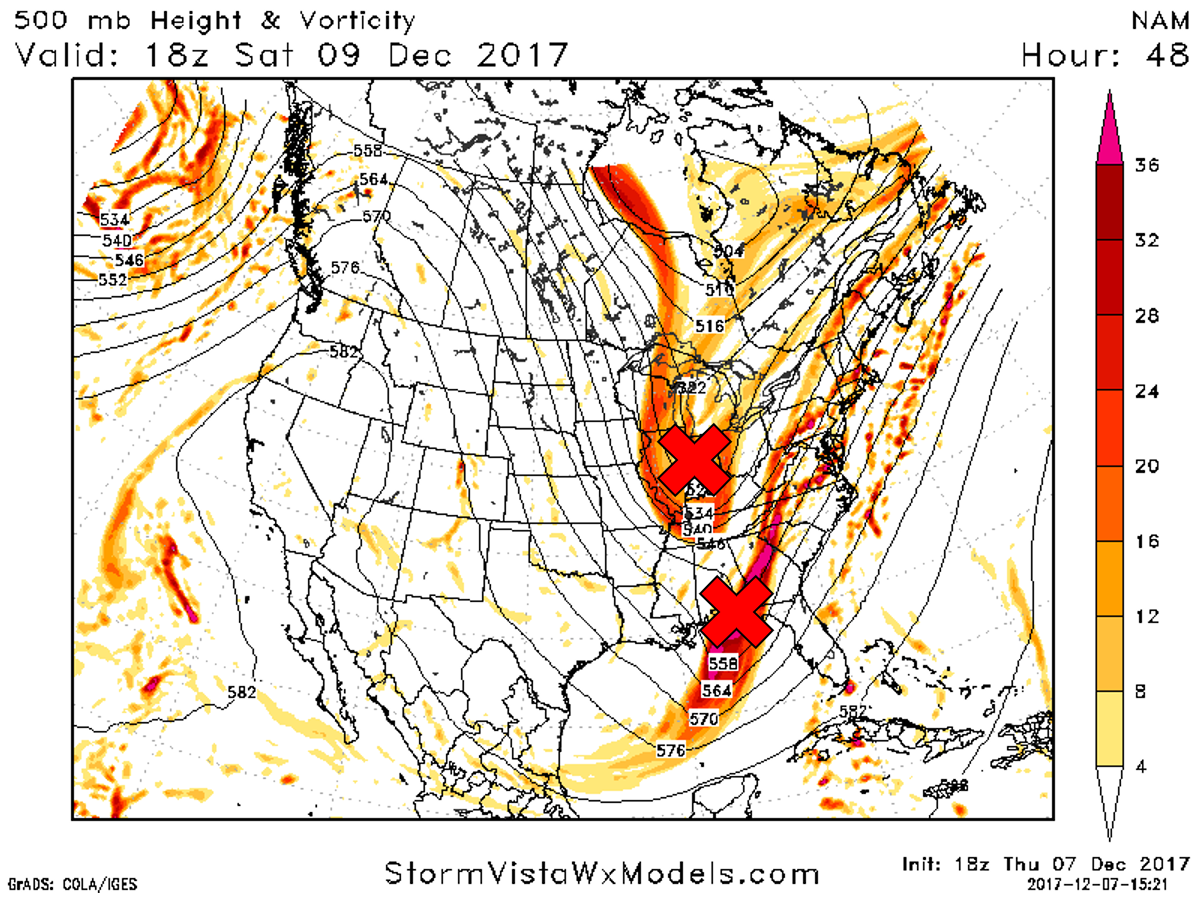 As we take the same NAM model out another 12 hours, these two pieces of energy have now merged over the DEL-MAR-VA leading to enhanced snows for Eastern PA: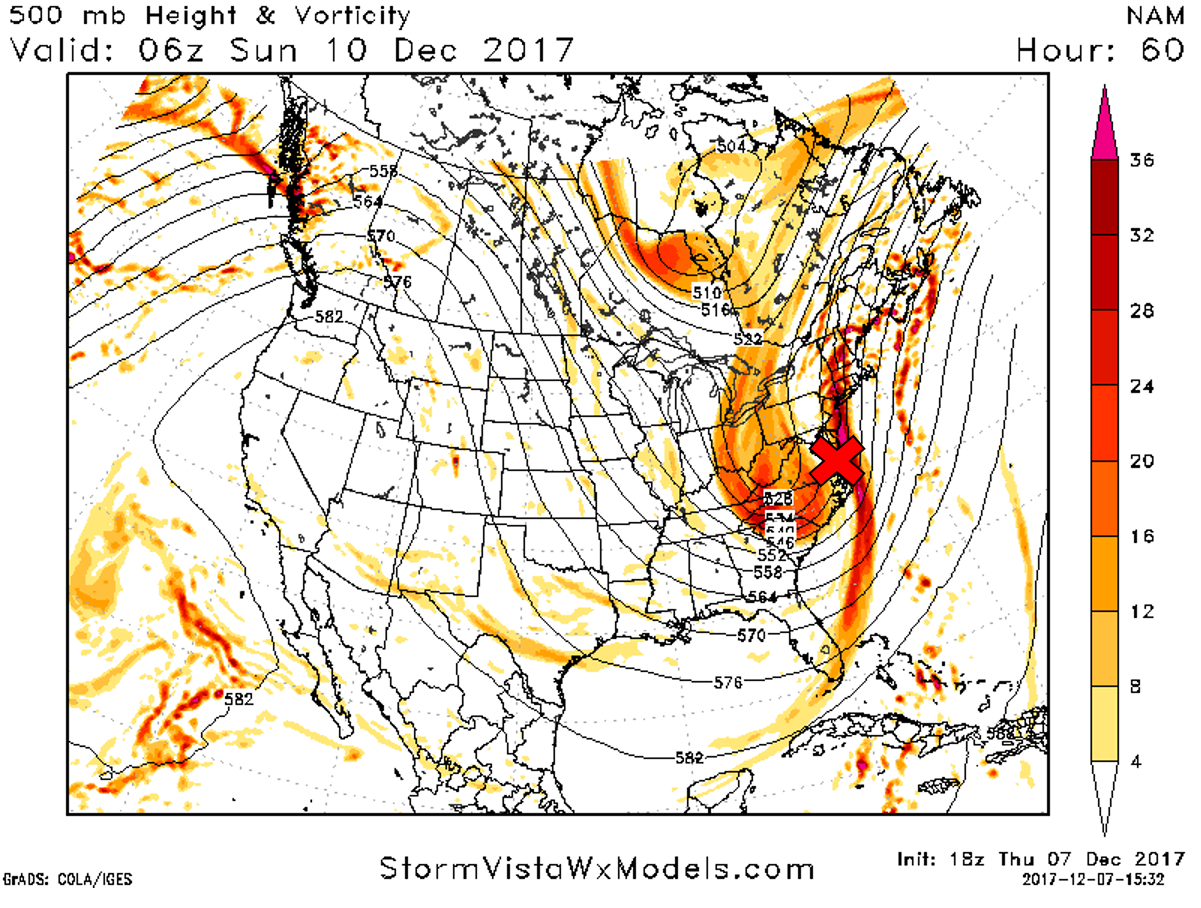 The moral of the story is, if you are a fan of the snow, the trend is your friend. For those that do not like snow, you will have to root for these two pieces of energy to stay separated for much longer than what is currently modeled.
FIRST CALL SNOWFALL FORECAST FOR SATURDAY (12/9)
Timing: Snow will begin between mid-morning and lunchtime hours Saturday for Eastern PA and will continue all day Saturday and end early Sunday Morning.
Snow may have a tough time accumulating on roads initially, but if heavier bands form, plows will definitely be needed for some areas. Travel will be most difficult Saturday Evening across Southeast PA, especially near the New Jersey Border.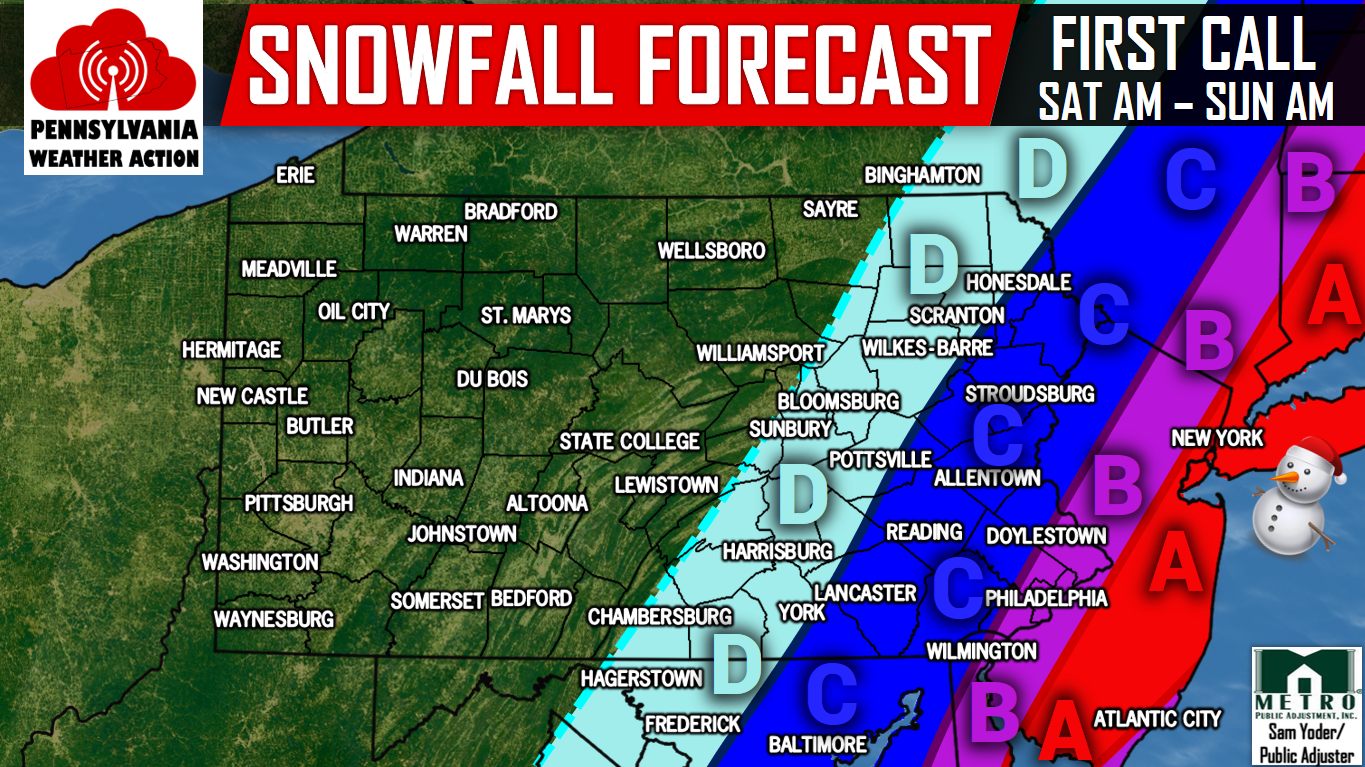 Area A: Snow accumulations of 5-7″ are expected within this area.
Area B: Snow accumulations of 3-5″ are expected within this area.
Area C: Snow accumulations of 1-3″ are expected within this area.
Area D: If data continues to suggest a northwest trend, these areas may see snow.
For the latest updates regarding this winter storm and more, like our Facebook by clicking here>>> Pennsylvania Weather Action's Facebook Page.
Share the snowy news with your family and friends by using the button below! Stay tuned for our updated forecast Friday Evening.