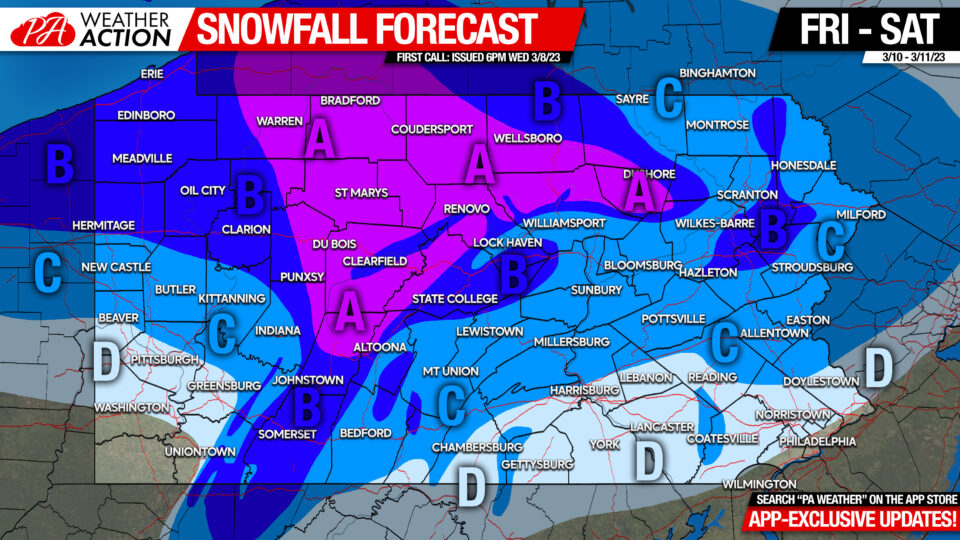 March is known for being a wildcard winter month, so this snow doesn't take us by complete surprise. It's not a big storm, but it's probably the most widespread event we've had all season. A low pressure system moving east from the Plains and Ohio Valley will bring a light to moderate mostly snow event to PA Friday into Saturday. There won't be an abundance of precipitation to work with, since there's no gulf moisture.
Storm Timing
Precipitation will move into Western PA mid-morning Friday in the form of snow in most areas, with rain more probable of Washington. Snow will then push into Central PA by late Friday morning, and proceed into Eastern PA by early Friday afternoon.
Snow will then continue into late Friday evening, possibly mixing with rain south of I-76 in Central & Eastern PA, and south of Pittsburgh in Western PA. By early Saturday morning, snow will begin to lighten up from northwest to southeast, but may continue through mid-morning Saturday in Southern PA.
The Hi-Res NAM is just coming into range, but its 18z run did a very good job in my opinion depicting how this storm will progress on radar, as shown below.
Travel Impacts
Travel impacts will be most significant in higher elevations. Snowfall rates of about 1/2″ an hour are likely for several hours, but temperatures and timing are key. When fighting the elevated March sun angle, it's crucial for temperatures to be below freezing. That will not be the case in elevations below 1000′, why is partly why lesser accumulations are expected in those areas. However, the mountains will be 28-32 degrees, meaning slushy travel is very likely above 1000′. Worst conditions will be later Friday afternoon into early Saturday morning.
First Call Snowfall Forecast for Friday – Saturday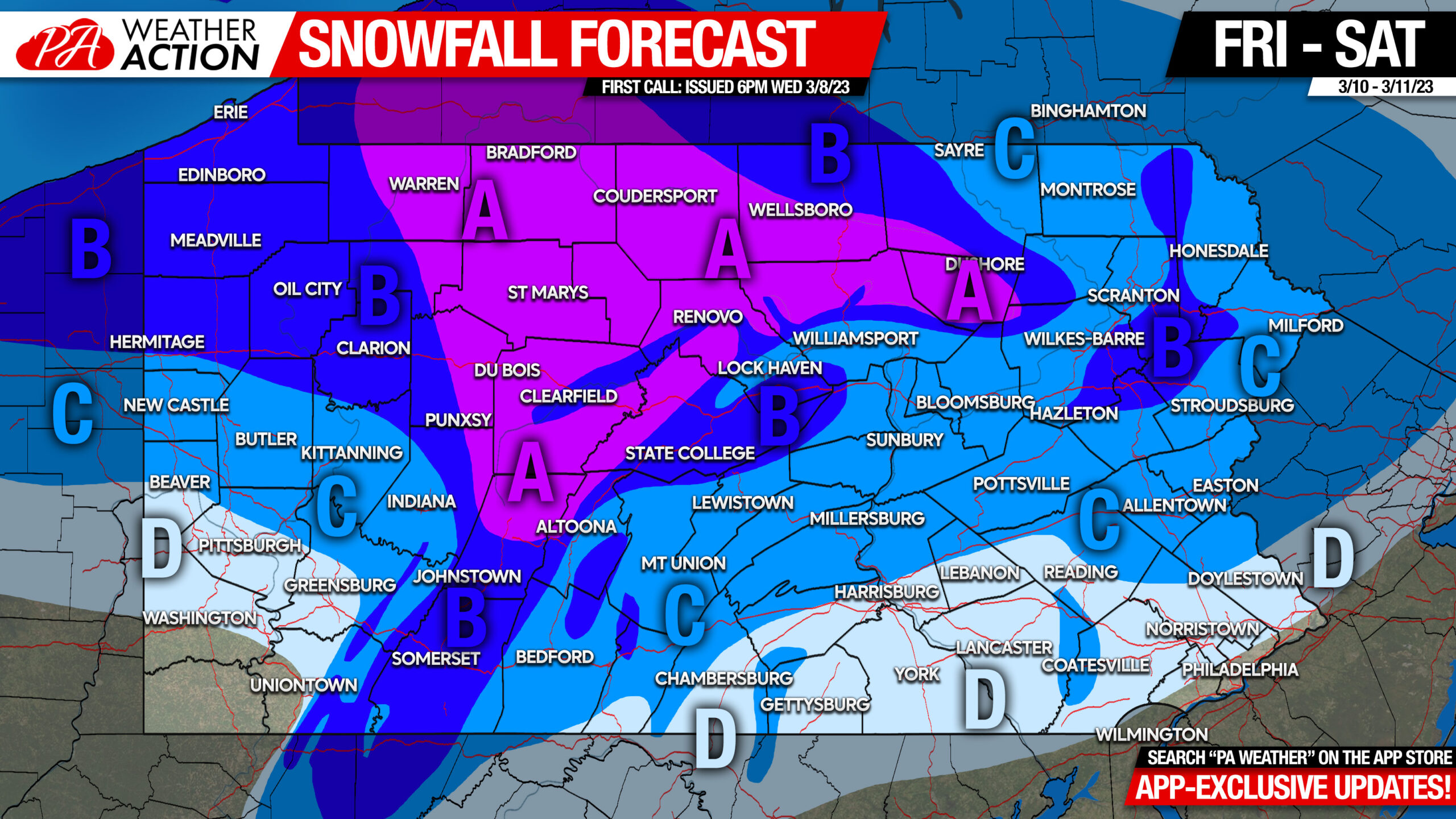 Area A: Snowfall accumulation of 6 – 8″ expected.
Area B: Snowfall accumulation of 4 – 6″ expected.
Area C: Snowfall accumulation of 2 – 4″ expected.
Area D: Snowfall accumulation of 1 – 2″ expected.
Be sure to share this article with family and friends traveling Friday afternoon into Saturday morning, especially in higher elevations!
Stay tuned for our final call on Thursday evening, which you can catch with our app, along with so much other great content on a clean design that is surely the best full-service weather app for Pennsylvanians. Download it with the banner below!

---
---