Another storm is taking aim at our area Thursday morning into Friday morning. This time we are talking about mainly snow, with only some minor wintry mix concerns in southeast PA. This may be the last pure snow event of the season for some of us, as this cold and stormy pattern will finally breakdown next week. Note that this storm will come in heavy right around the Thursday AM commute, with snow rates of 1-2″ per hour possible in heaviest banding across southern PA.
FUTURE RADAR TIMING
Moderate to locally heavy snow will move into southern PA just before dawn Thursday. Temperatures will be in the 20s, so this snow will stick to everything. Due to anticipated heavy snow rates, even pretreated roads may become snow-covered. Below is Hi-Res NAM future simulated radar for 6:00 AM Thursday.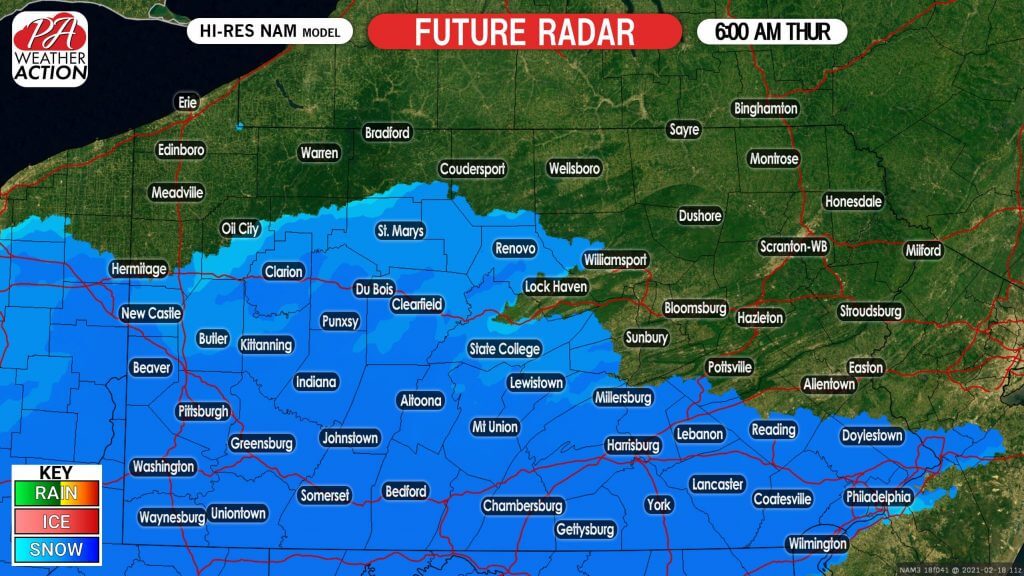 Moderate to heavy snow will push northeast as the morning progresses. As mentioned, snowfall rates of 1-2″ per hour are possible especially in south-central and southeast PA. If you do not have to travel during this time, please don't. By late Thursday morning, the entire state will be seeing moderate to heavy snow, as shown here with future radar for 10:00 AM Thursday.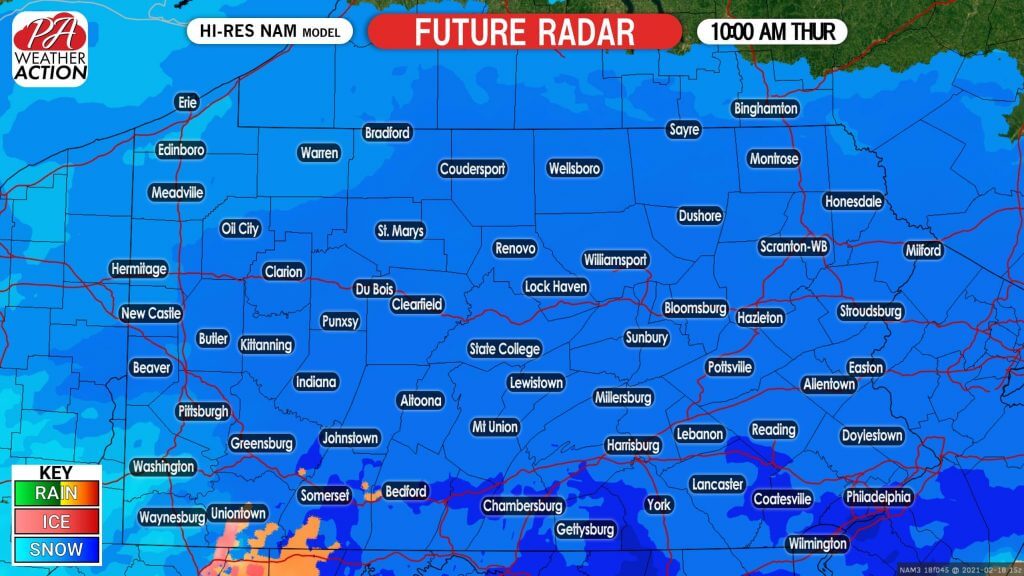 Snow will continue at moderate to heavy rates in the eastern two-thirds of the state Thursday afternoon. As we head later in the afternoon, some sleet may mix with snow in southeast PA. There are some model discrepancies regarding how long this heavy precipitation will last. It may go all the way through the Thursday evening rush hour, but regardless roads will be snow-covered in much of the state. Below is future radar for 5:00 PM Thursday.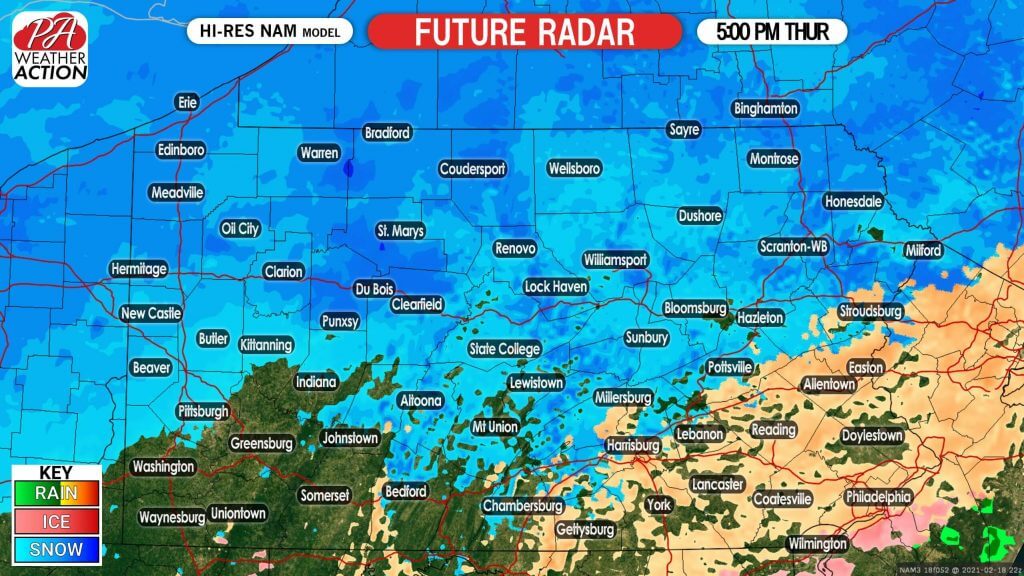 Precipitation will slowly diminish late Thursday evening, to mainly light snow and sleet. This light precipitation may continue until dawn on Friday, before moving away to the east. Here is future radar for 11:00 PM Thursday.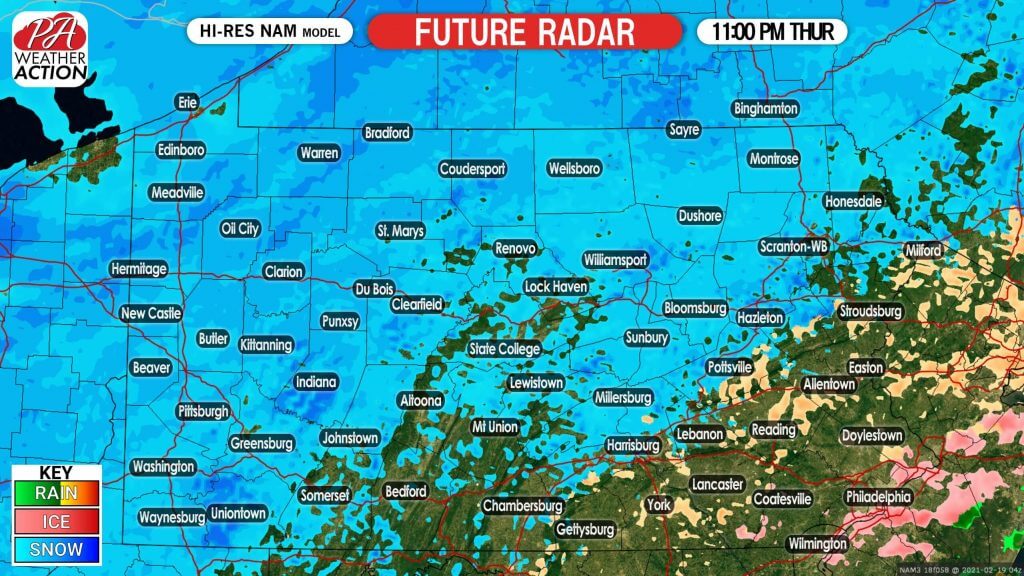 FIRST CALL SNOWFALL FORECAST FOR LATE WEEK SNOWSTORM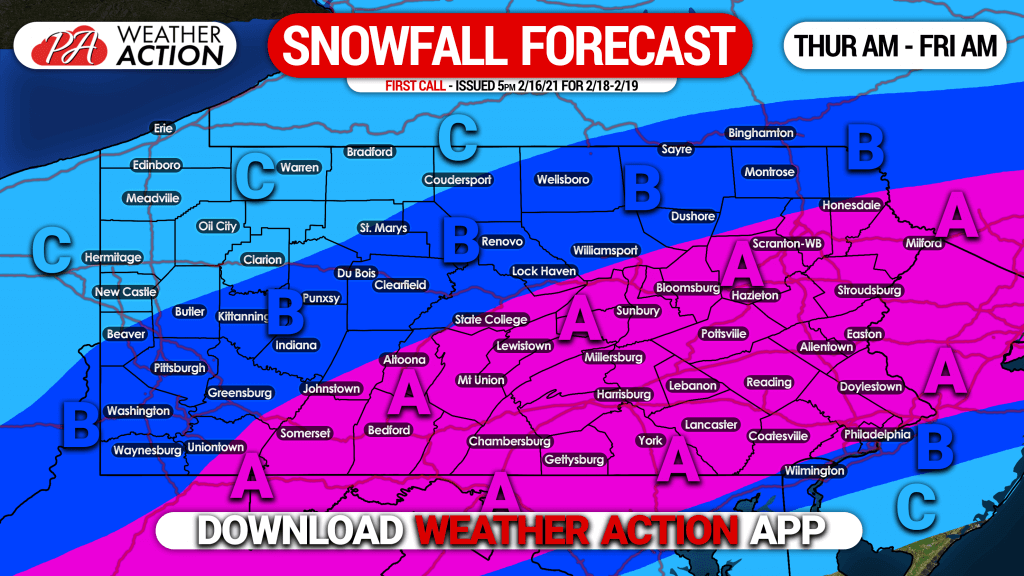 Area A: Snowfall accumulation of 6 – 9″ expected. Heavy snow rates of 1-2″ per hour are possible mid-morning Thursday into the early afternoon. Roads will likely become snow-covered, and the Thursday evening commute will be very difficult.
Area B: Snowfall accumulation of 3 – 6″ expected. Road conditions are likely to be very bad for the Thursday evening commute.
Area C: Snowfall accumulation of 1 – 3″ expected.
Stay tuned for our Final Call Forecast for this storm, which will be posted 5:00 PM Wednesday. To see that forecast instantly, and much more from radar to road cams, download our app! Get it here >>> Weather Action App
Be sure to share this forecast with your family and friends, as road conditions will be very bad across much of the state Thursday.