Our confidence is increasing that a major winter storm will strike the area starting around Sunday lunchtime, lasting through early parts of Monday Morning. For many areas, this will be the largest snowstorm of the season. While confidence is increasing, there will likely still be minor adjustments made in the forecast over the next two days.
Heaviest snow is typically where you can "smell the rain," which will be the case with this storm. The rain/snow line looks to be near the Maryland line, and right across Philadelphia as usual. Therefore locations from the Susquehanna Valley, into the Lehigh Valley and Poconos are likely to see heaviest snowfall accumulations with the way model guidance currently stand. Let's get into timing with the latest NAM model.
Snow will develop from the south and overspread much of Southern Pennsylvania by lunchtime Sunday. The snow will start off relatively light, but will quickly increase in intensity. The combination of the early March sun angle and marginal temperatures around 32 degrees will require moderate to heavy snow to deteriorate road conditions. Below is a look at 2:00 PM Sunday afternoon: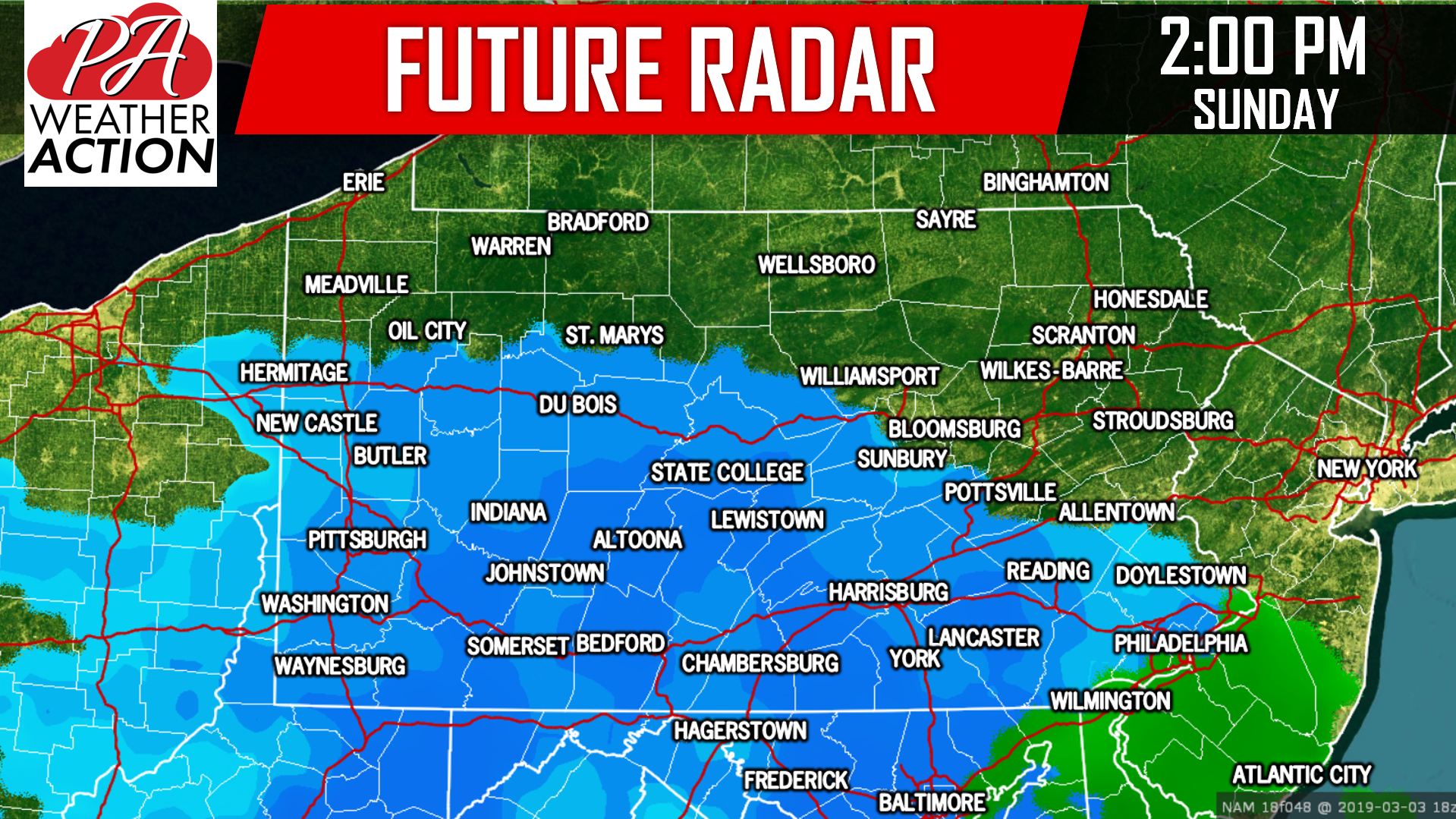 This storm will cover a large area of the state. By Sunday evening it will likely be snowing just about everywhere across Pennsylvania with the only exception being near Philadelphia, where a changeover to rain is possible. Below is a look at 8:00 PM Sunday evening: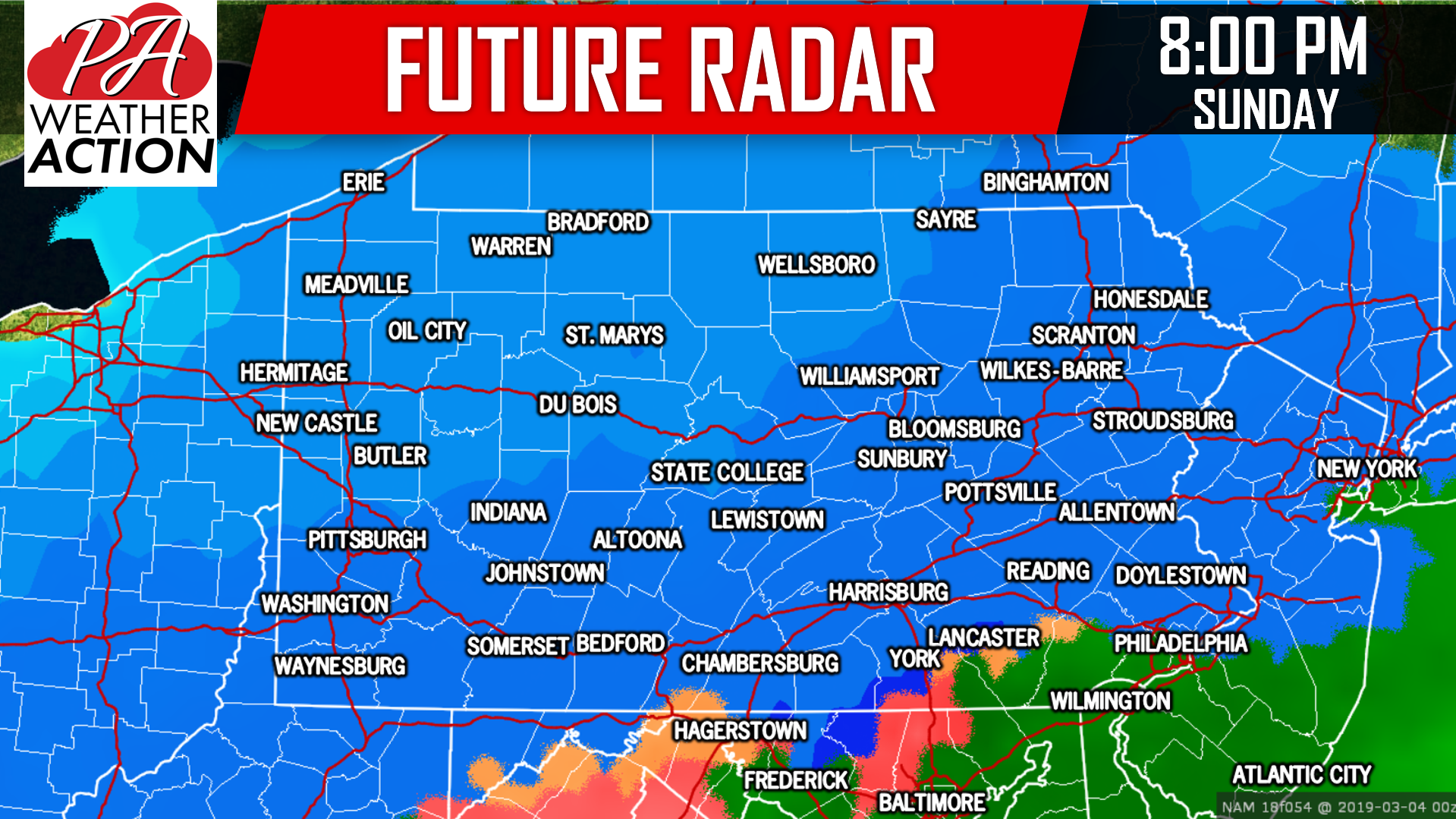 Sunday evening will definitely be the worst of the storm. Travel will be dangerous and is not recommended during this time. By 2:00 AM Monday, the low pressure center will move off the coast, enhancing precipitation over Eastern Pennsylvania. Snow will be wrapping up from west to east in western and Central PA by the early morning hours of Monday: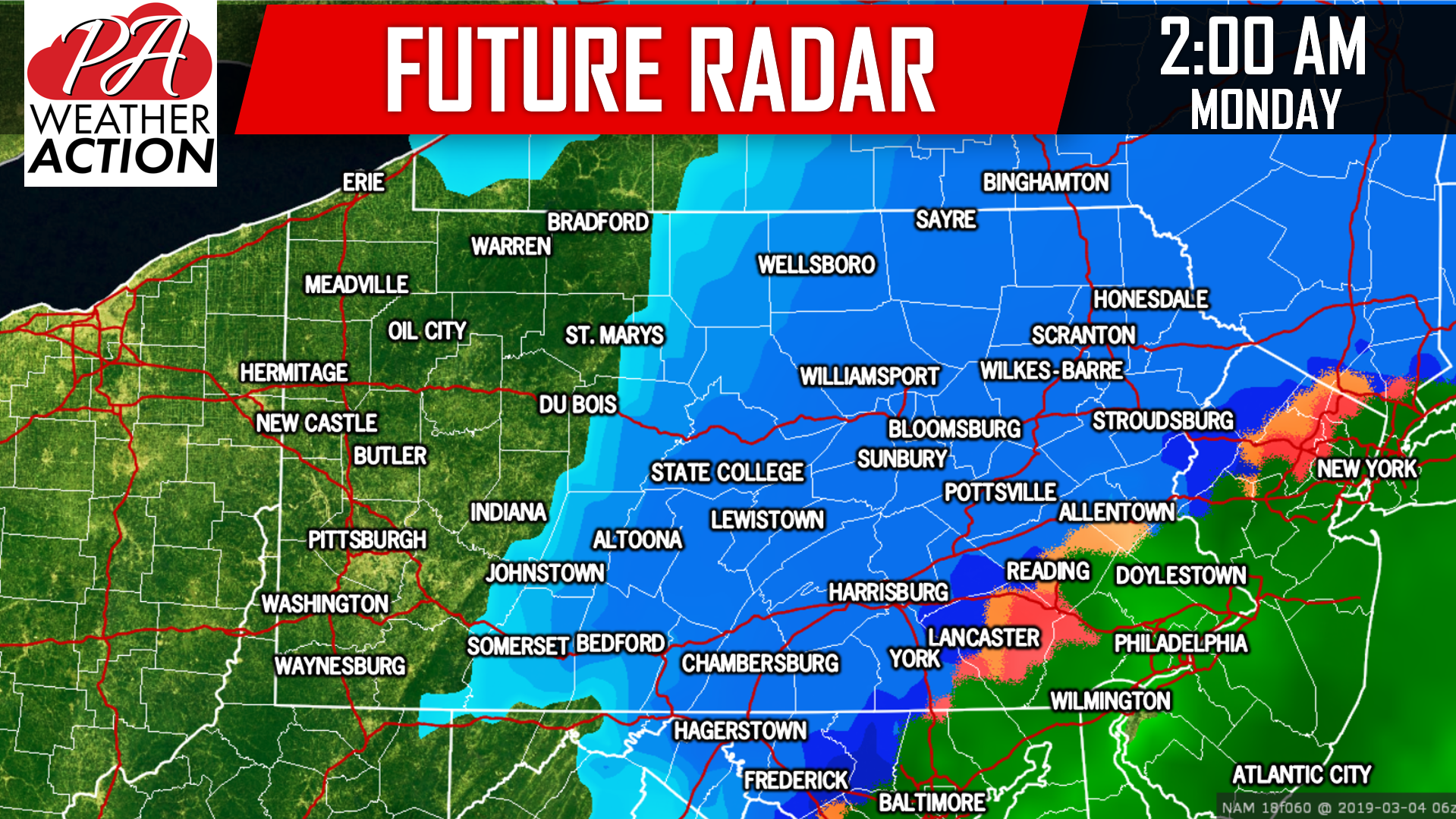 The Monday Morning commute will likely still be messy throughout the eastern half of the state, as secondary roads may not be plowed yet. School delays and/or closings are certainly possible Monday.
---
FIRST CALL SNOWFALL FORECAST FOR SUNDAY INTO MONDAY MORNING: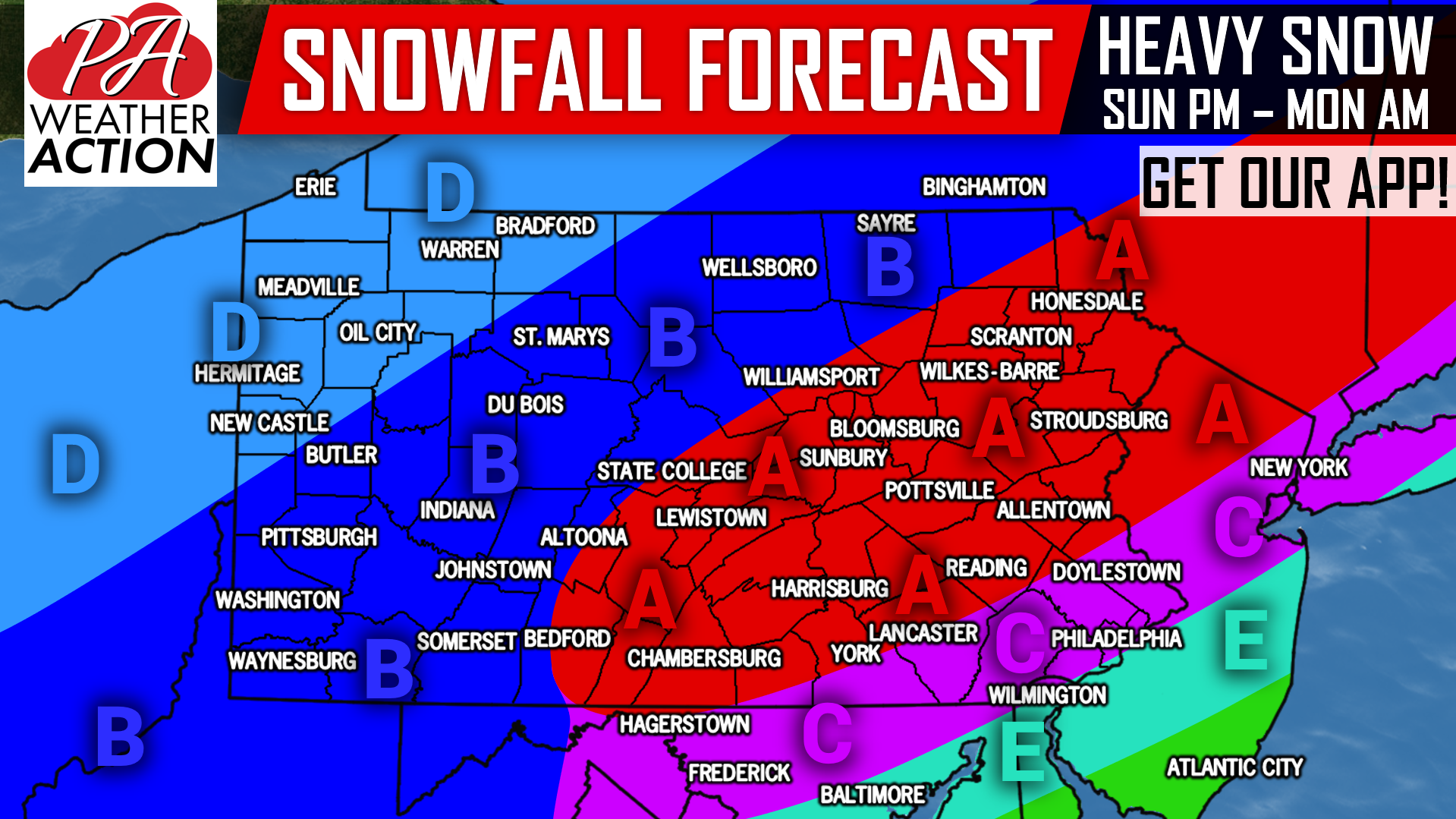 Area A: Snowfall accumulations of 6 – 10″ expected, with isolated areas likely in higher elevations receiving a foot. We expect this area to start as snow and end as snow. No ice issues this time around, but this will be a very heavy, wet snow to shovel.
Area B: Snowfall accumulations of 3 – 6″ anticipated, with isolated areas in higher elevations receiving up to 8″. While this area will stay all snow, snowfall rates will be lower than in area A resulting in lower accumulations.
Area C: This is our region of most uncertainty. Models are still debating on where the rain/snow line will setup, but there will likely be a sharp cutoff in snowfall amounts somewhere in this area. For now, snowfall accumulations of 3 – 6″ is expected, with totals up to 10″ possible in locations that stay all snow.
Area D: Snowfall accumulations of 1 – 3″ anticipated.
Area E: The rain/snow line is currently expected to setup near the northern edge of this region, but as of now snowfall accumulations of 1 – 3″ expected.
---
This forecast is not locked in, as there are still discrepancies within model guidance as to exactly where the rain/snow line will setup. To be sure to receive our final call forecast as soon as it comes out, as well as your latest hourly & daily forecast, alerts and radar, download our free app >>> PA Weather App Link!
Remember to like our Facebook page for the latest information if you don't already, click here: Pennsylvania Weather Action's Facebook Page
Share this important forecast with your friends and family using the button below, stay tuned!