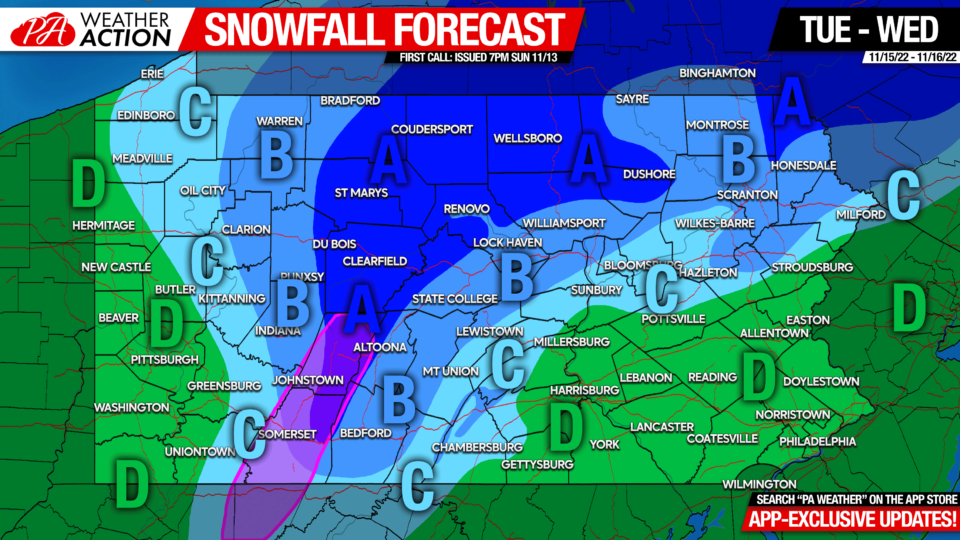 ***Final Call Snowfall Forecast Posted Monday Night, Scroll Down to Next Article to View***
We have now taken a deeper dive into late fall, borderline early-winter weather with this very cold pattern getting started. And it didn't take long for the first winter storm threat, although it won't be a big one. Low pressure pushing through the Ohio Valley Tuesday morning will transfer to a coastal low offshore the Delmarva coast Tuesday afternoon. However, upper level cold air will be eroded away too much for most of Pennsylvania to see accumulating snow. But as usual, a little cold air damming will cause complications in the Appalachians in the form of snow and ice.
Storm Timing
Precipitation will push across the Southern Pennsylvania border around 2pm Tuesday in the form of rain west of the Laurel Highlands and east of I-81. Between Seven Springs Resort and Chambersburg is where things will be tricky. Initial sprinkles may turn to snow as dynamic cooling chills the upper levels as moderate precipitation begins. In Somerset and Johnstown, the bigger concern is actually freezing rain. In the Laurel Highlands, snow may very well turn to freezing rain (ice) after only an hour or two of snow. Temperatures will stay near freezing in those areas until early Wednesday morning.
In other areas like Bedford, Altoona, State College, and Clearfield, a three to five hour period of moderate snow is expected Tuesday evening. Once you get closer to I-81 like Chambersburg and Shippensburg, it'll all come down to how hard precipitation is falling. Lower elevations in the Cumberland Valley will only see snow if precipitation rates are very intense, over 30dbz.
Farther north into places like Williamsport, Wellsboro, Renovo, and Coudersport, precipitation may not be as heavy, but there will be more upper level support for snow. So those areas may begin to see snow around 5-6pm Tuesday and switch to rain by midnight or 1am Wednesday. The same thing applies for the Pocono Mountains.
We will have a better future radar tomorrow, but for now here is the GFS which gives a decent look at this storm. We expect a bit more snow in Northern PA versus what it's showing.
FIrst Call Snowfall Forecast: Tuesday PM – Wednesday AM
Area A: Snowfall accumulation of 2 – 3″ expected. The purple enclosed area may see up to .10″ of ice on top of snow. Slippery travel Tuesday evening – early Wednesday AM.
Area B: Snowfall accumulation of 1 – 2″ expected. Slippery travel on secondary roads Tuesday evening into early Wednesday AM.
Area C: Snowfall accumulation of a coating to 1″ expected. Roads should be OK.
Area D: All rain is expected this event.
As posted on the graphic, we have app-exclusive updates for those who want to stay updated on latest models. Get our app here: PA Weather Action APP
Most people are unaware of this storm, consider sharing the forecast with them!
---
---