Hurricane Isaias has emerged off the northwest coast of Hispaniola much stronger than projected, and has already reached hurricane strength a day ahead of schedule. As of 5 AM Friday, Isaias had maximum sustained winds of 80 MPH, with gusts up to 100 MPH. Below is a look at the hurricane this morning.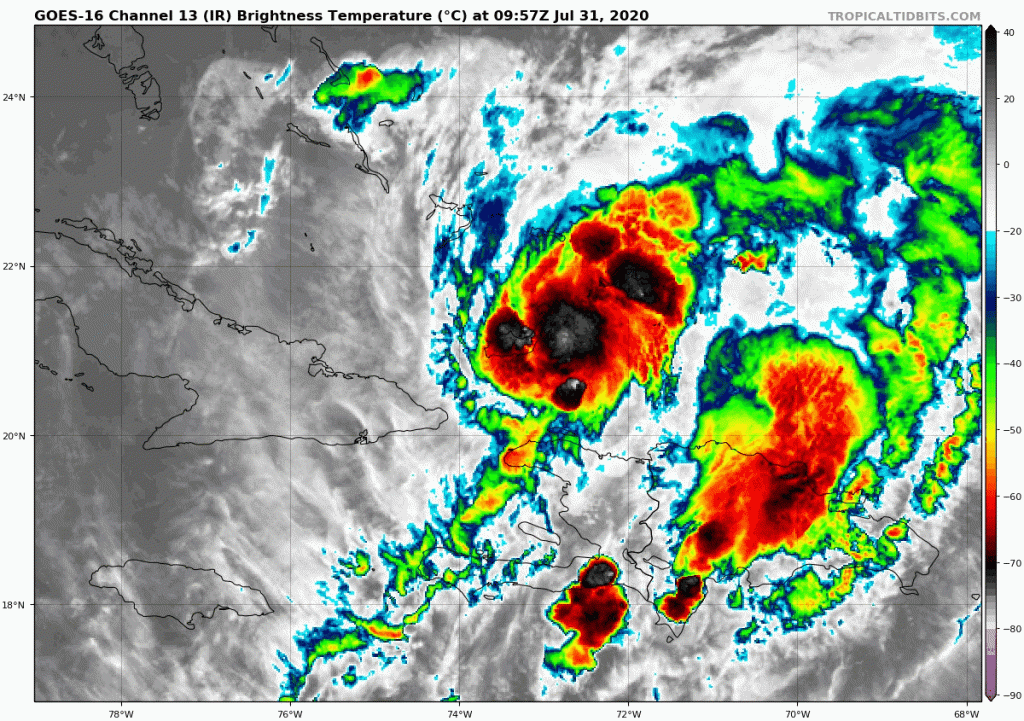 While model guidance has wavered slightly in the past 24 hours regarding the track, the overall shift has been minor. What remains somewhat uncertain is the forecast intensity of Isaias upon landfall in North Carolina. Models have bumped up expected winds at landfall from tropical storm to hurricane strength, but some guidance now has Isaias reached category two strength before making landfall.
We are confident Hurricane Isaias will make landfall between Jacksonville, NC and Avon, NC. However where the storm moves after that is still somewhat unknown. There has been a trend in the past day for the storm to ride right up the East Coast, nearing Ocean City, MD and Long Island before making another landfall in Cape Cod, MA. We will continue to watch that possibility.
Below are the latest track and intensity models for Hurricane Isaias as of 5 AM Friday morning.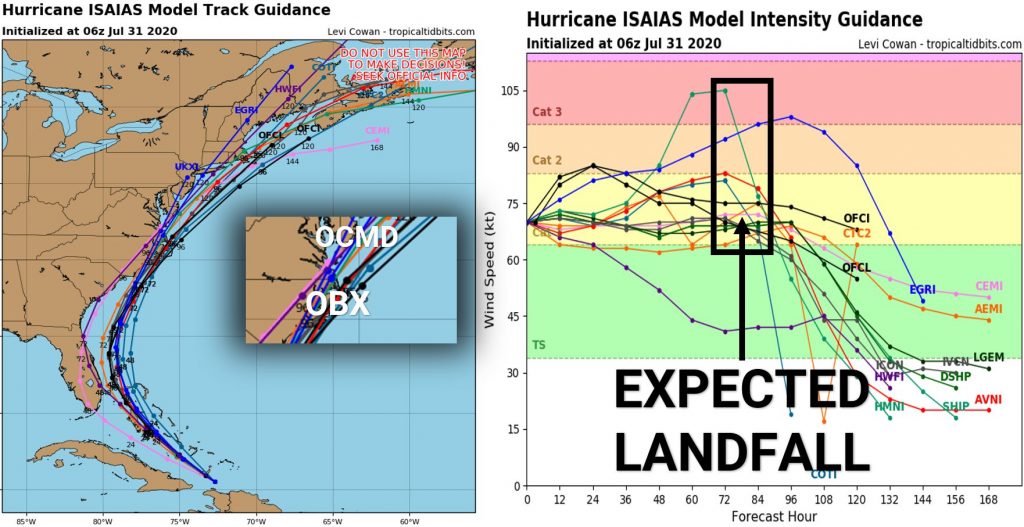 Hurricanes tend to curve more when they are stronger, so locations near or on the Outer Banks have the highest risk right now. If Isaias does reach category two strength, it's more likely to make landfall on the Outer Banks rather than closer to Wilmington, NC.
If you are located in far eastern North Carolina, the eastern Del-Mar-Va (including Ocean City, MD), extreme coastal New Jersey, eastern Long Island, or southeast New England, you should be making preparations for potential significant impacts from Isaias. All of those stated areas are at risk of seeing wind gusts of up to 80-110 MPH from Hurricane Isaias Monday or Tuesday (depending on location).
If you know anyone in or near those areas, please pass along this forecast to them (or the latest forecast at the time you're viewing this). Here is our graphic showing who should be preparing, and who should be aware.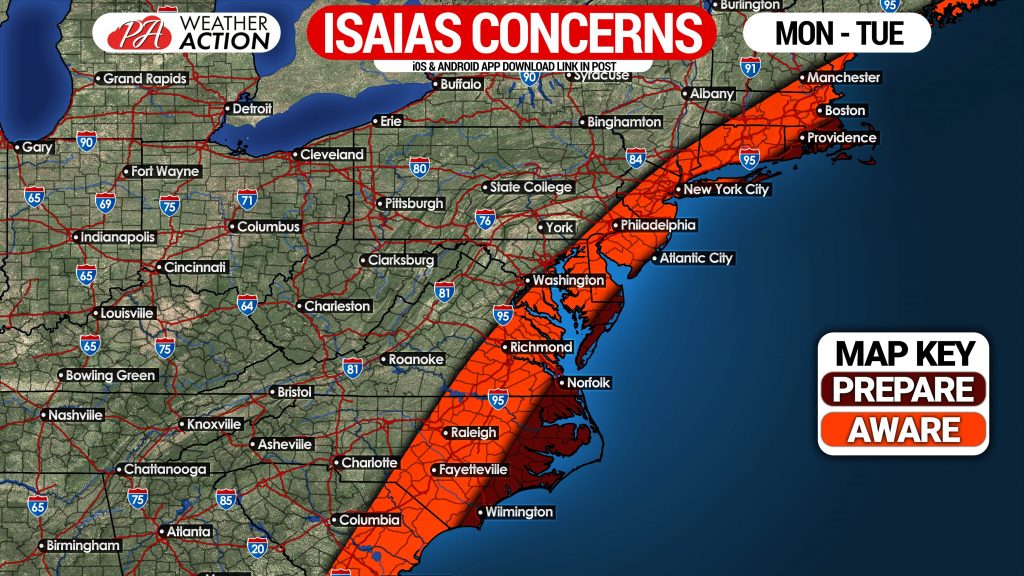 The latest Hurricane Center track (as of 5 AM Friday) takes Hurricane Isaias as a category one storm into Morehead City, NC early Monday afternoon. Timing is not locked in, with some models moving the storm slower than what is shown. The track then takes Isaias up the East Coast before making a second landfall on Cape Cod, MA as a strong tropical storm late Tuesday evening.
Once again, there is still some uncertainty within the models regarding strength. Isaias rising to category two strength before landfall is not out of the question. Below is the latest forecast (as of 5 AM Friday) from the NHC.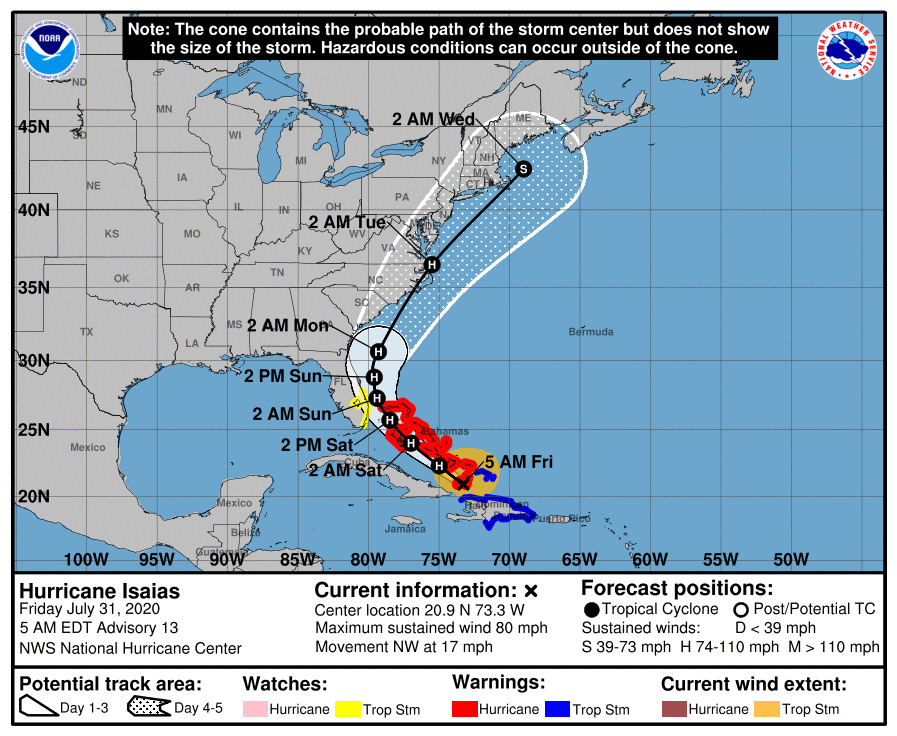 Stay tuned for any changes made to the forecast in the coming days, and don't forget to share this forecast with friends and family using the blue button.