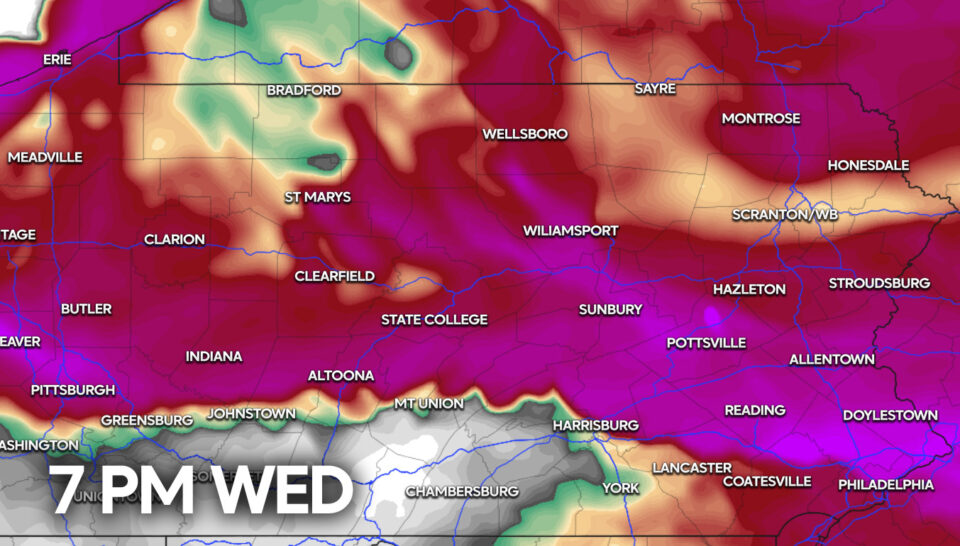 The worst air quality in many years blanketed parts of Pennsylvania Tuesday afternoon and evening, prompting minor league baseball teams to cancel games due to very unhealthy conditions. You can really see that area of heavy smoke pushing into Eastern PA right before sunset on GOES-16 satellite.
It sure created a bizarre scene in Bronx this evening during the Yankees game.
Here's my view. Looks like a scene out of the Wizard of Oz. pic.twitter.com/7qLiWalZD8

— Cat 😺 (@Cat_932331) June 6, 2023
Unfortunately, a more expansive plume of Canadian wildfire smoke, particularly coming from the province of Quebec, will push in from north to south on Wednesday.
Here is a time table for when the AQI is expected to near or exceed 200, causing very unhealthy conditions for everyone:
Northern PA (north of I-80): 10 AM Wed – 8 PM Wed
Central PA (between I-80 and I-76 west of Harrisburg between I-80 and I-78 east of Harrisburg): 3 PM Wed – 1 AM Thurs
Southern PA (south of I-76 west of Harrisburg, south of I-78 east of Harrisburg): 6 PM Wed – 4 AM Thurs
Below is an animation from the HRRR model showing near-surface wildfire smoke density for Wednesday into early Thursday: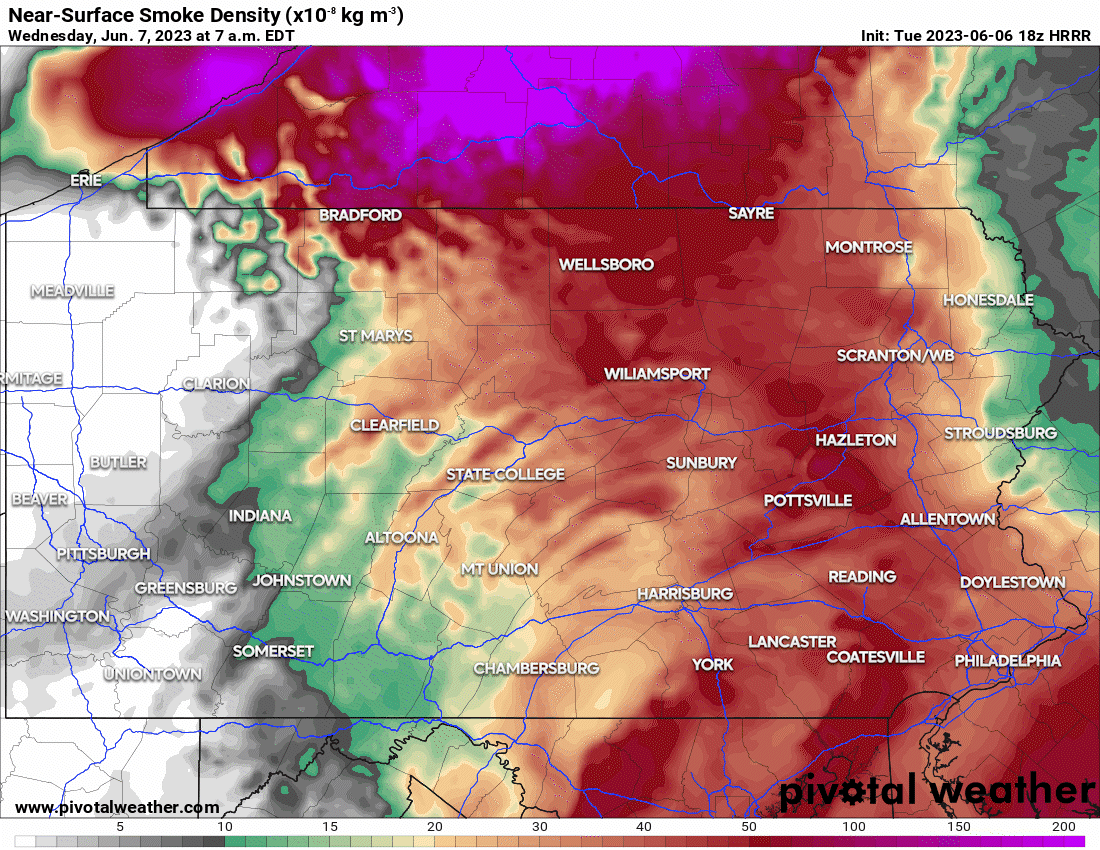 Looking forward, more very poor air quality is possible Friday and Saturday as the flow will once again be out of the north, streaming that smoke directly down into the Northeast US.
At this point, we are experiencing such abnormal weather that maybe a bit of humidity and afternoon thunderstorms – the normal PA June weather, wouldn't be that bad! There is some hope for that, or at least rain, on Monday and then again later next workweek and into the following week.
But for now, the best we can do is avoid open flames outdoors, avoid being outdoors for several hours at a time, and use the recycle air feature in vehicles!
Be sure to share this article with family and friends, especially those suffering from asthma, heart disease or other lung diseases, and the elderly.
This article was made possible thanks to our long term sponsor, NRG! To learn more about them, click here!
---
---