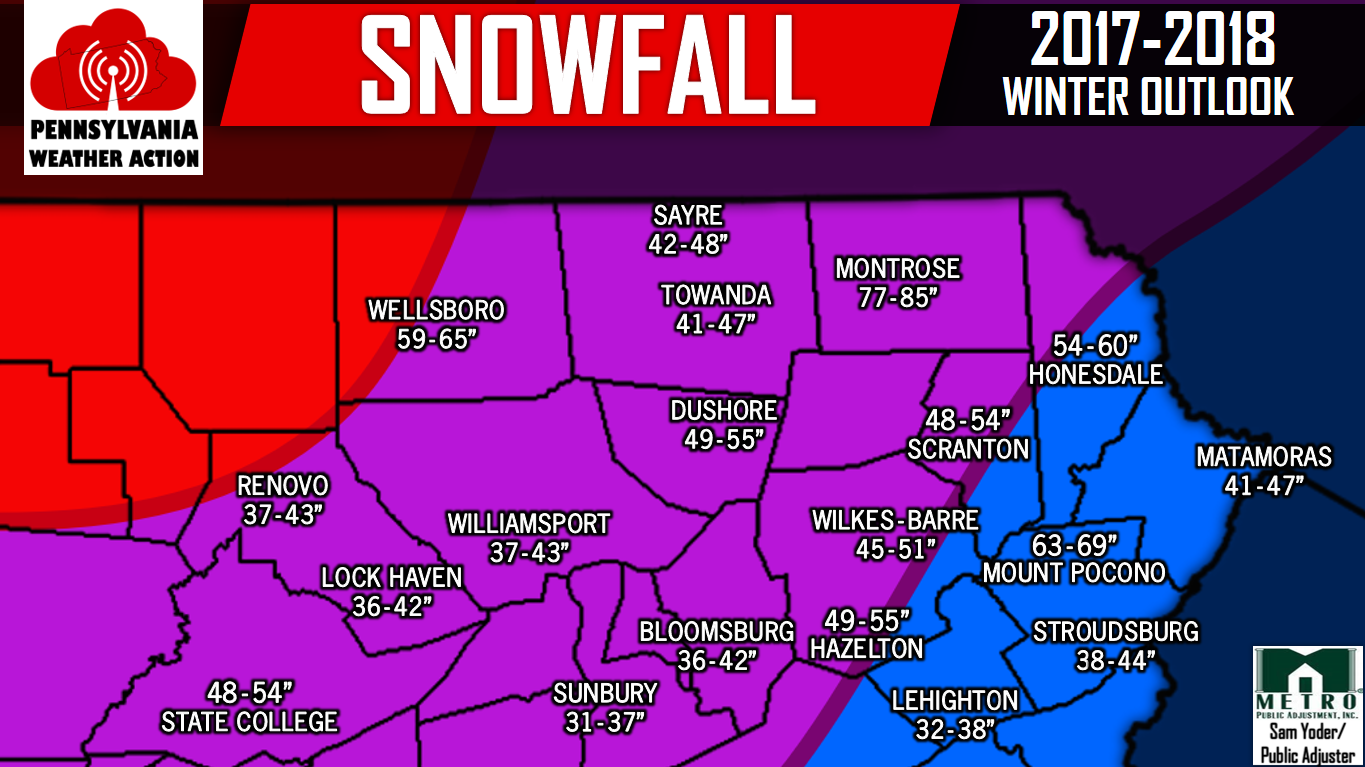 This winter, Northeast PA can expect below average temperatures in December, with slightly above average temperatures in January and February, followed by below average temperatures in March. We anticipate winter to get off to an early start with a cold, snowy month of December.
A mid-winter thaw is then expected in January, possibly into February. The area will be in a winter battle zone, and can expect an equal amount of snow, ice, and rain events during this period. An active, chilly end to winter is anticipated with a few late season winter storms possible in March. If you have yet to see our Official 2017-2018 Winter Outlook, click here to read it.
Without further ado, here is our 2017-2018 Winter Snowfall Totals Map for Northeast PA! If you don't see your town, we have a full list of snow totals for even more locations below the map. Be sure to share this all-inclusive snowfall outlook with your family and friends using the button below!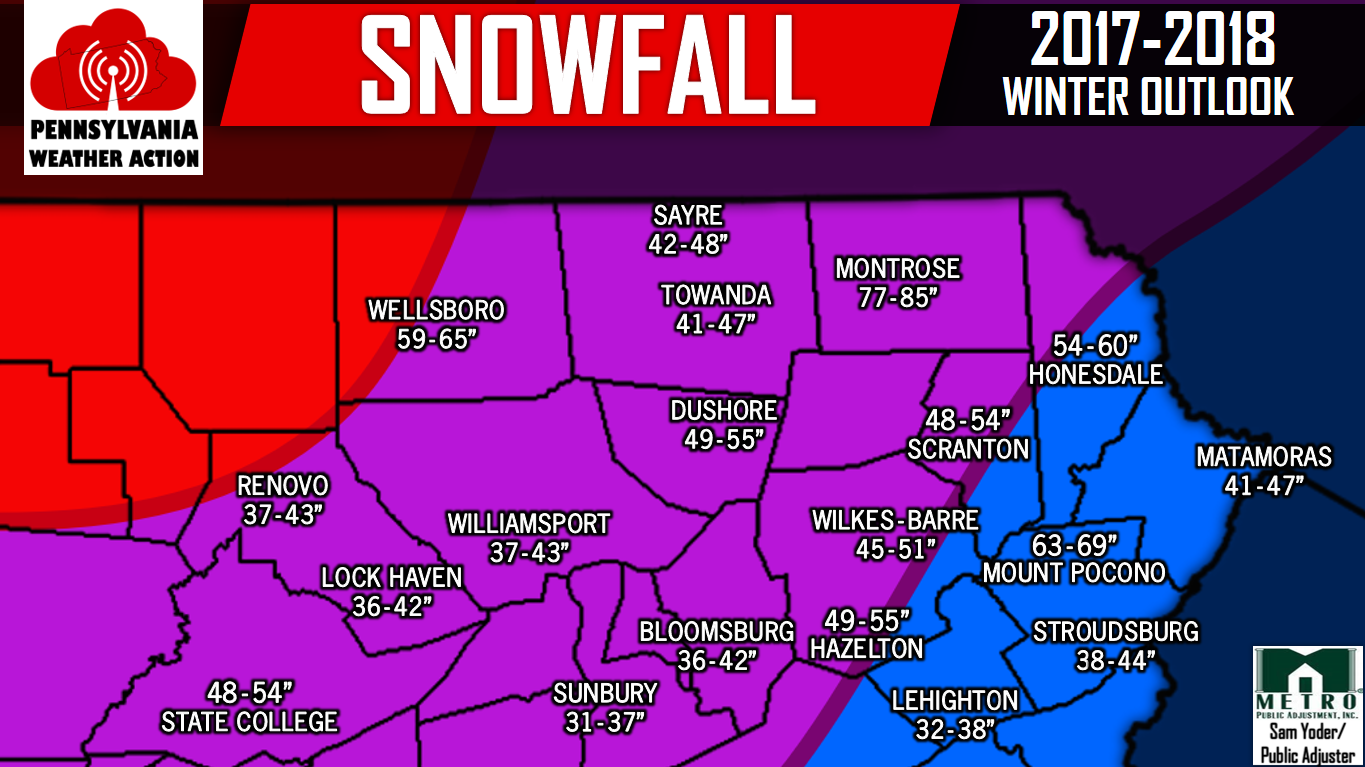 Bradford County
Towanda: 41-47″
Sayre: 42-48″
Athens: 42-48″
Troy: 44-50″
Canton:43-49″
Carbon County
Lehighton: 32-38″
Jim Thorpe: 33-39″
Palmerton: 32-38″
Lansford: 32-38″
Weatherly: 34-40″
Clinton County
Lock Haven: 36-42″
Renovo: 37-43″
Loganton: 35-41″
Mill Hall: 37-43″
Flemington: 36-42″
Columbia County
Bloomsburg: 36-42″
Berwick: 39-45″
Benton: 43-49″
Lackawanna County
Scranton: 48-54″
Carbondale: 46-52″
Clarks Summit: 50-56″
Archbald: 48-54″
Dickson City: 47-53″
Luzerne County
Wilkes-Barre: 48-54″
Hazleton: 45-51″
Kingston: 47-53″
Nanticoke: 47-53″
Duryea: 48-54″
Lycoming County
Williamsport: 37-43″
Montoursville: 37-43″
Muncy: 38-44″
Jersey Shore: 39-45″
Hughesville: 40-46″
Monroe County
Stroudsburg: 57-63″
East Stroudsburg: 55-61″
Mount Pocono: 63-69″
Saylorsburg: 53-59″
Tobyhanna: 65-71″
Montour County
Danville: 36-42″
Washingtonville: 37-43″
Northumberland County
Sunbury: 31-37″
Mount Carmel: 35-41″
Watsontown : 33-39″
Northumberland: 32-38″
Shamokin: 34-40″
Pike County
Matamoras: 41-47″
Milford: 42-48″
Dingmans Ferry: 42-48″
Wilsonville: 41-47″
Schuylkill County
Pottsville: 44-50″
Tamaqua: 46-52″
Schuylkill Haven: 41-47″
Mahanoy City: 47-53″
Frackville: 46-52″
Sullivan County
Dushore: 49-55″
Forksville: 47-53″
Laporte: 46-52″
Susquehanna County
Montrose: 77-85″
Forest City: 64-70″
Hallstead: 79-87″
Tioga County
Wellsboro: 59-65″
Mansfield: 55-61″
Blossburg: 51-57″
Wayne County
Honesdale: 54-60″
Hawley: 53-59″
Waymart: 52-58″
Wyoming County
Tunkhannock: 46-52″
Factoryville: 47-53″
Meshoppen: 45-51″
---
---