Happy Friday evening, we have finally made it to yet another weekend! Hopefully you had some time to soak in the sunshine and seasonable temperatures this weekend because major changes are coming to the weather pattern. Tropical Storm Ophelia has developed off of the coast of North Carolina and is expected to head northward into the Mid-Atlantic and Northeast states this weekend, bringing a deluge of widespread rain showers and much lower temperatures. If you have any outdoor weekend plans, make sure to remember the rain gear and/or move those plans indoors!
QUICK SYNOPSIS:
Since yesterday's weekend outlook, the overall high temperatures have trended slightly lower, with high temperatures only expected to reach the upper-50s to lower-60s. These high temperatures will occur during the "lull" periods of precipitation. During periods of heavier rainfall rates, temperatures may fall into the lower-to-mid 50s, with added wind 25-45 MPH gusts out of the north, it will feel a lot cooler than it actually is. If you are planning to head to the Penn State White Out game, make sure to pack your white ponchos and rain gear when you travel to State College – and bundle up!
FUTURE RADAR:
By the morning hours light rain showers will be impacting the the southern portions of the region, with some areas of localized heavier precipitation rates. If you have any morning plans, make sure to bring the rain coats and umbrellas!
As we head into the lunch hour, rain showers will continue to dominate the region. As you can see, there will be some breaks in the precipitation shield allowing for drier periods during the early afternoon. However, it will overall still be wet and miserable despite these periods of lull in the activity.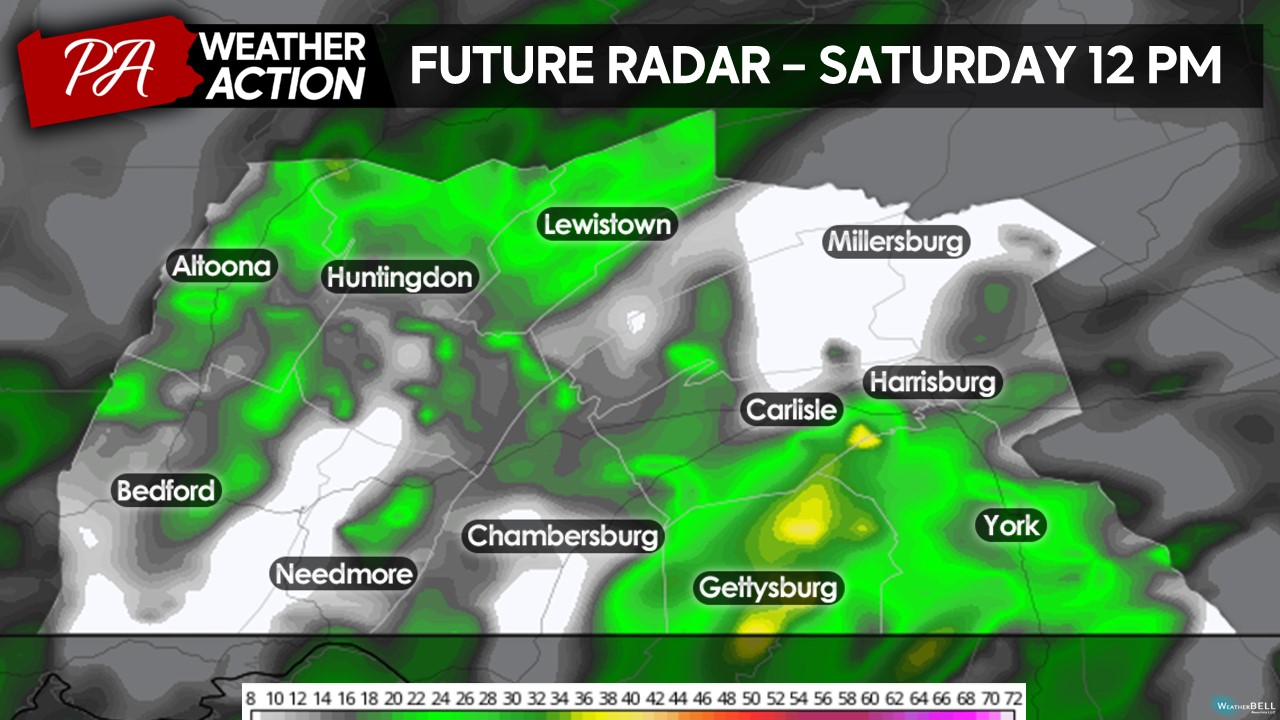 As through the morning and early afternoon hours, scattered to widespread rain showers will continue to overspread the region into the late afternoon and evening hours.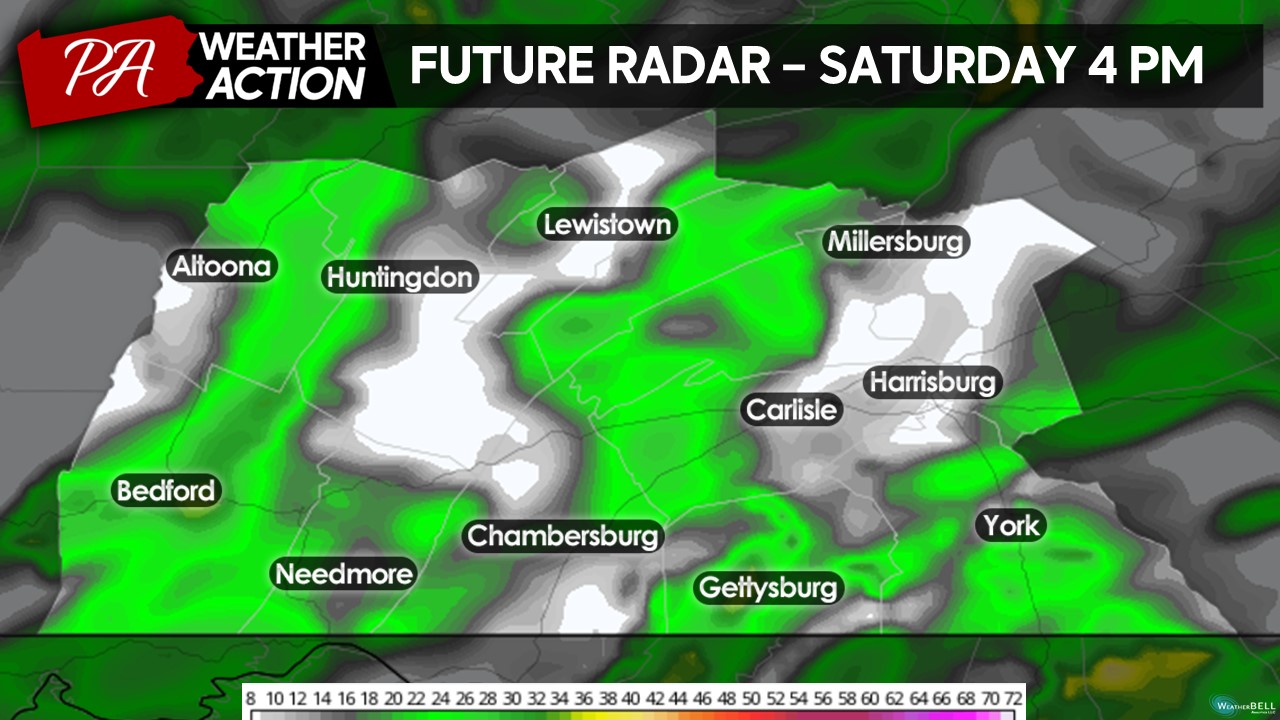 Heading toward sunset and into the overnight hours, rain showers will continue, especially across the southern portions of the zone. Expect this batch of rain to expand north and westward toward 8-10 PM, so any evening plans will likely be rained out as well.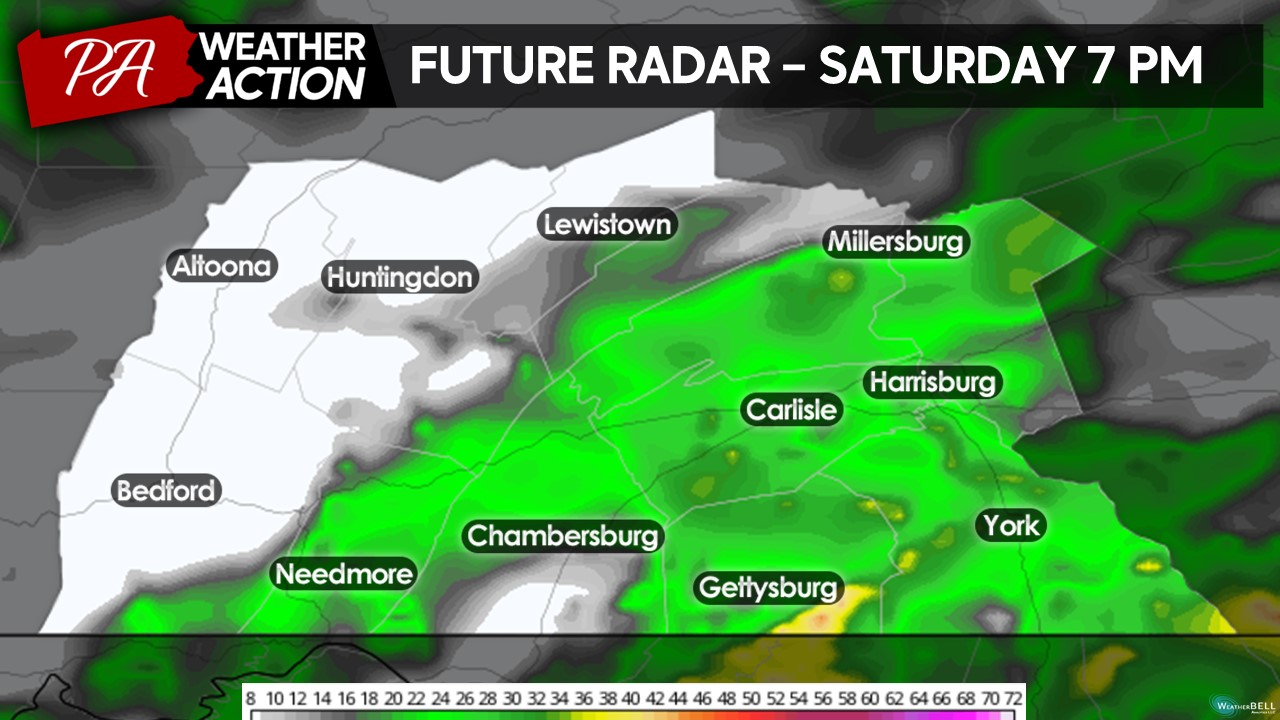 WINDY EVENING:
As the center of the of Ophelia moves closer to our region Saturday evening, there will be an increase in the wind from the north with wind gusts of 25 – 45 MPH out of the north during the evening hours. If you plan to be out and about, do not forget to prepare for the wind. It will feel a lot cooler than the actual air temperature!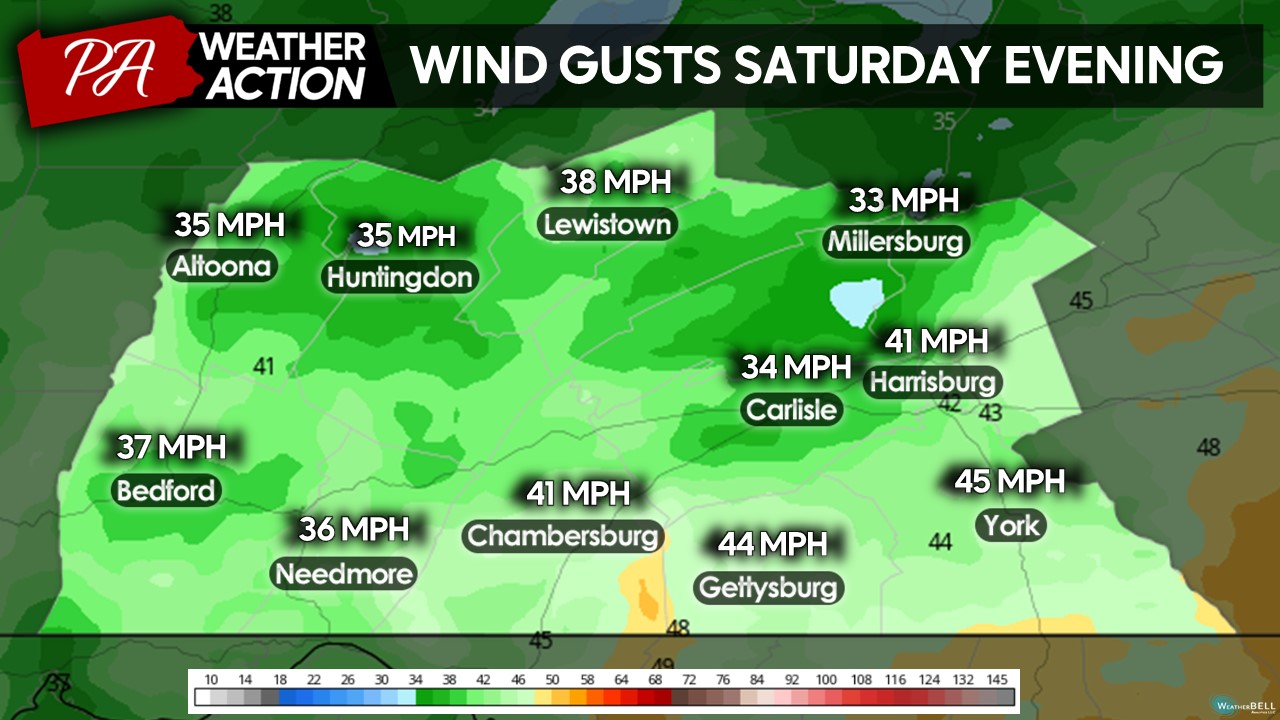 TOTAL RAINFALL SATURDAY:
Expect a general 0.50 – 1.50″ of total rainfall throughout the day tomorrow. Due to a very heavily saturated atmosphere, even with "lighter" precipitation returns on radar will likely be a bit heavier than shown.  Localized areas may pick up slightly more and/or less precipitation depending on where the heaviest bands of rain set up across the region. This rain will be very beneficial as portions of the region are under a moderate D1 drought. Flooding should not be a concern, although a few flood-prone zones may see some minor issues.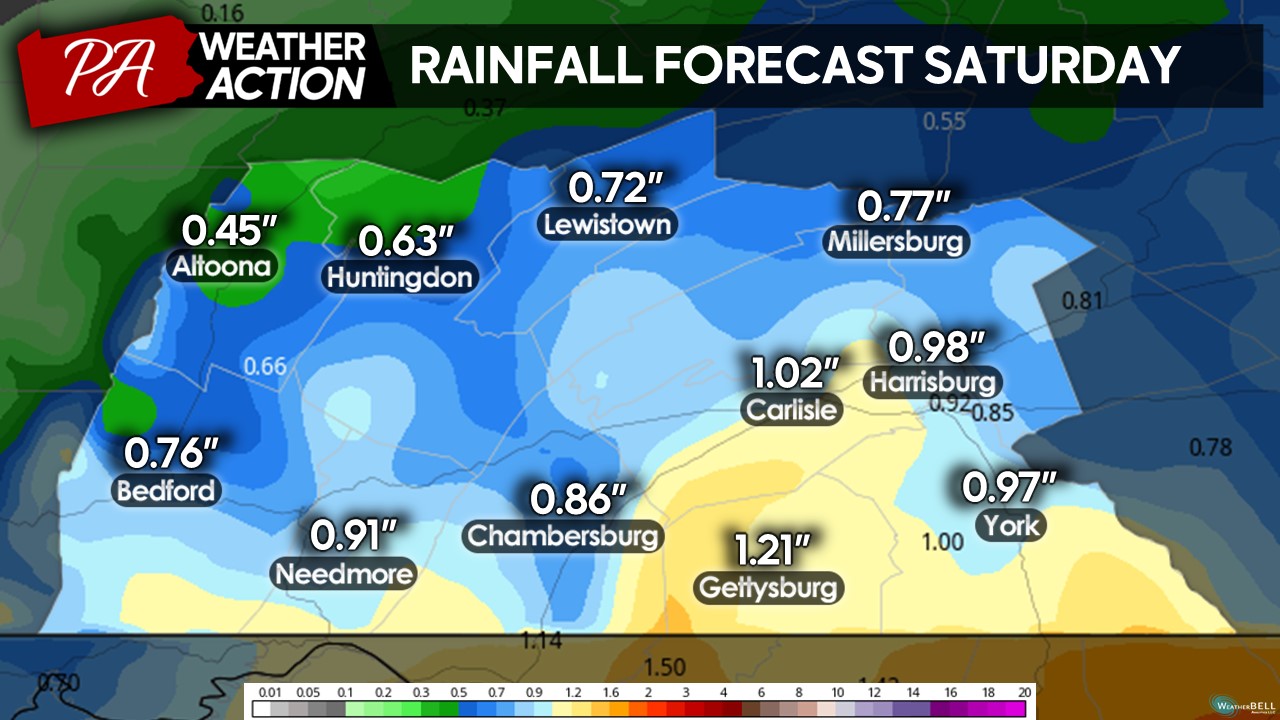 SUNDAY:
Unfortunately, the remnants of Ophelia will be stuck around our region into Sunday as well. Expect scattered rain showers and drizzle throughout the entire day on Saturday with high temperatures making into the lower-60s during the afternoon hours with winds out of the north with aided 15-30 MPH gusts.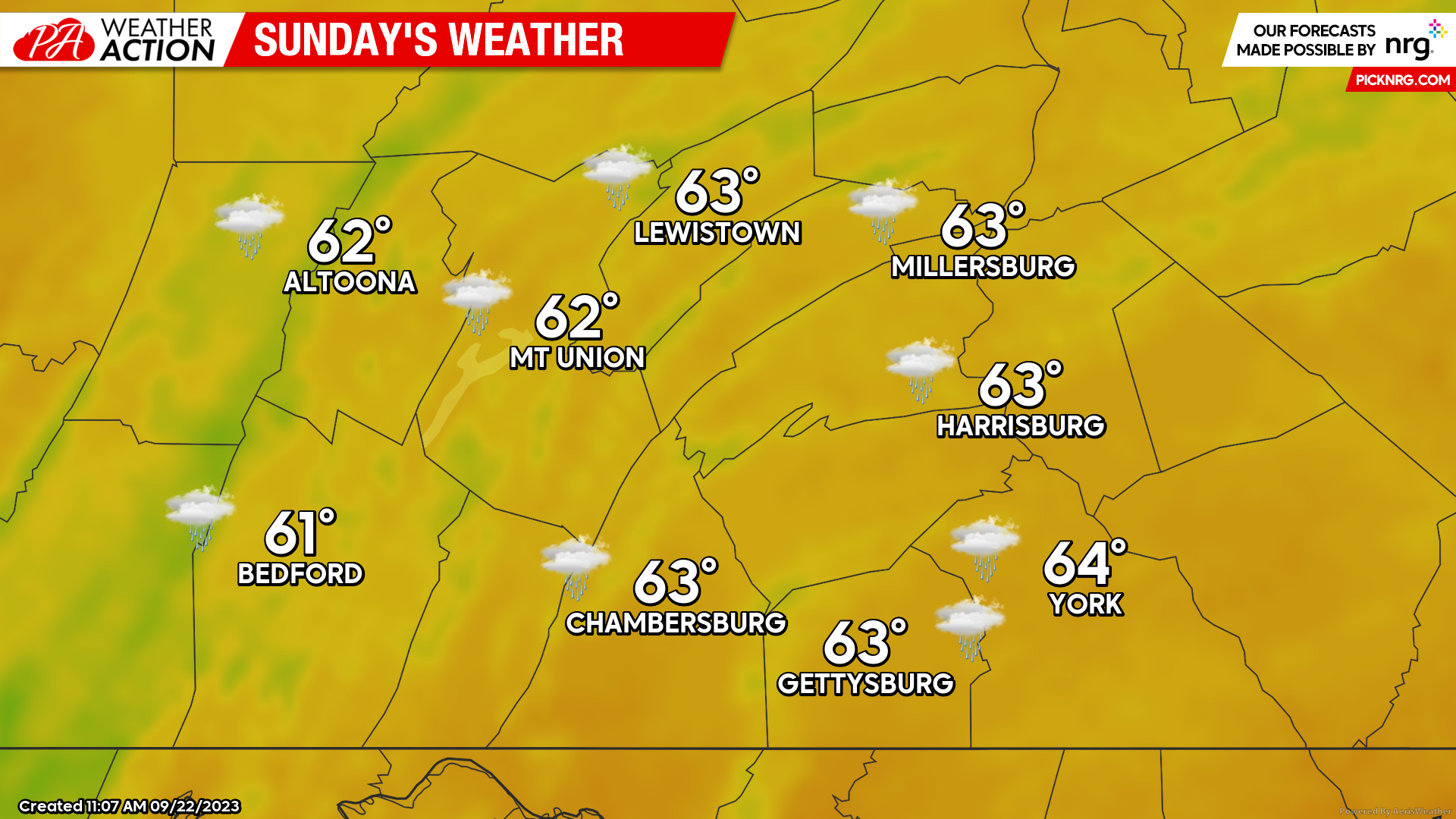 It will be a great weekend to stay indoors, cook some chili and binge movies (or football). If you are planning to be outdoors, make sure to dress for the rain and bundle up!
Feel free to reach out if you have any questions regarding the forecast. Take care!
-Denys Khrulov