Western Pennsylvania has been the driest section of the state for the past month, but fortunately the area is poised for some rainfall Thursday. The Storm Prediction Center has a Slight Risk up for nearly all of western PA Thursday, with a Marginal Risk extending into parts of central Pennsylvania. Primary threats look to be damaging winds and possibly an isolated tornado.
Thunderstorms will develop in eastern Ohio early Thursday afternoon before moving into far western PA by mid-afternoon. We expect a broken line of storms to push east into northwest PA first, likely by around 2-3 PM. Below is future radar for 3:00 PM Thursday, showing those storms moving through the Erie-Meadville area.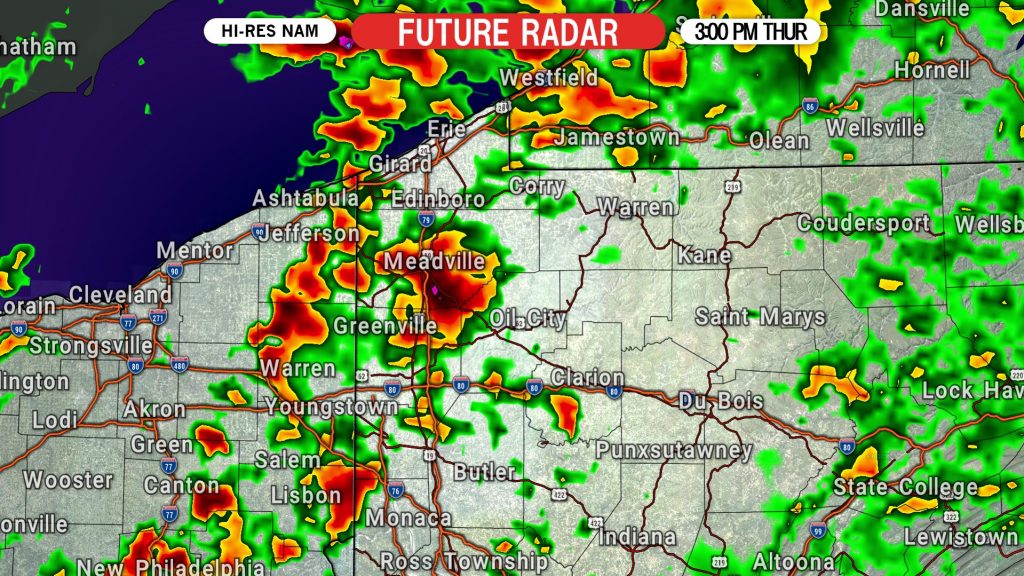 The line will continue east heading into the early evening, and by 5 PM it is likely to be near Warren, Oil City, Butler, and Pittsburgh. Here is future radar for 5:00 PM Thursday.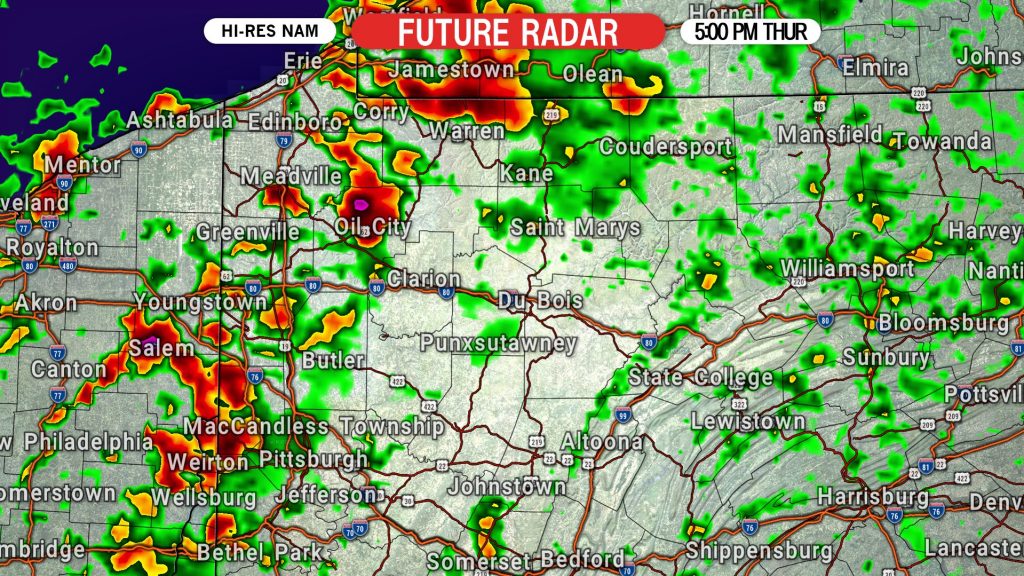 We expect the line to maintain strength as it approaches the western slopes of the Appalachians. By 7 PM we expect the line of thunderstorms to be near Bradford, Punxsutawney, and Greensburg. Below is future radar for 7:00 PM Thursday.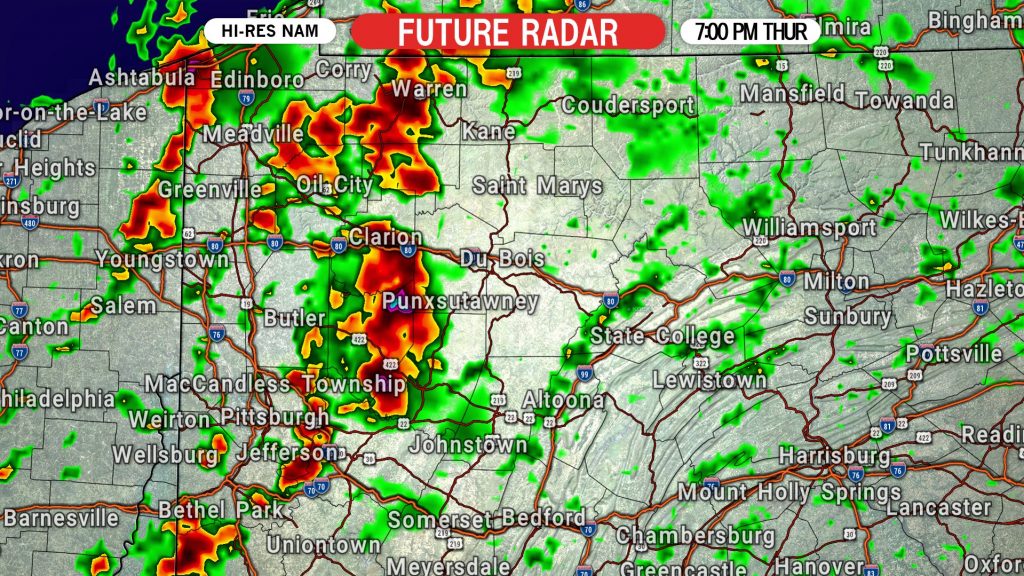 The storms are expected to weaken as the atmosphere loses instability around sunset. At 9 PM, most of the line will likely be below severe criteria, but strong storms may still be near St. Marys, Du Bois, Johnstown, and Somerset. Here is future radar for 9:00 PM Thursday.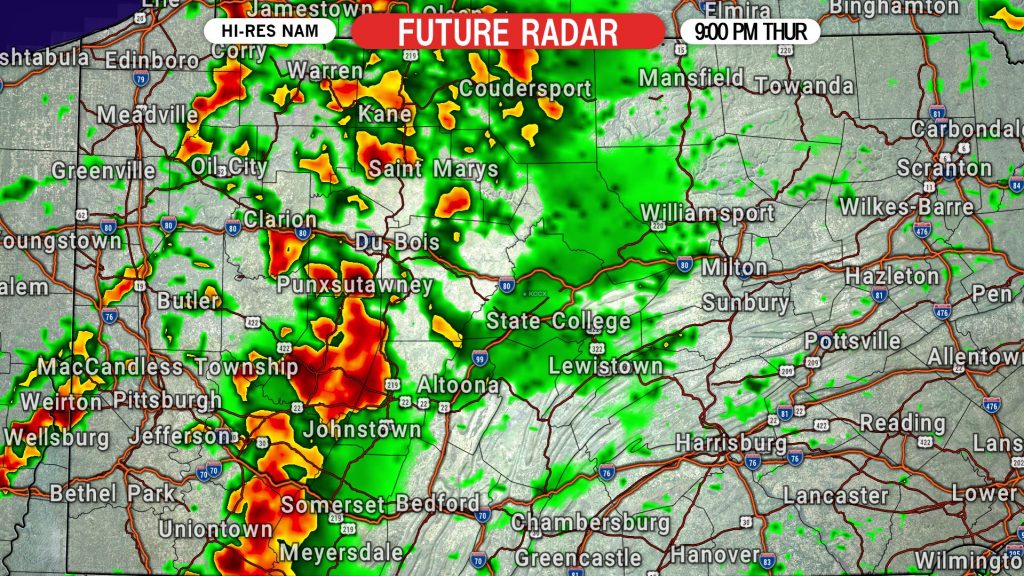 THURSDAY'S SEVERE THUNDERSTORM RISK MAP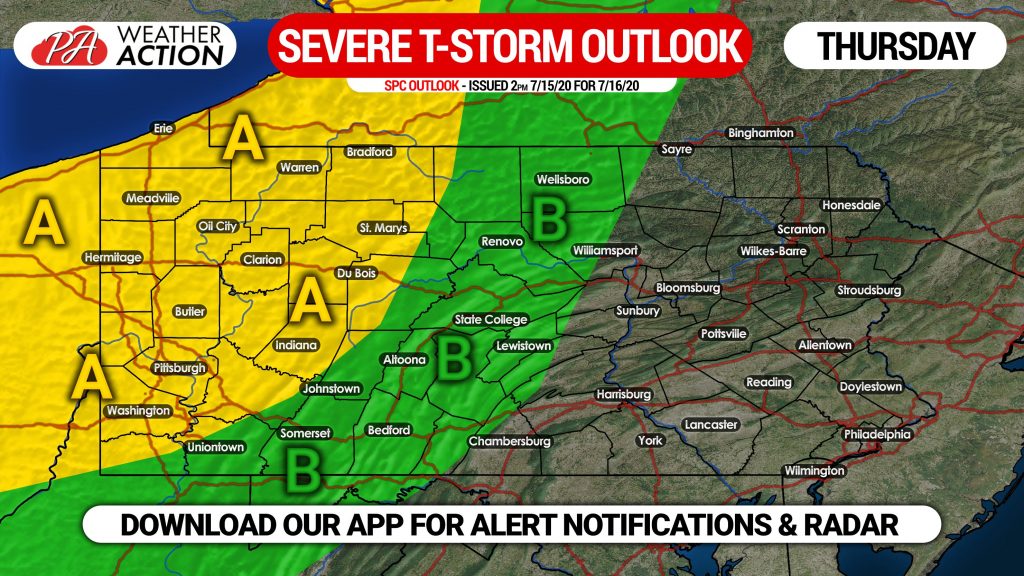 Area A: Scattered strong to severe thunderstorms expected Thursday afternoon. Damaging winds, along with isolated hail and a very isolated tornado are possible.
Area B: Isolated strong to severe thunderstorms possible Thursday evening. Damaging winds and a very isolated tornado are possible.
We will have live radar on our facebook page Thursday, and you can also use our free app to follow the storms! Get the Weather Action app here! >>> Weather Action App
Don't forget to share this update with friends and family in the affected areas using the blue button below. Stay safe everyone!